Pressure mounts on Southwest Airlines to deliver on its goal of positive unit revenue in early 2017
Analysis
Southwest Airlines believes it can potentially achieve a positive unit revenue result in early 2017, but its sequential trends from 3Q2016 to 4Q2016 are not improving at the rate of the three large US global network airlines. In fact, if Southwest hits the upper end of its unit revenue guidance for the last three months of 2016, the company's performance could worsen on a sequential basis.

Many factors are driving Southwest's unit revenue pressure at the end of 2016, including the effects of a credit card agreement that lifted its unit revenues in 2015 and 2016, competitive capacity additions in its markets and a still-soft, but improving domestic pricing environment. In order to regain positive unit revenue Southwest's planned capacity growth is decreasing year-on-year for 2017. Additionally, the airline is scrutinising its network in order to determine which routes can generate maximum revenue production.

Southwest is also bracing for cost inflation in 4Q2016 driven by tentative collective bargaining agreements recently reached with pilots and flight attendants in 3Q2016. The cost increases from those agreements – if they are ratified – will continue into 2107, putting extra pressure on Southwest to deliver on its unit revenue targets.
Lapping benefits from a credit card deal erodes Southwest's unit revenue edge
Southwest Airlines' total unit revenue fell 4% year-on-year in 3Q2016 and its passenger unit revenue fell 5% year-on-year - which was a better performance than Delta and United.
Unit revenue forecast for 4Q2016 and actual 3Q2016 performance for the four largest US airlines
| | | |
| --- | --- | --- |
| Airline | 4Q2016 Forecast | 3Q2016 Performance |
| Southwest | 4% to 5% decline in RASM | 4% decline in RASM |
| American | 1% to 3% decline in TRASM | 2.2% decline in TRASM |
| Delta | 3% to 5% decline in PRSAM | 6.8% decline in PRASM |
| United | 4% to 6% decline in PRASM | 5.8% decline in PRASM |
But the large three US global airlines are all forecasting solid sequential improvement in 4Q2016, while Southwest is forecasting a unit revenue decline of 4% to 5%. If Southwest hits the top end of that range, its unit revenue performance will worsen from 3Q2016 to 4Q2016. Its unit revenue forecast along with forecasted unit cost growth excluding fuel, special items and profit sharing 4% to 5% sent Southwest's stock price markedly down, USD4, between 23-Oct-2016 and 26-Oct-2016.
Roughly, 1.5ppt of Southwest's unit revenue forecast is driven by calendar placement of the Christmas and New Year holidays.
Southwest Airlines share price: late-Oct-2015 to late-Oct-2016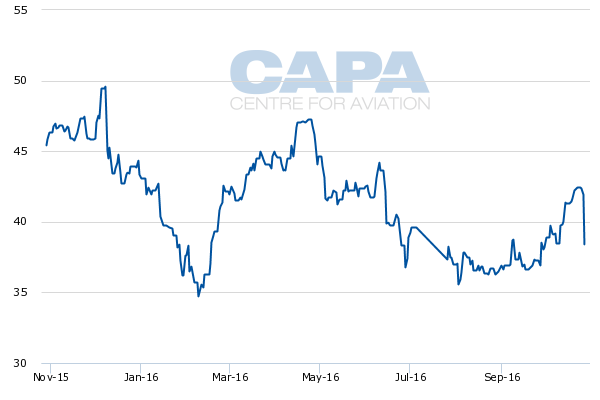 Southwest cited several factors for its forecasted unit revenue performance for 4Q2016. Company CEO Gary Kelly stated Southwest has endured a significant increase in seats from competitors in its markets year-on-year. During 3Q2016 Southwest estimated domestic seats from ultra low cost airlines in its markets increased 20% year-on-year.

During the past four quarters Southwest has also benefitted from a credit card deal it reached with Chase mid-2015 that has allowed the company to largely outperform its peers in total unit revenue performance since that time.

See related report: Southwest enjoys revenue benefits from credit card deal; labour issues force early 737 Classic exit

The benefits from the credit card deal for Southwest's unit revenue performance have lapsed, which is creating headwinds for the company. "That puts us in a position where I think until we find a way for us to differentiate our revenue production, we're going to kind of fall in with industry performance," Mr Kelly observed. "Which is where I see us here in the third quarter, that's where I see us in the fourth quarter."

From a broader perspective, Mr Kelly concluded that overall seats in the US market are growing faster than the country's GDP, which is forecast to growth at roughly 1.8% in 2016.
Data from CAPA and OAG show US domestic seats are forecast to grow 11.3% year-on-year in 2016. "Either demand needs to improve, or supply needs to come into better alignment", Mr Kelly concluded.
United States of America domestic seats: 2012 to early 2017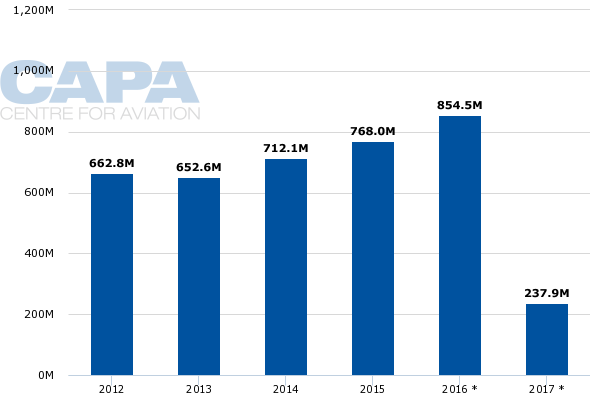 Southwest aims to return to positive RASM in early 2017, after missing a YE2016 target
For its part, Southwest plans to slow its capacity growth in 2016 to approximately 3.5% from 5% to 6% ASM growth in 2016. Previously, Southwest has received pushback from investors for keeping its capacity growth intact, and the company has explained it was unable to model a scenario where cutting its schedule in 4Q2016 would be profit-positive.

See related report: Alaska, jetBlue and Southwest unable to offer solutions to airline revenue instability in the US

Southwest has also previously stated it aimed to return to a positive RASM by YE2016; but acknowledged it could fall short of those targets. Now the airline believes it can deliver a positive unit revenue performance in early 2017.

Some of the factors driving Southwest's positive outlook include the number of developing markets in the airline's network falling from high levels the company reached in 2014 and 2015 as it was adding new routes and completing the incorporation of AirTran's network into its operations.

The airline also joined other US carriers in determining that close in bookings and yields were beginning to improve in 3Q2016; however, Southwest also cautioned the fare environment remained challenging. The company's yields fell 5% year-on-year in 3Q2016.

For 4Q2016, Southwest is striking a cautious tone, citing encouraging trends on close in bookings, but concluding the yield environment remains challenging.
Southwest faces cost creep from new labour deals as its unit revenue edge erodes
Previously, Southwest's unit cost forecast excluding fuel, profit sharing and special items for 2016 was an increase of 1%. But its full year forecast for the year has now grown to a rise of 2% to 3%, driven by effects of tentative new labour agreements with pilots and flight attendants. Each employee group is currently casting votes in favour of or against the new contracts.

Southwest's 4Q2016 unit costs excluding the items mentioned above is forecast to rise 4% to 5%, of which 3.5ppt is driven by the effects of the tentative labour agreements.

Southwest has not offered any preliminary cost guidance for 2017, but the cost pressure from the labour agreements will continue. Many US airlines are facing cost pressure at the end of 2016 and into 2017 from newly reached labour agreements or potential new contracts with employee groups.

Rising labour costs and growing fuel prices are increasing pressure on US airlines to deliver positive unit revenue results to ease investor unrest that has festered during the last year as many airlines have missed their stated timeframes to reverse negative unit revenue performance.
Southwest's need to post positive RASM becomes more acute as unit costs rise
There is some concern among investors, rightly or wrongly, that Southwest has fewer revenue levers to pull. The airline does not unbundle its product through baggage fees or traditional seat assignments, and is not participating in any of the product segmentation undertaken by American, Delta and United to compete more effectively with ULCCs.

The company acknowledges it needs to shore up its unit revenue, and believes it can achieve a positive performance in part through revenue management tweaks and carefully scrutinising its network to weed out underperforming routes.

But as Southwest's cost continue to grow for the foreseeable future, and fuel costs are beginning to rise at the end of 2016, the necessity to bolster its unit revenues will become more acute.