Southwest enjoys revenue benefits from credit card deal; labour issues force early 737 Classic exit
Analysis
Comparing Southwest Airlines' unit revenue trends with the rest of the US industry is difficult due to the benefits the company is enjoying from a new credit card agreement forged in 2015. On a total unit revenue basis, Southwest posted a flat performance in 1Q2016 and expects very modest growth in 2Q2016, which is the last quarter where it will enjoy gains from the credit card deal.

Southwest's average fare and yields during 1Q2016 reflect the competitive pricing environment that lingers in the US domestic market. Few are venturing to predict when pricing traction will return, including Southwest. The company does, however, believe that it can weather what it has claimed to be an aggressive industry build-up of capacity.

Southwest's projected capacity growth of 5% to 6% for 2016 remains unchanged. The airline will increase ASMs in 2017 and 2018, but that increase could be slower than in 2016 due to the airline's decision to accelerate the retirement of its Boeing 737 Classics by a year to 2017. The accelerated retirement was driven by training complexities, and an inability by Southwest and its pilots to reach a deal on segmentation of the Classics. Contract talks between Southwest and its pilots have dragged on for nearly four years, and remain under the guidance of a national mediator.
A credit card deal lifts Southwest's total unit revenues, but yields remain under pressure
Southwest's total unit revenues grew 0.1% year-on-year in 1Q2016, while its passenger unit revenue fell 3.6%.

During mid-2015 Southwest forged a new branded credit card agreement, which has helped to lift total unit revenues since that time. The 0.1% increase in 1Q2016 included a USD110 million benefit from the agreement. For 2Q2016, Southwest is forecasting a "modest" increase in unit revenues, which includes a USD125 million benefit from the credit card agreement.

See related report: Negative labour sentiment overshadows Southwest's positive outlook and favourable financials

The credit card agreement has helped Southwest to post slightly positive total unit revenue growth since 3Q2015, but its yield performance reflects the pricing realities in the US market place. There was some sequential improvement in the company's yield deterioration from 4Q2015 to 1Q2016. The company's average fare in 1Q2016 fell 2.7% year-on-year to USD153.75.
Southwest Airlines yield and unit revenue performance 3Q2015, 4Q2015 and 1Q2016
| | | |
| --- | --- | --- |
| Quarter | Yield | Unit revenue |
| 3Q2015 | 5.1% decrease | o.4% increase |
| 4Q2015 | 7% decrease | o.7% increase |
| 1Q2016 | 4.2% decrease | 0.1% increase |
Weak yields remain the norm as Southwest industry capacity grows
Southwest recently calculated that 1ppt of its positive unit revenue in 1Q2016 outside the credit card agreement was the performance of its developing markets. These include its expansion from Dallas Love Field and its new international service initiated in late 2015 from its Houston Hobby base, from a new international terminal constructed at the airport. Currently (the week of 2-May-2016) Southwest operates international service from Hobby to Liberia and San Jose, Costa Rica; Cancún, Puerto Vallarta and Mexico City, Mexico; Montego Bay, Jamaica; Belize; and Aruba.

In late 2014 Southwest made a massive push from Dallas Love Field that continued through 2015, after the lifting of the years-long Wright Amendment that banned certain direct long haul service from the airport. Dallas was often cited by Southwest's rivals during 2015 as one of most pressured markets in the US, in terms of falling fares.

The growth by Southwest from Love Field is slowing in 2016, and as a result the number of markets that the airline has under development has dropped from approximately 20% in 1Q2015 to 5% in 1Q2016.

Southwest will start to lap some of the distortions to its unit revenue from the credit card agreement in 3Q2016, and the airline is not offering a specific outlook for 2H2016. Although the airline has stated that current yields still remain weak, demand continues to be solid. However, the Southwest CEO, Gary Kelly, has stated that "the industry is adding seats aggressively".
Data from CAPA and OAG show that US domestic seats in late May-2016 are up nearly 4% year-on-year, but the gap was wider in earlier 2016.
United States of America domestic seats per week: 2014 through 30-May-2016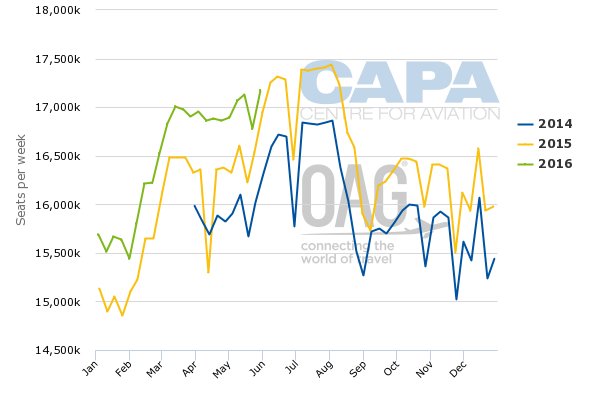 Mr Kelly remarked that Southwest's unit revenue benefits from the continuing maturation of markets in 2016 should continue, but "I think it will begin to diminish roughly a year from now".
Southwest's rapid fleet changes continue with further acceleration of Classic retirements
In early 2016 Southwest outlined plans to accelerate the retirement of its Boeing 737 Classic fleet by YE2018, rather than 2021. During Apr-2016 the company revised that forecast, and stated that all of the aircraft would exit the fleet by 3Q2017. The result is that Southwest will have 50 fewer aircraft than originally planned in 4Q2017.
Southwest Airlines Fleet Summary as of 4-May-2016
Southwest's deliveries peak at 49 in 2017, for the five years ending 2020, according to CAPA's fleet database.
Southwest Airlines projected delivery dates for aircraft purchased from OEMs and leased from lessors as of 4-May-2016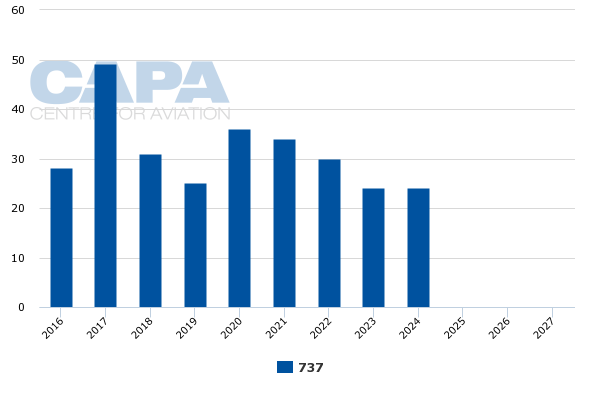 As a result of the changes the company's fleet growth will average approximately 2% annually for the three years ending 2018, and the average annual capacity for that time period should peak in 2016 with the forecast increase of 5% to 6%.

Southwest still projects an EBIT improvement of USD200 million from the latest acceleration of the Classic fleet, which is net of the effects of USD130 million of depreciation expense that the company expects to record in 2016, related to the retirements.
Southwest's Classic fleet retirement may force a realignment of priorities
Southwest's decision to accelerate retirement of the Classics again is generating questions about some of the airline's future growth prospects, which include more short haul operations and potential service to Hawaii. The airline is somewhat muted in its response, explaining that it is examining the 4Q2017 schedule and is working through some of its network priorities.

If additional short haul operations fall down the priority list that could potentially create some opportunities for Spirit Airlines, which has recently reshuffled its fleet to retain more smaller-gauge Airbus A319s, for possible placement in more medium to short haul markets.

See related reports:
Southwest executives did state that the launch of international flights from Fort Lauderdale International airport remained a priority in 2017, which will introduce new competition to jetBlue and Spirit – Fort Lauderdale's largest airlines. Both of those airlines use Fort Lauderdale as a springboard for service to the Caribbean and Latin America.
Fort Lauderdale-Hollywood International Airport capacity by airline (% of ASMs): 2-May-2016 to 8-May-2016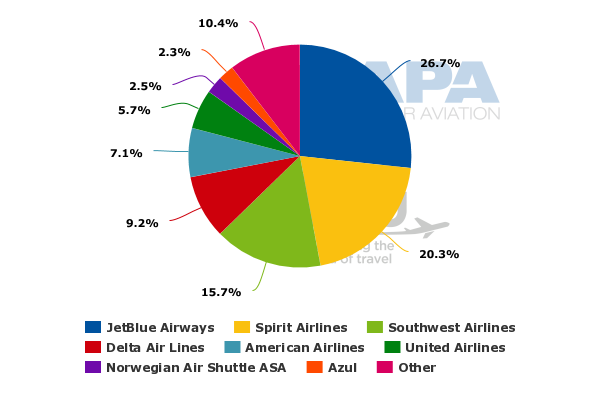 The 737 Classic retirement also casts a light on difficult pilot negotiations
Southwest cited training complexity as the main driver for its decision to accelerate the retirement of the Classic aircraft once again. The company explained that the US airframer Boeing and the country's FAA are not expected to determine training requirements for the operation of the Classic and next generation MAX narrowbody until May-2017, which does not allow Southwest adequate time for Southwest pilots to be trained for the company's launch of the 737 Max.

The company's preference for addressing that issue was to segment pilot flying of the Classic and MAX. But Southwest executives have stated that it was not able to reach a mutually beneficial solution with the airline's independent pilot union for segmentation.

Southwest and its pilots have been in tough negotiations for four years, and in late 2015 the pilot group rejected a tentative deal that included a 17% pay raise. During 2016 the airline's pilots picketed for the first time, and the union has previously highlighted sacrifices that it has made in order for the airline to reach its financial goals, which (in 2014) meant achieving an ROIC of 15%. For the 12M ending Mar-2016 Southwest's ROIC was nearly double that amount at 34%.

One of the key factors for Southwest in its labour negotiations (flight attendants have also rejected a tentative agreement) is ensuring that its unit cost remains competitive with those of LCCs such as jetBlue, Alaska and Virgin America; and to sustain a gap ahead of legacy airlines that has been shrinking during the last few years. Mr Kelly recently reiterated that goal, "and we'll have to continue to work with our union leadership to be able to live up to that".

Southwest's ongoing collective bargaining negotiations with two of its largest employee groups make it tough for investors to commit to the airline for the long term, given the uncertainty in its cost structure because of negotiations that continue to drag on. As CAPA has previously reported, the negative labour sentiment in some ways has overshadowed Southwest's positive financial performance, which in 1Q2016 included a 12.8% rise in net income to USD517 million.
Southwest faces a balancing act: rewarding labour and shareholders while keeping a cost edge
One conclusion from a labour panel discussion at the recent CAPA Americas Summit was the challenge faced by US airlines: investing in human capital as they face continued pressure from Wall Street for even greater shareholder returns.

In many respects Southwest finds itself in that situation, balancing several pressures: the need for what it deems as necessary shareholder rewards; an urgency to maintain a certain cost edge; and its goal of reaching new contracts that make its employees feel valuable. All of this while maintaining its performance in key financial metrics. Taken together, those complexities are the new reality that Southwest and many of its US rivals face in the next phase of management and labour relations.

See related report: US labour challenges as profits continue to soar. CAPA Americas Summit (VIDEO)