Alaska Air concludes service gaps to Hawaii are largely filled
Analysis
Alaska Airlines' aggressive push into Hawaii after the nearly overnight demise of Aloha Airlines and ATA in 2008 appears to be leveling off as the carrier has determined that the rapid growth it has engineered to the islands will slow as the service gaps created by the abrupt exodus of those carriers have largely been filled. At the same time the carrier is seeing some competitive pressure at its Portland hub while taking advantage of a less competitive market with the addition of new service from San Diego.
Alaska expects its service to Hawaii to account for about 20% of its supply in 2012, a 13 ppt jump from the 7% of its flights dedicated to Hawaii in 2009. The carrier has adopted a strategy of launching service to Hawaii from US markets that do not have a large service footprint to the islands, and as a result has shielded itself from competition on those routes from mainland US carriers. At the end of 2011 Alaska estimated that more than 60% of its Hawaiian markets were not served by other carriers, driven by the carrier's strategy to largely shun Honolulu in favour of direct flights to other markets in Hawaii. The carrier does offer flights to Honolulu from its Anchorage, Portland and Seattle hubs, and from the California cities of Oakland, San Jose and San Diego. It also serves Honolulu from Bellingham, Washington. Alaska competes with Hawaiian Airlines in four of those markets – San Jose, San Diego, Portland and Seattle.
Alaska Airlines routes to Hawaii at year-end 2011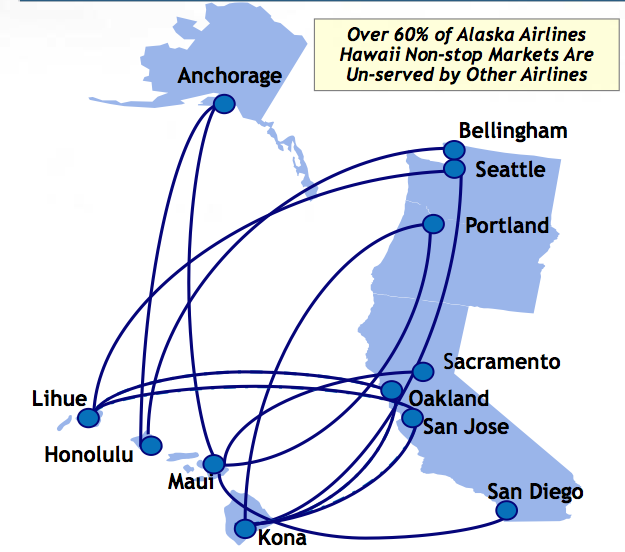 Breakdown of Alaska Airlines flights to Hawaii between Honolulu and other islands

The carrier plans to add new service during 4Q2012 between Anchorage and Kona and Bellingham and Maui, a route being introduced by Allegiant Air during the same time in Nov-2012. Anchorage will become Alaska's fourth destination from Kona, joining service to San Jose, Oakland and Seattle. The carrier's Maui footprint includes flights to Oakland, Sacramento, San Diego, Portland and Seattle.
Allegiant's initial round of service introductions from the mainland to Hawaii that began in Jun-2012 and continue until year-end largely do not touch Alaska's footprint. Aside from the direct competition from Bellingham to Maui, Alaska could face some pressure on connecting flights it offers through Portland and Seattle to Hawaii from Fresno and Eugene. But Allegiant is following its low-frequency footprint with its Hawaii launch, offering one to three weekly flights in its markets, which should result in less pressure on Alaska's connecting traffic.
See related article: Allegiant's latest round of Hawaii flights reflect its network strategy
Alaska has always publicly stated it had no concerns over Allegiant's entry into the mainland Hawaii market. During a recent call with investors Alaska vice-president of planning and revenue management Andrew Harrison remarked that "Allegiant has helped open our mind to the significant amount of demand in Canada and the lower British Colombia area, where costs are very high out of Vancouver". Allegiant has a base in Bellingham, which is 86km away from the Canadian border, and is roughly a 145km drive from Alaska's Seattle hub. Similar to other airports in the US, Bellingham draws price sensitive Canadian travellers south through low fares offered by carriers Allegiant and Spirit. Both of those airlines also serve Plattsburgh, NY, which is roughly an hour's drive south of Montreal. Alaska has also built up a presence at Bellingham, and together the two carriers serve nine markets from the airport. Frontier Airlines also offers flights from Bellingham to its Denver hub. Alaska and Allegiant have a nearly even split in seat share at the airport, with Allegiant accounting for 47% of the seating capacity and Alaska comprising 46% of the available seats deployed from the airport.
Bellingham Airport capacity by carrier (% of seats): 30-Jul-2012 to 05-Aug-2012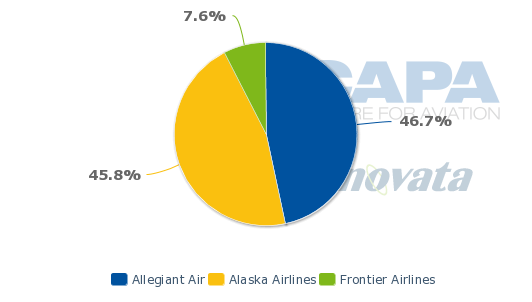 Mr Harrison remarked that Alaska's Bellingham-Maui flights beginning in Nov-2012 are already roughly 50% booked. "So overall, we found that there's been good demand for our product, which is actually, in some cases, has higher frequencies than our competitors." Schedules in Innovata show that once the two carriers launch their Bellingham-Kahului (Maui) flights Alaska will account for 68% of the weekly one-way seat share while Allegiant will comprise the remaining 32%.
Bellingham Airport to Kahului Airport (seats per week, one way): 05-Nov-2012 to 20-Jan-2013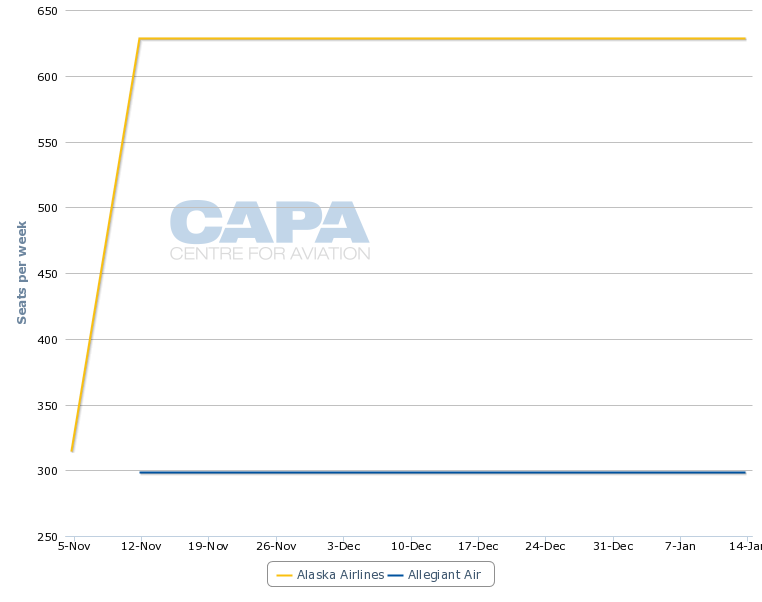 Opportunities in Hawaii are largely filled
Alaska's rapid expansion into Hawaiian markets during the last four years appears to be leveling off as carrier CEO Brad Tilden remarked to investors that while opportunities still remain in Hawaii, "the hole has largely been filled at this point".
Mr Tilden explained that with both Aloha and ATA ceasing operations in Mar-2008 roughly 20% of the Hawaiian market disappeared immediately, and that is the gap Alaska sought to fill. Mr Harrison believes the pace of growth into Hawaii will begin to slow as Alaska has seized on most of the opportunities to launch service to the islands. "As we look out over the next few years, we're going to be continuing to look for opportunities, but the Hawaii growth will start to abate," Mr Harrison stated.
The market from the Hawaiian islands to the US mainland has become largely mature, with ample service from both US network carriers and more hybrid and niche airlines such as Alaska and Allegiant. Hawaiian Airlines has added some service to Oakland and San Jose from its new Maui hub during 2012; but the carrier during the last four years has been focussed on international expansion into Asian markets including Manila, Seoul, Tokyo, Fukuoka, Osaka and Sapporo.
In late 2012 the carrier is inaugurating flights to Brisbane followed by new service to Auckland in early 2013. The carrier estimates the share of revenue represented by its North American markets has decreased to 49% from nearly 70% in 2007.
Hawaiian's mainland focus has gravitated eastward with the Jun-2012 launch of new service from Honolulu to New York. In late 2011 the carrier identified several other possible mainland destinations including Boston, Philadelphia, Washington, DC, St. Louis, Minneapolis and Detroit.
See related article: Hawaiian Airlines tops off rapid expansion with plans for a new inter-island subsidiary
Alaska faces increased competitive capacity at its Portland hub
As Alaska prepares to slow its expansion into Hawaii, the carrier is facing new competition in some of its domestic markets. Queried about competitive capacity Mr Harrison stated that Alaska is seeing some pressure in two areas – Canada and Portland.
Referencing new additions in Portland Mr Harrison remarked that "there's sort of a capacity party going on there".
Spirit Airlines during the last year has introduced flights from Portland to Las Vegas and Dallas/Forth Worth while Virgin America has become a third competitor in the Portland-Los Angeles/San Francisco markets, joining Alaska and United in operating those routes. Spirit also joined both Alaska and Southwest (who are the top two carriers at Portland in terms of seat share) in serving Portland-Las Vegas. Mr Harrison remarked that Alaska was dealing with the increased competition in its markets.
Portland International Airport capacity by carrier (% of seats): 30-Jul-2012 to 05-Aug-2012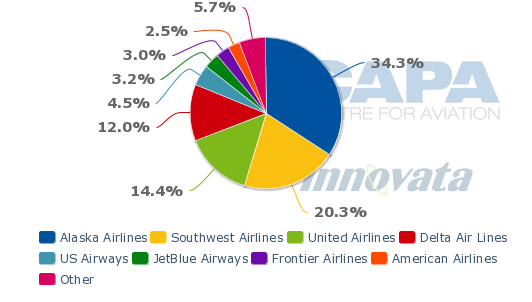 Some of the tactics being used by Alaska appear to increasing its capacity in some of the markets. Beginning around 19-Aug-2012 Alaska's seat share in the Portland-San Francisco market is increasing by 3 ppts to 35% while Virgin America's share is dropping from 15% to 8%. United is also upping its dominate share in the market by about 3 ppts from 54% to 57%.
Portland International Airport to San Francisco International Airport (seats per week, one way): 19-Sep-2011 to 20-Jan-2013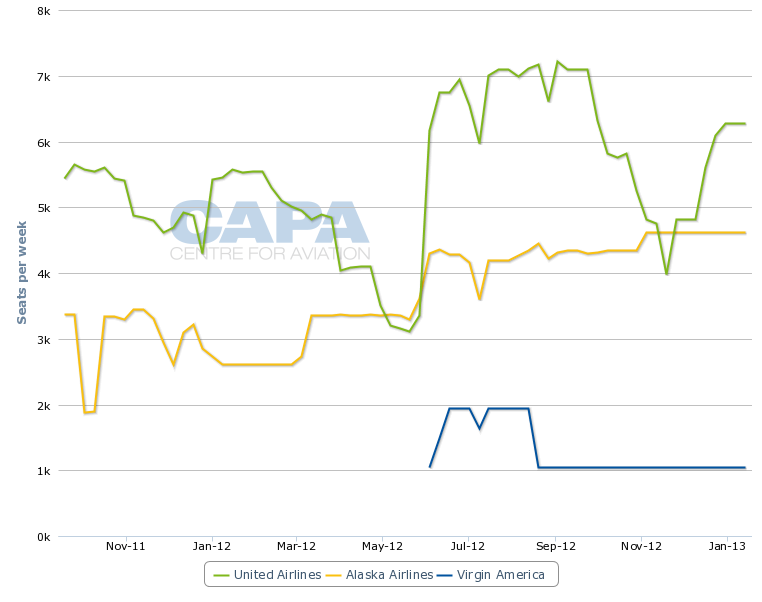 At the same time Alaska appears to be pulling back somewhat in the Portland-Los Angeles market as its current 67% seat share is falling to 60% by the end of Aug-2012 while United's share is increasing from 12% to 14%. Virgin America's seat share is growing from its current 22% to 26% during that same time period.
Portland International Airport to Los Angeles International Airport (seats per week, one way): 19-Sep-2011 to 20-Jan-2013
Spirit Airlines has built up to 22% seat share in the Portland-Las Vegas market since it launched the route in Sep-2011. Alaska currently holds a 34% share while Southwest is the dominant carrier with a 44% share of the weekly one-way seats in the market.
Portland International Airport to Las Vegas McCarran International Airport (seats per week, one way): 19-Sep-2011 to 20-Jan-2013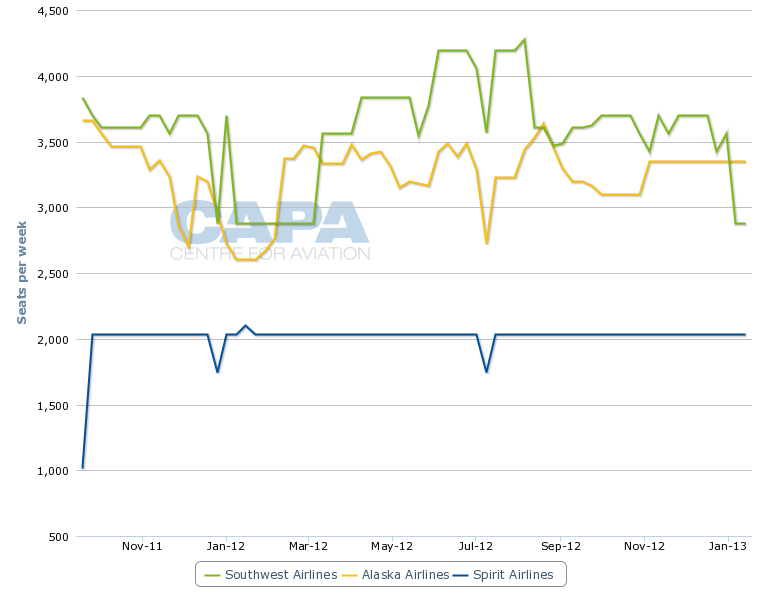 Although Canada only accounts for less than 3% of Alaska's overall network, Mr Harrison remarked that Alaska has witnessed a 10% rise in capacity from Canada into the US west coast, "which overflows out of Seattle, so we've had some pricing pressure there". Alaska's Canadian routes include service from Seattle to Edmonton and Calgary. The carrier also serves Vancouver from Los Angeles, Portland and Seattle.
Canadian carrier WestJet appears to be adding some supply into the market through the expansion of its daily Calgary-Los Angeles flights to 11 weekly services beginning in Dec-2012. The low-cost carrier also introduced flights from Calgary to Orange County in the Los Angeles basin in Jun-2011, joining the its flights to Vancouver.
Mr Harrison stated on an overall network basis, aside from a few pockets of competitive activity, that competitive pressure on Alaska is stable.
Seizing new opportunities in San Diego
Alaska has expanded its presence in the southern California market of San Diego during the last couple of years through new service to Hawaii and Mexico. During Jun-2012 it bolstered its intra-California network through new regional service from San Diego to Fresno, Monterrey and Santa Rosa.
The carrier also plans to launch transcontinental service from San Diego to Orlando in Oct-2012, which is the carrier's first long-haul flight from the city.
Mr Harrison explained Alaska's strategy in San Diego is to continue to build its presence on the US west coast "in areas that we believe to make sense for our brand". But the moves in San Diego also show that Alaska is moving into areas with little competition. Of the eight markets it operates from San Diego, it only competes with Hawaiian Airlines on flights to Honolulu.
See related article: Alaska continues to focus on transcontinental expansion to fuel 6% average annual growth
As it tones down its expansion into Hawaii and fills in the few remaining gaps in its US west coast network, Alaska is likely to start pursuing more routes in the central and eastern US as evidenced by five new transcontinental markets the carrier is launching in 2012. For now, the carrier believes there are enough opportunities in both the US and transborder markets to sustain its 6% annual growth targets.