Hawaiian Airlines tops off rapid expansion with plans for a new inter-island subsidiary
Analysis
Fast-growing Hawaiian Airlines has broadened its significant expansion to include the establishment of a new inter-island subsidiary to operate smaller turboprop aircraft to destinations not viable for its current inter-island workhorse the Boeing 717. The recently unveiled plans occur as Hawaiian is working to reverse negative revenue performance it experienced in its inter-island network during 1Q2012 after it launched a new hub in Maui.
As Hawaiian is crafting its new regional strategy its likely rival in some of the smaller markets Island Air is planning to upgauge its fleet to higher-capacity ATR aircraft, which could create unsustainable levels of capacity on the smaller inter-island routes. All this shuffling is against a backdrop of Hawaiian's aggressive push into long-haul markets from its Honolulu hub into Asia, joined by new expansion into Australia and New Zealand.
Hawaiian revealed its plans to create the new regional subsidiary on 17-Jul-2012, indicating it had signed a letter of intent for the acquisition of turboprop aircraft. Later executives told The Pacific Business News that labour agreements limit turboprop operations to aircraft with fewer than 69 seats. The carrier's executives have not yet named specific routes, but indicated to another local publication that Kapalua on northwestern Maui and the islands of Molokai and Lanai were under consideration.
Those markets appear to be well served by both Island Air and Mokulele Airlines, which was acquired by new owners in late 2011. Mokulele made a return to Kapalua in Jul-2012 with the launch of service to Honolulu, joining Island Air on the pairing. Both carriers also serve Molokai from Honolulu, and Mokulele also operates to Maui from Molokai and Lanai.
Island Air also offers some one-stop flights from Molokai to Honolulu through Lanai. Additionally, Pacific Wings offers flights from Molokai to Honolulu, Kalaupapa and Kahului. Mokulele also codeshares with Bombardier CRJ200 operator go! on some of its inter-island routes.
Island Air route map as of 24-Jul-2012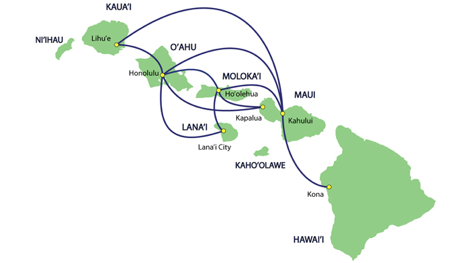 Mokulele route map as of 24-Jul-2012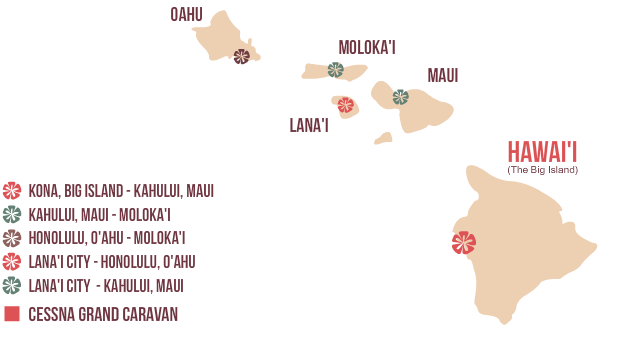 Hawaiian's move to operate turboprops in the inter-island market follows a Feb-2012 announcement by Island Air that it had signed a letter of intent for a total of six ATR turboprops, with three ATR 72s scheduled for delivery by the end of 2012 and three more ATRs arriving in 2013. At the same time Hawaiian announced the creation of its new inter-island subsidiary Island Air revealed a new livery for the ATRs, and said it would take delivery of its first aircraft in Aug-2012. Island plans to operate a mix of the larger 70-seat ATR 72s and 50-seat ATR 42s after selecting those aircraft to replace its 37-seat Bombardier Dash 8 100/200 turborprops.
With the upgauging planned by Island Air and Hawaiian's foray into markets it stopped serving during the middle of the last decade (Lanai and Molokai) or routes it has never served, Hawaiian's inter-island market could see a marked increase in capacity. That capacity expansion is on top of a 25% capacity rise in Hawaiian's inter-island capacity initiated in Jan-2012 when the carrier debuted its Maui hub.
During 1Q2012 Hawaiian's inter-island revenues only grew by 3.5%. This marked a slowdown from the 12% increase in inter-island revenues recorded in 1Q2011. At that time Hawaiian CEO Mark Dunkerley assured the carrier was taking steps to narrow the unit revenue gap by tweaking its schedule in Maui to better connect with its long-haul flights from the mainland US and its Asian network. In a 24-Jul-2012 discussion with investors Mr Dunkerley declared the revenue gap had been "eradicated" as inter-island revenues grew nearly 11% year-over-year on the same level of capacity growth.
See article: Hawaiian attempts to reverse negative inter-island performance dragged down by new Maui hub
New Hawaiian subsidiary is small-scale expansion
Hawaiian's CEO also emphasised the carrier is not taxing its resources by launching a new turboprop subsidiary, explaining that the new operation would be small in scale, ranging from three to six aircraft. He stated Hawaiian has concluded a gap exists in its network regarding its ability to offer comprehensive travel throughout the Hawaiian islands to both state residents and tourist interested in traveling throughout Hawaii. The carrier cannot serve those smaller markets with its current fleet of 18 123-seat 717s dedicated to inter-island operations.
Mr Dunkerley dismissed concerns about the ability of some routes to support more than two competitors, concluding that Hawaiian believes existing operators in those markets "don't deliver adequate levels of service". Hawaiian and Island Air actually codeshare on the smaller carrier's flights to Molokai, Lanai and Kapalua.
Dunkerley stressed the new subsidiary allows Hawaiian to fill a hole in its network, noting it will be "small in context of everything else we're doing". He characterised the new carrier as strengthening the foundation of the company that, in turn, allows Hawaiian to broaden its reach into Asia and the US mainland. Hawaiian's management offered no definitive launch timeframe for the new subsidiary.
Rapid international expansion continues with Auckland and Brisbane
By the end of 2012, Hawaiian will have added eight new destinations within about 30 months. Its 2008 debut of flights from Honolulu to Manila was followed by new service to Tokyo Haneda in 2010. During 2011 the carrier launched flights from Honolulu to Seoul and Osaka. In 2012 new routes launches include New York, Fukuoka and Sapporo and Brisbane in Australia (Brisbane launches in Nov-2012). The carrier continued adding Airbus A330-200s to its fleet during 2Q2012 and now operates nine of the type.
Hawaiian also plans to add new thrice weekly service from Honolulu to Auckland in Mar-2013, supplying competition to Air New Zealand, which currently has a monopoly on the route. Hawaiian will be the sole carrier on flights from Honolulu to Brisbane after Air Australia shuttered its operations in Feb-2012.
Both Brisbane and Auckland were listed as potential new routes for Hawaiian in late 2011 as the carrier outlined its strategy of targeting major markets that have no nonstop or limited service to Hawaii. Other cities listed by the carrier include Melbourne, Singapore, Beijing, Shanghai, Taipei, Hong Kong, Montreal and Toronto.
Hawaiian also appears to be examining other US east coast markets to join its daily service to New York from Honolulu, which was launched in Jun-2012. Potential candidates include Minneapolis, Detroit, St. Louis, Washington DC, Philadelphia and Boston. The carrier has identified Japan, Asia, Australian and the Eastern US as regions where it sees opportunities for growth.
Markets under consideration by Hawaiian as of Nov-2011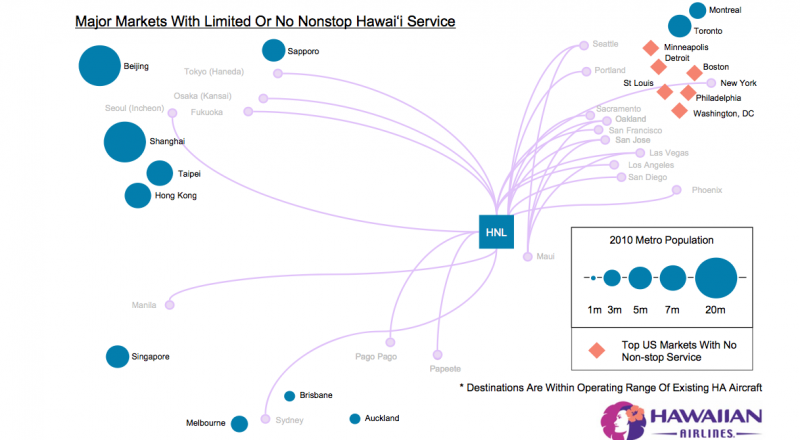 With the new service to Brisbane and Auckland Hawaiian is taking advantage of an increase in visitors to Hawaii from Oceania. Data from the Hawaii Tourism Authority show arrivals to Hawaii from the region increased by 32% from 2010 to 2011. Brisbane passengers can now skip a connection through Sydney in order to catch flights operated by Qantas and its subsidiary Jetstar to Honolulu and opt for a direct flight to the islands.
Tourism statistics from Oceania to Hawaii: 2007-2011

Sapporo also fits Hawaiian's profile of a market with limited exposure to the US. Schedules in Innovata show United is the only US carrier serving Sapporo, but it offers flights from its Guam hub, and not Hawaii or the US mainland.
Hawaiian kept its service levels steady to Japan after the earthquake and tsunami that struck the country in Mar-2011, and pushed forward with its plans to expand in the country. Sapporo is the fourth Japanese destination Hawaiian has introduced since 2010. Japan is historically a strong market for Hawaii tourism, and in 2011 Japan accounted for the second largest number of visitor arrivals to Hawaii behind the US.
See article: Hawaiian pushes forward with international diversification strategy
The diversification strategy Hawaiian has adopted that entails expansion into markets with limited exposure to Hawaii appears to be on track. During 2Q2012 North American markets represented 49% of Hawaiian's revenues, down from 70% five years ago. The company also appears to be absorbing the spool-up of the new markets as it posted a 2Q2012 profit of USD4 million compared with a USD50 million loss in the year prior. Its revenues increased from USD395 million to USD485 million during the quarter.
Hawaiian's growth on all fronts continues unabated as carrier works to firm turboprops acquisitions and adds three more A330s in 2013. The airline's management believes Hawaiian's planned expansion is not too much for the carrier to absorb. But only time will tell if its expansion into small inter-island and large international markets will create sustained profitability for the carrier.