Allegiant's latest round of Hawaii flights reflects its network strategy
Analysis
Allegiant Air's latest round of Hawaiian routes is more representative of the carrier's historical service patterns rather than the Las Vegas-Honolulu route debuting in the initial roll-out during Jun-2012. While launching its first flights to Hawaii from Las Vegas was driven more by operational considerations, the second batch of flights Allegiant is introducing in November are small markets that are largely shielded from legacy competition.
After a lengthy process to obtain ETOPS, Allegiant now has all the requisite approvals to inaugurate service to Honolulu in June from Fresno, California and Las Vegas, Nevada with 223-seat Boeing 757s, a new fleet type for the carrier. Beginning in Nov-2012 the carrier is introducing flights from Eugene in Oregon and Santa Maria and Stockton in California to Honolulu. Other new service includes flights from Bellingham, Washington to Honolulu and Maui.
The protracted ETOPS approval created marketing obstacles for Allegiant in launching its highly-anticipated flights to Hawaii.
It revealed its initial markets in Apr-2012, creating a tight booking window for the launch of its longest flights yet. Under those circumstances Allegiant management concluded it was prudent to debut its Hawaiian service with just two routes.
Despite the undesirable time period available for bookings, Allegiant management says advanced bookings are robust in both markets, particularly Fresno. Stronger bookings in Fresno is understandable since it is a smaller city without direct access to the Hawaiian islands, which creates an easier environment for Allegiant to stimulate demand. In comparison, Hawaiian Airlines already offers about 5,000 weekly one-way seats in the Honolulu-Las Vegas market.
Honolulu to Las Vegas capacity by carrier (seats per week, one way): 19-Sep-2011 to 4-Nov-2012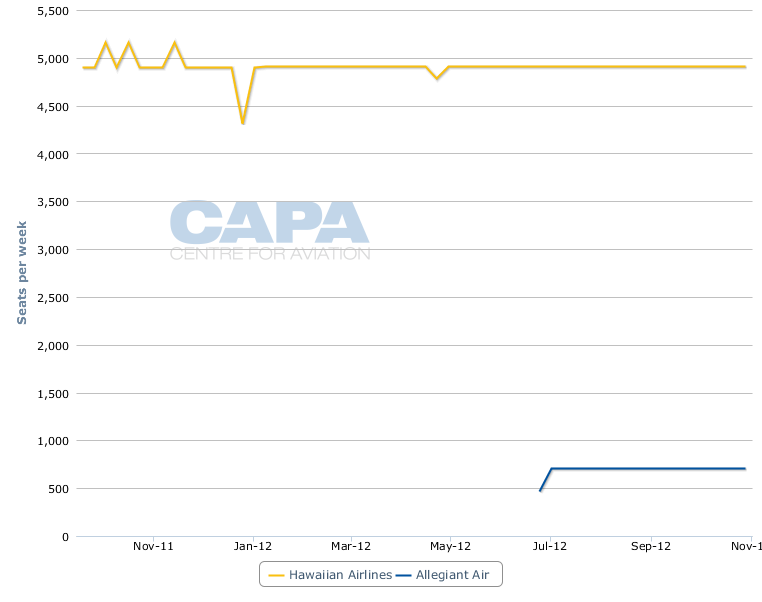 Allegiant executives admit the initial schedule it created for new service to Hawaii beginning in Jun-2012 revolved around operational requirements, and does not represent the best opportunities for the islands. The decision to launch flights from Las Vegas was driven by Allegiant's desire to develop a 757 base in the city, which is the company's headquarters and home to its overall base of operations. However, they feel confident the carrier can offer lower fares than Hawaiian to create some stimulation in the mature Las Vegas-Honolulu market.
See related article: Allegiant Air to enter Hawaii market in June with Honolulu flights to Fresno and Las Vegas
The carrier owns six 757s and has been operating one aircraft from Bellingham, Washington and McAllen, Texas to its Las Vegas base since 2011. Two aircraft leased out to European operators are scheduled for return to Allegiant by year-end, and three aircraft are in an induction phase. Current projections show Allegiant plans to operate four 757s during 3Q2012, and all six operating by 1Q2013.
Allegiant's configuration and estimated costs for six Boeing 757s in operation by 1Q2013

Another encouraging element for its new service to Hawaii is the potential for ancillary revenue expansion, both from the unbundling of air travel products and the sale of travel packages that include hotel stays and car rentals. Allegiant works with travel suppliers in all of its leisure markets to create travel packages. These contributed nearly USD30 million to its overall revenue in 2011 of USD779 million.
The company estimates generating more than USD40 per passenger on its new Hawaii flights from sales of air-related products that include seat selection and baggage fees. Delays in obtaining ETOPs approval resulted in Allegiant making a late start in building up hotel inventory, but in late Apr-2012 company executives stated it had forged contracts with 50 properties on the island of Oahu, and the take-up rate for hotel rooms at that time was materially higher than most of its US mainland leisure destinations with the exception of Las Vegas. However, they cautioned the performance in Hawaii hotel sales would improve next summer after Allegiant gained some selling experience in the market.
Allegiant's estimated revenue from third party party products, 2010-2012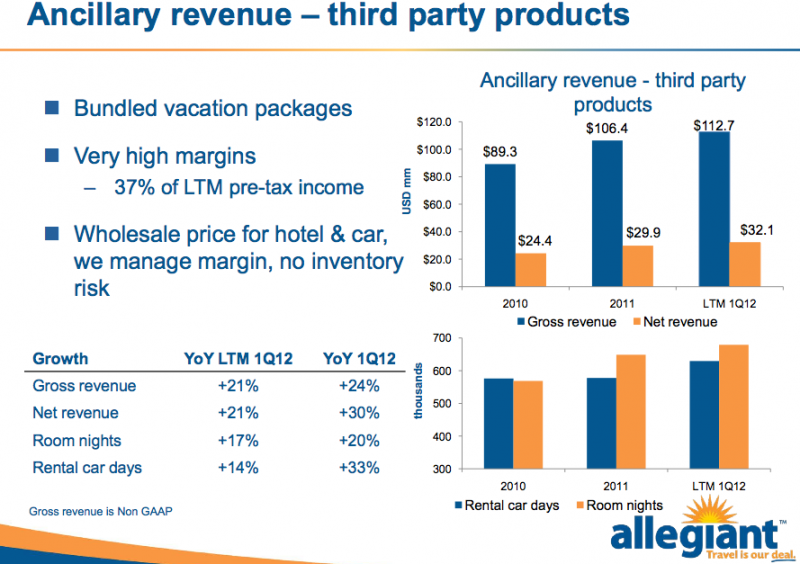 Fresno more typical of Allegiant's approach to Hawaii
While the Honolulu-Las Vegas market does not mirror Allegiant's typical historical route launches, Fresno exemplifies the smaller markets Allegiant links to its large leisure destinations, and a batch of new Hawaii services set to debut in November reflects Allegiant's more typical service patterns.
Prior to the latest announcements Allegiant management stressed Fresno was "a good endorsement of its thought process" as it builds out its Hawaii flights.
Allegiant has opted to compete with Alaska Airlines on its twice-weekly flights from Bellingham to Honolulu in Nov-2011. Alaska has served the market since Jan-2011, and offers daily flights on the pairing. But Alaska's seats in the market are dropping off significantly prior to Allegiant's Honolulu launch. Alaska has been increasing its focus on Hawaii as it seeks to better distribute capacity during certain times of the year.
See related article: Alaska, Delta and JetBlue zero in on managing seasonality in an attempt to preserve profitability
Bellingham to Honolulu capacity by carrier (seats per week, one way): 19-Sep-2011 to 4-Nov-2012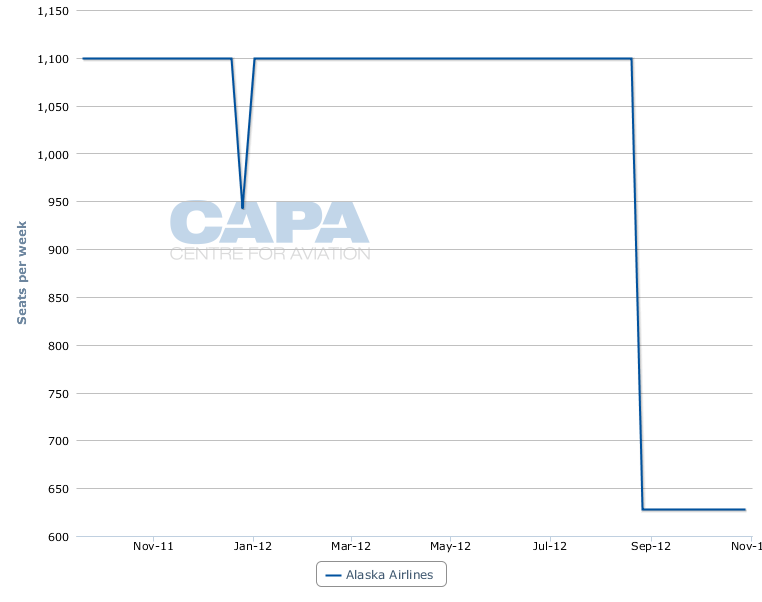 Roughly 145km from Alaska's hub at Sea-Tac, Bellingham is a small market served only by Alaska and Allegiant, who spilt the seat share roughly down the middle, which means that each carrier has ample brand recognition in Bellingham. There could be enough demand for both airlines' Hawaii flights as Bellingham's 86km distance from the Canadian border also draws price-sensitive Canadian travellers who might be more apt to find Allegiant's vacation packages attractive.
Bellingham airport capacity share (% of seats) by carrier: 14-May-2012 to 20-May-2012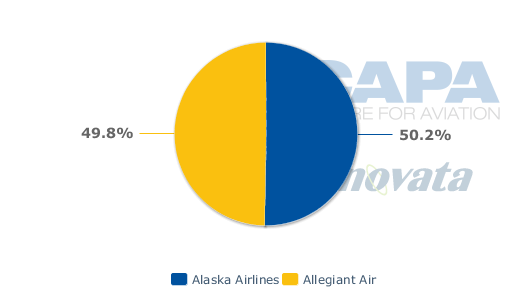 Allegiant is also introducing two weekly flights from Bellingham to Maui in Nov-2012, giving passengers a second option for travel in the Hawaiian islands. Allegiant is only linking Maui to Bellingham, which is probably a test for future service to Maui from some of its smaller US west coast destinations.
New flights from Eugene to Honolulu should perform well as those passengers currently have to connect on regional service operated by Alaska and United for travel to Hawaii. Allegiant's once-weekly flight should offer enough capacity to stimulate traffic on the route. Highlighting the strong bookings on its Fresno-Honolulu flights, Allegiant concludes that "any concern over limited frequency at this point seems to be misplaced". Despite that declaration Allegiant is adding a second weekly flight in the Fresno-Honolulu market in Nov-2012.
Both Santa Maria and Stockton are small markets, and Allegiant is the only carrier serving Stockton. United offers turboprop service to Los Angeles from Santa Maria. The airport is located in Santa Barbara county on California's central coast, and cost conscious passengers may opt for Allegiant to avoid driving south to Los Angeles to catch flights to Hawaii. Stockton-Honolulu represents a classic Allegiant service pattern: a small market with no competition where the carrier's low-frequency service stimulates incremental demand with low fares.
As it embarks on its Hawaii launch, which has been two years in the making, Allegiant feels comfortable that the calculations which supported its decision to add a second fleet type to join its MD-80 aircraft and launch its first flights from the US mainland remain in place. The company's executives recently stated their analysis showed margins on flights to Hawaii would be higher than the carrier's mainland flights. Allegiant management admits that while it is too early to predict the margins its new Hawaii service will produce, there is no reason to believe the conclusions they reached two years ago are any different today.