AirAsia X plans to quadruple revenue in 2009; expects tenfold increase by 2010
Analysis
AirAsia X stated it plans to increase revenue to USD273 million in 2009, after slightly more than two years of operations, an increase from approximately USD68 million in 2008. The carrier also expects to report a profit in 2009.
AirAsia X reported a net profit margin of 35% and 30% in Dec-2008 and Jan-2009, respectively, with yields for pre-sold tickets for 2009 reportedly improving 20% year-on-year (off a low base). AirAsia X also stated it is targeting a tenfold increase in annual revenue to by the end of 2010.
Targeting 1 million pax in 2009; 5 million within five years
Traffic wise, AirAsia X stated it has so far weathered the global economic crisis by tapping into a market segment that has not yet curtailed travel. Average load factors have increased 4 ppts. The LCC is aiming increase its passenger numbers from 250,000 to 1 million in 2009, as its increases its network from four to 11 destinations.
The long-haul LCC also stated it expects to be among Malaysia's leading companies within five years, with CEO, Azran Osman-Rani stating, "we can definitely achieve more than USD1 billion revenue with 25 planes carrying 5 million passengers a year, and become a top 20 company in Malaysia".
Pressing ahead with network expansion plans
AirAsia X has continued to emphasize that high fuel costs and external pressures would not deter the carrier from further route expansion. According to AirAsia Group CEO, Tony Fernandes, "when everyone cuts back there is a gap for operators like us to capitalise on. In the immediate term business looks good... I'd rather be a low cost airline in a recession than a premium airline because I think people look for value".
In the long-term, AirAsia X plans to grow its network to approximately 30 destinations across the Asia Pacific region by 2013, with its foundation fleet of 25 A330s, including between eight and ten cities in India in the next five years.
AirAsia X planned network expansion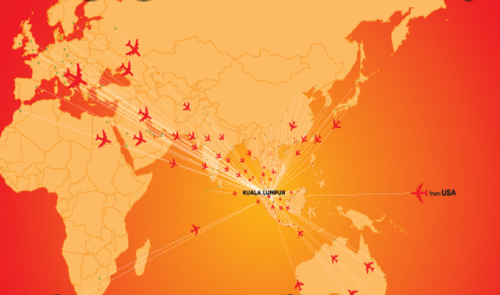 In the short-term, AirAsia X stated its core focus would continue to be expanding its network in the Asia Pacific region. Plans are currently under way for the low-cost long-haul carrier to commence services from its Kuala Lumpur hub to Tianjin on 02-Apr-09 and possibly to Chengdu, Taipei, Amritsar and New Delhi later in 2009. Currently, AirAsia X operates to the Gold Coast, Perth, Melbourne, Hangzhou and London.
Air Asia and AirAsia X (in red) Route Network: Mar-2009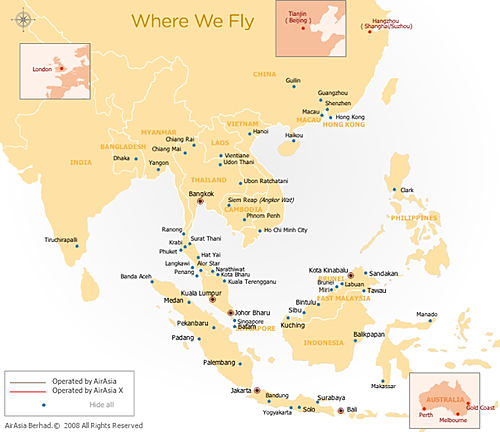 AirAsia X also stated it plans to add Sydney to its network in 2009, expanding by 10-15 new routes this year. AirAsia X has also previously stated it hopes to launch services to at least three destinations in Japan (Hokkaido, Osaka and Fukuoka) by the end of 2009, after the Japanese Government relaxed its visa requirements for Malaysians.
The introduction of new destinations is planned to coincide with the delivery of three new A330-300 aircraft, in Sep-2009, Nov-2009 and Dec-2009, respectively. The aircraft are among 25 A330-300s the airline has ordered for delivery through 2013, of which two are already in service. The airline currently operates three A330-300s (including one leased A330) and one leased A340-300s.
AirAsia X fleet plan: 2009 to 2012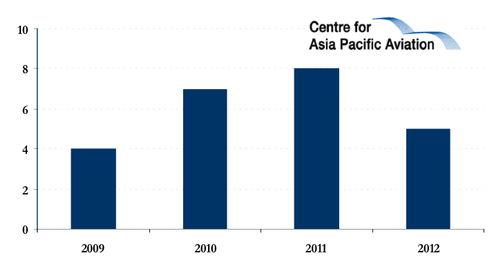 ... but looking at further Europe and US options
Looking further afield, AirAsia X plans to increase the frequency of its London services to daily by Jul-2009, if the London services prove viable, the carrier "may consider covering Germany and Eastern Europe". Mr Osman-Rani previously stated that "Moscow is of big interest to me, as is Germany and some of the central European destinations.
AirAsia X is leasing a second A340 to support the increased London frequencies, while a third A340-300 could be leased if the carrier decides to expand its European network.
AirAsia X is also considering launching services to the US market by the end of 2009. The carrier, which has finalised a lease agreement for its second A340-300 from Air Canada, will either operate from Kuala Lumpur to Los Angeles or New York.
According to Mr Osman Rani, "there has been a lot of interest from JFK (New York), while airports in California have also contacted us...If we have one plane, at most we can do is fly five times a week to Los Angeles. The challenge is to secure the rights from the governments".
Background Information:
An affiliate of AirAsia and Virgin Group;
Is a long-haul, low cost airline unveiled in Jan-07, and launched service in Nov-07;
Having franchised the AirAsia brand, AirAsia X aims to cover destinations more than four hours in flight duration from Kuala Lumpur, which complement the existing AirAsia short-haul network;
Currently operates from Kuala Lumpur to the Gold Coast (Australia) and Hangzhou (China) using leased aircraft;
Has ordered 15 A330s, two of which will be delivered this year (Oct-08 and Dec-08), with another two to be delivered in 2009. The airline plans to add 25 extra A350s or B787-10 aircraft to its fleet as it adds routes to China, the UK, India, South Korea, Japan and the Middle East over the next few years;
Expects to be profitable in its second year of operations and hopes to list the company in Malaysia as early as 2010;
Expects to handle 10 million passengers p/a by 2010;
Current cost per ASK (including fuel) is one of the lowest in the industry, at just under USD 4 cents, with the airline expecting to achieve unit costs of less than USD 3 cents once it receives more aircraft.