Aeromexico IPO raises USD332 million for fleet and network expansion
Analysis
Aeromexico is embarking on a major expansion plan, using the MXN3.89 billion (USD332 million) raised from its initial public offering (IPO). The Aeromexico group, which includes regional carrier Aeromexico Connect and leisure carrier Aeromexico Travel, completed an offering on the Mexican Stock Exchange on 14-Apr-2011. The shares were priced at MXN31 per share, which was towards the lower end of the MXN30-MXN34 guidance range but were heavily oversubscribed.
Aeromexico says 125.5 million shares have been sold to 3,000 investors, including an over-allotment option of 16.4 million. The over-allotment option helped Aeromexico beat its original Mar-2011 estimate that it would raise MXN2.7 billion.
The airline group says there was demand for twice as many shares, resulting in an oversubscription which allowed it to seek a balanced allocation between local and international investors. Mexican regulations cap foreign ownership of airlines at 25%.
Grupo Aeromexico, which has been owned entirely by Citigroup arm Banamex since it was sold by Mexican government holding company Cintra in 2007, will use the proceeds to expand and try to maintain its leading position in the Mexican market. Aeromexico's outlook improved dramatically last year after Mexico's other major airline group, Grupo Mexicana, suspended operation. Aeromexico and Mexicana were fierce competitors since dropping their longstanding partnership in 2008, leading to over-capacity on many routes, reduced yields and low load factors which were unsustainable.
Aeromexico's financial position improved dramatically last year following a successful restructuring and Mexican'a exit. Aeromexico, which had incurred unspecified losses in 2008 and 2009, was back in the black in 2010 with a MXN2.4 billion net profit on MXN28 billion in revenues. It is now Latin America's fifth largest airline group by revenue.
See related report: FACT FILE: Latin American aviation. 2011 will be crucial year for global alliances

Even if Mexicana succeeds in its long delayed attempt to re-launch operations, the new Mexicana would be a small niche operator, ensuring Aeromexica's future as the country's only surviving legacy. Aeromexico still faces intense competition from a trio of low-cost carriers – Interjet, VivaAerobus and Volaris – in the domestic market and increasingly on routes to the US. This competition is expected to continue growing as all three low-cost carriers add capacity from Aeromexico's main hub of Mexico City, using newly secured slots at the previously congested airport near the city centre.
Aeromexico now relies on its lower-cost Aeromexico Connect subsidiary in the domestic market, with its mainline unit primarily only operating trunk routes such as Mexico City to Guadalajara and Monterrey. Aeromexico Connect transported 379,000 domestic passengers in Feb-2011, surpassing the 350,000 at Aeromexico mainline. Interjet transported 403,000 domestic passengers in Feb-2011, Volaris 342,000 passengers and VivaAerobus 159,000.
Domestic market share (%) in Mexico: Feb-2011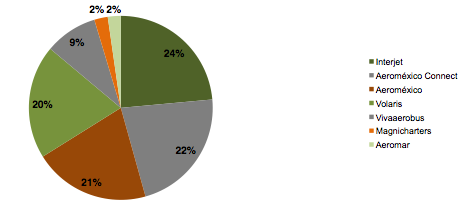 Aeromexico Connect, which also operates some short-haul routes to the US, currently has a fleet of 39 ERJ-145s and eight E-190s, according to Ascend data. As part of the expansion facilitated by the IPO, 10 E-190s will be added to this fleet.
Proceeds from the IPO will also be used to acquire 10 additional B737-700/800s for Aeromexico mainline. The carrier currently operates 40 B737-700/800s, according to Ascend data. Some of the additional B737s will be used to add capacity to the US, where both Aeromexico and Volaris are keen to assume some of the market share vacated by Mexicana. Grupo Mexicana was the largest Mexican carrier in the US market, was the only Mexican carrier serving Canada and had a 30% share of the domestic market.
Some of the additional B737s may also be used to boost capacity on Latin American routes. Aeromexico over the year has been focusing on growing its Latin American network with support from its SkyTeam partners. Panama's Copa exited SkyTeam in late 2009, leaving Aeromexico as the only SkyTeam member in Latin America and a hole in the alliance's intra-Latin America network.
Aeromexico last year launched services to Bogota in Colombia, Havana in Cuba and San Jose in Costa Rica. This year it plans to launch services to Caracas in Venezuela, Guatemala City and Panama City. The expansion will give Aeromexico five destinations in Central America and the Caribbean and six destinations in South America. Previously Aeromexico only served one destination in all of Central America and the Caribbean, a region which was more a stronghold of Mexicana and is now dominated by rival airline groups Copa and Avianca-TACA.
Aeromexico also added capacity in late 2010 to Buenos Aires, traditionally a strong market for Mexicana. Aerolineas Argentinas, which is planning to join SkyTeam next year, also launched service in Mar-2011 in the Buenos Aires-Mexico City market to complement the increased Aeromexico service.
While Aeromexico still faces significant competition domestically, it now has the distinct benefit of being Mexico's only long-haul operator. Mexico's international market is now dominated by foreign carriers. Aeromexico, based on Feb-2011 data, transported only 10.6% of the total number of international passengers flying in and out of Mexico. Overall, foreign carriers now account for 86.6% of Mexico's international market, with Mexican carriers accounting for only 13.4%. But Aeromexico is keen to narrow this gap by adding aircraft and capacity.
Foreign vs Mexican airlines' international passenger numbers ('000s): Feb-2011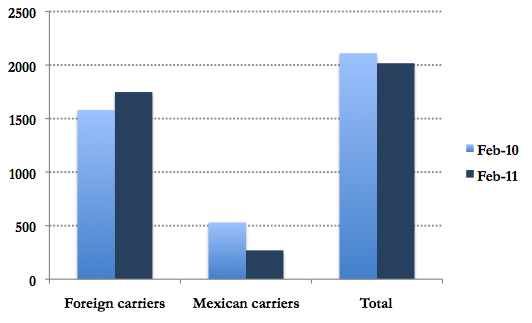 While the initial short-term focus will be on expanding the narrowbody fleet and medium-haul network, eventually Aeromexico is also expected to grow its transatlantic and transpacific operation. This will likely not come until Aeromexico's B787s are delivered. Aeromexico, which now serves Shanghai and Tokyo in Asia as well as Barcelona, Madrid and Paris in Europe, has five 787s on order. London, which had been served by Mexicana, could be the next Aeromexico long-haul destination.
Aeromexico shares are now trading in Mexico City under "Aeromex". In the first day of trading on 14 Apr-2011 shares fluctuated between MXN30.10 and MXN31.50. The trading volume was just under 8 million with the last shares traded at MXN30.65, according to Mexico stock exchange trading data.
Aeomexico becomes the fifth publicly traded Latin American airline group, joining Copa, Gol, LAN and TAM – all of which are now traded on the New York Stock Exchange. Avianca-TACA is also expected to soon complete an IPO on the Bogota Stock Exchange. Once Avianca-TACA is formally listed, the six largest Latin American airline groups by revenue will all be publicly traded.