Aer Lingus looks to partnerships and new smaller aircraft across the Atlantic for long-haul future
Having gone through a restructure in recent years, Aer Lingus is now focusing on growth, organic and virtual, CEO Christoph Mueller stated on the sidelines of CAPA's Airlines in Transition conference in Dublin. Long-haul of course is the focus for a European carrier given its profitability, and Aer Lingus is looking to expand frequency and overall capacity in North America by using smaller aircraft than the carrier's all-A330 long-haul fleet. Aer Lingus will target new destinations as well as look for where it can gain synergies with key codeshare partners JetBlue Airways and United Airlines.
Ireland's geography makes it a conducive hub for North America-Europe flights, but less so for flights east of Europe. Asia and Australia are home to a large but diverse Irish diaspora, which Aer Lingus will actively target for the first time through its partnership with stakeholder Etihad Airways. These destinations are locations Aer Lingus could not and would not be able to serve independently. Aer Lingus is also looking to leverage its low operating cost and seasonal demand by expanding its wet-lease portfolio, which includes short-haul flights for Virgin Atlantic and long-haul flights for Novair.
Christoph Mueller, CEO, Aer Lingus talks at CAPA's Airlines in Transition
Aer Lingus to use new smaller aircraft to increase frequency and capacity across the Atlantic
Aer Lingus has been able to grow despite the shrinking Irish economy by focusing on transfer traffic, primarily between the US and continental Europe using Ireland as the connecting point. Aer Lingus in Jun-2013 will be the 19th largest carrier ranked on intra-Europe traffic but it relies more on the breadth of destinations than a large number of frequencies. It has 73 European destinations according to Innovata compared to 93 at Norwegian Air Shuttle (ninth largest in Europe ranked on seats) and 88 at British Airways (eighth largest in Europe).
Aer Lingus European route map: Apr-2013
A right-timed single daily service can connect with long-haul flights in both directions. Aer Lingus' connecting network is helped by early arrivals: 05:10 from New York (with another arrival at 08:55) into Dublin and 06:00 into Shannon. Likewise Boston arrives at Dublin at 05:15 and 08:00 into Dublin with a 06:00 arrival into Shannon. Chicago flights arrive into Dublin at 05:15 and 09:25. Orlando arrives into Dublin at 08:15. Boston, Chicago, New York and Orlando are Aer Lingus' sole long-haul destinations as of Apr-2013.
Aer Lingus' use of a single terminal at Dublin, as well as the airport's efficiency being smaller than mega hubs like London and Amsterdam, help facilitate transfers.
Aer Lingus has a large departure bank between 06:00 and 08:00 to cater for local traffic and connections from early inbound international flights. Many of the flights departing during that early wave are to popular destinations like London, Manchester and Birmingham that see additional flights later in the day, allowing for point-to-point traffic but also another service if there are mis-connections. Flights departing later in the day (Bordeaux, Ibiza) are more likely to be the sole service for the day.
Aer Lingus has a stronghold on the Ireland-US market with an approximate 50% capacity share during the peak northern season and as high as 60% during the off-season when US carriers end seasonal services.
Aer Lingus movements at Dublin airport: 29-Apr-2013
Aer Lingus' sole long-haul aircraft on order (A350-900s) are not due for delivery until 2015, but in advance of that Mr Mueller said Aer Lingus was looking to wet-lease smaller aircraft to expand frequencies and overall destinations in the US. The aircraft have since been confirmed as three 757-200s, and Aer Lingus could use them to open new (smaller) cities or replace some of its existing thinner A330 routes to allow the A330s to be re-deployed on markets that require more capacity and/or range than the 757-200, which can adequately travel between the eastern US and Ireland. (United uses some 757s further east into Europe.)
Aer Lingus projected delivery dates for aircraft on order being purchased directly from manufacturers as at 29-Apr-2013
Ireland to USA capacity by carrier (one-way seats per week): 19-Sep-2011 to 20-Oct-2013
Ireland to USA capacity by carrier and route total (one-way seats per week): 19-Sep-2011 to 20-Oct-2013
The US is Aer Lingus' sole long-haul market and the carrier does not offer service to the much smaller market of Canada.
Ireland to Canada capacity by carrier (one-way seats per week): 19-Sep-2011 to 20-Oct-2013
United Airlines and JetBlue partnerships expand US network access
Aer Lingus last decade left the oneworld alliance and has since remained unaligned. Mr Mueller said costs outweighed benefits as if Aer Lingus was an alliance member, "I would have a partner portfolio of at least 50% that would be inactive." Mr Mueller opined, "the high time of alliances is over in terms of value to the customer and the cost-benefit relationship."
But it has partnerships under what Mr Mueller calls an open architecture platform with United Airlines and JetBlue Airways. United and Aer Lingus have reciprocal codesharing, including on trans-Atlantic flights (except for Newark-Dublin). Aer Lingus codeshares on JetBlue flights. JetBlue does not yet codeshare on any other carriers' flights but expects to have its first two-way codeshare in 2013. United also codeshares on some of Aer Lingus' Ireland-UK services (including to London Heathrow), giving United greater virtual access.
Aer Lingus codeshares on JetBlue out of Boston and New York, and on United out of Chicago and Washington Dulles. United codeshares include destinations in Canada. Some domestic US destinations (like Denver) have connecting opportunities on both United and JetBlue, but such overlap is almost inevitable in partnerships and, given the small scale, tolerated.
JetBlue is the largest domestic carrier at Boston and New York while United holds that status in Chicago and Washington Dulles. The two are almost ideal and complementary partners; any other partnership solution covering its four key US gateways would likely involve three or more partners.
Aer Lingus has aligned closer to JetBlue by moving into the carrier's purpose-built Terminal Five at JFK, which has customs facilities (although passengers departing Ireland for the US go through pre-clearance in Ireland). Another JetBlue partner, Hawaiian Airlines, also uses T5. This helps JetBlue offset its operating costs and facilitates smoother and faster transfers as previously passengers had to connect between T4 (Aer Lingus' former terminal at JFK) and T5 by walking outdoors or using the shuttle AirTrain.
Boston Logan domestic seat capacity by carrier: 29-Apr-2013 to 5-May-2013
New York JFK domestic seat capacity by carrier: 29-Apr-2013 to 5-May-2013
Chicago O'Hare domestic seat capacity by carrier: 29-Apr-2013 to 5-May-2013
Washington Dulles domestic seat capacity by carrier: 29-Apr-2013 to 5-May-2013
Etihad partnership gives Aer Lingus access to markets it could never tap on its own
Aer Lingus is focused on the 70 million-plus Irish diaspora, which is spread across North America, Asia and Australia. Mr Mueller said Aer Lingus' partnership with Etihad Airways enables Aer Lingus to reach destinations it would have almost never been able to serve on its own. Not only do the distances in Asia and Australia require a different fleet, but Aer Lingus would be disadvantaged for any connecting traffic due to its Irish hub necessitating significant backtracking over Europe.
Etihad is the largest Gulf carrier in Dublin, one of the rare markets where Emirates is not the largest (Qatar Airways does not serve Ireland).
Etihad owns just under 3% of Aer Lingus and has flagged its intent to increase its stake once the mood is right, referencing both the government's remaining ownership and Ryanair's recent unsuccessful takeover bid. In addition to gaining passengers for its Asian and Australian flights, Etihad is partnering with Aer Lingus to use its bases as a springboard for Northern Europe and the UK in particular.
Emirates serves a number of UK destinations like Newcastle and Birmingham that Etihad cannot due to its smaller size. Emirates also has significant capacity into the UK that Etihad will not match but will try to rival via partnership options rather than its own capacity. Aer Lingus and Etihad received approval in Apr-2013 for Etihad to codeshare on Aer Lingus' Dublin-US flights, allowing Etihad further access via virtual partnerships than additional capacity.
Etihad in Jan-2013 said about 4,000 passengers have used the codeshare in its first four months. This number will undoubtedly increase as the relationship matures and additional codeshares are added on each side. Etihad CEO James Hogan at the time told local media that Etihad would like to add more Australian codeshares to Aer Lingus. Aer Lingus now codeshares on Etihad's Melbourne and Sydney services but not Etihad's only other point in Australia, Brisbane served via Singapore.
Dublin to UAE capacity by carrier (one-way seats per week): 19-Sep-2011 to 20-Oct-2013
Aer Lingus looks for more wet-lease deals that take advantage of its low cost base
The final and relatively new component in Aer Lingus' strategy for growth is wet-lease arrangements. Aer Lingus wet-leases four A320s to Virgin Atlantic for the latter to operate on its short-haul UK domestic services branded as "Little Red", which commenced in Mar-2013. Mr Mueller sees carriers being attracted to Aer Lingus' low operating cost at a time their own short-haul services are bleeding.
Aer Lingus can operate aircraft as white tails, with its own branding or with the leasing carrier's identity, as is the case with Virgin Atlantic where the exterior and interior are in Virgin colours and styles. Aer Lingus says a number of carriers are interested. A high-profile lease from Virgin Atlantic undoubtedly gave Aer Lingus attention, but the considerable doubt over Little Red's viability may hurt Aer Lingus' marketing appeal. Aer Lingus has no risk sharing on the Virgin Atlantic deal.
Aer Lingus will offer further wet-leases of narrowbody aircraft as well as look to use its long-haul A330s during the northern winter when it pulls back US capacity. Aer Lingus from 2010 to 2012 operated A330s from Washington Dulles to Madrid as a year-round service in partnership with United.
Aer Lingus recently signed an agreement with Novair to operate a northern winter charter from Stockholm to the Caribbean for three years from 2014. In this case Aer Lingus will not re-paint its aircraft. Such arrangements are beneficial to other carriers that need capacity during limited periods, as well as Aer Lingus which has slack in its schedule during the northern winter. The northern winter is when Aer Lingus tries to schedule intensive maintenance so aircraft are taken out without making them unproductive.
Aer Lingus is finding balance between organic and virtual growth
Aer Lingus is one of the few carriers to find a balance between its own short- and long-haul growth as well as virtual growth through partnerships. There are clearly upsides, but introducing partners does raise complexity over the need to balance them.
Ireland international seat capacity by carrier: 24-Jun-2013 to 30-Jun-2013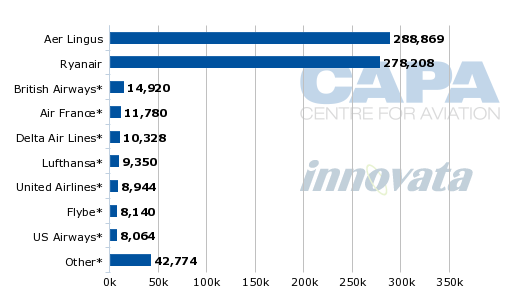 *denotes foreign carrier
Source: CAPA – Centre for Aviation & Innovata

As the largest international carrier in Ireland, Aer Lingus will want to look to leverage its position. Additional US capacity is sensible, especially by introducing a smaller-gauge aircraft.
As for looking east, as its partnership with Etihad spools-up, it may realise the significant capacity it is carting off to Abu Dhabi and want to place its own metal in the market. This is not necessarily a straightforward decision and while perhaps lucrative, small across the larger picture of Aer Lingus' network.