14-Sep-2009 1:00 PM
Vueling Aug-2009 traffic stronger following clickair merger, AirArabia targeting launch of Egypt JV
Vueling's shares gained 4.7% on Friday, as the carrier increased passenger numbers by 79% to 1.2 million in Aug-2009, due to the carrier's merger with clickair. Load factors remained strong at 84.7%, although this was slightly down year-on-year (by 0.3 ppts).
NB: DAILY LCC SECTOR strategic updates from around the world are NOW AVAILABLE! Sign up today for your free trial subscription to Peanuts! Daily.
Selected LCCs daily share price movements (% change): 11-Sep-09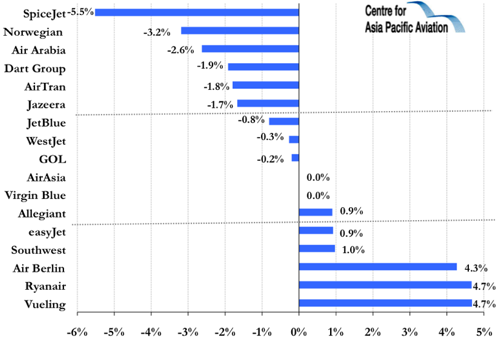 Also in Europe, Ryanair's shares were also stronger on Friday, up 4.7%, with Air Berlin up 4.3% and easyJet gaining 0.9%.
AirArabia's shares were down 2.6% on Friday. Air Arabia and Travco Group reportedly announced plans to launch their joint venture LCC by the end of 2009, with AirArabia planning to submit its proposal to the Egyptian Government in the coming weeks to launch operations from five Egyptian airports, including Cairo, Alexandria, Luxor, Hurghada and Sharm el-Sheikh. See related report: Air Arabia to launch LCC in Egypt with Travco Group; the Middle East's seventh LCC
In the US, Southwest Airlines' shares gained 1.0%.