Virgin Australia to commence Beijing and Hong Kong services in 2017 under HNA deal, if slots allow
Analysis
Virgin Australia's long haul network will double in 2017 as Abu Dhabi and Los Angeles are complemented with daily flights to Beijing and Hong Kong, which Virgin intends to launch from an undisclosed Australian city on 01-Jun-2017. The A330-200 flights help Virgin move widebodies out of the domestic Australian market. The Beijing and Hong Kong flights will be part of an alliance with mainland China's HNA Group, which has announced an investment of 13% in Virgin with the intent of taking it up to 19.99%.
Beijing is the home of the HNA flagship Hainan Airlines, while Hong Kong is home to HNA's Hong Kong Airlines. Restrictions in China and bilateral constraints in Hong Kong mean that the HNA group airlines cannot fly trunk routes. Virgin Australia is free of the restrictions that Hainan Airlines faces in China, and can use the available frequencies for Australian airlines to Hong Kong (Hong Kong-based airlines have exhausted their allocation).
Virgin will however need to secure slots in these opaque markets – Beijing especially. Its partners could help or even give slots, but protective action by competitors should not be underestimated. The focus turns to the commercial arrangement and whether it will be profitable for Virgin. Hong Kong will generate some outbound Australia traffic, but the routes will be heavily sold by HNA – its airlines and travel agency partners. The Hong Kong service will be able to tap into Hong Kong Airlines' mainland China network, with some connections more efficient through Hong Kong than Beijing.
Virgin's initial daily Beijing service will put it on par (in terms of frequency) with Qantas' daily Shanghai service. Jetstar, the wholly owned low cost subsidiary of Qantas, also operates between the Gold Coast and Wuhan.
China will be more significant for Virgin than for Qantas, if only because of Virgin's overall smaller size; China will be disproportionately large. Overall, the more relevant comparison is between the proposed alliances. Qantas' partner China Eastern is far larger: in the week commencing 30-May-2016, China Eastern accounts for 17% of Australia-mainland China nonstop seat capacity while Qantas accounts for 15%. No HNA airline serves mainland China-Australia in May-2016 (Hainan Airlines' Sydney service was only seasonal). These figures are for nonstop capacity. There is significant traffic carried via other hubs, notably Cathay via Hong Kong.
Australia to China (seats per week, one way): 27-May-2013 to 31-Oct-2016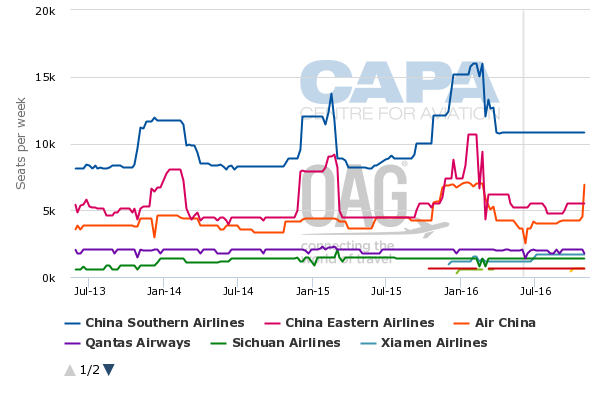 Virgin has applied to Australia's regulator for daily Beijing and Hong Kong service from 01-Jun-2017, but has not specified the Australian city it will depart from. In announcing the HNA deal, Virgin said that it is also interested in secondary Chinese destinations. The outbound Australia market to greater China is limited; inbound is where the numbers are by far. Hong Kong and Shanghai are the largest outbound opportunities but the total market for Virgin will be dictated by what HNA regards as the outbound China markets it can sell and provide feed at.
Shanghai is competitive, and a protectionist worry, with only Qantas and its JV partner China Eastern serving Shanghai. Shanghai is China Eastern's home, and the airline wields power on competition there. Beijing – which Qantas withdrew from – is the home of Hainan Airlines, so the dynamics are different.
Virgin proposes to operate the services with A330-200s, of which it has six. (Its other widebodies, 777-300ERs, are tied up in Abu Dhabi and Los Angeles deployment.) A330-200s are now mostly deployed in the domestic market. These aircraft are ideal: not just for the markets of Hong Kong and Beijing (777-300ER would be overkill), but because their redeployment will enable Virgin to reduce domestic widebody capacity, which Qantas has already done.
Qantas and Virgin Australia widebody and narrowbody flights from Perth to Brisbane, Melbourne and Sydney: 1Q2010-1Q2016
See related report: Qantas shifts widebodies to international, restoring Asian presence despite no European connections
This partnership positions HNA and Virgin as the China-Australia market makes another leap.
After Chinese airlines grew from eight daily China-Australia flights in 2011 to 11 in 2015, they leapt to 15 in 2016. Their flights have collectively exceeded Cathay Pacific's Hong Kong-Australia flights, and Chinese airlines are catching up to the Singapore Airlines group between Singapore and Australia, although this comparison is less relevant (Cathay carries far more China-Australia traffic than SIA). But to have this group of airlines – which had three daily flights in 2008 – overtake SIA probably within five years, speaks to the change.
HNA has been interested in Australia and was reportedly rebuffed from investing in Qantas. Air NZ's announcement that it was selling its stake in Virgin caused Virgin's share price to decrease. To HNA Australia was more important; they had a better understanding of the restrictions, and had a buyer's opportunity. HNA can be expected to face limited Chinese government scrutiny of the stake whereas China Southern, as a government-owned airline, would have had to make its case.
Average daily flights from Singapore-Australia/NZ (SIA Group), Hong Kong-Australia/NZ (Cathay Pacific) and mainland China-Australia/NZ (all mainland airlines): 2006-2016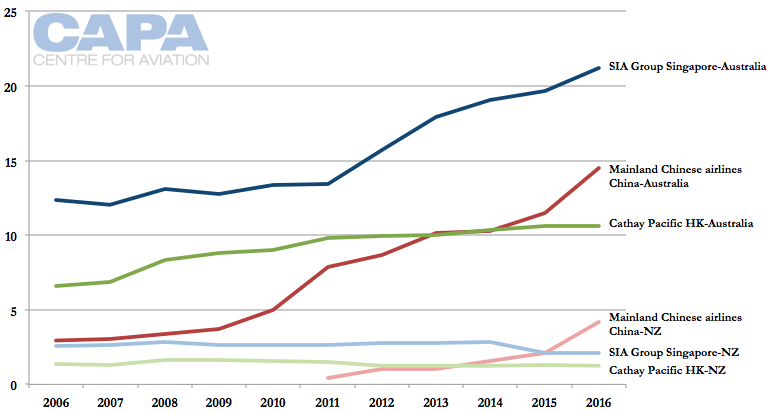 Virgin would ideally serve China in early 2017 to take advantage of Chinese New Year traffic, when visitors from China to Australia are at their peak. A six-month, or so, window may be compressed, but such short (or even shorter) launch windows are the norm for Chinese airlines. Leisure traffic is often booked close to departure. HNA has travel agencies in the group that can help sell flights and have been pivotal to many of the group airlines' success so far.
China is Australia's second largest visitor source market after New Zealand, reaching 1.02 million visitors in 2015 (New Zealand: 1.30 million). China, growing at around 20% annually, is expected to overtake New Zealand in the near term. China accounted for 14% of visitors to Australia in 2015 (New Zealand: 18%), up from China's 7% share in 2009.
Annual visitors to Australia from mainland China: 2009-2015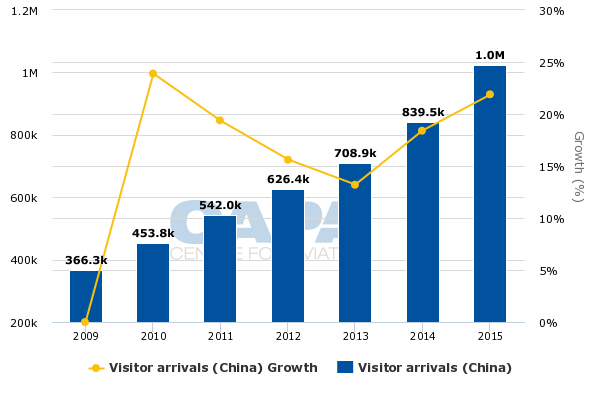 Virgin has been looking for Asian growth, and HNA has sought access to Australia
Virgin Australia's long haul network only encompasses Los Angeles and Abu Dhabi, the latter served (perhaps reluctantly) as part of its Etihad JV. The Etihad partnership preceded a Singapore Airlines partnership, which brings Virgin wider brand recognition and a larger partner – in terms of capacity into Australia that Virgin can either sell or receive domestic connections from. Virgin wanted to fly to Singapore as part of the SIA partnership, but Singapore Airlines only wanted Virgin flying from secondary destinations. Virgin has sought a Northeast Asian partner for a few years but did not find an immediate interest. It is with China's growth that HNA has emerged as a suitor.
As CAPA discussed in a report outlining HNA's potential interest in Air NZ's stake, the regulatory environment precludes HNA from having a major presence in Australia.
(Please see: China Southern and Hainan Airlines evaluate Virgin Australia stake to grow tourism potential)
Hong Kong is a simple explanation: the air services agreement between Hong Kong and Australia is capped and Cathay Pacific uses all of the frequencies to major destinations in Australia. Hong Kong Airlines has been able to enter Australia only via secondary points (Cairns, Gold Coast), which are open skies. Cathay is unlikely to support an expansion of the bilateral: since any expansion will benefit Hong Kong Airlines potentially more than Cathay.
Hong Kong is an origin/destination market for Hong Kong Airlines' Australia flights but also a transfer point to mainland China. Using Hong Kong as a hub, Hong Kong Airlines can connect many mainland Chinese destinations (primary and secondary points) that mainland China-based HNA group airlines would not be able to serve. Although third country codeshare restrictions are an obstacle, this may not be relevant if the flights are mostly sold by HNA's travel agencies.
Hong Kong Airlines mainland China network (extract): 01-Jun-2016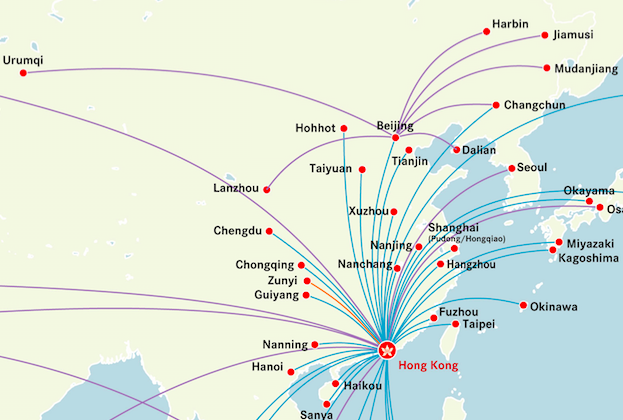 Mainland China is a complex environment. The regulator generally permits only one Chinese airline to serve a long haul route. With Air China, China Eastern and China Southern serving most major routes between China and Australia (Shanghai-Sydney, Beijing-Melbourne, etc.) Hainan is left to serve thinner Australian markets from major Chinese cities (Shanghai-Perth), or serve major Australian markets from thinner Australian cities (Xi'an-Sydney, which Hainan served over Christmas 2015 but only twice a week, indicative of the smaller opportunities outside trunk routes).
The agreement between Virgin Australia and HNA has not been publicly stated to include specific airlines. HNA is a holding company for a number of airlines. Hainan Airlines and Beijing Capital Airlines are the only mainland HNA group members that plan to serve Australia in the short term. HNA's Hong Kong Airlines already serves Australia. Virgin says the alliance will be "holistic" and include many airlines within HNA.
HNA's stake in Virgin Australia is initially 13% and is planned to be increased to 19.99%, potentially putting it on par with Virgin's other major investors. Virgin expects HNA to increase its stake "as quickly as [is] practical" but does not give an opinion on whether HNA could also acquire shares via Air NZ's stake sale.
There are many challenges to the tidy theoretical Virgin-HNA opportunity
With Australia far from using its bilateral allotment to Hong Kong and mainland China, Virgin Australia does not face the constraints that Hainan does. It has the legal right to open routes (Beijing-Sydney, Melbourne-Shanghai) that Hainan cannot. Yet Virgin is far from being in the clear. It can expect to face a number of protectionist measures to stymie its entry into certain cities – or to block it all together.
Slots at constrained airports (notably Beijing, Shanghai and Hong Kong – but generally across the region) are arguably the largest issue, but far from the sole concern. Air China, China Eastern and China Southern have been able to have competitors blocked from attaining slots while they or their chosen partners grow. United Airlines had a protracted effort obtaining slots for a second daily San Francisco-Shanghai service, while Delta – partner of the Shanghai-based China Eastern – obtained Los Angeles-Shanghai slots.
On paper the plan is very convenient. HNA needs an airline between Australia and China and Hong Kong, while Virgin Australia has widebody aircraft it wants to redeploy from Australia, exploiting an opportunity to tap the oft-cited inbound Chinese tourism boom.
Strategically this can be achieved, although the job involved should not be underestimated. Financially the prospects are unclear, and Virgin is not giving a benefit outlook.
There is a reason that Qantas – despite having traffic rights and a JV with a Chinese airline multiples bigger than Hainan – still has one daily flight to mainland China. The market between Australia and China can be financially challenging most of the year. It is mostly low yielding inbound visitors in economy class. Heavy discounting occurs in premium cabins and even then they rarely fly full. Virgin has conducted an expensive retrofit of its A330s.
Prospects further dim in secondary Chinese cities, where existing routes are largely supported by subsidies. There are questions about how many of the routes can be sustained when fuel prices increase, even just to USD80/barrel.
Virgin's China and Hong Kong routes are more important to HNA than Virgin
The financial contribution of Virgin's new Asia routes is yet to be determined, but even to evaluate them on strategic value – their value is greater for HNA than Virgin. Overnight, the Virgin deal changes the outlook for HNA group airlines. Access to markets there was not even a distant dream, and now they have a timetable. The competitive outlook is probably of less effect on Qantas and China Eastern, and more on China Southern, as well as Cathay, albeit of limited scope.
An initial two daily flights from Virgin is momentous for the Australian airline, but hardly begins to tap the potential. Virgin's expansion and financial success depend on how relations with HNA develop. This is probably more onerous on HNA than Virgin: HNA will need to coordinate among its members and navigate international markets. HNA presents Virgin with an opportunity, but it is far from the silver bullet for Virgin's business challenges.