Qantas shifts widebodies to international, restoring Asian presence despite no European connections
Analysis
Singapore has long been Qantas' offshore international hub, where long haul traffic from Australian capital cities was fed into its European links. Only recently has Qantas focused on Asia as an end market and not a connection point on the "kangaroo route". The change was accelerated by the Qantas-Emirates partnership which prompted Qantas to move its European stopover hub from Asia to the Middle East. With the European flights redirected, Qantas had to reposition itself in Asia.
Initially that meant significant decreases to its Asia network, as capacity was redirected. But in early 2016 Qantas will have more flights from Australia to Asia than it had prior to the Emirates partnership. That is despite now not serving Europe over Asia. Seat capacity is catching up and will further grow as Qantas looks to expand in Asia; already an additional three weekly A330 services are planned for Asia. Driving the increase are a number of factors: Qantas' successful restructuring has lowered its cost base and made Asia profitable, there is growing inbound tourism and Qantas needs to re-deploy widebody aircraft out of the domestic market.
Qantas is now preferring high frequency domestic flights with narrowbodies over widebody services, now at historical lows following the recent intense competition with Virgin Australia. (Virgin meanwhile also could do with redeploying its domestic widebodies, but needs to find suitable markets. Perhaps Asia is also the answer for it.
Qantas' seat capacity to Asia remains down but this figure is distorted by European connections
Qantas' Asia/Europe market involved two restructurings, the first effective in Mar-2012 when Qantas consolidated its European hub to Singapore, removing beyond flights from Bangkok and Hong Kong to London Heathrow. Two daily flights from Singapore to London Heathrow, and one from Singapore to Frankfurt, remained. The second was in Mar-2013 when Qantas ended its Asian hub operation in partnership with British Airways and instead established a hub in Dubai in partnership with Emirates.
This resulted in Qantas' twice daily remaining London flights transferring from having a stopover in Singapore to a stopover in Dubai. Frankfurt was removed from Qantas' online network.
See related reports:
Qantas in 1Q2016 will return to approximately 85% of the Asian seat capacity it had at its recent peak in 2011. (Even prior to the 2012 restructuring, and dating back some years, Qantas served Beijing, Kuala Lumpur and Seoul, among other markets.) Historical figures are somewhat distorted because much of Qantas' Australia-Asia seat capacity was used to transfer passengers onto onward European flights.
Qantas' Asia-Europe seat capacity was often almost equivalent to its entire Australia-Northeast Asia seat capacity. Following the dismantling of the Asia-Europe hub, Qantas' Asian seat capacity decreased; in 2015 Qantas had 69% of the Asian seat capacity it had in 2011.
A combination of factors has seen Qantas resume growth in Asia: first is Qantas' restructuring, which significantly reduced costs. Assets became available as Qantas reduced domestic widebody flying, Japan became an attractive outbound Australia market, while Qantas benefitted from inbound tourism as the Australian dollar decreased.
Qantas Australia-Asia seat capacity by region, and Asia-Europe seat capacity: 1Q2010-1Q2016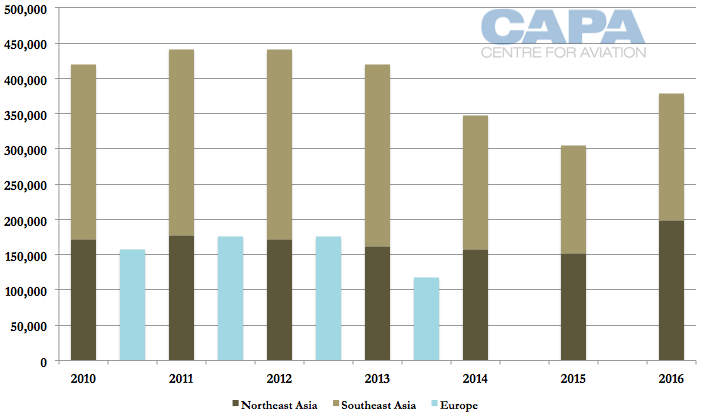 707" height="419" />
Qantas' Asian frequencies are surpassing past years
Although Qantas' Asian seat capacity may still be below peak years, on frequencies in 1Q2016 Qantas will surpass previous highs with 1,295 one-way flights in 1Q2016 compared to 1,290 in 1Q2011, the previous peak. More is on the way: Qantas is examining options for three weekly A330 frequencies it will have available as it shifts more capacity into Asia.
The frequency metric is arguably more important. Qantas will not be able to compete with the capacity size of Singapore Airlines and Cathay Pacific but does need meaningful frequency to hold relevance to the market. Limited frequency has been a weakness of Qantas in serving Asia. Prior to its network adjustment following the Emirates partnership, Qantas' Asian flights were often timed to connect to Europe rather than suit the Asian market. Once Qantas' Asian network focused on Asia as the termination rather than connection point, flights were re-timed.
Qantas Australia-Asia frequencies by region, and Asia-Europe frequencies: 1Q2010-1Q2016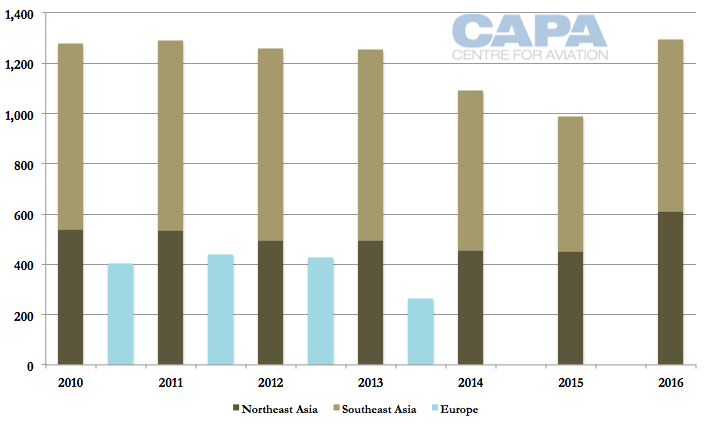 707" height="424" />
While flights to Asia may be surpassing previous highs, the spread is not even. In 1Q2011 Qantas had 1,290 flights to Asia, according to OAG data. This comprised 533 to Northeast Asia and 757 to Southeast Asia. 1Q2016's 1,295 flights are approaching parity between the two regions: Northeast Asia will have 612 flights compared to 683 for Southeast Asia.
That gives Northeast Asia a 46% share of frequencies, up from 41% in 1Q2011. Seat capacity, however, is tipping to Northeast Asia, with 52% of Asian seats going to the region, up from 40% in 1Q2011. Southeast Asia mostly receives A330 service (and even 737s from Perth) from Qantas while Northeast Asia a combination of A330s and larger capacity 747s.
Qantas Australia-Asia seat capacity share by region: 1Q2010-1Q2016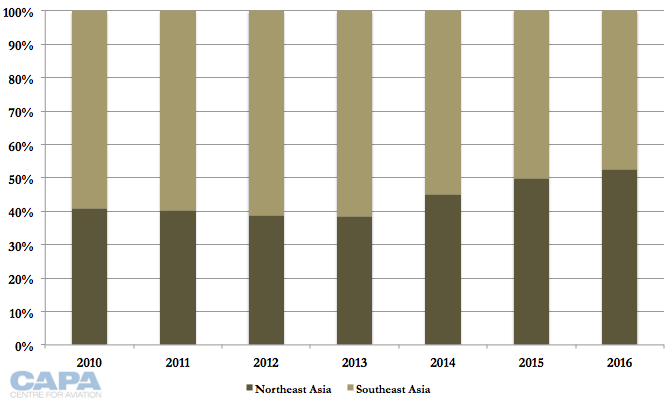 Qantas' Asian frequencies up across the region, except to Singapore
Qantas' smaller footprint in Southeast Asia is driven by a reduction in Singapore. Seat capacity decreased by 42% but frequencies by a slower 20%, the result of Qantas moving from large A380s to small A330s. Services to Singapore from Adelaide and Perth have been either cancelled and reduced, respectively. All of Qantas' other Southeast Asian markets are recording growth in capacity and frequencies, with the exception of Thailand.
Qantas Asian seat capacity by market: 1Q2011, 1Q2016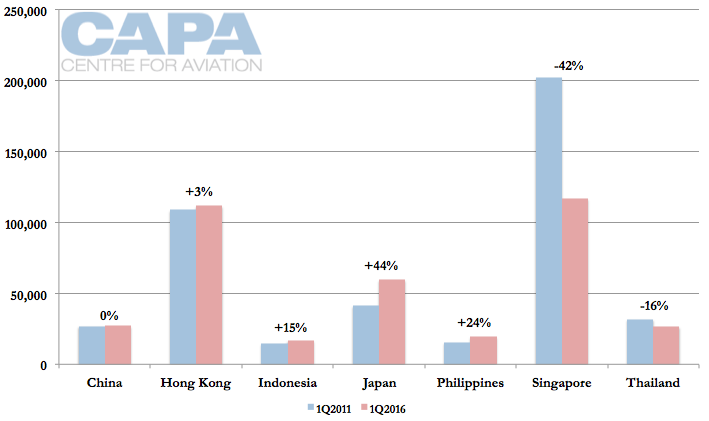 Frequencies to Thailand are slightly up, while capacity is down, the result of Qantas' first Asia-Europe restructuring that saw changes to the Sydney-Bangkok-London service. Bangkok-London was ended, and the 747 used between Sydney and Bangkok down-gauged to an A330. This preserved Qantas' Bangkok capacity but with lower capacity.
Qantas Asian frequency by market: 1Q2011, 1Q2016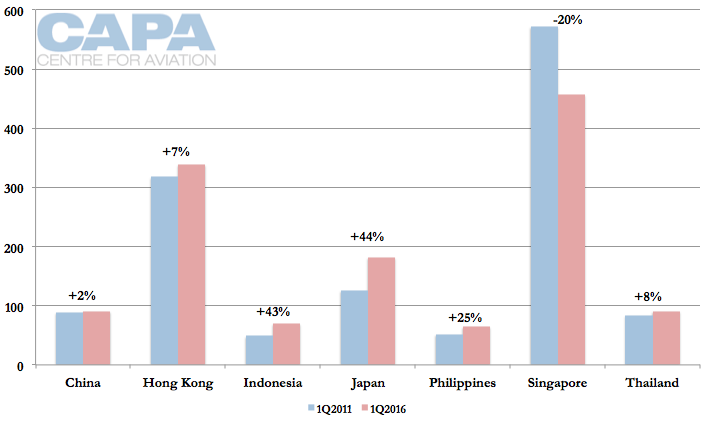 Likewise Hong Kong has a 7% increase in frequency but only 3% increase in seat capacity as smaller widebodies are being used. This will start to change when Qantas replaces three of its seven weekly Melbourne-Hong Kong A330 flights with a 747-400. The three weekly A330 sectors will be re-deployed to another city pair Qantas has yet to announce.
Besides those three markets, there is also a noticeable difference in seat capacity versus frequency changes in Indonesia. This is the result of Qantas adding seasonal Sydney-Bali Denpasar service on the 737, a smaller aircraft than the A330 Qantas uses between Sydney and Jakarta (its only other Indonesian route). As a result, frequencies are growing faster (43%) than seat capacity (15%).
After Singapore, the largest volume difference is in Japan, which will have a 44% increase in capacity and frequencies and is also the largest by number of seats and sectors. However, Qantas' Japan network is still a fraction of what it was in the heyday of Japan's outbound tourism boom. Today the direction is shifting. Japan's depreciating currency is driving inbound visitor growth (Japan had mostly been an outbound market), and there is limited competition between Australia and Japan, unlike markets such as Singapore and Hong Kong.
See related reports:
Perth incurs the biggest decrease in Qantas' Asian network, Brisbane the largest increase
Qantas' Asian network changes have varying impacts across its Australian ports of departure. Adelaide lost its sole Qantas international service, a three weekly flight to Singapore. This was removed in 2013 as part of the restructuring of Qantas' European stopover hub from Singapore to Dubai. Perth has seen the largest volume decrease of Qantas seats to Asia.
Three weekly flights from Perth to Tokyo Narita were ended in 2011 while three weekly flights to Hong Kong were ended in 2013. Singapore in 2013 was reduced from double daily to daily and then suspended in May-2014 (but with limited seasonal service).
Qantas resumed Perth-Singapore in Jun-2015 but with some periods receiving less than daily service, and the flight on a 737-800 instead of a widebody service. This has seen Perth's Asian capacity from Qantas decrease 78% between 1Q2011 and 1Q2016.
Qantas Asian seat capacity by Australian port of departure: 1Q2011, 1Q2016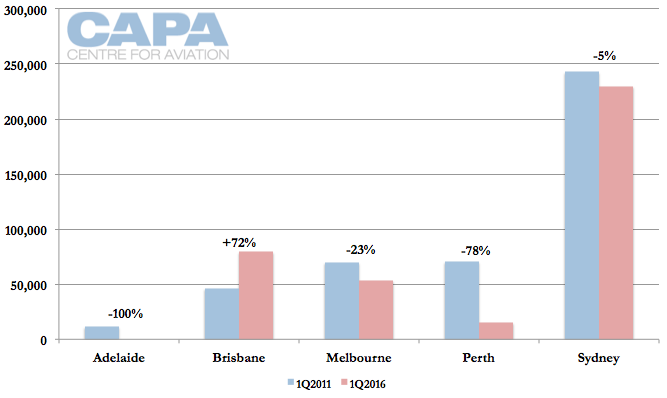 Sydney and Melbourne have had seat capacity decreases, largely driven by A380s no longer flying from those two cities to Singapore and then onwards to Europe. However, the two have had frequency growth (see next graph). There are now more Qantas flights from those two cities to Asia than before the Emirates partnership and Asian restructuring. The large decrease from removing A380s makes it difficult to surpass previous seat capacity. Further, that capacity was typically unprofitable.
Sydney's Qantas Asian network is seeing a 5% decrease in seats but 11% increase in frequencies when comparing 1Q2011 to 1Q2016. Singapore frequencies are flat while there are increases to Bangkok, Jakarta, Manila and Hong Kong and the introduction of seasonal service to Bali Denpasar. Melbourne's modest 5% increase in frequencies is driven by additional Hong Kong flights.
It is, perhaps surprisingly to some, Brisbane that has benefitted across the board. It is Qantas' only Australian city to have an increase in Asian seat capacity, and has recorded the highest frequency growth. In 1Q2011, Brisbane was Qantas' fourth largest city for Asian capacity (both seats and frequencies) but in 1Q2016 will be its largest after Sydney, surpassing even Melbourne.
Brisbane gained a daily Tokyo Narita service when Qantas secured Tokyo Haneda rights and shifted its Sydney-Tokyo Narita flight to Haneda and launched a second daily Australia-Tokyo service. Brisbane-Hong Kong has grown from about four weekly to daily. Brisbane has seen limited Manila service discontinued.
Qantas Asian frequencies by Australian port of departure: 1Q2011, 1Q2016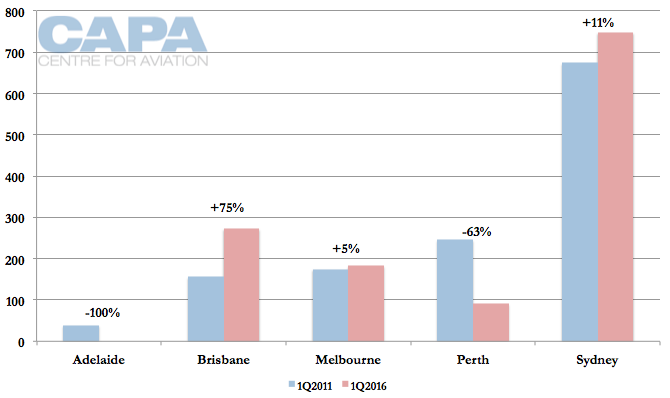 Widebody redeployment from the domestic market is enabling international growth
Qantas' international growth has been facilitated through asset utilisation and redeployment. Qantas has increased aircraft utilisation, such as through the retiming of its Melbourne-Dubai-London Heathrow service, which enabled growth elsewhere in the network. More recently, Qantas has been decreasing widebody aircraft usage on domestic flights. This has coincided with a cooling of the domestic market share fight between Qantas and Virgin, and as the domestic east-west market weakens following a downturn in the resource sector that made Perth boom.
Qantas grew domestic widebody services in advance of Virgin Australia preparing a campaign of significant domestic expansion, including domestic A330 flights. Qantas pulled down A330s from its international network (Singapore-Mumbai, Auckland-Los Angeles). These flights were deemed unprofitable but Qantas also needed the aircraft domestically.
Looking at the east-west market, Qantas increased overall capacity and widebody sectors between 2010 and 2012 by about two widebody return flights. There was a slight increase in overall frequencies and further capacity growth as Qantas replaced 767s with larger capacity A330s (747s even made stints on the Sydney-Perth route).
Widebody deployment peaked in 2014, and in 2016 will recede to levels lower than before Virgin commenced its domestic growth campaign. Overall frequencies will be slightly up in 2016 compared to 2010. Virgin Australia's frequencies show growth but with considerable capacity change as its all-narrowbody operation at the start of the decade has been replaced with A330s operating about two-thirds of east-west frequencies.
Qantas and Virgin Australia widebody and narrowbody flights from Perth to Brisbane, Melbourne and Sydney: 1Q2010-1Q2016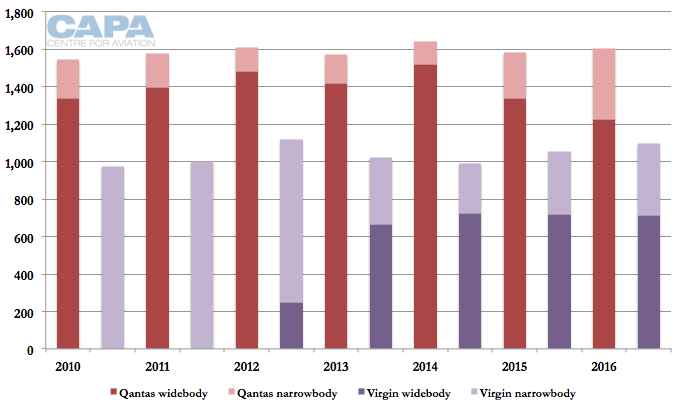 The other key market for Qantas' domestic widebody deployment is the triangle between Brisbane, Melbourne and Sydney. (Virgin Australia has very limited widebody sectors in this market and is excluded from the graph below.)
Domestic widebody flights in a first quarter peaked in 2011 with about 58 flights a day and in 1Q2016 there will be about 39 a day. This is a significant amount of widebody capacity that is freed up: each flight represents not just flying times (between one and two hours) but ground time between sectors, as widebodies require longer turnaround times than narrowbodies, and finally there are limited overnight flights. Long haul international flights typically have better utilisation with longer stage lengths (reducing the number of turnarounds and thus time on the ground) and flying overnight.
2011 and 2013 were the lowest periods for overall triangle frequencies on all aircraft types. In 2014 Qantas set a record for triangle frequencies (about 124 daily flights), and beat it in 2015 (130 daily flights) and will do so again in 2016 (136 daily flights). The hyper frequency upped competition with Virgin Australia, which was looking to match Qantas' frequency, and allowed widebodies to be re-deployed (to east-west markets and then international).
Reducing widebody deployment also allowed Qantas to grow frequencies while limiting seat capacity growth. At the peak in 2011, widebodies operated 49% of triangle frequencies but dipped to 7% in 2015 and will increase to 14% in 2016, partially a result of widebodies being redeployed away from the east-west market (see above graph).
Qantas widebody and narrowbody flights on triangle flights (between Brisbane, Melbourne and Sydney) (left axis) and widebody share (right axis): 1Q2010-1Q2016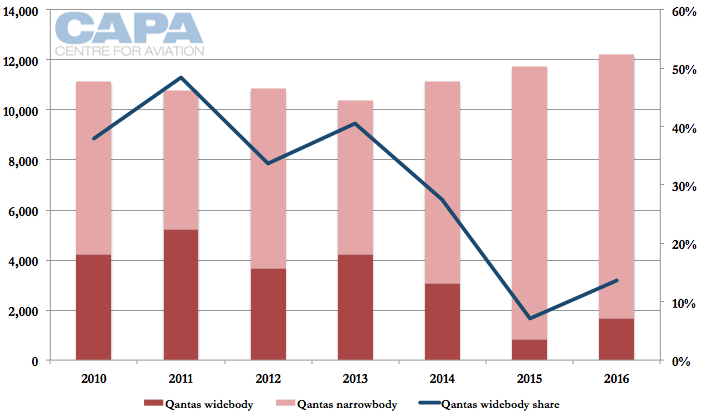 Qantas' Asian growth a demonstration of its successful restructuring. Next: Virgin into Asia?
Given its geography, Qantas will never have the Australia-Asia network of a Cathay Pacific or Singapore Airlines. But its Asian growth is impressive since it sells Asia as an end market with limited regional connections and has had only a few years to switch much of its Asia capacity from feeding Europe to being a destination in its own right.
Further, Qantas does not have a point of sale advantage: Asia is mostly an inbound market to Australia. In North America, the other region Qantas is doubling down on, Qantas has a local advantage since it is still mostly Australians travelling to North America despite the significant population difference of Australia compared to North America.
While the outcome may be positive overall, there are inevitably those who lost. Singapore Changi lost significant European traffic while Adelaide had its sole Qantas international service dropped, and Perth had a steady decrease of Qantas international traffic. Adelaide had a spike of Asian capacity with AirAsia X's service, which was accompanied by increases from Malaysia Airlines and Singapore Airlines.
Adelaide is now a bit under its Asian capacity from where it was before the Qantas restructuring. But Adelaide now receives Emirates service and Qatar will launch in 2016. This more than offsets European connections Qantas used to provide via Singapore and Asian carriers offer via their hubs.
Adelaide Airport to NE/SE Asia (seats per week, one way): 19-Sep-2011 to 8-May-2016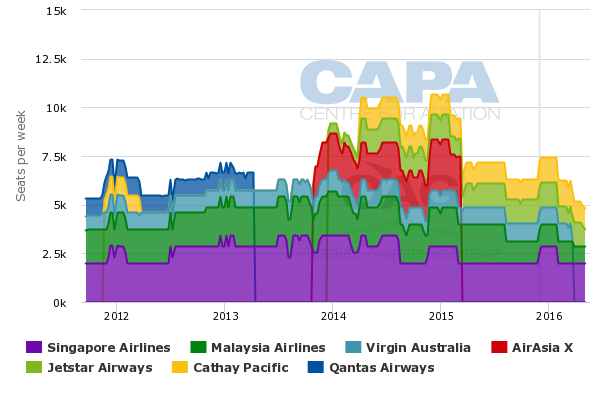 Perth is experiencing some Asian capacity increases compared to 2011 but is down from the over-capacity levels seen in 2014. Capacity from the Middle East meanwhile has more than doubled to Perth.
Perth Airport to NE/SE Asia (seats per week, one way): 19-Sep-2011 to 8-May-2016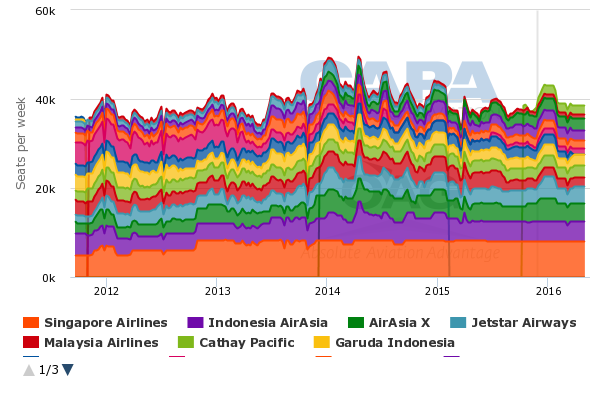 Perth Airport to Middle East (seats per week, one way): 19-Sep-2011 to 8-May-2016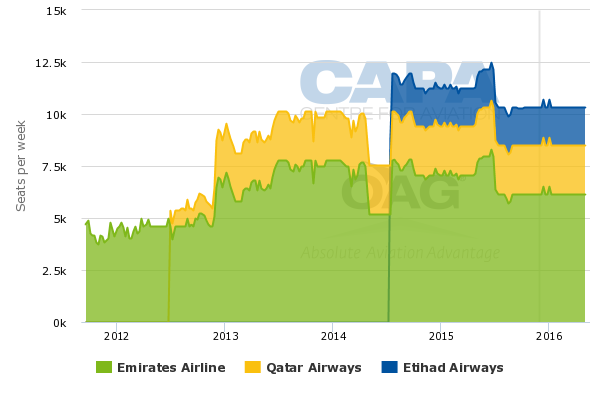 It was inevitable some Qantas services would be cut. They had long been held strategic but their value was no longer apparent. Qantas' unprofitable international network had been in need of a restructuring for some time. There are some services that it is difficult to see Qantas return to even in the long term. The old Qantas is no longer a relevant comparison.
The new Qantas has more growth opportunities to come. It still lacks the network and scale (frequency, some overnight services) of its Asian peers. Partnerships in Asia are relatively small. There are Jetstar Asia connections beyond Singapore while China Eastern is significant for Qantas, but this presently covers only a daily Shanghai flight from Qantas. The rest of its network is largely on its own.
Emirates' limited Asia-Australia fifth freedom flights are in partnership with Qantas, but this still brings over-capacity (although the flights could end since most of the passengers are going between Australia and Dubai with an Asia connection).
The combination of factors making Asia palatable for growth coincided with Qantas needing to reduce domestic widebody services. The focus perhaps now shifts to Virgin Australia. While its domestic widebody network is still smaller than Qantas', it may be time to reduce the A330 exposure in the domestic market. The launch of limited A330 flights to Fiji is a small start.
Just as at Qantas, Asia may need to come into focus for Virgin. Asia has been a distant thought for Virgin Australia, precluded by a domestic preoccupation and needing to navigate partnerships. This would be a new development for Australia: it has been nearly 15 years since there were two full service Australian airlines competing to Asia.
Today's Asia-Australia market bears little resemblance to that of the early 2000s. But, as always, the Australian market remains dynamic.