Virgin Australia and Tigerair dual-brand strategy commences as they start to coordinate routes
Analysis
With little fanfare Virgin Australia and Tigerair have made the first public change to their networks as part of the dual-brand strategy they are now pursuing following Virgin's purchase of one-time competitor Tigerair that gives Virgin a budget off-shoot to match the Qantas Group's Qantas-Jetstar pairing. Tigerair will enter the Brisbane-Darwin market at flight timings almost identical to Virgin, which will change its timings to match Qantas.
The nuances may seem local but the implications are global: Australia will be the first market to see two full-scale dual-brand strategies compete head-to-head with each other.
Product, service and brand are key ingredients to a successful dual-brand strategy, but the network underpins it. Many airlines have tried a dual-brand strategy but most bundle some – sometimes all – of the necessary components. Virgin Australia is not just going to attempt a dual-brand strategy but is doing so in the backyard of one of the airlines that pioneered it. In one of the ironies typical of the Australian market, Qantas developed Jetstar and the dual-brand strategy to combat then low-cost Virgin Blue. In response Virgin started to move upmarket and reached a point where it largely had to become full-service, exposing its inability to successful target the low-end of the market. Buying Tigerair completes a nearly decade-long circle, but begins the intricate process of making the two airlines work alongside each other.
See related report: Virgin Australia and Tigerair Australia move to implement the group's dual airline brand strategy
Tigerair in Dec-2013 announced Brisbane would become the carrier's third base, and this operation included the launch of Brisbane-Darwin flights from 15-Apr-2014. Tigerair's flights will have almost the exact same times – within 15 minutes – as Virgin Australia's current daily offering, which includes an overnight flight from Darwin to Brisbane. Tigerair's announcement was followed by one from Virgin Australia announcing new times for its Brisbane-Darwin service effective 15-Apr-2014, the same day Tigerair commences Brisbane-Darwin flights. Virgin's services move to daylight hours and will match, within 65 minutes, Qantas' offering. Jetstar also operates on the route but its flight times will be independent of all the others.
The message is that Virgin Australia sees Tigerair as the better brand for its overnight service, which is not exactly friendly to business passengers. Virgin also sees opportunity to directly stalk Qantas' hold of the business market. Virgin in its announcement attributed a statement to CCO Judith Crompton saying: "We are continually looking at ways to improve our offering to business and leisure customers. We know timing is one of the most important considerations for travellers and we believe this day time service will be very popular, offering more convenient connections to all major hubs around Australia. It will also help to support tourism to the Northern Territory." Nowhere in the statement was a mention that Tigerair was taking Virgin's old timing.
Schedules between Brisbane and Darwin: Apr-2014, as of Dec-2013
Tigerair also announced it would launch services from Brisbane to Adelaide and Cairns. These city pairs have much higher frequency so while Tigerair will be scheduled closer to Virgin's services, they do not directly overlap and the Tigerair services are typically scheduled in between Virgin services or after Virgin's last flight.
Of Tigerair's 16 return routes, all but three overlap (to varying degrees) with Virgin Australia. The exceptions are flights from Melbourne and Sydney to Alice Springs, and from Melbourne to Mackay.
Route overlap between Tigerair and Virgin Australia and weekly frequencies: week commencing 02-Dec-2013
| | | |
| --- | --- | --- |
| Route | | |
| | 9 | 61 |
| | 20 | 90 |
| | 7 | 8 |
| | 18 | 39 |
| | 7 | 33 |
| | 13 | 30 |
| | 7 | 7 |
| | 37 | 173 |
| | 14 | 122 |
| | 7 | 20 |
| | 7 | 14 |
| | 12 | 69 |
| | 4 | 5 |
On some routes there could be an opportunity for Tigerair and Virgin Australia to consolidate their position and have only one brand operate, boosting their position. Coffs Harbour-Sydney could be a theoretical market as the only Qantas Group carrier is Qantas, and not Jetstar. However Virgin may prefer to challenge Qantas on both ends of the market especially since Qantas has about six daily flights on the route whereas Virgin has two and Tigerair only one.
Qantas will undoubtedly be quick to pick up – on the Qantas or Jetstar brands – any decreases Virgin and Tigerair make. While Virgin can calculate its group position on a route it consolidates, the unknown factor that would change performance is Qantas' response – or, more likely, the degree of Qantas' response. In some cases coordination becomes as much a science as it is a gamble.
Scope for coordination exists on high-frequency routes, segmenting business and leisure
Qantas/Jetstar's network planning offers a well-tested model for dual brand strategies on a single city pair route.
There is even scope for coordination on Melbourne-Sydney, Australia's largest domestic route (and the world's third largest city pair), which is the biggest route for Qantas, Tigerair and Virgin. (For Jetstar, Melbourne-Sydney is second after Sydney-Gold Coast.).
On a morning departure from Melbourne to Sydney, Jetstar has a single flight at 06:15 but not another until 08:25. But Qantas from 06:30 until 08:00 has a flight – typically on a widebody – every 15 minutes. During this period is when high-yielding business passengers are most likely to travel since they can arrive at Sydney at the start of the working day. The absence of Jetstar during this window reduces any potential spill of passengers to Jetstar.
It is evident there is pent-up low-cost demand as Jetstar's 08:25 flight is accompanied by one at 09:05. The 08:25 departure arrives in Sydney at 09:50, eating into the working day. That helps ensure passengers on that flight are either leisure or highly flexible – and likely lower-yielding – business travellers. Many business passengers (or their corporate account managers) are willing to pay a premium to have a full morning in Sydney.
This contrasts to the Virgin-Tigerair scenario (apparently as yet uncoordinated, established before Virgin acquired a majority stake in Tigerair Australia).
Tigerair has a flight at 06:00, largely matching Jetstar's 06:15. But whereas Jetstar's next flight is not until 08:25, Tigerair has two more flights: at 07:05 and 08:00. (Its next flight after 08:00 is at 09:00.) Tigerair's 07:05 and 08:00 flights tap into the peak morning rush. That was likely a worthwhile strategy when Tigerair was independent and looking for passengers from all segments (especially Jetstar given its absence during that period).
Now that Virgin is coordinating with Tigerair, it could want to follow Qantas' playbook and limit Tigerair during that period so Virgin reduces the opportunity for the market to take Tigerair during the morning rush. Alternatively Virgin might want to squeeze Qantas during that period and take advantage of Jetstar's relative absence. While the Qantas Group may have tolerated an independent Tigerair picking up some passengers during that period, it could be more aggressive now that Tigerair is part of Virgin.
Melbourne-Sydney morning and early afternoon departure times by carrier: 09-Dec-2013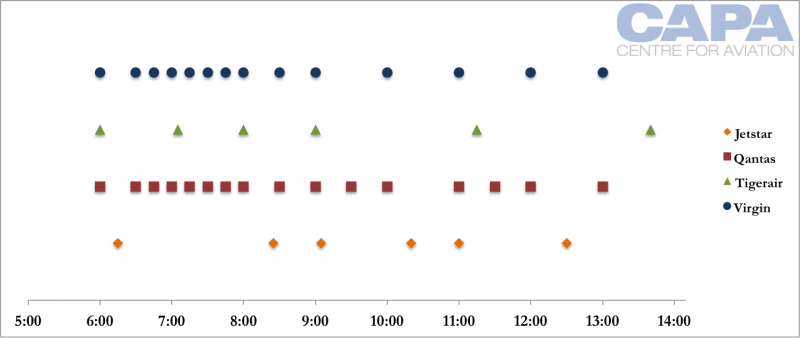 As part of Tigerair's expansion onto the Brisbane-Darwin route, it also announced additional Melbourne-Sydney services from Apr-2014. So far however this is seeing little change to the morning schedules. Flights in Apr-2014 will shift slightly compared to Dec-2013 due to the first flight being at 06:40 instead of 06:00 – however, this is in line with Tigerair's Apr-2013 schedule prior to the coordination with Virgin. Jetstar will also shift flights at it makes it first flight depart at 07:30 – but this too is in line with its historical Apr-2013 schedule.
Afternoon/evening flights on Melbourne-Sydney are less compressed. In the morning Qantas has four hours in which there is a flight at least every 30 minutes, and then reverts to hourly departures. Within that four hours is 90 minutes where there is a flight every 15 minutes. In the afternoon/evening however that expands to six hours where there is a flight every 30 minutes, but there is only 30 minutes where there is a flight every 15 minutes. So the peak period is longer but not as compact, reflecting the more varied times people end their work in Melbourne compared to wanting to start work at about the same time in the morning.
Tigerair has fewer flights than Jetstar in the afternoon/evening, making a comparison not as straightforward. But there are some noticeable scheduling strategies. Jetstar has flights at either end – but not in the middle – of the afternoon rush when Qantas has flights every 15 minutes. Qantas' last two flights are at 20:00 and then 21:00 and Virgin is largely similar with its last two flights at 19:30 and then 21:00. (There are no later flights due to the Sydney curfew, which is fiercely enforced, threatening expensive overnights if delays occur.)
The second to last departure could cater to those working a full day until 18:00 or 18:30 and then quickly take a taxi while the last departure picks up those working as late as possible and even those who may have an early company dinner. There is limited need for a flight in between.
Yet that gap is when Jetstar has two evening flights, at 20:20 and 20:45. The closely scheduled flights indicate, as they did in the morning, pent-up budget demand but Qantas Group is likely careful not to cannibalise its traffic during the evening. The last Qantas Group flight is on Qantas, ensuring anyone who wants to maximise their time in Melbourne has to take likely a higher-fare ticket on Qantas rather than Jetstar.
Tigerair is more spread out in the late evening compared to Jetstar, offering a 19:35 and then 20:50 departure. These two flights largely correspond to Virgin's 19:30 and 21:00, so Virgin may opt to mirror Jetstar and have the two Tigerair flights depart when Virgin does not have flights. That lessens any potential cannibalisation from Virgin while ensuring Virgin has a vehicle to compete with Jetstar during those evening times.
Melbourne-Sydney early afternoon and evening departure times by carrier: 09-Dec-2013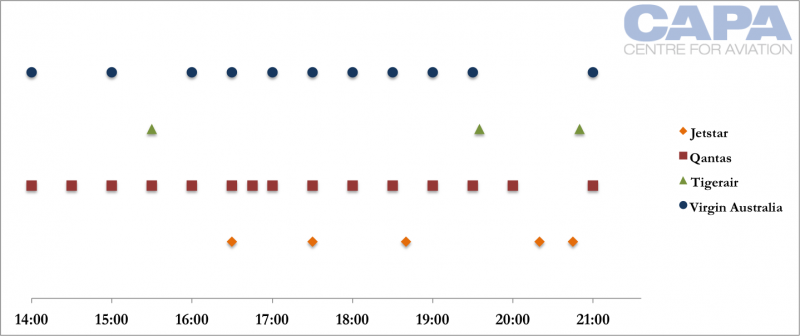 Virgin has succeeded with partnerships and moving up-scale. Next challenge: making the dual-brand strategy work for it
Much of the current troubles at Qantas occupying the airwaves are due to a successfully innovative strategy at Virgin Australia. The carrier has largely become full service on a leaner cost base, having already embarked on a unique partnership – and equity – strategy. Its next challenge, in addition to managing the situation with Qantas and whatever outcome impacts it, is to run a dual-brand strategy with Tigerair.
Australia lacks the factors that many would say are hallmarks of LCCs, including un-congested airports and low landing fees. And yet not only has one LCC (Jetstar) made it work profitably, it has done so in the elusive dual-brand concept. A dual-brand strategy is easier if there are alternative airports (Air France's Transavia is based at Paris Orly, not CDG, where its FSC parent bases) or segmentation (Lufthansa's Germanwings will take over non-hub routes). Here, the LCCs go right up against their full-service parents.
Or at least they do now; in the past Tigerair served the country's one alternative airport, Melbourne's Avalon to the city's south. Jetstar still serves Avalon but is reporting continued challenges and a need to review the situation.
It is an elusive – but possible and valuable – model
There are few examples of successful dual-brand strategies. Virgin-Tigerair will likely join that club, but there could be limitations in the long term since Qantas is saddled with a higher cost base than Virgin, which in turn necessitates Qantas off-loading more services to Jetstar. The very fact of Qantas' higher costs makes the brand segmentation easier. Virgin has the luxury of choosing to keep more services for itself, although as part of the Tigerair acquisition deal Virgin has committed to certain growth requirements in the medium term.
The dual-brand strategy is very much open to experimentation and innovation, which is exactly what Virgin Australia has excelled at. Virgin has already indicated it plans a more distant relationship with Tigerair than the relationship between Jetstar and Qantas.
Virgin Australia CEO John Borghetti is well familiar with the challenges in using two brands in the same market; he was responsible for Qantas' network planning at the time when upstart Jetstar, under then-Jetstar CEO Alan Joyce, began its domestic expansion – and was understandably sensitive about intrusions onto his brand's routes.
The change of flight timings marks a starting point in the Virgin-Tigerair strategy, and there are surely more – and bigger – changes to come. Yet Qantas and Jetstar have shown themselves to be innovative in their responses, so it will be equally worthwhile to watch Virgin and Tigerair as the response from Qantas and Jetstar.
The lessons learned are hardly confined just to Australia.
Nowhere has the world seen two full-scale dual-brand strategies compete head-to-head. Airlines in Europe and Asia will be watching this innovative melting pot with particular attention. Perhaps even American carriers will learn from it.
See related reports: