Vietnam aviation: Embraer sees regional aviation as major contributor to country's development
Sponsored Content
As an engine of socio-economic growth, regional aviation development is indispensable to the markets and the communities it serves.
In the case of an emerging market such as Vietnam, regional aviation will not only improve the connectivity from big cities to lower density destinations, but also the international connectivity to the neighbouring countries of Vietnam, such as the Southeast Asia region and China, according to the aircraft manufacturer Embraer.
With a population of around 100 million and one of the fastest growing economies in Southeast Asia, Vietnam needs additional aviation capacity to sustain the projected air transport demand, in line with the country's projected economic growth of 6.4% between 2021 and 2030.
Embraer believes its aircraft portfolio is a good fit for the market.
A rich market full of potential
According to IATA, the air transport industry – including airlines and its supply chain – is estimated to support USD2.6 billion of GDP in Vietnam.
Spending by foreign tourists supports a further USD 9.9 billion, totalling USD 12.5 billion.
In total, 5.2% of the country's GDP is supported by inputs to the air transport sector and foreign tourists arriving by air.
IATA reports that 2.2 million jobs are supported by air transport. Airlines, airport operators, airport on-site enterprises (restaurants and retail), aircraft manufacturers, and air navigation service providers employ 42,000 people in Vietnam.
In addition, by buying goods and services from local suppliers, the sector supported another 174,000 jobs. On top of this, the sector is estimated to support a further 182,000 jobs through the wages it pays its employees, some or all of which are subsequently spent on consumer goods and services.
Foreign tourists arriving by air in Vietnam who spend their money in the local economy are estimated to support an additional 1.8 million jobs.
Air connectivity plays key role in creating economic value
Improved air connectivity plays a large role in creating economic value, by facilitating skilled and often high-value employment opportunities, which in turn contribute to national development.
As a major economic contributor, aviation's catalytic effects include (but are not limited to) trade, tourism, and social development. It also boosts productivity through its positive impact on businesses over the long run.
Embraer forecasts a projected traffic growth of 12% annually over the next 10 years to, from, and within Vietnam – the highest air passenger number compound annual growth rate in Southeast Asia. Its base scenario points to a full recovery of the pre-pandemic levels by 2023.
Propensity to travel, measured by the number of trips per capita in a given year, is one of the most fundamental concepts that determine air transport development. It is affected by many interrelated forces such as personal income levels, demographic changes, and geographical features.
In fact, connectivity lies at the heart of the value provided by the aviation sector. Connectivity is not simply moving a large number of people from point A to point B. It is a composite measure of the number of destinations, the frequency of services and the quality of the connections.
It is about options; it is about choices.
Accessibility and affordability of air travel are the most effective factors to immediately unlock the full potential of air traffic increase with sustainable, long-term socio-economic growth, by leapfrogging any eventual development issues with efficient air services.
The full potential of aviation to contribute to social and economic development depends on the industry's readiness to accommodate demand. Air connectivity is key to unlocking economic growth potential, in part because it enables the country to attract business investment and human capital, and spurs tourism.
Travel patterns present a huge potential for air transport
Embraer's analysis shows that each Vietnamese flies only 0.46 times in a year on average (or once every two years).
This travel pattern presents a huge potential for air transport demand. And when passenger demand increases, so does the need for an efficient air network.
Southeast Asia: propensity to travel (trips per capita 2019)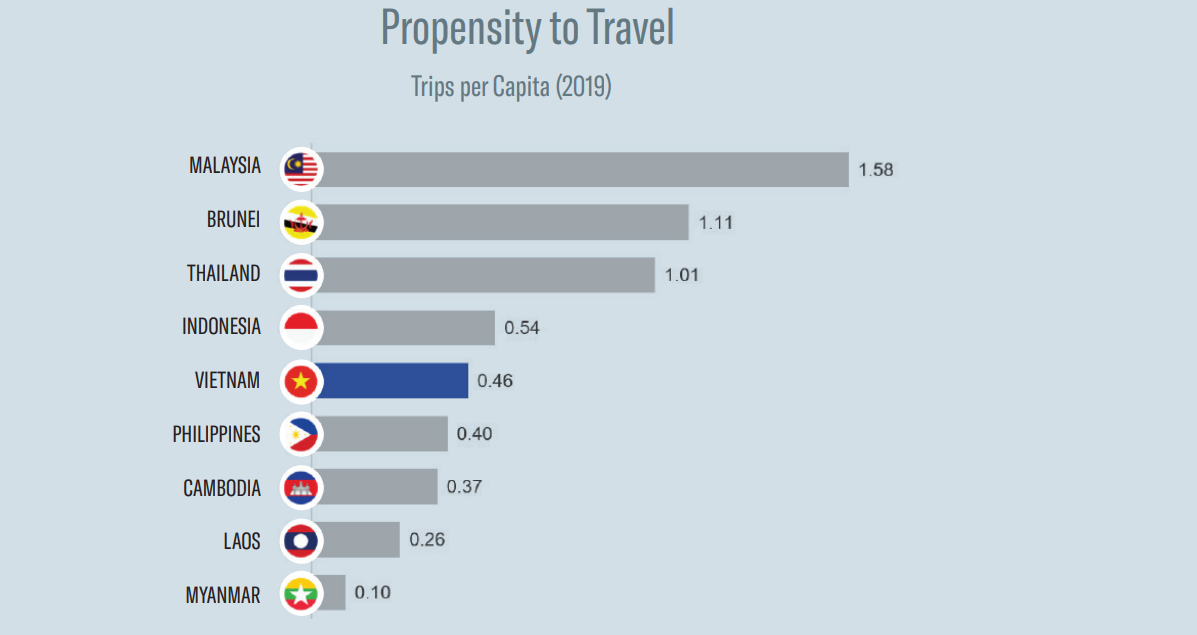 However, Embraer notes that the strong growth prospect in the country requires an understanding of the opportunities and challenges that can potentially affect the market outlook.
The aircraft capacity and market demand unbalance limits network strategy
Given Vietnam's reliance on large capacity aircraft, the aircraft capacity and market demand unbalance limits airlines' ability to serve regional markets efficiently, according to Embraer. As a knock-on effect, it says, air services are heavily concentrated on major trunk routes.
An efficient air network that connects major financial centres and small communities is key to long-term inclusive and sustainable growth.
The extension of its benefits depends on its depth and breadth.
Vietnam composed mainly of low- and mid-density market profiles
Vietnam is composed mainly of low- and mid-density market profiles. Even before COVID, around 50% of all domestic and intra-regional city pairs had up to 150 passengers daily each way, according to Embraer.
In contrast, the average aircraft size in the same period was 190 seats. Large narrowbody aircraft are the backbone of the current fleet profile, accounting for over 90% of the fleet profile.
As an example, the Noi Bai-Tan Son Nhat route accounted for a whopping 23% of Vietnam's domestic air ticket sales in 2019. The top 5 city pairs, which also include connections to Da Nang, Phú Quóc and Nha Trang, accounted for over 50% of total passengers transported.
Between 2014 and 2019 Vietnamese airlines expanded capacity at a strong pace – 18% annually on average, measured in ASK (available seat kilometre).
Vietnam: contribution to capacity growth ASK breakdown (2014-2019)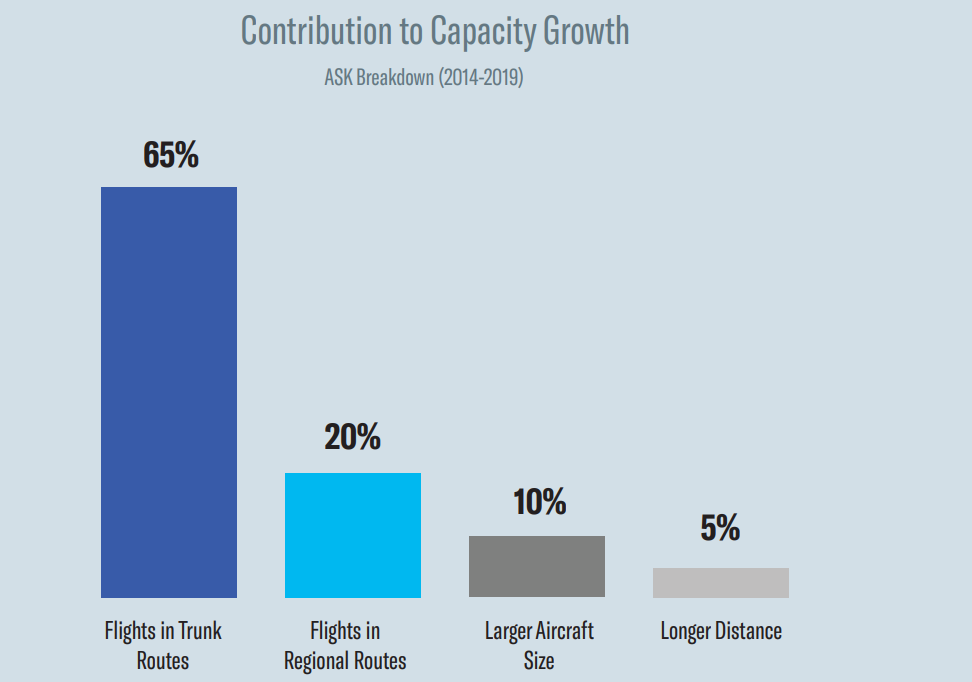 During the 5-year period that preceded the COVID pandemic, additional flights on trunk routes were the main pillars of the airline industry, accounting for 65% of total capacity increase.
Vietnam's regional connectivity opportunity
A multi-fleet strategy provides the desired flexibility to adjust aircraft capacity to regional market demand, says Embraer. In this context, infrastructure investment strategies can provide the resources needed to cope with growth prospects, as the industry shifts from survival to expansion mode, it says.
A wide range of opportunities for investment in infrastructure is available in Vietnam. Airports Corporation of Vietnam (ACV) reports that VND 25 trillion (USD 1 billion) has been invested in expanding airport infrastructure over the past five years to support passenger and cargo growth, but that it will need approximately VND120 trillion (USD 5.2 billion) by 2025 to complete infrastructure projects.
Vietnam's five-year airport infrastructure requirement is set to expand fivefold by the year 2025.
Tourism grew by an average 23% per annum until 2019. China, Japan, South Korea, and Taiwan accounted for around 80% of Vietnam's foreign tourism spending. Whereas Australia, Singapore, Malaysia, and Thailand can provide inbound expenditure growth over the coming years.
Infrastructure improvement projects in bigger airports, such as additional runways, new terminals, taxiway, and apron improvements to accommodate projected traffic growth in major international airports can potentially improve Vietnam's competitive positioning in Southeast Asia versus Singapore or Bangkok, among others.
For regional airports, on the other hand, a detailed cost-benefit analysis is needed to clearly demonstrate the monetary return on investment (and the risks associated with these investments in the long term) vis-à-vis other alternatives.
Plenty of room for profitable operations on regional routes
Embraer believes that although competitiveness will be increasingly higher on trunk routes, there is still plenty of room for profitable operations on regional routes, connecting small communities to Ho Chi Minh City's Tan Son Nhat International Airport and Hanoi's Noi Bai International Airport, as well as those in the cities of Da Nang and Nha Trang.
Lower-density markets are poised to flourish post-pandemic if driven by an efficient air network and increased regional connectivity. It is imperative, though, to balance aircraft capacity and market demand, notes Embraer.
The downside of high dependence on large narrowbody aircraft might soon become apparent when it proves to be inefficient in improving connectivity at regional airports, Embraer warns.
In addition, it notes that there are several restricted airports in Vietnam that cannot handle large narrowbody aircraft. Exclusive destinations like Côn Đảo, Cà Mau, Điện Biên Phủ and Rạch Giá are currently served by turboprops.
The regional jet solution
Regional jets can provide both affordable and profitable operations simultaneously, says Embraer, as profits and returns evolve as the primary focus and key deciding factor over the next few years.
Rather than costly infrastructure projects, regional jets are the "most viable alternative to improve air services", the company says, with no limitation and higher payload compared to turboprops. In addition, regional jets provide "distinct operational advantages", such as optimised seating capacity, cost efficiency, operating range, improved service quality, and flexibility of route development.
Given their capabilities, regional jets have become the 'go-to' aircraft for airlines looking to expand their domestic regional operations beyond the current ATR network.
One interesting example is the Hanoi-Côn Đảo route.
Before the introduction of regional jets the city pair was served with a stopover in Ho Chi Minh, given the limitations on handling large narrowbody aircraft in Côn Đảo, and also the distance between the two cities falling outside the operational range of a turboprop.
Embraer says local demand can be "revitalised" by focusing on emerging destinations with new nonstop flights.
Before the introduction of regional jets in 2020, Côn Đảo was directly connected to Ho Chi Minh and Cân Tho only.
In 2021, despite rising COVID cases, ten daily flights served six destinations – Da Nang, Hai Phong, Thanh Hóa, and Vinh City, in addition to the aforementioned Hanoi, Ho Chi Minh and Cân Tho.
Regional jets offer 'best strategic fit to underpin a sustainable long-term growth plan'
In Embraer's eyes regional jets can play a fundamental role in achieving long-term prosperity, as a highly efficient user of resources and infrastructure.
In the case of Vietnam, a careful and responsibly planned approach to airport infrastructure development is needed, and Embraer believes that regional aviation is the most economically viable enabler to facilitate tourism and trade, because it generates economic growth, provides jobs, improves living standards, alleviates poverty, and increases revenues from taxes.
On top of several spillover benefits, the relatively low investment vis-à-vis major airport upgrades makes Embraer "the best strategic fit to underpin a sustainable long-term growth plan," according to the manufacturer.
READ Embraer's whitepaper, Vietnam's air connectivity potential, which includes further insights and case studies on Côn Đảo Airport upgrade plan versus regional jet operation and how regional jets can support the biggest leisure development site in Southeast Asia.