US airlines reject LCC subsidiaries - as Westjet Swoops
Analysis
The highly anticipated launch of WestJet's new ULCC Swoop in Jun-2018 will be closely watched worldwide. Swoop is the first domestic low cost subsidiary of a major airline in North America since the days of the - unsuccessful - Delta's Song and United's Ted. Air Canada has had success with its low cost subsidiary Rouge, but its route composition is largely international. However, Air Canada seems poised to use Rouge as a line of defense when Swoop and other ULCCs debut in Canada's domestic market.

Canada and the US are vastly different market places, and the likelihood of US majors revisiting potential LCC subsidiaries is low. Those operators have chosen - or had no other option - to price match ultra low cost airlines through new fare tiers, and the proposition of launching low cost subsidiaries would be hugely unsettling to investors.

Delta is a bit more forward thinking in its domestic network evolution, pursuing select focus cities where it can attain a certain strategic advantage. For now, that seems to be its answer to avoiding the complexities of a dual brand strategy as too many hurdles exist for US airlines to consider attempting to create distinct, lower cost subsidiaries.
The prevalence of the LCC subsidiary model elsewhere in the world strongly suggests it is the most viable approach, but US airline managements are wary of pushing an unwilling union workforce to adopt this solution - for the time being at least.
Summary
The topic of pricing and competitive responses in the US domestic market will be discussed at CAPA's Americas Aviation Summit in Houston on 16/17 April, 2018

Agenda Item: All's fare in love and war: is aggressive pricing a new competitive reality?
Bankruptcy and subsequent consolidation have delivered the majors a low cost base and strong market positions, especially at their main hubs. But a combination of lower fuel prices and a resurgence of low price competition has created downward pressures on yields over the past year.
These may be recoverable, but there is a constant threat of ULCC entry on city pairs that have been lost as major airlines consolidated – a network phenomenon that occurred in Europe and Asia as LCCs have successfully gained dominant positions. Compared with other developed regions there is relatively lower connectedness for medium sized airports since consolidation.
As those airports (and their local economic interests) become more aggressive in their marketing activities, and as ULCCs expand, a new network and pricing dynamic will appear.
Unlike their Asian and European full service peers - who are much more exposed to LCC pressures - US airlines have not resorted to establishing low cost subsidiaries. Instead they have used various pricing strategies on their mainline operations. To date this appears to have been successful. As low cost competition grows and the majors' cost bases rise, this may call for new responses.
How effective are existing pricing strategies like Basic Fares in competing in the long run with ULCCs?
How are the network carriers defending their hubs from LCC and ULCC incursions?
What prospect is there of establishing LCC subsidiaries as parent company costs rise?
What role can loyalty play in this ultra competitive environment, when for example the vast majority of travellers will only fly with the airline once a year?
With yields under pressure, investing into product and the customer experience is vital; how effective are the measures being adopted?
Moderator: ICF Aviation, Principal, Carlos Ozores
Panel:

Allegiant Air, Senior Vice President, Commercial, Lukas Johnson
Lufthansa Group, Vice President Airline Sales, The Americas, Tamur Goudarzi Pour
Sun Country Airlines, President & Chief Executive Officer, Jude Bricker
VivaAerobus, Vice President Network Planning, Revenue Management & E-Commerce, Javier Suarez
Volantio, Chief Executive Officer, Azim Barodawala
Throughout the time that hopeful ULCC upstarts in Canada have worked to launch, WestJet has pledged to fiercely compete with those operators, and in 2017 stated it intended to create its own ULCC. Swoop will eventually operate up ten Boeing 737-700s, at which point WestJet believes the airline will have the lowest unit costs of any Canadian ULCC operator. The baseline for global ULCCs is USD6 cents or less.

WestJet's internal estimates for the market show 50% passenger stimulation, 25% transborder leakage and 25% existing price sensitive customers.

See related report: WestJet Swoops in as Canada's incumbent airlines work to create stiff competition for ULCC hopefuls

WestJet executives have compared Swoop to the highly successful Qantas-Jetstar model in Australia, and Canada and Australia do share some market similarities. Canada has a population of more than 35 million for a land size of nearly 10 million sq km. Australia's land mass is 7.7 million sq km with a population exceeding 24 million.

Management at WestJet has stressed that like Jetstar, Swoop will be operated separately, and has taken great care to stress there's no risk of cannabilisation from WestJet mainline. During the last few years, WestJet has worked to expand its corporate traveller base through a premium economy product, a co-branded credit card, expanding its presence in markets corporate travellers prefer and developing a proper business class on its new 787-9s.

Swoop's initial planned routes are between Toronto Hamilton, Toronto's secondary airport, and Abbotsford, Halifax, Edmonton and Winnipeg and from Abbotsford to Edmonton.
Presently, WestJet operates mainline service from Hamilton to Halifax, Edmonton and Winnepeg; but presumably with a lower cost structure, Swoop's fares in those markets will be much lower. WestJet has pledged Swoop's fares will be 40% lower than current Canadian domestic fares. WestJet's current schedule from Hamilton are also largely less than daily, but Swoop's flights from the airport range between six and seven weekly. WestJet mainline also operates between Abbotsford and Edmonton, a route operated by Canadian ULCC Flair Airlines. Flair also operates from Hamilton to Halifax.

Markets are adopting a wait and see attitude to WestJet's execution of Swoop. The airline's former CEO Gregg Saretsky retired abruptly in early Mar-2018, and his replacement Ed Sims had been the airline's EVP Commercial since May-2017.
US majors combat ULCCs segmentaion tiers as challenges to dual brands abound
In other global regions, domestic and international LCC subsidiaries are more prevalent than North America; they are in fact becoming ubiquitous. Air Canada has been successful with its low cost unit Rouge, in part due to its success of convincing labour groups that a lower cost subsidiary would ultimately make the company more competitive and profitable.
The pitfall of both Song and TED were their low fare, high cost operations, and with their failures dual brand strategy was brandished as irrational in the US. One important criterion, among others, was separate branding (and as can be seen from the picture captioning this story, even Ted aircraft carried the United logo).
The Qantas group's mostly non-unionised Jetstar remains the textbook example of a successful dual brand strategy, and it has moved up market and added long-haul service while still contributing to Qantas' bottom line. Qantas has stated Jetstar delivers 86% of its profit in Australia.

The preferred method for American, Delta and United to combat ULCC growth is through their tiered pricing structure that features a basic economy offering. There is one advantage with this offering: both American and Delta have enjoyed 50% upsells from their basic economy products to their more bundled and higher price offerings - although LCCs typically also enjoy upsells for bags and seats, as well as related services.

American, Delta and United face an interesting dynamic in the US market. Previously, American has calculated roughly 87% of its customers are travelling for the first time, and that passenger pool represents 50% of the airlines revenue. Clearly, initiating upsells from Basic Economy is a boon for operators like American and Delta, so perhaps in the absence of alternatives those airlines believe tiered pricing is a better way to compete with ultra low cost discounters.

Even if large US airlines had the desire to seriously consider creating separate low cost entities, they would face major challenges from unions and investors. The former would argue that jobs would potentially be lost at the mainline - although there is little empirical evidence elsewhere that this has occurred - while the latter would cry foul over the capacity created by low cost subsidiaries in the US market. Labour negotiations at US airlines are tough to start with, and at this point in time, adding the complexity of creating a new airline into the mix is not worth the risk for US airline management teams.
American and United stress hub growth while Delta thinks somewhat differently
For now, US gl

obal network airlines are working to allay investor concerns about their growth for 2018, both American and United have stressed their growth (2.5% and 4% to 6%, respectively), stems from building connectivity at their respective hubs.

More broadly, American has concluded the US market has reached a high level of maturity, with three hub airlines and smaller operators that compete aggressively against one another. The airline believes growth out of its hubs is just the final stages of the US' maturing airline business. In fact, American executives have stated if would be a sign it is moving in the wrong direction if the airline announces services that do not touch its hubs.

Due it its post merger maturity, American and United's rival Delta has taken a different approach to building its domestic network composition. It has built up a presence in focus cities that it feels have solid levels of demand, yet remained fragmented. Delta has had success in building up a focus city in Raleigh-Durham and also counts Boston and its former Cincinnati hub as focus cities.

See related report: Delta Air Lines' focus city strategy: spotlight on Boston & JetBlue

Perhaps that is Delta's method of circumventing the formidable challenges of creating a lower cost subsidiary to operate point-to-point markets. The airline deserves credit for recognising there are pockets outside the hub and spoke model that warrant investment. Raleigh and Boston have little ULCC presence (Frontier represents roughly 2% of Raleigh's seats and Spirit has a 4% share in Boston).
Cleveland is a blueprint for thinking outside the traditional network box
No business can remain static, and as hubs reach a certain level of maturity themselves, ULCCs will continue to grow. The US' largest ULCC Spirit plans to slow its growth (to the mid-teens!) in 2019 through 2021 from more than 20% the last few years. Mid-teens is still formidable growth, and small to mid-size cities will play a role in the airline's growth.

Spirit is making a push from Columbus, Ohio in 2018 to largely leisure markets including Orlando, Fort Lauderdale, Las Vegas and Fort Myers.

Spirit has also added flights from Cleveland during the last few years, a hub United shuttered around 2014. The airport has worked to backfill the loss of service, largely from low cost airlines. However, Cleveland offers hidden opportunities in a mature US market.

Cleveland is now a fragmented market, with United representing 24% of system ASKs; however, combined, Spirit and Frontier represent nearly 30% of the airport's ASKs.
Cleveland Hopkins International airport system ASKs by airline for the week of 19-Mar-2018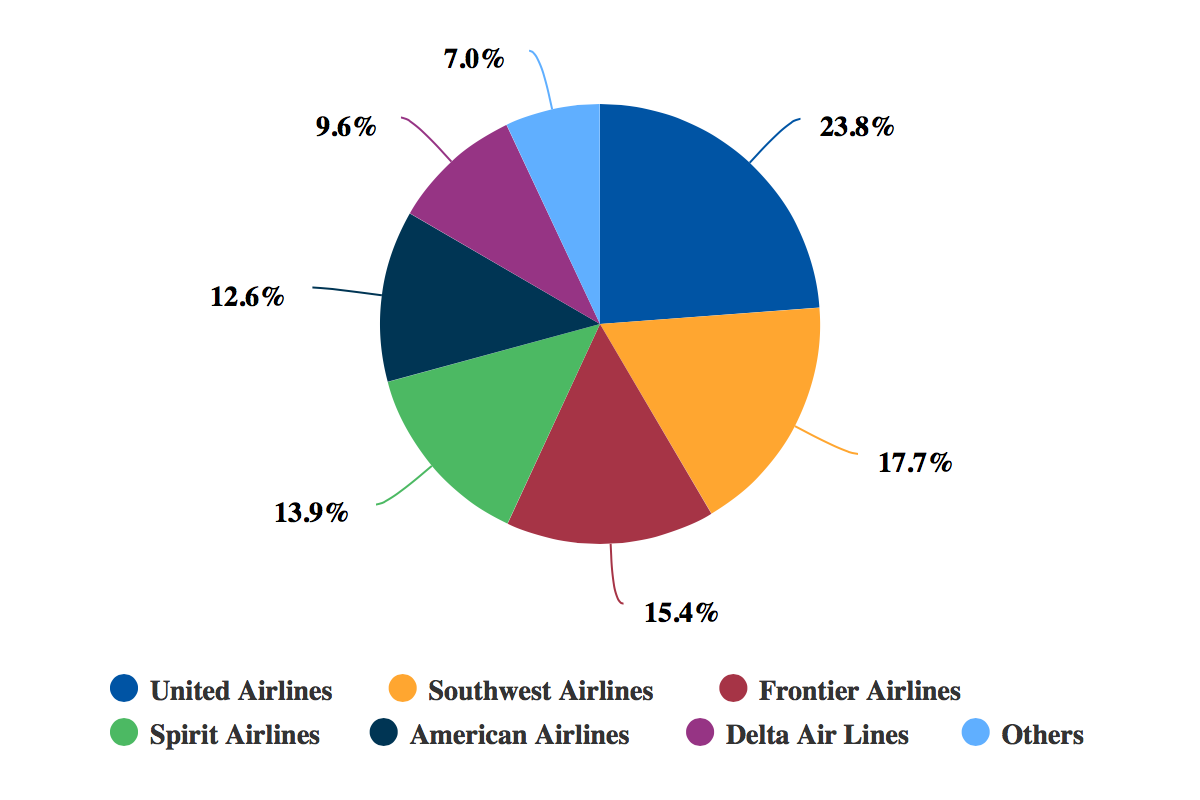 Crain's Cleveland Business notes that Allegiant, Frontier, Southwest and Spirit added 21 flights from Cleveland in 2017, and airport officials told the publication Cleveland's passenger numbers could reach 10 million in 2019, a level the airport has not achieved since 2008.
Raleigh-Durham's passenger levels were 11.8 million in 2017, and its passenger catchment area of 6 million is slightly above Cleveland's catchment area of 4 million. In some ways, Cleveland and Raleigh similar characteristics for air service development that will rise in importance as higher levels of maturity in the US market take hold.
Cleveland Hopkins International Airport annual passenger numbers from 2018 to 2017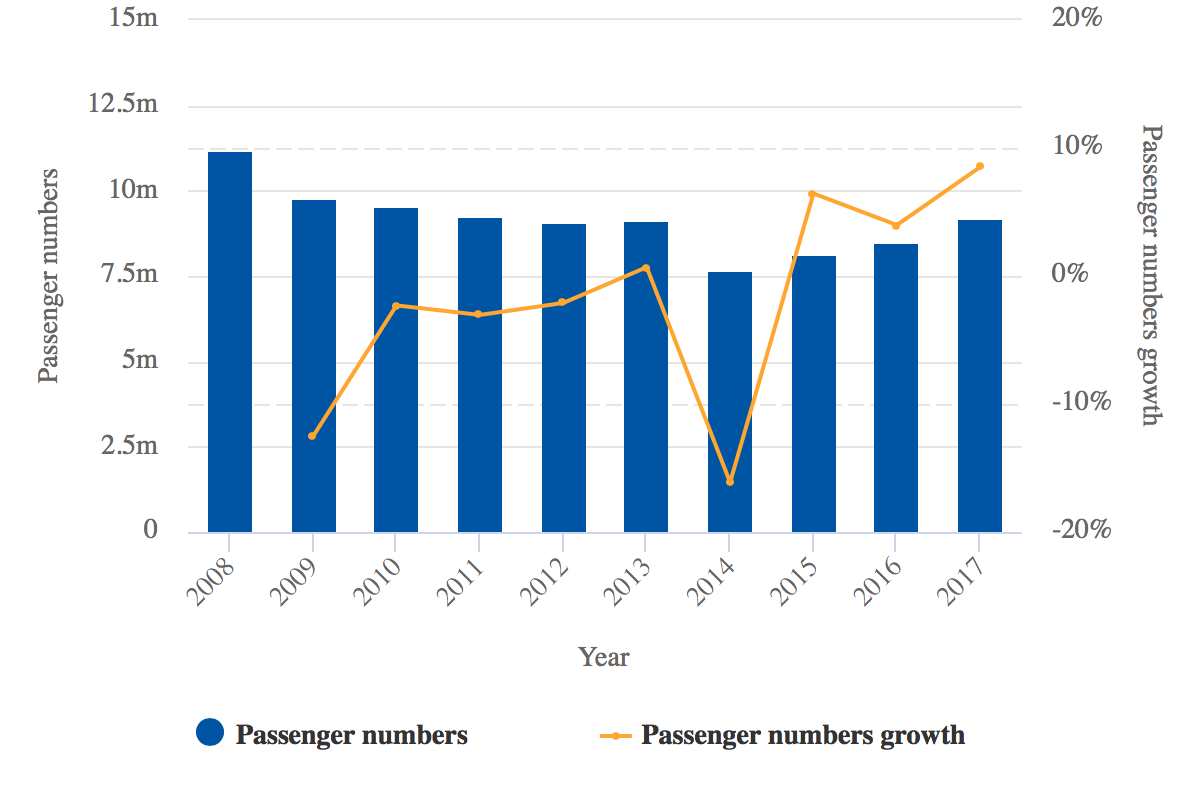 Long haul low cost operators WOW Air and Icelandair are both introducing service to Cleveland in 2018, offering connections to Europe through Reykjavik.
There's an obvious opportunity for those airlines to partner with ULCCs serving Cleveland to offer network breadth. The idea of US ULCCs codesharing with fellow ultra low cost airlines is not too farfetched. ULCC Frontier is already planning to partner with Volaris in part as an answer to an immunised joint venture between Delta and Aeromexico.
Maturity levels of the US market will dictate creative thinking going forward
For now, it is understandable that American and United are working to maximise the utility of hubs in their respective merged networks. With its merger now entering its second decade, Delta can examine the US domestic market from a different perspective, and indeed has pursued opportunities that American and United at this point do not find attractive.

The likelihood that US major airlines would attempt to revisit dual brand strategies is extremely low; however, in the ever maturing US market, those airlines are going to need to think outside the box to continue building their domestic passenger base in one of the world's most mature aviation markets. Incremental thinking can provide interim solutions, but in the longer run turbulent market conditions cannot be contained by regulatory protection, or even market dominance.
Delta is already ahead of the curve with its focus city strategy, and ULCCs too will evolve to forge international partnerships in order to maintain their growth in the US market place. Despite its seeming maturity, the US market is unlikely to retain its present stability.