WestJet Swoops in as Canada's incumbent airlines work to create stiff competition for ULCC hopefuls
Analysis
Aspiring ULCCs in Canada have endured a lot of flux during 2017, with New Leaf being absorbed by Flair Airlines, WestJet tabling plans to establish its own ULCC (dubbed 'Swoop'), and Canada Jetlines outlining a timeline for its debut.
Now, Air Canada is signalling that it will compete with discounters as it seeks to expand its low cost unit rouge into domestic markets.

An important passenger segment for both WestJet and Canada Jetlines are customers that drive across Canada's border to the US. It is an attractive passenger segment, but offering fares low enough for passengers to skip border crossing is key, which means cost efficiency is paramount for those airlines.

With the latest shake out in Canada's ULCC space, 2018 is proving to be a strategic year as both WestJet's Swoop and Jetlines are set to debut. Jetlines is entering the market at a time when large North American airlines are working to compete fiercely with ULCCs in order to maintain their dominance.
Jetlines outlines launch time frame, while Flair aims to double its fleet
During the past four years three ULCCs have been attempting to establish themselves in the Canadian market through various methods.
New Leaf Travel made its debut in 2016 as a travel reseller, using Flair Airlines as its air operator. The logic was that being first to market would offer inherent advantages over rivals that adopted a more traditional approach to development and launch.

See related report: Canada's airlines Part 3: startup ULCC NewLeaf buds in the early spring, with a modest beginning
Even as New Leaf remained a small player, WestJet flexed its muscle against the start-up.
WestJet drove New Leaf from Phoenix Mesa airport before the ULCC's launch of service from Calgary and Edmonton. WestJet launched flights from those airports to Phoenix Mesa in 2016. Schedules from CAPA and OAG show the airline is not operating flights from the airport for the week of 25-Sep-2017.

In Jun-2017 Flair opted to purchase New Leaf's assets, and during Dec-2017 it is planning to add flights from Toronto Pearson to Vancouver and Kelowna, and Vancouver to Kelowna and Edmonton. Flair has stated that it plans to operate 12 aircraft by the spring of 2018. Flair currently operates five Boeing 737-400s.
Flair Airlines fleet summary as of 18-Sep-2017

Jetlines is listed on the Toronto Stock Exchange after completing a reverse takeover with Jet Metal. The airline has named former Sun Country CEO Stan Gadek as its chief executive, and recently signed a letter of intent to lease two Boeing 737-800 narrowbodies with a scheduled delivery date of Apr-2018. The airline also has five Boeing 737 MAX narrowbodies on order.

Jetlines plans to launch service in the summer of 2018, and its network strategy is based around seasonal travel patterns in Canada. It has named two secondary airports – Toronto Hamilton and Waterloo – as its initial bases.

In its first few weeks of operations during the Canada summer high season, Jetlines plans to offer flights from Hamilton to destinations in Western Canada, including Winnipeg, Calgary, Vancouver and Edmonton, as well as Halifax in Eastern Canada.

From Aug-2018 to Oct-2018 Jetlines' route map expands to Orlando and St Johns and from Vancouver to Las Vegas. In the period from Nov-2018 to Apr-2019 more warm weather destinations are planned from Hamilton, including Fort Lauderdale, Tampa, Ft Myers and Cancún. The airline will also serve some of those destinations from Halifax and St Johns, as well as adding flights from Hamilton to Montreal.

Charter operator Enerjet, which at one point stated it was working with the ULCC specialist Indigo Partners, has aspirations to launch FlyToo. Indigo Managing Partner William Franke has recently made the observation that Canada's foreign ownership laws remain arcane, and the company has spent the past 18 months studying the Canadian market.
See related report: CAPA Latin America Summit: JetSMART cites numerous opportunities for expansion
Canada's largest airlines prepare to compete with new low cost start-ups
Throughout the time when various ULCC start-ups have been attempting to launch in Canada, WestJet has been vocal about its intent to compete fiercely with any new entrants, and strengthened that vow when it declared plans to establish its own ULCC.
See related report: WestJet looks to prove its high stakes gambles with widebody expansion and ULCC ambitions
The airline has debuted branding for the new airline dubbed "Swoop", and stated the ULCC will be based in Calgary, which is home to WestJet's headquarters. Canadian news outlet The Financial Post recently quoted WestJet EVP responsible for Swoop's launch Bob Cummings stating Swoop would deliver the lowest unit costs of any Canadian ULCC once the operation reaches its planned 10 Boeing 737-800s. It is an easy declaration for Mr Cummings to make since no ULCC is currently operating in Canada. The general benchmark for a ULCC is unit costs excluding fuel of USD6 cents or less.
Swoop plans to launch operations in Jun-2018 with six Boeing narrowbodies, and aims to build up to 10 aircraft in the spring of 2019, according to the Financial post. Details of Swoop's route network remain scant, but Mr Cummings confirmed to the Post that Swoop would fly from Abbotsford, and the airline is holding discussions with major Canadian airports as well as the smaller facilities of Toronto Hamilton, Waterloo and Windsor airport.
Data from CAPA and OAG for the week of 25-Sep-2017 show WestJet mainline serves all those airports. It has the largest presence at Hamilton, where it holds a 72.8% seat share and serves Edmonton, Halifax, Calgary, Winnipeg and Vancouver. WestJet's seat share at Abbotsford is 81.4%, and its destinations from the airport include Winnipeg, Calgary and Edmonton. It has a 9% seat share at Windsor, where it operates flights to Calgary.
Presently, WestJet is the only airline operating from Waterloo, but Jetlines has cited Waterloo as one of its bases, and also aims to operate service from Hamilton.
It is not clear if Swoop would take over some of WestJet's existing service from those airports, but the airports WestJet has listed as potential points in Swoop's network show WestJet is preparing to fiercely compete with new upstarts.
Air Canada prepares to price match new ULCCs as it gains more leeway at rouge
Air Canada also appears to be positioning itself to remain competitive as the fare environment in Canada changes. It already offers fare families, and in a recent investor presentation a ULCC label was attached to its fare family offerings.
The airline has not finalised its strategy, but The Financial Post recently quoted Air Canada executives explaining those fares would not be available across the board. The company did highlight the flexibility it has with its low cost unit rouge, and its ability to deploy the airline's aircraft into secondary Canadian markets.

Air Canada recently struck a deal with its pilots to expand rouge's fleet beyond the previously agreed level of 50 jets. The latest agreement allows rouge to expand its North American narrowbody fleet based on a formula that allows rouge to "to expand its presence in certain regional markets and to compete effectively with emerging North American Ultra Low Cost Carriers (ULCCs)", Air Canada stated.
Air Canada rouge fleet summary as of 25-Sep-2017

One point Jetlines makes in its pitch to investors is that price matching by Air Canada and WestJet would be revenue negative for those airlines.
But it appears larger airlines in North America seem willing to endure some level of revenue pain in order to stop competitive encroachment from ULCCs. United has stated that it has no intention of allowing discounters to capture passengers in its hubs, and will price-match to protect its fortresses. The airline believes leaving competitors that target leisure passengers in its hubs unchecked could become a large problem in the future.

See related report: ULCCs and US airline majors drive widespread discounting. Revenue starts to suffer

North American airlines are no longer ignoring ULCCs, and Canada will be no exception. With Canada having a population of approximately 40 million, compared with more than 300 million residents in the US, the stakes for larger Canadian airlines to compete effectively are higher.
WestJet and Jetlines aim to prevent cross border spill with lower fares
One customer segment that both WestJet and Jetlines are targeting with their respective ULCC models is Canadian passengers driving across the border for lower fares at US airports. Each company estimates that approximately 5 million Canadians choose to drive to the US to travel by air, and WestJet believes those passengers would prefer to depart from Canada rather than the US.
Jetlines target customers for its ultra low cost model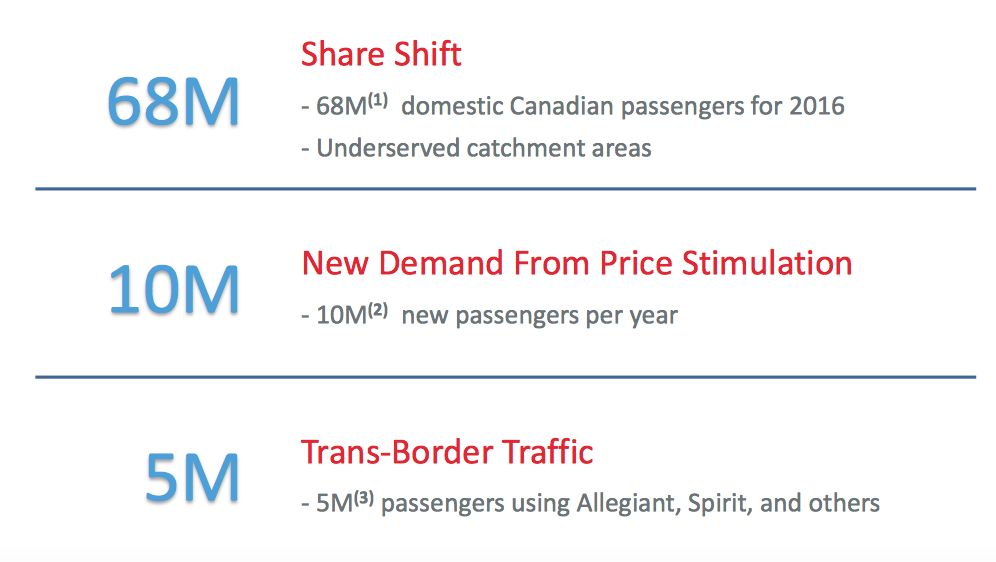 Jetlines calculates that approximately 950,000 Canadians opt to travel to Bellingham, Washington, rather than depart from nearby Vancouver. Canadians travelling to Grand Forks, across the border from Winnipeg, reach numbers of approximately 250,000 annually.
Buffalo Niagara International airport, which falls in Toronto's catchment area, estimates that it hosts two million Canadians each year, according to Jetlines. The company estimates 70% of passengers at Plattsburgh International airport are from Quebec. Overall, Jetlines uses the assessment that 75% of Canada's population is within 160km of the US border.
Canada's largest airlines will not easily cede their dominance to new entrants
Since the latest round of ULCC hopefuls made their declarations known years ago, the one consistent unwavering message has been that Canada is dominated by two airlines – Air Canada and WestJet – and that duopoly is a disincentive to offer lower fares, which means that millions are priced out of travelling by air.
Indeed, data from CAPA and OAG for the week of 25-Sep-2017 show that Air Canada and WestJet control roughly 82% of Canada's domestic seats, and 66% of the country's system-wide seats.
Canada system capacity by airline (% of seats) for the week of 25-Sep-2018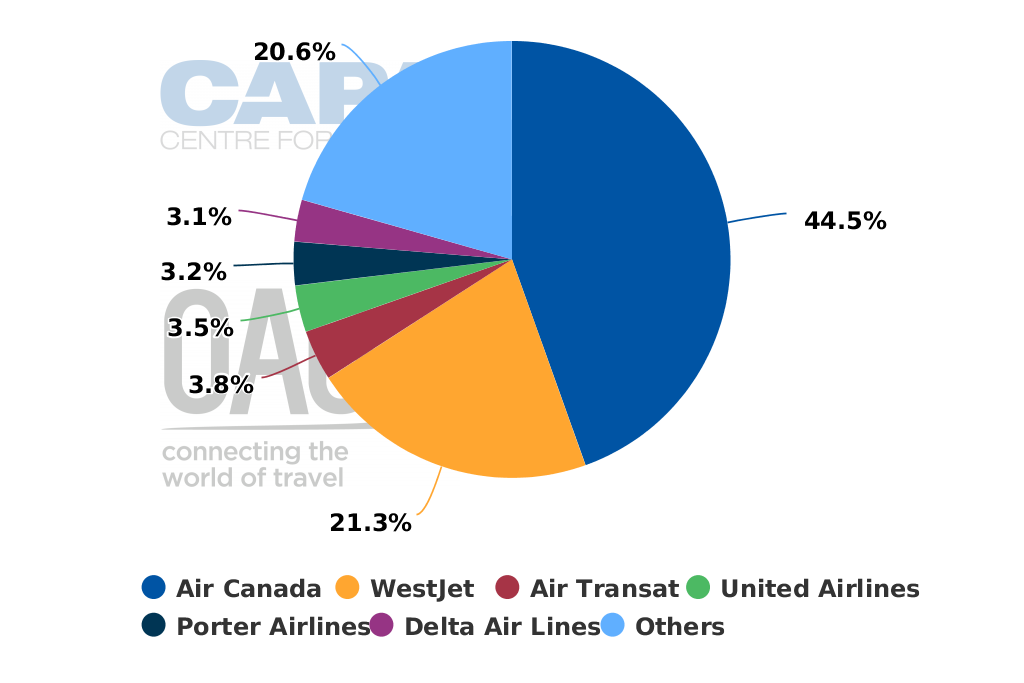 That theory is logical, but it does not take into account the aggressive response by Canada's incumbent airlines.
WestJet's decision to create an entirely new ultra low cost airline sends a strong message that it has no intention of ceding any passengers to new start-ups. The Financial Post reported Swoop will offer fares 40% lower than those currently available in Canada.
Of course, the success of WestJet's new ULCC Swoop depends on proper execution, and the airline has other large projects it is undertaking at the same time, including creating a new long haul product with its Boeing 787-9s, scheduled for delivery beginning in 2019.

Air Canada rouge is not a classic ULCC. It was created with a cost structure that allows Air Canada to exploit lower-yielding leisure passengers. rouge may not have the same cost base as ULCCs, but Air Canada can use its low cost subsidiary as a springboard to respond to new competitive realities within Canada's air travel market. Air Canada is also preparing to create new price points for some rouge markets that are within the ULCC fare range.
New ULCC hopefuls face emboldened competitors in Canada's air travel market
Canada is the sole remaining region in the Americas without a true ultra low cost competitor, after Indigo launched JetSMART in Chile during Jul-2017.

On the surface, conditions seem ripe for injection of ultra low cost competition into the Canadian market place. But the reality is that those start-ups face emboldened and entrenched competitors that are building arsenals to engage in a protracted battle for budget conscious travellers.