TUIfly, easyJet, airberlin, NIKI, Eurowings eye partners in Germany's aviation market upheaval
Analysis
Ryanair's expansion and Brexit are among factors which may have prompted reports about possible consolidation and other forms of co-operation involving Germany's leading airlines. These include - apparently false - speculation that easyJet has considered buying a stake in TUIFly (possibly to ensure that it has access to EU traffic rights post Brexit) and that TUIFly, a charter airline with growing seat-only sales, may be integrated with airberlin subsidiary NIKI and the TUIFly aircraft currently operating airberlin routes under wet lease.
An expanded TUIFly operation could, perhaps, better withstand fast-growing competition from Ryanair in Germany, although these stories have been denied. A more definitive development, announced by both parties, is that up to 40 of airberlin's narrow body fleet will be wet-leased to Lufthansa Group for its LCC Eurowings and Austrian Airlines. Airberlin will also put its leisure operations into a separate unit. These moves should partly alleviate airberlin's overcapacity problems, while accelerating the growth of Eurowings (further boosted by the possible integration of Brussels Airlines into the LCC).
Even if the other stories prove mere speculative, the frequency of such reports highlights the need for consolidation in Europe, whose centre is Germany. Moreover, they throw light on the rapid pace of change in business models in what has historically been a very conservative aviation market.
EasyJet possibly to invest in TUIFly
A report in German business publication manager magazin (22-Sep-2016) said that easyJet was in talks to acquire an undisclosed stake in TUIFly, primarily as a means to ensure access to EU traffic rights in a post Brexit world. According to a Reuters article (23-Sep-2016), a TUIFly pilot and supervisory board member said that a second European airline, from outside the EU, was also interested in a stake in the German leisure airline.
According to subsequent media reports, TUIFly management denied that easyJet would be investing in the airline, which is part of TUI Group. In a letter to TUIFly staff, its management said that "cooperation with easyJet or its participation in TUIfly is neither being prepared nor sought after".
TUIFly is one of six TUI Group airlines
Hanover-based TUI Group's business includes tour operators (package holidays), travel agencies, hotels and cruises, in addition to charter airlines. It is the world's largest leisure tourism business, with sales of EUR20 billion in FY2015 (year end September) and 76,000 employees in 130 countries.
Historically, the main function of its airlines has been to provide air capacity to TUI's in-house holidays business. In recent years, however, the group's airlines have grown their scheduled seat-only activities, partly in response to increased competition from LCCs and the trend towards "self-assembly" package holidays that has been facilitated by the internet.
TUI Group's airlines consist of TUIFly in Germany; TUIFly Nordic in Sweden, Denmark, Norway and Finland; Thomson Airways in the UK; Corsair in France; Jetairfly in Belgium and TUI Airlines Netherlands (formerly Arkefly).
TUI Group seats 2012 to 2015 and first 10 weeks of 2016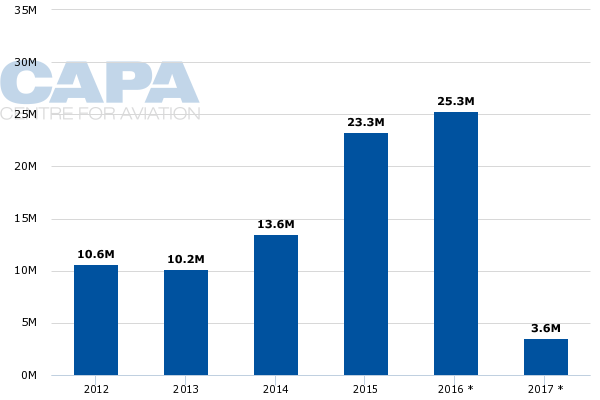 TUI Group airlines have 139 aircraft and carried 26 million passengers
According to the CAPA Fleet Database, TUI Group has a total fleet of 139 aircraft as at 26-Sep-2016, of which 27 are widebodies, 109 are narrowbodies and three are regional jets. TUIFly has 33 narrowbodies (29 Boeing 737-800s and four 737-700s).
A presentation on group's website states that its airlines had 13 million "customers" in FY2015 (including those flown under contract for airberlin by TUIFly and Corsair). In the package holiday business, customers generally make both an outward and return trip, but are only counted once.
In the more common language of the airline industry, this figure would be represented as 26 million passengers for the group's airlines. It is likely that the large majority were on charter flights for the group's package holidays businesses.
TUI does not report traffic figures by airline, nor does it disclose the balance of its charter and scheduled capacity. However, data from the UK Civil Aviation Authority show that the group's largest airline, Thomson Airways, carried 10.6 million passengers in 2015, of which 10.1 million were on non-scheduled (charter) services.
The Group airlines are being more closely integrated
The group is in the process of what it calls "building one virtual airline", acting as one "wherever it makes sense", while also keeping local differences when the benefits of doing so outweigh the benefits of integration. TUI has said it is targeting EUR50 million in operational efficiency improvements at its airlines by the 2018/19 financial year.
In particular, its aviation operations share activities and services such as purchasing, financing, maintenance, ground handling and aircraft configuration. Activities such as crew rostering and flight planning are carried out locally by the individual airlines.
A part of a move by TUI Group to unify the branding of its activities across its businesses, its Dutch airline Arkefly was renamed TUI Airlines Netherlands in Oct-2015. The group plans to rename all its airlines with the TUI name over a multi year period. This will include its largest airline Thomson Airways in the UK, where there is little if any history of the TUI brand name.
TUI Group airline seats week of 26-Sep-2016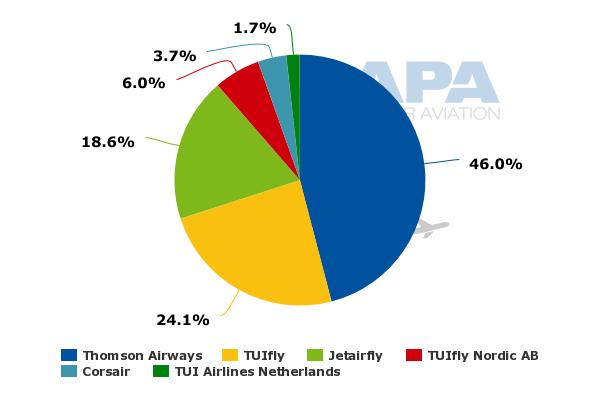 TUI might be open to selling TUIFly
In spite of its efforts towards greater integration of its airlines, TUI Group is also thought to be open to selling TUIFly. The group views its airlines as services providers to its main business segments, rather than as profit centres in their own right.
It does make a virtue of its vertically integrated approach, which allows it to control all stages of the customer experience. Nevertheless, provided that it could guarantee access to the capacity it needs when it needs it, and at the appropriate price and service quality, it would probably be comfortable with outsourcing at least some of its aviation capacity.
TUI Group has publicly stated that it is seeking cost efficiencies from its airlines and this might be one way to achieve them.
easyJet favours organic growth, but has made acquisitions in the past
Historically, easyJet has favoured an organic approach to growth, rather than pursuing acquisitions. It has acquired other airlines, most notably Go Fly in 2002 and GB Airways in 2008, but these transactions were opportunistic and mainly aimed at acquiring or increasing its slot holdings at key London airports (Stansted and Gatwick).
Competition from other LCCs in Germany is growing, particularly from the Lufthansa-owned Eurowings and from Ryanair, but it seems unlikely that easyJet would pursue an acquisition in that country purely to grow its presence there.
easyJet may need to establish or acquire an EU AOC post Brexit
A possible rationale for easyJet to consider taking a stake in an airline in Germany, or elsewhere in the European Union, might be as a way to ensure access to traffic rights within the European Common Aviation Area if UK airlines are excluded from the ECAA once the UK leaves the EU.
In a statement shortly after the Brexit vote, easyJet said it was confident that the UK's departure from the EUR would not have a "material impact on its strategy or its ability to deliver long term sustainable earnings growth and returns to shareholders". It said that it would accelerate discussions with UK and EU governments and regulators to ensure that the UK remains part of the single EU aviation market.
However, easyJet also has also boasted of a "well-developed" contingency plan to obtain an EU Airline Operator Certificate (AOC), "in the event that the UK Government negotiation does not achieve the desired outcome of a continuation of a liberalised and deregulated aviation market".
As noted in previous CAPA analysis, easyJet is among the most Brexit-exposed UK airlines to potential regulatory change with respect to traffic rights.
Routes from the UK to ECAA/Switzerland account for almost 53% of its ASKs, while intra-ECAA/Switzerland represents 35%, making a total of 87% of ASKs that could be affected by any change to market access rules post Brexit (based on the 12 months to the end of the summer 2016; source: CAPA analysis of data from OAG Schedules Analyser).
See related reports:
easyJet could only have a minority stake
Of course, obtaining an EU AOC does not necessarily require the purchase of an existing operator, although it may be easier and simpler than setting up a new operator.
One important complication is that an EU airline will still have to be majority owned and controlled by EU nationals, or at least by nationals of states that have full access to the ECAA. If the UK no longer has access to the single aviation market, easyJet will also not be able to own a controlling stake in an EU airline.
This means that any airline used by easyJet to achieve access to an EU AOC - whether a new start or an existing operator - can only be a partly owned associate and not a majority owned subsidiary. This kind of minority-owned holding structure is well established in the Southeast Asian LCC sector, but could carry some risks for easyJet.
For example, it would dilute the economic benefit derived by easyJet from its intra-ECAA flying activities, since it would only be a minority shareholder. It may be possible to create a governance structure that grants easyJet full economic rights with only minority voting rights, but this is untested and would also involve risk if those controlling the votes were to disagree with easyJet.
TUIFly linked with possible deal involving airberlin and NIKI…
If the speculated easyJet transaction does not materialise, TUI may have at least one other option for TUIFly, assuming that it does not just preserve the status quo. It is widely expected that a deal involving TUIFly and Germany's number two airline, airberlin, could be imminent.
Germany: top 10 airlines by seats week of 26-Sep-2016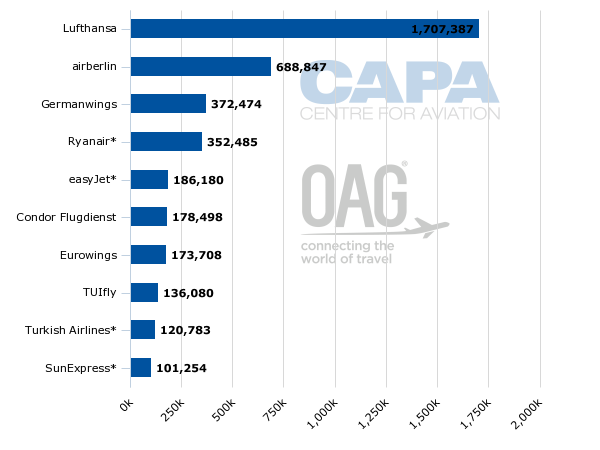 Perennial loss-maker airberlin has been through a number of restructuring programmes and has been bailed out a number of times by its 29% shareholder Etihad Airways of Abu Dhabi.
However, it has not been able to return to profit and the patience of its largest shareholder is unlikely to be endless. Airberlin has been reducing capacity slowly, but more radical change is necessary.
See related report: Airberlin makes network cuts, refocusses on North America long haul and new premium product
According to a number of media reports, TUIFly could be combined with airberlin's Vienna-based subsidiary NIKI in a transaction that would also include 14 aircraft that TUIFly currently operates for airberlin under wet lease.
Airberlin confirmed on 28-Sep-2016 that it is to wet-lease up to 40 of its A320 family aircraft to the Lufthansa Group from summer 2017. Lufthansa said that it will allocate up to 35 of them to its LCC Eurowings, and up to five of them to its Austrian Airlines subsidiary. The deal is subject to approval by the supervisory boards of both parties and by the relevant competition authorities, and completion is expected in 4Q2016.
Airberlin also announced plans to create a separate business unit for its leisure operations, with a fleet of 35 aircraft. Its statement did not give further details of this plan and certainly did not mention TUIFly (nor did it mention NIKI). It said that strategic options were being evaluated, but leaves the possibility open that there could be some kind of deal involving TUIFly.
After the lease of aircraft to Lufthansa Group and the carving out of a new leisure business unit, airberlin will have a core fleet of 75 aircraft to focus on higher-yielding scheduled network operations around twin hubs at Berlin and Duesseldorf. It will continue to grow its long haul operations, particularly to the US.
Airberlin's latest restructuring will be the subject of a separate CAPA analysis.
According to CAPA analysis, airberlin does not have a level of unit cost (CASK) that is consistent with a low cost airline; but neither does Eurowings. Indeed, airberlin is a lower cost operator than Eurowings.
See related report: Eurowings develops innovative partnership approach, but CASK reduction may not go far enough
Nevertheless, airberlin's latest restructuring would be harder to achieve without Lufthansa's collaboration.
The deal between Germany's two largest airlines indicates that both have an interest in not allowing airberlin to collapse, since its disappearance would create a vacuum that would likely be filled by more aggressive competitors such as Ryanair.
A further CAPA analysis report will look at recent moves in the expansion of Eurowings, both through this wet-lease deal with airberlin and through Lufthansa's recently announced takeover of full control of Brussels Airlines (which it is expected to integrate with Eurowings, at least in part).
The state of flux in German aviation leaves many possibilities open
If these moves materialise, they would reduce the airberlin group's scale of activities significantly, while helping to grow the size of Eurowings-branded operations and giving TUI Group greater access to leisure airline capacity in Germany. However, TUI Group has reportedly denied interest in buying NIKI, just as there have been denials that easyJet is to invest in TUIFly.
Such is the current rapidity of news flow on leisure and low cost airlines in Germany. The country lies at the heart of a continent that has fallen behind North America in airline consolidation. And Germany in particular has been less affected by the dramatic changes wrought among intra-European industry than many other countries. But now it appears that change could occur in a rush.
See related reports:
Germany is the home of one of Europe's highest cost and most traditional legacy airlines, Lufthansa, which has also been at the forefront of attempts to change the way it does business by creating a new LCC operation.
Moreover, Europe's leading LCC, Ryanair, is targeting the country for rapid growth.
See related reports:
Germany is also home to the long term loss-maker, airberlin, which has struggled to find a clear direction for several years - and if recent events are an indicator, there is more to happen there. Finally, it houses the head office of TUI Group, a leading tourism business and owner of charter airlines of the type that have been growing their share of seat-only markets.
Given the ongoing state of flux in Germany's airline markets, it may be some time before a new market structure settles and stories about 'who's getting together with whom' stop hitting the headlines.