Transavia: Munich to be first base outside home markets, but Air France-KLM's LCC still lacks scale
Analysis
Air France-KLM's low cost subsidiary Transavia will open its first base outside the group's home markets of France and the Netherlands. From Mar-2016, it will base four Boeing 737-800 aircraft in Bavarian state capital Munich. The airport will be Transavia's seventh base, after Dutch airports Amsterdam, Rotterdam/The Hague and Eindhoven and the French airports Paris Orly, Nantes and Lyon.
Flights from Munich will operate under Transavia's Dutch AOC, thereby presumably avoiding the need for agreement with Air France pilots, using mainly German pilots and cabin crew. However, Munich is by no means a low cost airport and Transavia will need to increase its initial fares, typically starting at EUR29 on many routes. The relative lack of LCC competition at Munich may be an attraction, but Lufthansa may eventually respond with its LCC Eurowings.
In addition to analysing Transavia's plans in Munich, this report also reviews Transavia's track record and compares it with the LCC subsidiaries of IAG and the Lufthansa Group. Judging by the size of its fleet, network and profitability, Transavia currently trails the other two. All three trail behind Europe's leading LCCs Ryanair and easyJet.
Transavia to launch 18 routes from Munich, aims for 1 million pax in year one
The Transavia brand consists of the original Netherlands-based Transavia, which is 100% owned by Air France-KLM, and Transavia France, which is 60% owned by Air France-KLM and 40% owned by Transavia. Although both appear unified to the outside world and sell tickets through the same website, they have separate AOCs and labour contracts. The group is now considering combining both airlines under a single holding, a move that should increase the efficiency and flexibility of its LCC brand.
Using the Netherlands-based AOC, Transavia will serve 18 destinations from the new base, starting in Mar-2016, with a total of 101 weekly flights (one way). All of its routes from Munich will be new, with the exception of Paris Orly, which Transavia France began serving from Munich in Aug-2015 (note that Air France also serves Paris CDG from Munich).
Transavia aims to carry one million passengers from Munich in its first year. If it achieves a load factor of 90%, consistent with its average across the network and if its operations are all carried out by 185 seat 737-800 aircraft, this suggests that the schedule currently announced could take Transavia close to achieving this aim, with the addition of the equivalent of two more daily frequencies.
Competition on 17 out of 18 routes, but little from LCCs
Transavia will face competition on all but one route (Munich-Eindhoven), with Lufthansa being its most common competitor (on 11 of the routes). It appears to have chosen routes that mainly avoid competition with other LCCs.
Only three of the routes currently include LCC competitors (TUIfly to Faro, Vueling and TUIfly to Palma de Mallorca and SunExpress Germany to Marrakech) and none include easyJet, which is the largest LCC present at Munich.
Transavia's routes also avoid competition with Lufthansa's LCC subsidiary Germanwings, which is the number four LCC at Munich (Vueling and TUIfly are second and third respectively), albeit with a very small presence.
Transavia destinations from Munich from Mar-2016
| Destination | Weekly frequency | Transavia price one way from | Competitor airlines on city pair |
| --- | --- | --- | --- |
| | 7 | EUR29 | |
| | 4 | EUR29 | |
| | 4 | EUR29 | |
| | 5 | EUR39 | |
| | 5 | EUR49 | |
| | 3 | EUR49 | |
| | 5 | EUR49 | |
| | 3 | EUR39 | SATA |
| | 4 | EUR49 | |
| | 4 | EUR49 | |
| | 7 | EUR49 | |
| | 4 | EUR49 | |
| | 12 | EUR29 | |
| | 6 | EUR39 | |
| | 3 | EUR39 | |
| | 2 | EUR59 | |
| | 11 | EUR29 | Transavia monopoly |
| | 12 | EUR42 | Lufthansa, Air France (both to CDG) |
Munich is Europe's 63rd largest LCC airport
Munich is an interesting choice for Transavia's first base outside its home country markets. It is Europe's seventh largest airport by seats, but is not known as a low cost airport. It ranks at number 63 in Europe for seats offered by LCCs for the week of 30-Nov-2015, according to data from CAPA and OAG. Only 5.5% of seats at Munich are operated by LCCs, compared with 39% of seats within Europe as a whole in 2015 year to date (same source).
Although pan European LCCs such as easyJet and Vueling serve Munich, Transavia will be the first LCC to base aircraft there. This lack of significant LCC competition, particularly on the routes chosen by Transavia, is an attraction, although it also presents a challenge in that the market is not yet fully accustomed to the LCC product.
Munich Airport charges are relatively high vs existing Transavia bases and leading LCC airports
Weighing against the attraction of low levels of LCC competition is the cost of operating at Munich. CAPA tracks airport charges using data from Air Transport Research Society, which includes three out of Transavia's seven current bases. This enables a comparison of combined landing and terminal charges without baggage or check-in at Munich with those at Paris Orly, Amsterdam and Lyon.
Compared with its existing bases, Munich is towards the higher end of the cost range in terms of airport charges for a Boeing 737-800. Although its charges for a 737-800 are 6% lower than those at Paris Orly, Munich is 48% more expensive than Lyon and 26% more expensive than Amsterdam for this aircraft variant.
Among the four airports, Munich is relatively low on landing charges, but high terminal charges push up the combined total.
Combined landing/terminal charges* for Munich, Paris Orly, Amsterdam Schiphol and Lyon (USD) 2014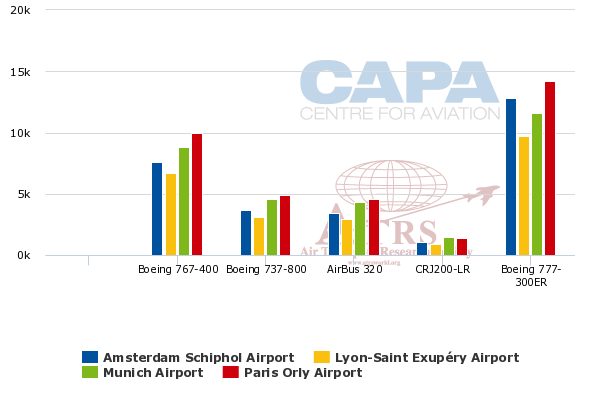 Munich's charges for a 737-800 are also fairly high when compared with those at Europe's three leading airports for low cost airline seats, Barcelona, London Stansted and London Gatwick. Again using combined landing and terminal charges without baggage or check-in. Munich is 7% more expensive than Barcelona, 59% more expensive than London Stansted's peak charge and 72% more than its off-peak charge. It is 22% more expensive than London Gatwick's off-peak charge, but 20% cheaper than its peak charge.
Among the rest of Europe's top 10 airports for LCC seats (which include Amsterdam at number seven), only Madrid is more expensive than Munich on the same basis, according to data from Air Transport Research Society. For example, Munich is 50% more expensive than sixth placed Dublin and more than twice as expensive as fifth ranked Oslo.
Combined landing/terminal charges* for Munich, Barcelona, London Stansted and London Gatwick (USD) 2014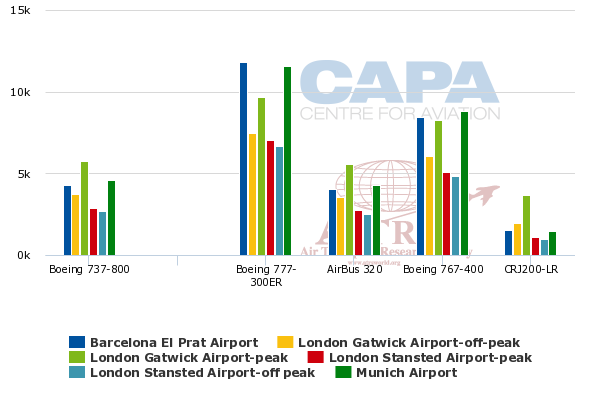 Transavia's starting fares from Munich are lower than its average cost per passenger
After an initial period from 30-Nov-2015 when some EUR19 fares will be available, Transavia's introductory one way fares for its 18 routes from Munich start at between EUR29 and EUR59, with the majority starting at EUR49 or less (only Marrakech is at EUR59).
These starting prices compare with Transavia's average 2014 scheduled passenger revenue per passenger of EUR101, which was 5% less than in 2013. In 9M2015, its scheduled passenger revenue per passenger fell by 6% year on year to EUR102. Its cost per passenger came down by 5% to EUR103 in 9M2015.
Even without factoring in the higher airport charges at Munich, it is clear that Transavia's starting prices are significantly lower than its cost per passenger. Of course, these are introductory fares and apply to the airline's lowest fare category 'Basic'. The 'Plus' and 'Max' categories also include free hold baggage up to 20kg or 30kg respectively, free seat reservation, Flying Blue miles and ticket flexibility. The "Max" fare also includes fast-track security at airports.
A quick look at Transavia's website shows a number of EUR19 fares on the Munich to Venice route for May-2016, for example. These are, of course, only available in the Basic Category. The equivalent prices for Plus and Max are EUR40 and EUR50 respectively, significantly higher, but still much less than Transavia's average cost per passenger. There are also some EUR37 Basic fares on this route in May-2016, which become EUR60 as Plus fares and EUR87 as Max fares.
On Munich-Brussels, its EUR19 special offer Basic fares become EUR35 for Plus and EUR54 for Max. Its EUR37 Basic fare upgrades to EUR55 for Plus and EUR77 for Max. All of these fares will need to increase substantially if Transavia is to be profitable in Munich.
Transavia's fleet is growing, but will remain smaller than IAG and Lufthansa LCC airline subsidiaries
The Air France-KLM Group's short/medium haul LCC operation continues to be smaller in scale than those of both IAG and the Lufthansa Group. According to the CAPA Fleet Database, the combined Transavia fleet comprises 53 narrowbody aircraft as a 3-Dec-2015 (adding 32 aircraft of the Dutch Transavia to the 21 of Transavia France).
These comprise 45 Boeing 737-800s and eight 737-700. The Dutch fleet has been stable for a number of years, while Transavia France has more than doubled the size of its fleet from eight aircraft at the end of 2012.
Transavia fleet (number of aircraft) split between its Netherlands and France operations 1Q2007 to 4Q2014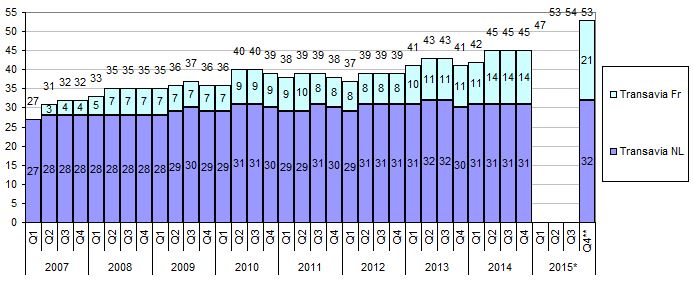 The 53 narrowbodies of Transavia compare with 84 in the Lufthansa Group's Eurowings/Germanwings (including 16 CRJ900 regional jets that are to be replaced with A320s) and 100 in IAG's Vueling. (IAG also has 20 narrowbodies in Iberia Express, which it claims has unit costs in line with LCCs, but which is not designated as a LCC in the CAPA/OAG database).
The LCC fleets of all of Europe's Big Three legacy airline groups pale by comparison with Ryanair's 323 aircraft and easyJet's 244 (source: CAPA Fleet Database, 3-Dec-2015).
See related reports:
The Air France-KLM Group's short/medium haul network is also smaller than those of the other two and so it is perhaps more meaningful to compare their LCC fleets as a percentage of their total narrowbody fleets. Air France-KLM lags the other two on this measure, too. Its LCC provides 24% of the group's total narrowbody fleet, compared with 27% for the Lufthansa Group and 34% for IAG.
The Air France-KLM 1H2015 results presentation indicated that Transavia's fleet will grow to 65 aircraft in 2017, by which time Lufthansa expects the Eurowings short/medium haul fleet to reach 89. IAG has not published a target for Vueling's fleet in 2017, but its existing orders suggest that it is likely to grow to at least 115 aircraft.
CAPA understands that the four Munich based aircraft will be additional to Transavia's existing fleet, rather than units currently deployed by Transavia in the Netherlands and transferred to Munich, but it is not yet clear if the 2017 target will grow. CAPA estimates that, based on its 65 aircraft target, the increase in the Transavia fleet will take it to 28% of Air France-KLM's narrowbody fleet in 2017.
However, CAPA estimates that this will remain less than the equivalent figures for the LCC fleet as a percentage of total narrowbody fleet of 29% for the Lufthansa Group and 37% for IAG in 2017.
Air France-KLM, IAG* and Lufthansa Group** narrowbody fleet numbers split between LCC and network airlines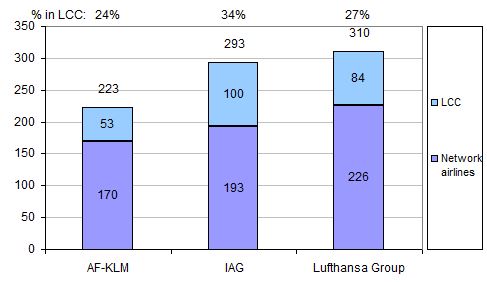 Transavia capacity growth is matched by short/medium haul capacity cuts in AF-KLM network airlines
After a period of stop-start growth by Transavia, the Air France-KLM once more accelerated its growth rate in 2013 in an attempt to devise a more concerted strategic response to competition from European LCCs.
See related report: Transavia: too little, too late? Air France-KLM's LCC enjoys a growth spurt
From 2012 to 2014, Transavia's ASKs increased by 21%. The additional ASKs were matched by an equal decline in the ASKs on routes within Europe (including France) operated by the group's network airlines.
This kept the total capacity offered by the whole group in Europe flat over the period. However, by contrast with Lufthansa's strategy of directly transferring routes from its mainline operator to its LCC, Transavia's growth has been based on starting new routes and (particularly in France) on operating some routes alongside the mainline operator. Agreements with Air France pilots effectively prevent the transfer of routes from Air France to Transavia.
See related report: Transavia part 2: still constrained by unions and forced into high degree of overlap with Air France
This took Transavia from 23% of the group's Europe ASKs in 2012 up to almost 28% in 2014 (note that this is based on Transavia's total ASKs, which include a small component of non-European capacity to destinations in North Africa and Middle East). This figure was less than the 37% of IAG's short/medium haul ASKs accounted for by Vueling in 2014, while Lufthansa does not provide separate traffic data for its LCC.
In 9M2015, Transavia was 30% of Air France-KLM's short/medium haul ASKs, up from 29% in the same period of 2014.
Transavia and Air France-KLM network airlines short/medium haul capacity* (ASK million) 2012 to 2014 and 9M2014 & 9M2015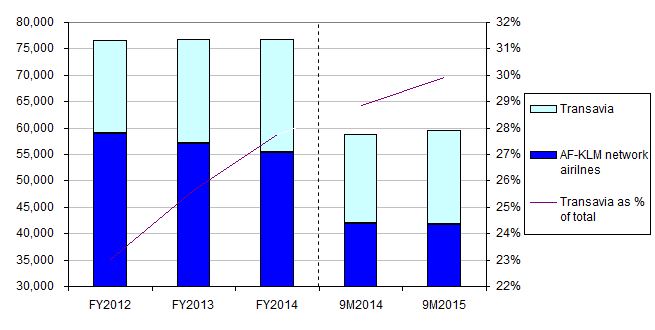 In the 12 months ended Sep-2015, Transavia carried 10.6 million passengers. This compares with Vueling's 21.5 million in calendar 2014 (and it has been growing at a double digit rate in 2015). Separate traffic data are not available for Lufthansa's Germanwings, but, in 2013, it set a target for 2015 of 20 million. Ryanair carried 97.4 million passengers and easyJet 68.6 million in the 12 months ended Sep-2015.
Transavia revenue increase was less than the reduction at network airlines
Transavia's 21% increase in ASKs from 2012 to 2014 was not quite matched by the increase in its revenue, which grew by 19% over the same period. As Transavia is lower yield than the Air France-KLM Group's network airlines, the revenue that it gained was less than the revenue that the network airlines lost on short/medium haul from 2012 to 2014.
This meant that, although total capacity for the group was constant on short/medium haul routes, the total revenue generated in this region fell by 3%. Nevertheless, the aim was not to maintain revenue, but to reduce losses on the short/medium haul network.
Transavia and Air France-KLM network airlines short/medium haul revenue* (EUR million) 2012 to 2014 and 9M2014 & 9M2015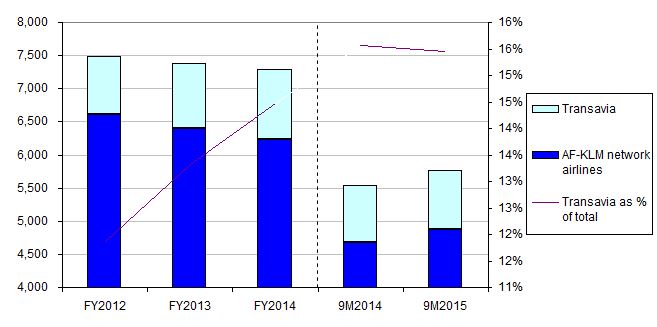 Transavia is loss making, but has helped to narrow group losses on short/medium haul
Transavia has not been profitable in the years for which Air France-KLM has separately reported its LCC's results (starting with 2011). It made an operating loss of EUR36 million in 2014, EUR13 million worse than in 2013. For 9M2015, it turned a small operating profit of EUR2 million, compared with a EUR2 million loss in the same period a year earlier.
Transavia operating profit (left hand axis) and total passenger revenue (right hand axis) 2011 to 2014 and 9M2014 & 9M2014 (EUR million)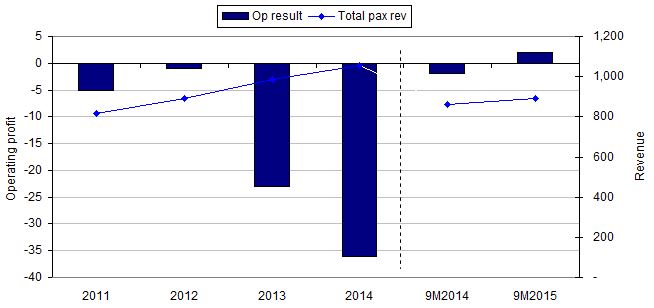 However, the seasonal nature of its business means that a loss is likely in 4Q2015 and the 9M result will probably not be sufficient to offset this, so Transavia seems set to report another full year loss in 2015, albeit possibly a narrower one than in 2014. Indeed, Air France-KLM has said that it expects Transavia to break even only in 2017.
Transavia's track record of losses compares poorly with that of IAG's Vueling, which is set to report its seventh successive operating profit in 2015. Furthermore, although Lufthansa does not report separate results for Germanwings/Eurowings, its 9M2015 results announcement indicated that it expected a positive result for its short/medium haul point to point airline for FY2015.
See related report: Vueling's new CEO only needs to stay ahead of rival LCCs on service quality. And keep cutting costs
Europe's two leading LCCs leave all three legacy airlines in their wake when it comes to profitability. Transavia's negative margin, Germanwings' breakeven and Vueling's healthy 8.6% operating margin for 2014 compare with easyJet's 12.8% margin for FY2014 (increased to 14.7% in FY2015) and Ryanair's 18.4% for FY2015 (with a March year end; its margin for the 12M to Sep-2015, in line with easyJet's year end, was 22.3%).
Nevertheless, the growth of Transavia does appear to have helped Air France-KLM to reduce the losses in its short/medium haul passenger business.
The group does not report official profit figures by network, but its FY2014 results presentation gave some indicative estimated figures.
See related report: Air France-KLM back to operating loss; warns lower fuel may be offset by low unit revenue & currency
According to these figures, the loss in the medium haul hub feed network narrowed from c.EUR400 million in 2013 to c.EUR320 million in 2014. The medium haul point to point result improved from a loss of c.EUR220 million to a loss of c.EUR120 million. Thus, the total loss on medium haul narrowed by EUR180 million in 2014.
Transavia would benefit from greater scale, but pilot agreements have held it back
Essentially, in growing Transavia and shrinking the network airlines on short/medium haul, Air France-KLM has been replacing higher yield, but heavily loss making, capacity with lower yield capacity that makes narrower losses/approaches break even. This process should logically lead to the transfer of medium haul routes currently operated by the network airlines to Transavia. This would accelerate the group's ability to reduce losses in the network airlines and would also give Transavia greater scale.
As CAPA has argued previously, scale would help Transavia both in terms of cost efficiency and in giving it a wider network with which to appeal to passengers. An important component of increasing its scale is the establishment of bases outside the Netherlands and France, giving Transavia a more pan European strategy.
See related report: Transavia part 1. Pilots agree vital growth in France; Air France to rue end of pan-Euro LCC plan
The problem for Air France-KLM is that pilot agreements place restrictions on the growth of Transavia, particularly Transavia France. The establishment of a base in Munich is an important step for Transavia in attempting to build scale and to become more pan European. As it will be operated under Transavia's Dutch AOC, it will fall outside the reach of the agreement with Air France pilots, although they may still view it with suspicion.
Last year French pilots effectively halted Air France-KLM's plans to establish Transavia operations based outside France and the Netherlands under a new AOC as this would not provide them with new employment opportunities. This prompted management instead to accelerate the growth of Transavia France.
Nevertheless, Air France-KLM management is right to look for growth options that may not be constrained by its existing labour agreements.
See related report: Air France: Seven years of losses before Works Council clash reveals a cracked mirror
Aside from this internal industrial relations "competition", there is also the question of competitor response. Lufthansa has a larger LCC operation than that of Air France-KLM and is determined to improve its financial performance by transferring its operation from Germanwings to Eurowings, which has a more flexible pilot contract. However, Lufthansa has so far kept its two big hubs, Frankfurt and Munich, almost exclusively for its mainline operation.
Germanwings currently has less than 1% of seats at Munich, for the operation of a single route (to Dortmund), but this could change as Eurowings grows as Lufthansa's LCC brand.
Transavia plans to compete with Lufthansa on 11 routes from Munich. Lufthansa currently has a monopoly on six of these routes and faces LCC competition on only two of them. If Transavia finds a way to be profitable in Munich and starts to make inroads into Lufthansa's markets there, the German flag carrier may well decide to increase its LCC presence in its second biggest hub.
EU deregulation: 20 years on
Transavia's origins in the Netherlands go back almost 50 years, to 1966, and it became a KLM subsidiary in 1991, before LCCs became established in Europe. The French arm of Transavia was launched in 2007 as a belated response to what had by then become very strong competition from LCCs.
One of the catalysts for the development of LCCs in Europe was the mid 1990s deregulation of the intra-EU market, opening up market access across the bloc.
It is curious that Air France-KLM's first attempt to take advantage of this liberalisation, more than 20 years later, should be at one of the main hubs of a big legacy airline competitor.