The A380 becomes mainstream, with 103 now in service: which airlines, destinations, stage lengths?
Analysis
Four out of every five A380s in operation are based in Asia and the Middle East
The biggest uptake of the A380 has been among the airlines of the faster growing regions of Asia and the Middle East. Just under 83% of the aircraft are operated by airlines based in the countries of these regions. This profile is likely to continue in almost similar vein, as 123 of 160 of the aircraft type currently on order are also destined for these regions, according to CAPA's Fleet Database.
A380-800 use by region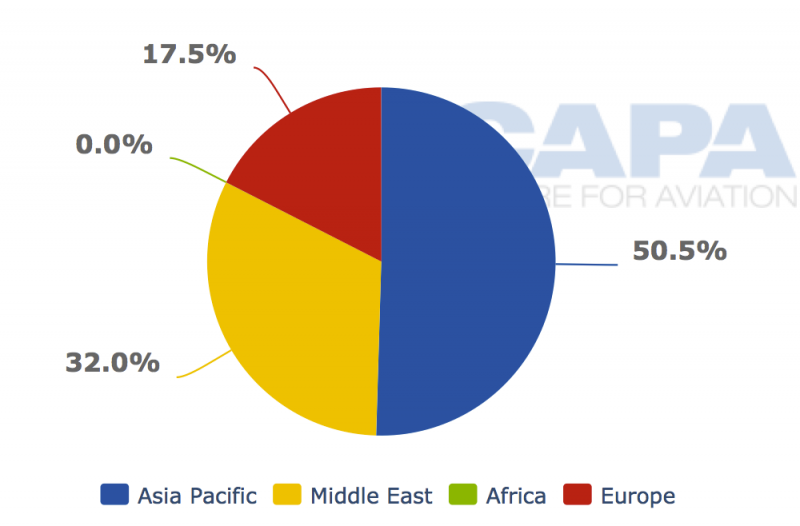 There are 103 A380s in service as of 08-May-2013, when Emirates took its 33rd A380, according to CAPA's Fleet Database. Five days prior it took its 32nd A380, the 102nd A380, and in Mar-2013 Thai Airways took the 101st A380 after Malaysia Airlines took the 100th earlier that month. There were no A380 deliveries in Apr-2013.
Emirates is the largest operator of the type, with 33 A380s, followed by Singapore Airlines with 19, Qantas with 12 and Lufthansa with 10. All other airlines operate a single-digit number of A380s.
A380 deliveries by airline: 08-May-2013
This delivery profile corresponds to the number of individual one-way routes (Dubai-London-Dubai counts as two) operated by airlines. All airlines so far have simple schedules with no triangular routes. All flights are direct non-stops except for Qantas' Sydney-Dubai-London Heathrow and Melbourne-Dubai-London Heathrow (and return) services.
Emirates once again has the highest number of routes, at 46, followed by 20 at Singapore Airlines and then 12 at each Lufthansa and Qantas.
Number of distinct one-way A380 routes by operator: 20-May-2013 to 26-May-2013
Of the 128 routes airlines operate, 28 (22%) are duplicates and see capacity from two operators, including either from Emirates or Singapore Airlines. There are no routes with three or more airlines overlapping, reflecting lack of liberalisation but also the limited A380 customers.
One-way overlap routes: 20-May-2013 to 26-May-2013
The Australia-London overlapping flights between Emirates and Qantas are not competing as the two have extensive cooperation on those routes as part of their landmark alliance.
There are 1,000+ A380 flights a week; Emirates alone has 402
For the week 20-May-2013 to 26-May-2013, 1,048 A380 flights are scheduled. Emirates has the lion's share with 402 routes. Singapore Airlines, the next largest, has less than half with 190 flights. All other operators have a double-digit number of A380 flights. The lowest number of flights goes to China Southern, which has the second-smallest A380 fleet.
China Southern has struggled to receive permission from Chinese authorities to operate its A380s on long-haul routes. Beijing broadly limits each airline to operate routes from its home base. China Southern's base at Guangzhou does not have sustaining premium traffic and its effort to operate out of Beijing clashed with Air China's stronghold there. Cooperation talks between the two carriers failed.
See related reports:
Number of one-way A380 sectors by operator: 20-May-2013 to 26-May-2013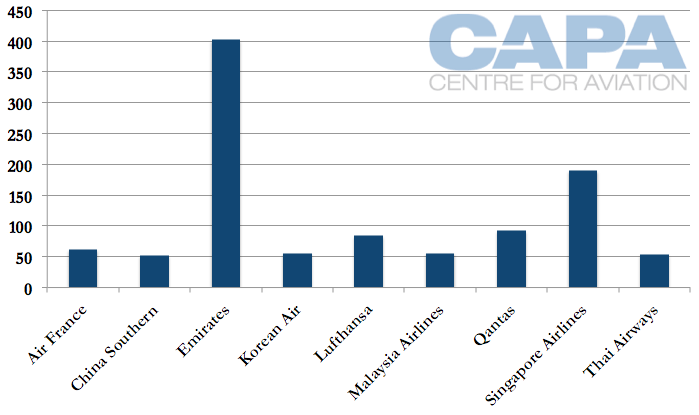 Dubai and Singapore most common destinations; non-A380 operator cities: London
Dubai and Singapore are unsurprisingly the largest A380 destinations given the presence respectively of Emirates and Singapore Airlines. The next most frequent A380 destination is London Heathrow, notable for being a non-A380 base (until British Airways receives its A380s). Emirates, Malaysia Airlines, Qantas and Singapore Airlines operate into London Heathrow with their A380s.
The three next largest A380 destinations are all hub airports: Frankfurt (69 A380 flights a week), Paris CDG (66) and Sydney (46) although all see A380 services from airlines other than the one based at the hub: Korean Air, Singapore Airlines and Thai Airways operate to Frankfurt; Emirates, Malaysia Airlines, Singapore Airlines and Thai Airways to Paris CDG; and Emirates and Singapore Airlines to Sydney.
A380 departing flights per city: 20-May-2013 to 26-May-2013
Hong Kong sees largest number of A380 operators, then Paris and Los Angeles
Hong Kong sees six different airlines operate A380s into the city: Emirates, Korean Air, Malaysia Airlines, Singapore Airlines, Thai Airways and Qantas. Notably, no Hong Kong carrier operates the A380. (Hong Kong Airlines has ordered the type but will likely cancel it – probably a sound move for a more medium-sized airline.) The next largest hubs are Paris with five (Air France, Emirates, Malaysia Airlines, Singapore Airlines and Thai Airways) and another non-A380-hub airport, Los Angeles, with five (Air France, China Southern, Korean Air, Singapore Airlines and Qantas).
This frequency reflects volume and drive for utilisation rates: Hong Kong is nestled between North Asian and Southeast Asian hubs, allowing for relatively short trips between long-haul sectors, and combined with the airport's limited slots, it makes an ideal hub for Asian airlines, especially those like Malaysia Airlines and Thai Airways that are not as bullish on the A380's prospects as they were when they ordered the type a decade ago in an environment of lower competition and fuel prices. All Asian A380 carriers except China Southern operate A380s to Hong Kong (China Southern briefly had a Hong Kong-Beijing service).
Hong Kong's Cathay Pacific has not ordered the A380, a decision taken as a result of its emphasis on frequency. While some high-frequency long-haul routes (London Heathrow, upwards of five daily, and New York JFK, four daily) may be pressed for further frequency growth, growth in these markets should be re-directed to secondary cities Cathay can serve directly; its footprint in Europe is light at seven destinations while in North America it is being over-shadowed by All Nippon Airways and Japan Airlines, which are using 787s to open second-tier cities.
For example, JAL flies non-stop to Boston, and commands a pretty premium for that, while Cathay would have to rely on connecting passengers at its Chicago or New York destinations. On the short-haul side, short-haul A380 flights in Asia have yet to be shown to be profitable in any sustaining quantity.
The hesitation from Malaysia Airlines and Thai Airways in finding suitable routes is also reflected in their selection of Paris CDG as a destination. They see it has the volumes to potentially support their A380s but without the yield pressure at London Heathrow due to all of the carriers there (MAS operates to Heathrow as well).
The largest countries to see A380 services follows the trend of Emirates and Singapore Airlines dominating; the UAE and then Singapore are the most common A380 countries based on number of flights. Australia is not far behind Singapore, reflecting not just the hub power of Qantas but also A380 presence from Emirates and Singapore Airlines.
China Southern commences A380 Guangzhou-Sydney services in Oct-2013 while Emirates will add a second-daily A380 Sydney service as well as a continuation to Auckland, New Zealand. Expansion of the Malaysia-Australia bilateral could allow MAS to fly its A380s to Australia, which it originally planned to do but is nestled, for now at least, in other countries. This will see Australia overtake Singapore as having the second-most number of A380 flights. (This could shift back to Singapore once the carrier receives its recently-ordered A380s.)
After these three hub airports, the UK and USA see the most number of A380 flights. The UK sees A380 service at London Heathrow and Manchester while the US sees A380 service at Houston, Los Angeles, New York JFK and San Francisco.
A380 departing flights per country: 20-May-2013 to 26-May-2013
Asia sees the most A380 flights; Africa the least and South America none
It is Asia, not the Middle East, that sees the most A380 flights. While the Middle East has strength from Emirates, a number of those services are to Asia while Asian routes feature heavily amongst European operators. Intra-Asian services (to Hong Kong) from Asian operators further boosts Asia's dominance. And that will continue: Air France and Lufthansa will deploy their A380s to Shanghai after finally receiving government approval while Hong Kong (and Los Angeles) are the initial long-haul routes for British Airways' forthcoming A380s.
The Middle East is not even the second-largest region for A380 flights; it is Europe. Again, a number of Emirates services are to Europe while Asian carriers feature Europe prominently in their A380 route maps. Unlike in Asia, there are no regularly scheduled intra-European flights (Air France briefly had some for training, and British Airways will do the same). While the Middle East, and Dubai's Emirates especially, have a number of A380s on order, their continued deployment to largely Europe or Asia will keep this distribution in check, but as Emirates ramps up A380 deliveries the Middle East will overtake Europe as the second-largest A380 destination.
Africa has a lonely 14 A380s flights a week, seven each from Air France and Lufthansa to Johannesburg. But South America so far has no A380 routes.
A380 departing flights per region: 20-May-2013 to 26-May-2013
Emirates has shortest routes; Hong Kong most popular short route destination
Of the 10 shortest routes, Emirates operates on five. The shortest A380 route title goes to China Southern, operating the 1,202km route between Guangzhou and Shanghai Pudong. The service sees pressure, having been reduced from daily to five weekly. While traffic is large on the route, frequency is key, and replacing a narrowbody or A330 with the A380 on one flight, as China Southern has does, causes over-capacity; China Southern's A380 service between Guangzhou and Shanghai Pudong is often the most discounted service of the day.
Hong Kong features prominently in the list, relating to efficiency from scale as previously discussed, which also leads Emirates to have so many short sectors. With a large fleet it has the scale to use aircraft that would otherwise sit on the ground (especially in Australia), delivering structural cost savings.
Shortest A380 routes ranked on distance (km): 20-May-2013 to 26-May-2013
Qantas and Emirates operate the longest routes; 12,751km the longest
The longest A380 routes are operated by Qantas (Los Angeles to Melbourne and then LA-Sydney) while the third- and fourth-longest operated by Emirates and Qantas from Dubai to Sydney and then Dubai to Melbourne.
Longest A380 routes ranked on distance (km): 20-May-2013 to 26-May-2013
Qantas and Lufthansa have the highest average sector length
The average A380 sector is 7,517km. Only three carriers have an average below this: Emirates, Thai Airways and China Southern. China Southern's domestic A380 routes single-handedly bring down the average.
Qantas has the highest average sector length, followed by Lufthansa.
Average A380 sector length (km) by airline: 20-May-2013 to 26-May-2013
Thai Airways placing most number of cycles on A380s – nearly two a day per frame
In terms of cycles per aircraft per day, Thai in May-2013 is seeing nearly two A380 flights per day per aircraft, driven by its short-haul routes from Bangkok to Hong Kong and Tokyo Narita.
Emirates has the next highest frequency of cycles, while Qantas the lowest and Air France the second-lowest with just over one flight per day per aircraft on average.
Average A380 cycles per aircraft per day by airline: 20-May-2013 to 26-May-2013
Outlook: Asia leads...and more A380s to come
Combining individual findings, Emirates operates both some of the shortest and longest A380 routes while placing the second-largest number of cycles per day on its aircraft. China Southern operates the shortest A380 route and also has the lowest average sector length by far while not having the most cycles per day, but also certainly not the least.
As larger numbers and varieties of airline accept their A380 orders, so the variety of usages will increase, but, as the manufacturer anticipated, the predominance is for very long-haul and, frequently (Frankfurt, Hong Kong, London, Paris CDG and now Dubai) at congested airports.
Asia's dominance is clear, and even with the large number of A380s still to be delivered to Emirates (with more orders on the way if Emirates can find space at Dubai), it will be challenging to see the Middle East collectively challenge Asia as the largest A380 hub.
With growth in South America and Africa to come over the next years and decades, no doubt these destinations will see a growing share of A380 routes.