SkyTeam's Greater China airline members to form regional alliance in high-yielding market
Analysis
A proposed regional alliance amongst SkyTeam's Greater China members – Taiwan's China Airlines, China Eastern, China Southern and Xiamen Airlines – may appear to be a niche strategic move in the small but highly profitable and expanding Taiwan-mainland China market.
Yet the alliance is also indicative of the growing trend for North Asian airlines to combine their strengths against imposing competitors, namely Air China and Cathay Pacific.
The alliance would account for about half of the capacity between China and Taiwan, a valuable market which is continuously expanding under tight control and route delegation. Its share on certain key business routes, like Taipei-Shanghai, would be even higher. Further airline strength and capacity will pressure Hong Kong-based carriers, which once had a healthy business of carrying passengers between China and Taiwan via their hub.
Airline diplomacy
The very discussion of an airline alliance between mainland China and Taiwan is a further show of the improving political situation between the regions, once at loggerheads. Indeed, better trade, communication and understanding between mainland China and Taiwan is being facilitated by the 2006 re-introduction of scheduled services. While mainland China and Taiwan have serious existential questions about each other, the air cooperation is proving that if those differences can be set aside – a big ask – substantial benefits can flow to both sides.
The carriers have warm feelings for their peer(s) across the Taiwan Strait, and see opportunities to learn and benefit from each other. The Taiwanese carriers have been in international long-haul markets for longer and have previously struggled with their own image problems, while the mainland carriers have access to China's huge domestic market.
High yields in the market are changing airline strategy
The opening of Cross-Strait flights has been a boon to mainland Chinese and Taiwanese carriers. They have shifted capacity from around their networks to facilitate the opening of services, which typically have very strong yields and seemingly limitless upside.
For China's so-called "Big 3" carriers – Air China, China Eastern and China Southern – their yields are highest in the "regional" market compared to domestic (an already handsome market) and international. "Regional" encompasses flights to Hong Kong, Macau and Taiwan.
Hong Kong and Macau services typically have yields lower than to Taiwan, so the regional yield average would be even higher were it not dragged down by Hong Kong and Macau.
Air China, China Eastern and China Southern yield (per passenger kilometre in RMB) summary: 1H2012 vs 1H2011
| Carrier | Domestic yield | YoY change | Regional yield | YoY | International yield | YoY change |
| --- | --- | --- | --- | --- | --- | --- |
| Air China | 0.74 | 5.7% | 0.83 | -2.4% | 0.54 | 0 |
| China Eastern | 0.65 | -1.52% | 0.82 | 2.5% | 0.62 | 1.6% |
| China Southern | 0.68 | 4.6% | 0.84 | -5.6% | 0.52 | -7.0% |
Anecdotally, carriers are up front about the opportunities afforded with the opening and expansion of services. "Our cross-straits business continues to be our key revenue booster," TransAsia chairman Vincent Lin said in Aug-2012 when reporting 1H2012 revenue up 11.15% year-on-year. About a third of its revenue comes from mainland operations – a market that did not exist in considerable size a few years ago.
SkyTeam-led alliance would account for 43% of capacity, 53% including subsidiaries
Full details of the alliance have not yet been announced. So far China Airlines chairman Chang Chia-Juch has said the alliance is expected to be signed on 03-Jan-2013 between his carrier and China Eastern, China Southern and Xiamen Airlines. All are members of SkyTeam, the largest alliance, by far, in China.
See related article: After Xiamen and Shenzhen Airlines join SkyTeam and Star, where next for global alliances in China?
There is extensive, but not complete, codesharing between the carriers on Cross-Strait routes, those between mainland China and Taiwan.
How the alliance could further expand the proposition of each carrier is not clear but could include further codesharing and cooperation, especially on thinner routes. Outside of large cities on the scale of Beijing and Shanghai, service is offered less than daily. The SkyTeam carriers could look to harmonise schedules.
Between Taipei and Changsha, for example, China Southern and Xiamen Airlines each fly three times a week, including on Tuesday. They could look to remove the duplicity by offering a Wednesday or Saturday flight, which is not offered in Dec-2012.
As the carriers are already members of SkyTeam, they have frequent flyer reciprocity, but there could be opportunity to improve the earn and redemption rates as well as initiatie cross-carrier promotions. Advanced alliances like metal neutrality seem unlikely.
The relationship will help further grow the mainland China-Taiwan market. Mainland China is the second largest international source of seats for Taiwan while Taiwan is the fourth-largest for mainland China. Taiwan is right behind Japan in seat capacity to/from mainland China, an astounding figure considering Taiwan's population of 23 million versus Japan's 128 million.
Taiwan international arrivals by country: 17-Dec-2012 to 23-Dec-2012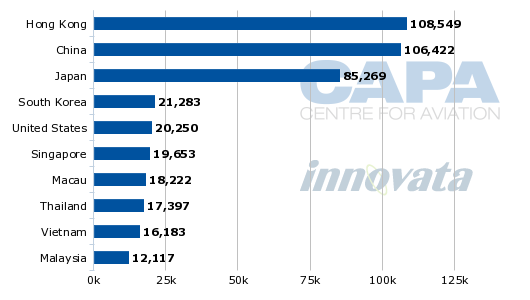 Mainland China international arrivals by country: 17-Dec-2012 to 23-Dec-2012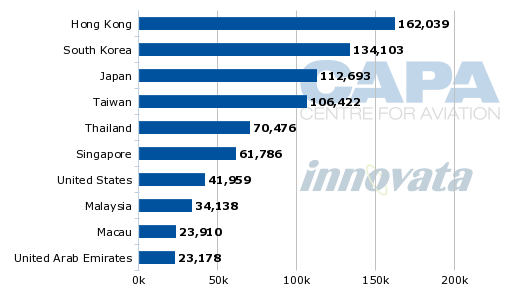 The four carriers comprise 43% of capacity between mainland China and Taiwan. Taipei-based China Airlines is the single largest carrier with about 18,000 one-way seats per week, accounting for 17% of the market's total capacity. Compatriot carrier EVA Air is the second-largest with about 15,000 seats, or a 14% share. China Eastern is the largest mainland Chinese carrier with 13,00 seats, or a 13% share. The remaining carriers have fewer than 10,000 seats a week. If including the subsidiaires of the four main carriers (and Dr Chang did not state if these carriers would be included), the share of the market would rise to 53% with the addition of China Airlines' Mandarin Airlines and China Eastern's Shanghai Airlines.
Star Alliance comprises 26% of capacity via carriers Air China, EVA Air and Shenzhen Airlines. EVA's regional subsidiary Uni Air is not a member of Star. Air China owns 50% of Shandong Airlines, and if including Shandong Airlines and Uni Air, that grouping of carriers would account for 34% of the market. The largest carrier unaffiliated, directly or indirectly, with the SkyTeam and Star groupings is TransAsia with 7% of capacity. The next largest unaffiliated carrier is China's privately-owned Hainan Airlines, with about 2% of capacity.
Bilaterally, the market is fairly balanced with Taiwanese carriers operating 55% of capacity and mainland Chinese carriers the remaining 45%. In long-haul markets mainland Chinese carriers are generally outstripped by foreign carriers, while in short-haul markets the Chinese have strength, such as in Japan.
An advantage Taiwanese carriers have is their widebody fleet that they can deploy across the strait; demand is high to certain cities despite sector lengths of a few hours. Chinese airlines' fleet growth is controlled by the Government, and when widebody aircraft enter, the carriers must balance needs across Taiwan, long-haul and the handsomely profitable domestic market where key trunk routes, like Beijing-Shanhai, are heavily slot-restricted, meaning growth primarily must occur through larger aircraft deployment.
Taiwan to China (seats per week, one way): 19-Sep-2011 to 09-Jun-2013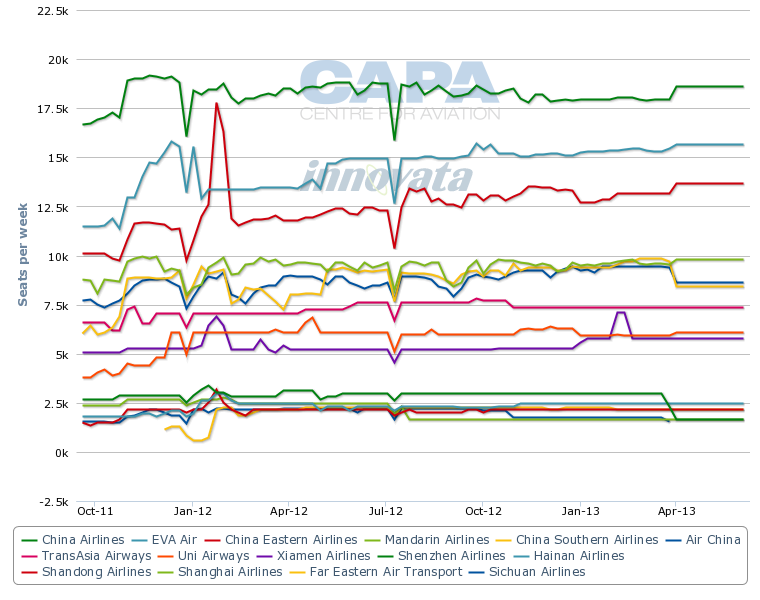 SkyTeam alliance members' share on key routes would be even higher
In Dec-2012 there were 88 city-pairs receiving scheduled service between mainland China and Taiwan. The largest, Shanghai Pudong to Taipei Taoyuan, sees multiple 747 flights (journey time: under two hours) while the smallest sees a single E190 flight a week – further opportunity for synergies amongst the carriers, such as facilitating domestic connections to larger hubs for onward international service.
While Shanghai Pudong-Taipei Taoyuan accounts for 12% of capacity, flights to and from both Shanghai and Taipei airports accounts for a staggering 20% of all capacity between mainland China and Taiwan.
Top 20 Routes ranked on seats between China and Taiwan: 17-Dec-2012 to 23-Dec-2012
The proposed alliance would comprise 59% of capacity between Shanghai and Taipei (all airports), 71% from Taipei to Guangzhou, 69% from Taipei to Shenzhen but only 32% from Taipei to Beijing (there Star's Air China and EVA will account for 61% of capacity).
The extent, or limits, of the proposed alliance are yet to be elaborated. One issue will be whether these combined capacities could become so powerful as to be anti-competitive. While the alliance does strengthen the carriers' proposition, it may not necessarily diminish competition.
In either event, routes are largely handed out by respective governments, so competitive concerns are less the result of the free market and more what the governments have permitted in the way of capacity and airline designation.
Star's Air China and EVA could cooperate but smaller carriers will be disadvantaged
The advantage the SkyTeam-aligned carriers have is one of numbers: there are more of them. Star only has Air China, EVA Air and, since Nov-2012, Shenzhen Airlines. There is already extensive codesharing between Air China and EVA Air although more limited codesharing between them and Shenzhen Airlines (perhaps simply a result of Shenzhen still being a young member of the alliance). They will not have the same scale as the SkyTeam carriers but could see how they could extend a future partnership to a deeper level.
Enhancs strength among SkyTeam carriers would undoubtedly be to the disadvantage of the other, smaller airlines.
Another way to slice the cake and a more radical approach for this expanding and innovative region could be for Air China, EVA and Shenzhen to work with smaller carriers in the market. This would of course be much more contentious, as elsewhere the carriers are stiff competitors: Hainan Airlines is on Air China's trail while TransAsia is on EVA's.
Working with TransAsia may be more palatable (and TransAsia has shown itself open to partnerships) but any involvement between Air China and Hainan would almost be revolutionary; that is how deep competitive tensions are. Then again, with Hainan comprising only 2% of the market, it may be easier to overlook its capacity than work with it. Another consideration is that future capacity delegations (and these will be soon with additional capacity plans announced in Dec-2012) be favoured for Air China, EVA and Shenzhen. Air China, with its heavy influence in Beijing, could see that work out. Air China, EVA and Shenzhen working with TransAsia would see their share boosted to 33%. Hainan would bring that share to 35%.
Mainland China-Taiwan city pairs increased, but under tight control
The Cross-Strait market has been one of growth. Weekend services commenced in Jul-2008 and in Aug-2009 weekly flights were increased from 108 to 270. In Jun-2010 the cap was increased to 370 flights a week and in Dec-2012 the sides agreed to further boost flights from 558 to 616 in 2013.
As part of this growth, China will open eight more airports to Cross-Strait flights: Hohhot in Inner Mongolia, Yinchuan in Ningxia, Zhangjiajie in Hunan, Urumqi in Xinjiang, Xining in Qhinghai, Hailar in Qinghai, Lijang in Yunnan and Weihai in Shandong.
Taiwan – with significantly fewer airports and little domestic network to speak of – will add one airport, Chiayi in the southern part of the country. In total there will then be 49 Chinese airports and 10 Taiwanese open to Cross-Strait flights.
There has been some minor experimentation with full liberalisation: between 27-Jan-2013 and 24-Feb-2013 (the Lunar New Year and popular travelling period), capacity limits will be removed, except to certain congested airports. Beijing, Shanghai Pudong, Guangzhou, Shenzhen, Hangzhou and Nanjing will be restricted to 156 extra flights for each side, according to regulators.
Flights will not be permitted from Shanghai Hongqiao to Taipei Songshan (the respective convenient downtown airports) but will be permitted from Shanghai Hongqiao to Taipei Taoyuan.
The restraint is not all on the mainland's side; Taiwanese carriers have said they fear full liberalisation would see mainland carriers dominate the market, since they have far larger fleets.
While the growth in the market has overall been a positive story, is has not been even. Smaller carriers contend they are disadvantaged and given secondary routes while larger carriers closer to the centre of power allows them to secure more favourable routes. Sometimes these thin routes to secondary or even third-tier cities end up being unprofitable, especially if they are unprofitable.
Mr Lin of TransAsia remarked that "TransAsia Airways' aviation network in the People's Republic of China market is strategically mapped to focus on second and third tier cities, including some exclusive routes operated by TransAsia Airways such as Songshan to Hangzhou." But reading between the lines there are hints of dissatisfaction.
Cross-Strait growth has come at the expense of Hong Kong and Macau
While mainland China and Taiwan have seen growth – a major market for each was effectively established in mere years – it was not created from scratch. Traffic previously went via Hong Kong and Macau, most notably, on connections. The opening of direct flights between mainland China and Taiwan, has deeply impacted these sixth-freedom operations via Macau and Hong Kong.
Capacity from Macau to Taiwan in 2012 has halved from its peak in 2007, right before significant expansion in Cross-Strait flights. Hong Kong-Taiwan and Hong Kong-mainland China recorded dips, of almost the same size, as Cross-Strait flights opened. 2012 capacity between Taiwan and Hong Kong has returned to 2008 peak levels while Hong Kong-mainland China traffic in 2012 is slightly below 2007 peaks. The continuing strength of Hong Kong is a result of the wider choice of mainland city options available over that airport, while direct services between mainland China and Taiwan remain route and capacity restricted; Macau by contrast is much more limited in its onward links, largely due to the dormant rights which monopoly carrier Air Macau fails to operate.
The story is fairly consistent amongst carriers, with them adjusting capacity in tandem. One exception is EVA Air, which in 2012 had 7% higher capacity than its previous peak in 2007, although it is a smaller player with only 9% of capacity in the Hong Kong-Taiwan market.
Annual seat capacity in select Greater China markets: 2003 to 2012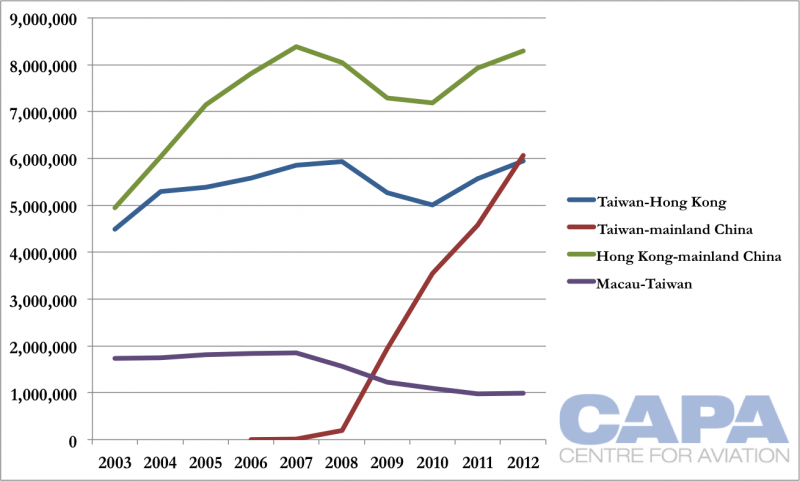 As Chinese and Taiwanese carriers see new opportunities, Hong Kong and Macau carriers face growing challenges. Teamwork is the message
The mainland China-Taiwan market is a positive story, but still a young one. Capacity is controlled and dynamics may very well change when liberalisation occurs. The prospect of an alliance amongst carriers accounting for a sizeable portion is interesting, but it remains to be seen how extensive the alliance is and how they all work together; mainland carriers are typically not known for their agility, which compounds the at-times frenetic atmosphere as they expand rapidly and very diversely.
The message, however, is that there is strength in numbers. Mainland Chinese carriers can be highly sensitive about competitors, but they are realising they must pick friends to work jointly against larger competitors. The biggest target in the region is Air China and Cathay Pacific. While Cathay is not in the direct mainland China-Taiwan market, Air China and Cathay have cross-equity, and Cathay and its Dragonair subsidiary do a tidy job moving traffic in and out of mainland China and Taiwan instead of local carriers.
Air China has considerable advantages over other mainland carriers, even other state-owned carriers. As the flagship and government-preferred carrier, Air China has been given access to fly from competitors' hubs to Taiwan and other countries, whereas elsewhere the Chinese regulators generally permit only one Chinese carrier on an international route.
So Air China can fly from China Eastern's Shanghai hub to Taipei, but China Eastern, to its chagrin, cannot fly from Air China's Beijing hub to Taipei. A new wave of partnerships is one way of seeking to counter the un-level playing field.
China Eastern has notably forged a joint-venture with Qantas' Jetstar for a LCC in Hong Kong, Jetstar Hong Kong, that will rejuvenate China Eastern's presence in the market. On the full-service carrier spectrum, China Eastern now partners with Hong Kong Airlines and Hong Kong Express.
See related article: China Eastern-Hong Kong Airlines partnership bolsters them in a market dominated by Air China-Cathay
While traffic from Hong Kong to Taiwan and mainland China over the medium-term has been sustained, there has still been effectively five years of no growth – a displeasing proposition in otherwise growing Asia. While O&D demand is building, including from airlines with lower costs and fares like Hong Kong Airlines and Spring Airlines, legacy carriers will see their markets continuously pressured as more Cross-Strait flights are opened and the lower-end of traffic siphoned off by LCCs.
Air Macau has made the change, albeit belatedly, by focusing more on O&D traffic to Macau. That is not without its challenges, but the carrier is getting there. Meanwhile in the Cathay camp are few admissions of a changed world. Its silence is a contrast to the cheers from the mainland Chinese and Taiwanese sides, but that could be due in part to the benefits – and constraints – that come with being partnered with Beijing's favourite airline.