After Xiamen and Shenzhen Airlines join SkyTeam and Star, where next for global alliances in China?
Analysis
Almost two-thirds of China's domestic airline capacity is now aligned to global marketing alliances following Xiamen Airlines and Shenzhen Airlines' respective entry into SkyTeam and Star Alliance in late Nov-2012. SkyTeam remains the largest alliance in China with 44% of the market while Star has 20% and oneworld no members. While only one-fifth of Chinese carriers are a member now of a global alliance, the majority of the remaining carriers are affiliated with one of China's big four airlines: Air China, China Eastern, China Southern and Hainan Airlines. None are pending members to join an alliance.
Should smaller unaligned carriers choose to enter a global alliance, they will likely follow their parent company, as Xiamen and Shenzhen did: Xiamen is partially owned by SkyTeam's China Southern, and Shenzhen by Star's Air China. Based on current capacity and ownership ties, SkyTeam could claim upwards of 50% of the domestic market and Star 26%.
But the smaller carriers are growing rapidly and new airlines are forming. Plus, Hainan Airlines parent HNA, with 15% of the total market, is unaligned but with eyes on oneworld, which has no domestic members but is very itchy for them. The match may seem perfect but is contentious. If it occurs, the membership will be momentous – possibly even more so than Qatar Airways joining oneworld.
A 50-page report on air transport in China is the topic of CAPA's current Airline Leader strategy journal (free access).

Sections include:
Xiamen and Shenzhen Airlines are almost entirely domestic carriers, with Xiamen having only 6% of its seat capacity in international markets, and 4% for Shenzhen Airlines.
Chinese domestic capacity share (% of seats) by alliance before and after Xiamen and Shenzhen Airlines joined alliances: Nov-2012
| Before | After |
| --- | --- |
| | |
Xiamen was SkyTeam's 19th member and fourth in China while Shenzhen was Star's 27th globally and second in China.
Xiamen has hubs at its namesake city of Xiamen as well as Fuzhou and Hangzhou. The carrier does more flying to and from other cities than to Xiamen. Xiamen is considered one of the world's most profitable airline, having posted profits for 26 consecutive years.
Shenzhen is based in its namesake city, China's fourth largest, and added five new cities to Star's network: Juzhou, Linyi, Qinhuangdao, Shijiazhuang, and Zhoushan.
See related articles:
Two-thirds of Chinese capacity is now aligned to a global alliance
With Xiamen in SkyTeam and Shenzhen in Star, the two alliances have improved their position in the domestic market. SkyTeam went from accounting for 37% to 44% while Star went from 14% to 20%, giving alliances 64% of the market with the remaining 36% unaligned. With their entry, five of China's six largest airlines are now tied to an alliance; the exception is Hainan Airlines, the fourth largest domestic carrier.
China's carriers ranked by domestic capacity (seats): 03-Dec-2012 to 09-Dec-2012
| Rank | Airline | Total seats | Share of market | Alliance affiliation | Airline grouping |
| --- | --- | --- | --- | --- | --- |
| 1 | China Southern Airlines | 1,552,877 | 20.3% | SkyTeam | China Southern |
| 2 | China Eastern Airlines | 1,299,722 | 17.0% | SkyTeam | China Eastern |
| 3 | Air China | 1,044,669 | 13.7% | Star | Air China |
| 4 | Hainan Airlines | 537,208 | 7.0% | Unaligned | HNA |
| 5 | Shenzhen Airlines | 507,988 | 6.6% | Star | Air China |
| 6 | Xiamen Airlines | 464,116 | 6.1% | SkyTeam | China Southern |
| 7 | Sichuan Airlines | 380,100 | 5.0% | Unaligned | China Southern, Shandong (Air China), Shanghai (China Eastern) |
| 8 | Shandong Airlines | 333,994 | 4.4% | Unaligned | Air China |
| 9 | Shanghai Airlines | 280,645 | 3.7% | Unaligned | China Eastern |
| 10 | Tianjin Airlines | 195,176 | 2.6% | Unaligned | HNA |
| 11 | Beijing Capital Airlines | 184,434 | 2.4% | Unaligned | HNA |
| 12 | Juneyao Airlines | 137,884 | 1.8% | Unaligned | Independent |
| 13 | Spring Airlines | 134,676 | 1.8% | Unaligned | Independent |
| 14 | China United Airlines | 119,008 | 1.6% | Unaligned | China Eastern |
| 15 | Lucky Air | 103,912 | 1.4% | Unaligned | HNA |
| 16 | Okay Airways | 69,108 | 0.9% | Unaligned | Independent |
| 17 | China West Air | 68,152 | 0.9% | Unaligned | HNA |
| 18 | Kunming Airlines | 58,800 | 0.8% | Unaligned | Air China |
| 19 | Chongqing Airlines | 51,772 | 0.7% | Unaligned | China Southern |
| 20 | Chengdu Airlines | 42,960 | 0.6% | Unaligned | Independent |
| 21 | Hebei Airlines | 19,660 | 0.3% | Unaligned | Sichuan Airlines |
| 22 | China Express Airlines | 16,400 | 0.2% | Unaligned | Independent |
| 23 | Grand China Air | 16,268 | 0.2% | Unaligned | HNA |
| 24 | Joy Air | 14,040 | 0.2% | Unaligned | China Eastern |
| 25 | Tibet Airlines | 8556 | 0.1% | Unaligned | Air China |
Independent airlines in China are rare – most are owned by one of the 'Big Four'
Signing up further members has a mixed outlook. Of 25 scheduled carriers, only five are fully independent. The others, through ownership stakes, are linked to one of China's four airline groupings, referred to as the "Big Four": Air China, China Eastern, China Southern and HNA (of Hainan Airlines).
Cross-ownership and partnership amongst carriers in Greater China: Nov-2012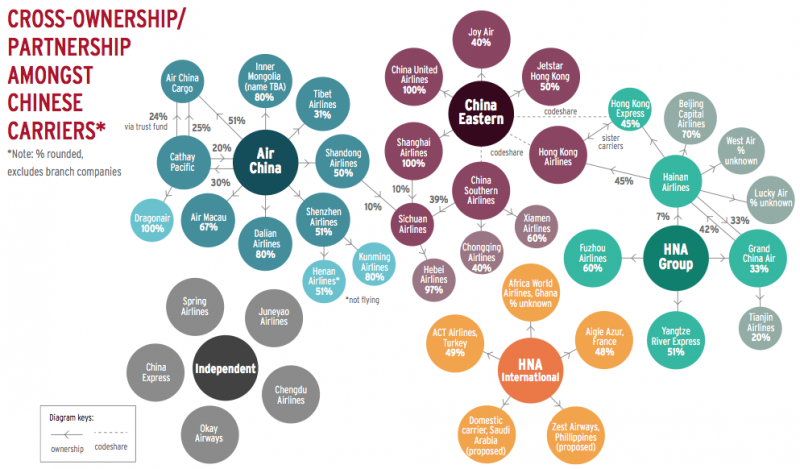 The Big Four are involved in varying degrees in airlines they own. While this may make for a shoo-in for the existing alliances (namely SkyTeam and Star), the alliances will need to convince the existing member airlines how benefits exceed costs for subsidiaries. Many of the big airline groupings codeshare on their subsidiaries, effectively giving other alliance members access.
While member airlines are not directly able to codeshare on the smaller Chinese carriers (unless they reach a separate codeshare agreement), benefits of their own code versus that of the bigger Chinese carrier is not immediately clear. The smaller carriers tend to be in smaller but growing markets where use of a foreign carrier codeshare would be minor. Additionally, if most smaller carriers do not use foreign carrier codeshare, there would be no significant advantage in GDS, which favour segments all under one code (irrespective of how many operating carriers there are on the itinerary).
Some new carriers are in fact not independent airlines; Dalian Airlines is partially owned by Air China but operates under the CA code. A number of new carriers are due to launch in China in the coming years and could replicate this relationship.
Of the absolute independent carriers, the two largest are Spring Airlines and Juneyao Airlines, yet they each account for less than 2% of the domestic market. Both are based in Shanghai, operating out of Hongqiao and Pudong airports, but Spring is a LCC/hybrid carrier and unlikely to join an alliance.
Juneyao is something of a boutique carrier that has found a niche in Shanghai, home of much wealth and a young population with aspirations to travel, but is now seeing if it can expand its model to other parts of China whereas Spring's model is more versatile. Juneyao is open to partnerships, but a global alliance membership would likely be some time away.
See related article: Juneyao Airlines, China's boutique carrier, expands internationally and looks for partners
SkyTeam could control half of the Chinese market
Given the cross-ownership amongst carriers, and SkyTeam already counting China Eastern and China Southern as members, it could – if all carriers formally joined an alliance – represent 49% of capacity based on levels in Dec-2012.
Domestic market share of airline groupings: 03-Dec-2012 to 09-Dec-2012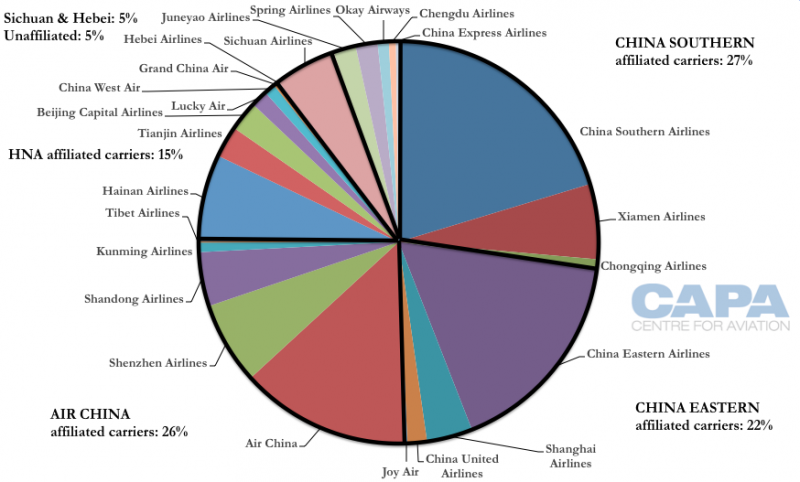 Star, with only the Air China grouping, could have 26% of the market based on Dec-2012 capacity levels.
Even with such a current disparity amongst the alliances, large swings are possible over the long-term. The smaller carriers are growing rapidly, with growth rates significantly above the Big Four. New airlines are being formed: Air China is planning a carrier in inner Mongolia while HNA is planning a carrier, Fuzhou Airlines, in southeastern China.
And more new airlines will undoubtedly be on their way. The latest official statistics from China's regulator, the CAAC, say that the country plans to build 82 brand new airports between 2011 and 2015 while expanding a further 101. As these new airports are established, or existing airports take on a more prominent role in China's economy, local governments will be interested to partially fund carriers based at their airport. That is the origin of Fuzhou Airlines, and likewise the Qingdao government would like its own airline and is in discussions with airlines.
Any new carriers in China over the medium-term are likely to be partially owned by an existing carrier, tying the new carriers to the established power order. The demand is there to support the launch of more independent LCCs, but CAAC is unlikely to support any such applications. Air China – nearly maxed out at its hub of slot-restricted Beijing Capital – seems to be taking the lead on new carriers, launching Dalian Airlines and Tibet Airlines and soon the carrier in inner Mongolia (and possible Qingdao, too).
Air China also has official status over China Eastern and China Southern as the flag carrier and government-preferred airline, even though China Eastern and China Southern are state-owned enterprises. This would be a boon to Air China's Star Alliance.
See related articles:
Domestic Chinese market is the target for global alliances
It is the domestic market of course that is of interest to global alliances and their member carriers. Some Chinese carriers are ideal as the majority – or all – of their capacity is in the domestic market, giving foreign airlines feed without competition on their typically very profitable international flights.
But the Chinese domestic market is heavily regulated, with the CAAC controlling aircraft purchases, ensuring demand generally outpaces supply. The domestic market is healthy, if currently slowing, and the source of the majority of Chinese carriers' profits. China Southern, for example, largely has its domestic network subsidise its long-haul network. Offers of greater feed may be a difficult sell for the carriers.
What does capture attention is when the carriers plan international services: Xiamen plans to use its forthcoming fleet of 787s, due in 2014, to open intercontinental services. Shenzhen Airlines is considering widebody aircraft in the long-term, although these may be used on slot-restricted trunk routes in the domestic market.
International services from Chinese carriers may not be entirely a detriment to foreign carriers. Foreign carrier capacity typically outnumbers that from domestic carriers. Some exceptions are Australia and Japan, where Chinese carriers account for the majority of capacity. As such, China is protective of air rights and more inclined to expand foreign carrier access only once its carriers have a greater share. Greater Chinese carrier flights will eventually mean greater foreign flights, and if foreign carriers can partner on the Chinese carriers' international services, any detriments are lessened.
Sichuan Airlines is strategically positioned but is owned by three airlines
With five of China's six largest carriers aligned to alliances, interest falls on the unaligned carrier in the top six (Hainan Airlines) as well as the seventh largest, Sichuan Airlines. Sichuan Airlines in Dec-2012 accounts for 5% of domestic capacity and its base in Chengdu, the capital of Sichuan Province, is attractive.
Chengdu with nearby city Chongqing are gateways to China's expansive west, which is receiving much government infrastructure and has some of the highest growth rates. Over 200 of Fortune 500 companies have offices in Chengdu. Until Dec-2012 the only intercontinental carrier had been Etihad Airways but since then Qatar Airways has announced its intention to open thrice-weekly Doha-Chengdu services on 19-Mar-2013. Sichaun Airlines also flies to Vancouver, but via Shenyang. It has also announced intentions to serve Australia's Melbourne at an unspecified point in the future.
Sichuan Airlines is the second-largest carrier at Chengdu after Air China.
Chengdu Airport system capacity (seats) by carrier: 03-Dec-2012 to 09-Dec-2012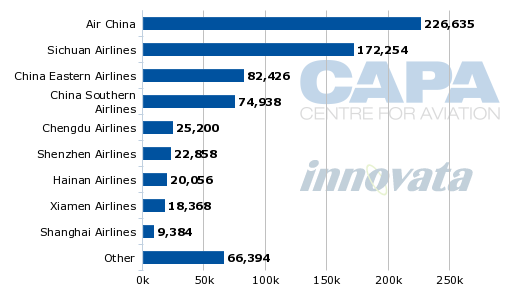 Sichuan Airlines also has a notable presence at other growing western Chinese cities, including Chongqing and Kunming.
Sichuan Airlines top 10 hubs/bases/stations based on capacity (seats): 03-Dec-2012 to 09-Dec-2012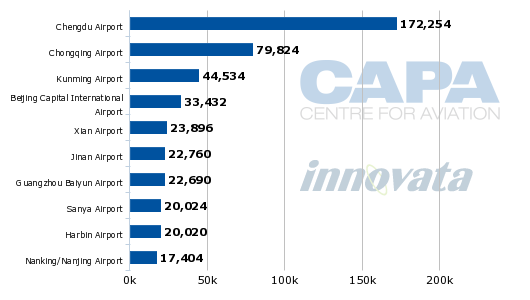 For all its strengths, its ownership could make joining an alliance difficult; the carrier is 39% owned by China Southern but also 10% from Shandong Airlines (owned by Air China) and 10% from Shanghai Airlines (owned by China Eastern). But reports of KLM's interest in codesharing with Sichuan Airlines could begin to sway the carrier to SkyTeam, the alliance of China Southern.
Hainan Airlines is now the largest unaffiliated Chinese carrier – and oneworld's target
Far greater a prize for an alliance would be Hainan Airlines. Although the carrier accounts for only 7% of the domestic market, its sister carriers through the HNA Group account for 15%. The carrier is also likely the last hope for the oneworld alliance to gain a presence in the mainland market, which it lacks dearly. Hainan is interested in oneworld, seeing SkyTeam and Star as too crowded.
Hainan, with origins in Hainan province (equated as China's Hawaii), has its largest base at Beijing Capital, where it accounts for 8% of capacity, making it the fourth largest carrier after the Big Three.
Beijing Capital Airport capacity (seats) by carrier: 03-Dec-2012 to 09-Dec-2012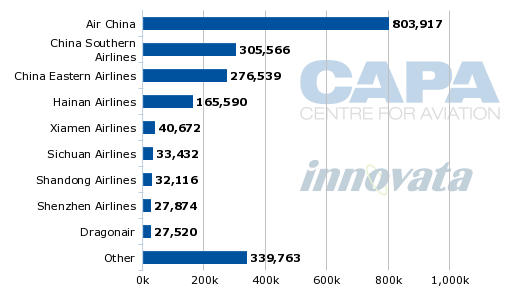 Hainan is also the third largest carrier, albeit by some distance, on the trunk Beijing-Shanghai route, the busiest route in China and one of the most high-yielding, making its presence on the route and in Beijing attractive for oneworld. (But Hainan's capacity is to Pudong airport and not the more convenient Hongqiao airport.)
Beijing Capital to Shanghai (all airports) capacity by carrier (seats per week, one way): 19-Sep-2011 to 26-May-2013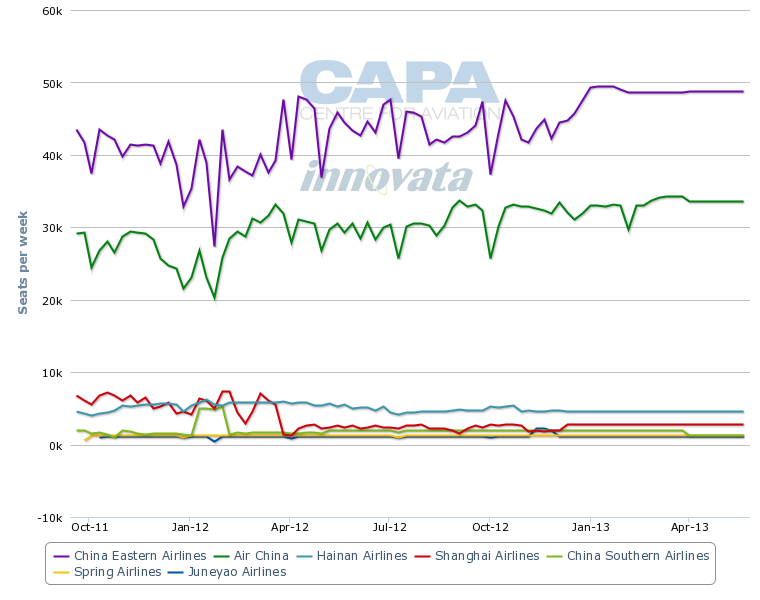 But having Hainan join oneworld would be more involving than Qatar Airways' ascension to oneworld, which was objected to only by Finnair. Currently blocking Hainan's entry into oneworld are Beijing politics that, while having blessed the carrier's existence, do not want to give it an edge by letting it join an alliance, a move to protect the state-owned carriers.
Also an issue is Cathay Pacific, which erroneously sees itself and wholly-owned subsidiary Dragonair as adequate to its members for serving the Chinese market. While Dragonair has the largest capacity into China from an international carrier, its network is not a substitute for a domestic carrier.
Cathay's hands-off approach to alliances means that even if oneworld members accepted Cathay and Dragonair as adequate, partnership opportunities would be limited, a result of Cathay's stance but also competitive concerns: Cathay competes heavily with British Airways to the UK and Qantas to Australia. London is Cathay's largest destinations by ASKs while Australia is featured in the top 10, with Sydney at number four and Melbourne at number eight.
Cathay Pacific top 10 routes based on ASKs: 03-Dec-2012 to 09-Dec-2012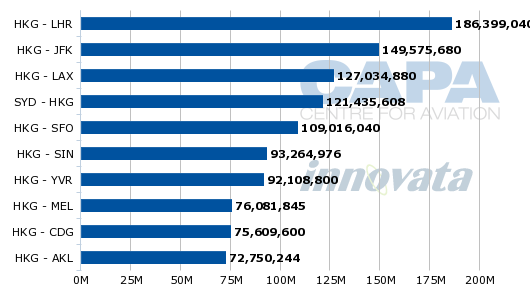 British Airways, under straight-talking Willie Walsh (CEO of parent company IAG), has been pushing for a Chinese member in oneworld, but has been busy in 2012 securing Qatar Airways (BA is sponsoring Qatar's entry). Qantas may be ambivalent as it looks to have deeper ties with China Eastern. American Airlines could be conflicted. It has sought greater access into China via codeshares on Japan Airlines' services between Japan and China but the CAAC has yet to approve its application; third-country codeshares into China are rare. Connections to mainland China from North America and Europe via Hong Kong are considerably circuitous than if through a northern hub like Beijing.
American also has a healthy business codesharing on Cathay's Hong Kong-US services, but seeing the success has made American constantly look at serving the Hong Kong market with its own metal. Under American's re-vitalised leadership, with a better international focus (including a new flight to Seoul), a Hong Kong service could be on the cards. Cathay's response may be one of disapproval, but by then American could be ready to part with Cathay if Cathay continues its independence rather than join the status quo of deeply working with others.
Finnair, whose strength is in Europe-North Asia services, could be threatened, but probably less so than in the Qatar scenario. One end that would need tidying up is Hong Kong Airlines, part-owned by Hainan and based in the same city as Cathay. If Cathay remains in oneworld and accepts a mainland Chinese member, Hong Kong Airlines does not necessarily need to be part of the equation for Hainan to join oneworld; it could remain independent or join another alliance. Of course, if Cathay leaves, Hong Kong Airlines could enter oneworld and begin to offset the loss of Cathay.
In the end, oneworld will likely either see Cathay bow to having a mainland Chinese member, or accept Cathay as a casualty for a larger prize. Cathay could always find a home in part-owner Air China's alliance, Star.
Outlook: Alliances in China
The stakes are highest for oneworld and Hainan, but SkyTeam and Star could also gain new members. As China's domestic carriers increasingly spread to international markets, they will with time find the advantage of having friends. Two-thirds of China's capacity may be tied to global alliances, but there are many days and chapters ahead.