Shenzhen Airport adds six long haul flights in a bid to win back traffic from Hong Kong
Analysis
The pace of change in Chinese aviation can be daunting. The growth of Chinese airlines in international markets in 2015, one year, was the same as in the previous three years combined. Chinese airlines are growing outside their hubs to have wider coverage. Shanghai's lucrative market has drawn Air China and Hainan Airlines to launch long haul flights.
Now, in a matter of months, Shenzhen in southern China has gone from having no long haul routes to having six air services launched by four airlines during 2016. The Sydney route has already been opened and it could be followed by Auckland, Frankfurt, Los Angeles, Melbourne and Seattle – with surely more to come. Shenzhen did not meet an earlier target, but this is an impressive roster, even if mostly backed by handsome subsidies.
The expansion is notable given Shenzhen's underdevelopment in short haul international, let alone long haul. International traffic has flowed to other hubs, notably Hong Kong, which has excelled in becoming an intermodal transport hub by enlarging its catchment area through a network of ferries and coaches. Even as Hong Kong comes under a capacity crunch, it will not want Pearl River Delta traffic to flow back to Shenzhen, even if this is inevitable.
Shenzhen plans for six long haul routes in 2016
Limited long haul flights effectively operating as charters (such as to Mauritius) have been a feature at Shenzhen. The airport's first regular long haul route only started in Jan-2016, with a China Southern service to Sydney. Shenzhen's absence from long haul has been conspicuous: its GDP is one of the highest in China and companies have significant intercontinental business, all of this a mixture for long haul demand.
The neighbouring city Guangzhou is the hub for China Southern, and while it does not have the long haul proliferation of Beijing or Shanghai, it has had services to key cities. Guangzhou's presence and that of closer Hong Kong have created alternative points for passengers reaching to Shenzhen. It has not helped that local airline Shenzhen Airlines has had stunted short haul international development and has not acquired widebody aircraft, despite airlines smaller than it flying widebodies and going long haul.
The industry believes that Shenzhen Airlines has been held back to protect Air China's hub position in Beijing and Cathay Pacific's position in Hong Kong. Shenzhen Airlines is owned by Air China, while Air China and Cathay have stakes in each other.
None of this has been sufficient justification for Shenzhen airport and local authorities whose task it is to develop Shenzhen, and they are not focused on implications to other airports. In Apr-2015 Shenzhen airport said that it hoped in 2H2015 it would have its first regular long haul routes, including Shenzhen-Frankfurt, Shenzhen-San Francisco, Shenzhen-Beijing-Portland and Shenzhen-Beijing-Berlin. At the time this seemed far-fetched. Shenzhen's long haul plan is missing the target by a few months, but the routes being launched are likely to be greater in number than the plan disclosed to the public.
Of the four routes Shenzhen proposed, two would go via Beijing. Instead, Shenzhen will have six nonstops, and to more prime cities (for example, Seattle instead of Portland). China Southern's only Shenzhen service so far is to Sydney, but in Jan-2016 China Southern has stated its intent to fly from Shenzhen to Europe and North America within five years.
It is unlikely that there has been significant change in the strategic outlook for Shenzhen. Instead, the airport is understood to have been offering handsome subsidies for long haul routes.
At the same time, airlines are seemingly grabbing whatever routes they can; once one Chinese airline does fly a route, another Chinese airline generally cannot. Of some of the secondary (non-Beijing/Guangzhou/Shanghai) routes launched or proposed, Shenzhen offers one of the more attractive bases. The question is how the service can fare against Hong Kong and Guangzhou, and for how long the subsidies will persist. Despite subsidies being offered to foreign airlines, all of the long haul routes are so far offered or proposed by local airlines. Even Guangzhou has a limited international roster.
See related reports:
Summary of long haul route development at Shenzhen: proposed as of Mar-2016, current schedules week of 28-Mar-2016
Proposed Shenzhen routes are sub-scale and face heavy competition, but they are a start
The five proposed routes have merely been submitted for authorisation by China's regulator the CAAC, but the result is usually that they eventuate as an operated service. The routes have a typical aspirational air to them: Air China proposes launching Shenzhen-Frankfurt in Apr-2016. Even if operated on the last day of the month, once it has local approval and secures foreign approval it could be mere days or weeks left to sell the flight. Likely the date will be pushed back; Chinese airlines generally have intentionally optimistic launch dates to show their intent.
On most routes, Shenzhen will have a fraction of the frequency that is offered out of Hong Kong or Guangzhou. The above chart summarises the proposed routes as of Mar-2016 with a comparison to the destination's frequency from Guangzhou and Hong Kong. There is also a comparison of frequency to the broader region: for example, Air China's proposed Shenzhen-Frankfurt passengers will connect passengers to the Lufthansa network to other European points, so it is worthwhile considering the broader Western European market.
Shenzhen can be strong on domestic China connections, but sixth freedom traffic (at which Hong Kong excels) is limited. Shenzhen flights will appeal to the leisure and tour group segment (even more flexible). Business traffic will be challenged by a lack of daily offerings, and there is limited business travel for Australia/New Zealand routes. Air China's proposed long haul routes to Frankfurt and Los Angeles have the advantage of being the largest destinations, respectively, in Europe and North America (see graphs below). Shenzhen could be Air China's third trans-Pacific gateway after Beijing, and soon Shanghai Pudong.
A passenger wanting to return on a day when Air China's Shenzhen nonstop is not offered can be routed through Air China's Beijing hub, which is (relatively) on the way from Europe and especially North America. Air China also serves Frankfurt from Chengdu. Backtracking from Melbourne to Shenzhen via Beijing is highly circuitous, but Air China could use Shenzhen as a hub.
Auckland will be Hainan Airlines' only flight to New Zealand, limiting its options, while its only Australian service departs from Changsha, also limiting options. This sets this type of traffic up to be very low-yielding. But in the current frantic pace of development and route grabs, immediate strategic alignment is not a priority. Flying the route first and building it up over the years is the operating environment.
Hainan could be targeting Shenzhen for long haul growth via connections at Beijing (its main hub, although Beijing local traffic alone is strong enough) and its smaller long haul hub at Shanghai Pudong. Hainan started Shenzhen-Shanghai Pudong services in Feb-2016, although this is likely for local traffic, mostly.
Air China top 10 hubs/bases/stations/focus cities in Europe ranked on available seat capacity: 28-Mar-2016 to 3-Apr-2016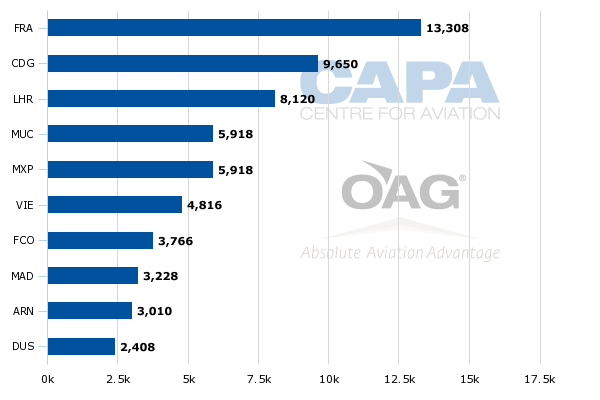 Air China top 10 hubs/bases/stations/focus cities in North America ranked on available seat capacity: 28-Mar-2016 to 3-Apr-2016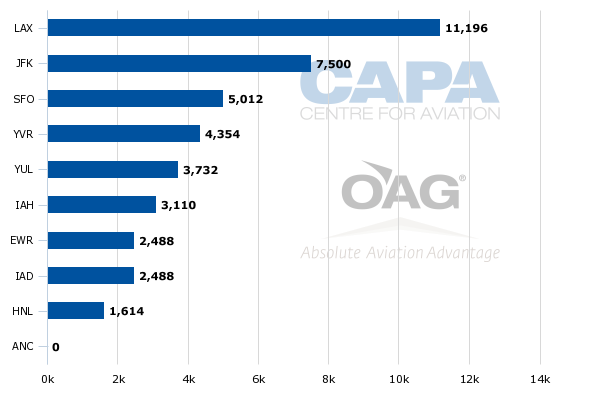 Shenzhen's international traffic lags behind its peers
Shenzhen's international development has been stunted. Beijing and Shanghai trade off as being the largest or second largest airport for domestic/international traffic. Guangzhou is third largest for both.
Yet while Shenzhen is fourth largest domestically with approximately 4.4% of domestic seats, it is eighth largest internationally with a 2.2% share – half the size of its domestic presence.
10 largest cities in mainland China for domestic and international (including regional) traffic: 28-Mar-2016 to 3-Apr-2016
Hong Kong has enlarged its catchment area by pulling traffic from Pearl River Delta
Conventional wisdom might predict that Shenzhen will aim to pull Hong Kong traffic to its new long haul operation with the flights providing a discount for anyone making the journey there. At the same time Hong Kong faces a capacity crunch as its third runway will not open until sometime in the middle of the next decade.
Originating or departing passengers at Hong Kong will probably use the Shenzhen flights but to very small degree. The bigger opportunity is for Shenzhen to regain traffic lost to Hong Kong. Passengers from Shenzhen, Guangzhou and around the Pearl River Delta have found it more convenient to fly out of Hong Kong.
Hong Kong has successfully developed its airport as an intermodal transit hub (and more is possible). A network of ferries and coaches brings passengers from around the Pearl River Delta to Hong Kong airport. These Cross-Boundary passengers amounted to 4.8 million passengers in 2015, or approximately 7% of Hong Kong airport's total passenger throughput. This figure comprised 2.8 million using the SkyPier ferries and approximately 2 million using coaches.
Hong Kong International Airport Local/Transfer and Cross-Boundary Passengers (left axis, millions), and Cross-Boundary share (right axis): 2006-2015 (financial year ending 31-Mar of stated year)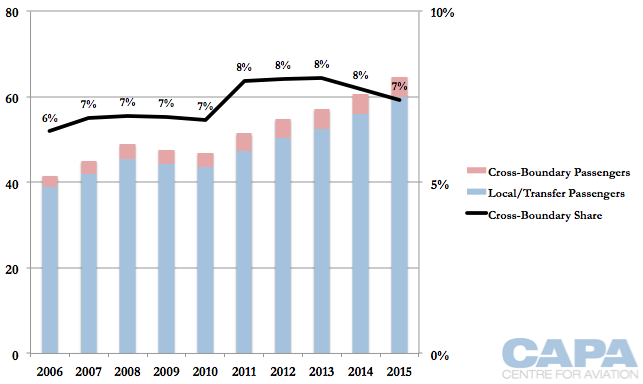 The share of Cross-Boundary passengers has hovered around 6-8% over the last decade with minor decreases in 2014 and 2015, for various reasons which could include the fact that increased flights at Guangzhou and Shenzhen have reduced the need for Hong Kong as an alternative airport. The total volume of Cross-Boundary passengers has increased, with the exception of 2009 and 2010, due to the GFC.
The 6-8% Cross-Boundary share is actually more significant than the figure may suggest. Approximately half of Hong Kong's passengers are in transit to another flight, meaning Cross-Boundary passengers make up a double-digit share of traffic originating or departing at Hong Kong. The share further appears to increase when it is considered that mainland China is Hong Kong's largest market.
As Guangzhou and Shenzhen typically have a far wider range of flights to mainland China, and lower fares, it is unlikely Cross-Boundary passengers would use Hong Kong to fly to mainland China. This is especially the case for passengers using coaches, whose occupants must clear immigration and custom formalities at the land border and then do so again a short while later at Hong Kong Airport. Ferry passengers by contrast arrive at a facility linked to Hong Kong Airport and never clear Hong Kong formalities.
On some flights there is a significant number of, or in certain cases even a majority of, passengers who use Cross-Boundary services. Airlines, however, have kept their flights at Hong Kong; Hong Kong can be more of a central point than Shenzhen or Guangzhou, which are on either side of the delta.
Premium and business passengers would want to use Hong Kong, not Shenzhen or Guangzhou, and their destination would sway economics even if they are the minority of passengers (leisure passengers would be more willing to move between airports/cities).
International connections to/from Hong Kong can be easier and more plentiful. For passengers Hong Kong can be more pleasant and efficient (and for airlines too, in terms of paperwork and regulatory environment).
Pearl River Delta airports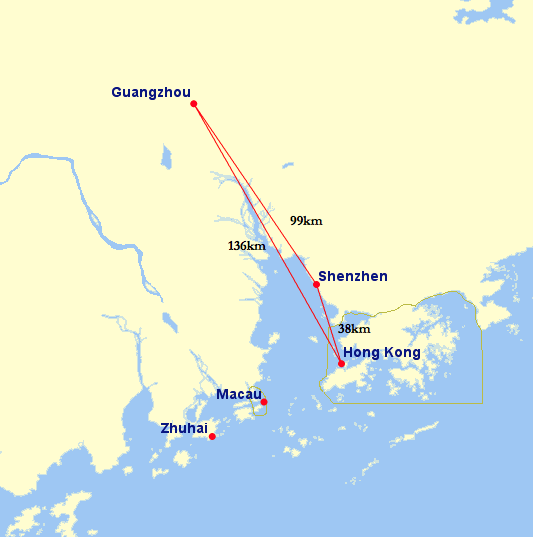 The ferry link, SkyPier, was launched in 2003 and a significantly expanded (and more integrated) version was opened in 2010. Nine destinations are offered: seven in mainland China and two in Macau.
In 2013 there were 87 daily ferries while 82 airlines had passengers use the service. The offering has expanded to include check-in at the outport. In 2013 there were 550 daily coaches to 110 destinations, plus three bus routes to land border crossings.
Hong Kong International Airport ferry service by city: 2016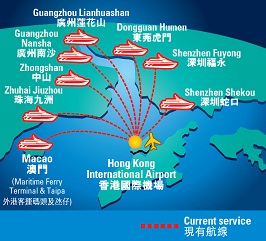 Shenzhen's prominence is quickly growing. Hong Kong might work to regain the initiative
Shenzhen's long haul push is a bold start, even if overall the routes are a sprinkling of those available in Hong Kong or Guangzhou. But Shenzhen will aim for more, and continue to offer large incentives. It will want to find a long haul service operated by a non-Chinese airline. In the longer term, it will be aiming for an airline to move a flight from Hong Kong to Shenzhen.
Guangzhou is gaining a new service from Finnair, which already serves Hong Kong (up to twice daily). Yet Guangzhou is further away from Hong Kong than Shenzhen is, creating less overlap. As Hong Kong becomes further congested and Shenzhen grows long haul links that put it on the map and establish its reputation, organic growth will start to occur. Hong Kong may intend to regain the initiative while it waits for new capacity. It could do so with a wider ferry network (frequency can be low and fares at a mark-up to ferries from city piers).
A bigger opportunity, but seemingly less likely, is a revision of increased passenger charges, applied in spite of the government-owned airport being one of the world's most profitable. Lower charges would reduce the dividend paid to the government but, in theory, increase the economic benefit to the city via higher throughput.
International and long haul flights are a source of pride for airports and are important as the government places more emphasis on them. Yet the core market remains domestic flying. Shenzhen could receive two start-up airlines.
First is LCC Shenhui Airlines, with a CNY600m (USD92 million) investment from popular online travel agency Qunar (and others partners). It could launch as early as 2017 and plans a fleet of 12 aircraft by 2019, operating domestic flights and overnight short haul international services.
A second local Shenzhen operator is reportedly Qianhai Airlines, with its name paying tribute to the Qianhai Shenzhen-Hong Kong Modern Service Industry Cooperation Zone, some of whose entities are also investing in Shenhui Airlines. In 2014 the cargo airline Donghai Airline converted to operate passenger services also, giving Shenzhen another local passenger airline. Shenzhen's total traffic (predominantly domestic) has almost doubled since 2008.
Shenzhen Airport annual passenger numbers: 2008-2015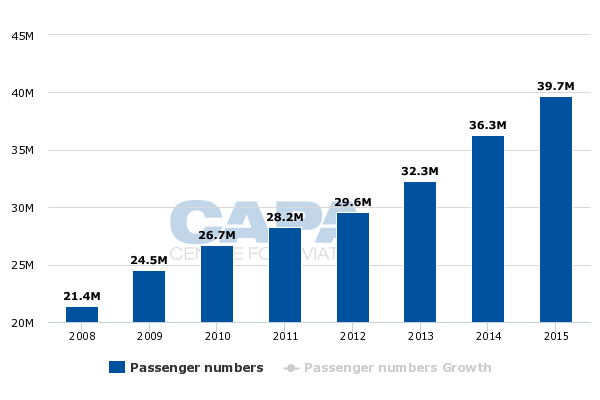 All of this growth – domestic, international and long haul – will put pressure on Shenzhen Airlines and its Air China owner to grow more ambitiously or to cede market share, which few Chinese airlines are willing to do.
Then again, there is frequently a political overlay. In Guangzhou China Southern has been successful in so far limiting the expansion of new LCC 9 Air.
But indications are that there is a fast growing opportunity for Shenzhen's prominent aviation status to begin to match its local stature.
See related report: 9 Air, China's first new LCC since policy reforms, struggles to obtain slots in its Guangzhou home