9 Air, China's first new LCC since policy reforms, struggles to obtain slots in its Guangzhou home
Analysis
China, often referred to as Asia's 'last untapped market' for low cost airlines, is experiencing some road bumps on the way to a new marketplace. The Chinese start-up 9 Air has been the first all-new LCC launched since policy reforms to introduce more competition and efficiency. 9 Air made a splash by ordering 50 737s before its launch from Guangzhou, which was long thought to be ripe for competition from local incumbent China Southern, an airline that has a firmer grip on the city than Air China has in Beijing, or China Eastern has in Shanghai.
9 Air was conceived in a new era but born in the old. A political change in Guangzhou, the industry believes, resulted in 9 Air falling out of favour. It holds only four slot pairs at Guangzhou, all at rather undesirable times: departures before 7AM, arrivals after 1AM. Aircraft have been parked and others delayed. 9 Air's fleet of five flies unusual routings to maximise utilisation. One aircraft overnights at another city, a costly proposition for a start-up. 9 Air remains optimistic, believing that it can break even in 2016 and enter international markets, where there is less protectionism. 9 Air seeks a return to the liberalised future.
9 Air boldly ordered 50 737s before launch
Guangzhou-based 9 Air is a JV: the joint venture is composed of Shanghai-based Juneyao Airlines (78.9%); Elion Resources Group Limited (15%); Juneyao Airlines EVP Ji Guangping (6%) and the Macrolink Group (0.1%). In May-2014 it committed to 50 737s (20 -800s, and 30 MAXs) – an unusually bold move for a start-up. Boeing was also eager to gain a foothold with the emerging number of Chinese start-ups, and 9 Air expects to take the first of its direct orders from Boeing in 2016.
In early Mar-2016 9 Air took two 737s, formerly with SpiceJet, on lease from GECAS. It expects to put the aircraft into service on 27-Mar-2016.
9 Air Fleet summary: as at 15-Mar-2016
9 Air's launch was delayed, from a combination of having regulatory problems and likely from 9 Air constructing its own IT system in order to have more merchandising control and lower costs than are offered by TravelSky, the main IT provider in China. 9 Air's Jan-2015 launch was a charter, and scheduled services since then have regularly struggled to obtain slots and ideal domestic traffic rights.
See related reports:
Guangzhou airport movements decreased in 2015. 2016 movements up 4%
Guangzhou airport – China's third largest – is an anomaly in the country and wider Asia region: its number of flights decreased in 2015. Aircraft movements were lower by 0.6% than in 2014, although passenger figures increased 0.8%. This is despite Guangzhou having a new third runway. The situation at Guangzhou has been sensitive in China.
Guangzhou Baiyun Airport annual aircraft movements: 2008-2015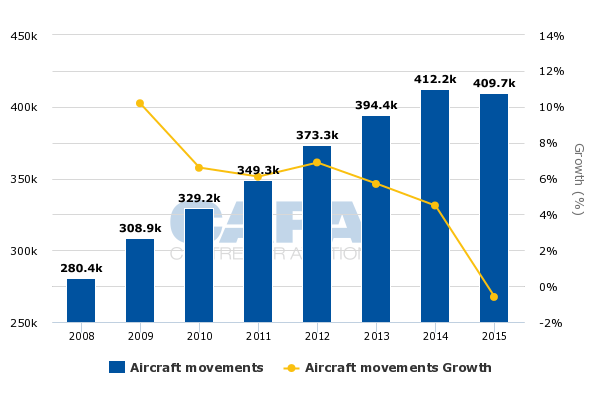 Movements at Guangzhou were lower for nine months of 2015, less than in the year 2014 for the period from May-2015 onwards.
Guangzhou Baiyun Airport monthly aircraft movements: 2013-2016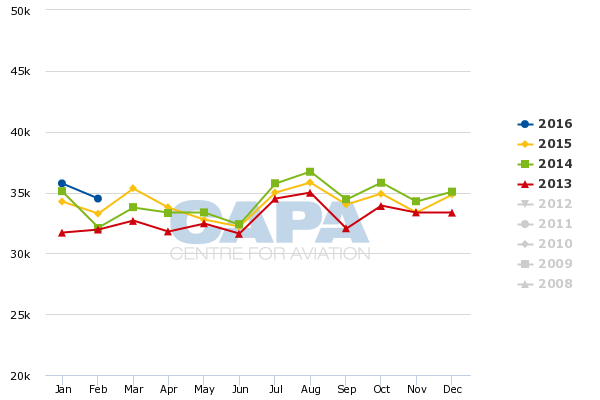 Only 18% of 9 Air's flights are from Guangzhou
On a sample day, 14-Mar-2016, 9 Air operated 22 scheduled departures. Only four – 18% – were from Guangzhou. Tianjin had three departures. Such fragmentation is unusual for any airline, let alone an LCC start-up.
Even leisure routes benefit from some frequency concentration, and it is likely that 9 Air could attract some business passengers. Besides Guangzhou, 9 Air operates to 10 airports – a high ratio for five aircraft – and this carries considerable station costs. Marketing and promotion would also be expensive since 9 Air does not have an effective home that it can concentrate on, promote and build awareness of.
Chinese LCC comparison: 14-Mar-2016
In-Service Aircraft
5
33
52
21
Domestic Destinations, Including Home
11
48
40
34
Largest Airport By Departure Share

18%

39%

Beijing Nanyuan

34%

26%
9 Air's situation is not by design, of course.
9 Air has struggled to obtain slots, and those that it has obtained are used for departures before 7AM and landings after 1AM. Crew scheduling is unclear, but likely would require two sets of crew since the Guangzhou-based aircraft have 18 hours from when they depart until they return. Swapping crews is undetermined – they could be transported with the aircraft or have a layover/base in a city other than Guangzhou – but either method would incur costs.
Most LCCs would change crews at their home base, eliminating layover costs. However, with 9 Air's lack of slots it cannot return to Guangzhou in the middle of its flying schedule.
9 Air departures by city: 14-Mar-2016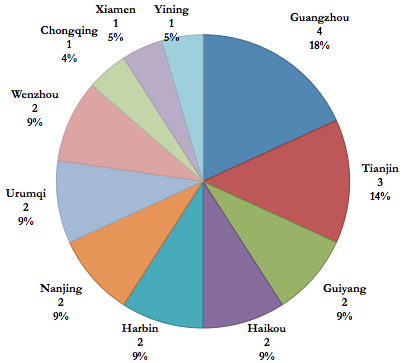 9 Air has the challenge of constructing schedules that can work, ideally on routes with some demand and satisfactory yield. It is important in China to accumulate flying hours and passenger volume since the CAAC takes these metrics into account when deciding on expansion – international operations, for example. 9 Air expects to break even in 2016 despite these hurdles – a surprising outcome (there could be strong regional subsidies, in fact).
Yet even if 9 Air expected to be unprofitable, there is a strategic argument for incurring the losses in order to accumulate flying hours and passengers so that the business scope can be expanded into all the available opportunities.
9 Air uses complex routings to maximise utilisation
Two of 9 Air's five aircraft on 14-Mar-2016 were used to fly Guangzhou-Wenzhou-Harbin-Nanjing-Haikou-Guangzhou (one aircraft flew in the opposite direction). The routing effectively takes the aircraft to the Chinese major city that is furthest north (Harbin), and then the major city furthest south (Haikou). Guangzhou-Wenzhou-Harbin operates under one flight number, as does the return. Harbin-Nanjing-Haikou also is one flight number, and the return is too.
This could make it easier to transport connecting passengers, but these are not major markets.
There is relatively minimal ground time, with the exception of a 2.5 hour layover in Haikou. On the routing in the opposite direction, the aircraft departs Guangzhou at 06:25 and arrives in Haikou at 07:35, where it remains for nearly four hours until it departs again at 11:25. The routings on average use the two aircraft for approximately 12 hours of block time. Although utilisation may be high, significant flying occurs early in the morning and late at night, lower-yielding hours.
9 Air Guangzhou-Wenzhou-Harbin-Nanjing-Haikou-Guangzhou routings: 14-Mar-2016
9 Air Guangzhou-Wenzhou-Harbin-Nanjing-Haikou-Guangzhou route with selected reference cities in black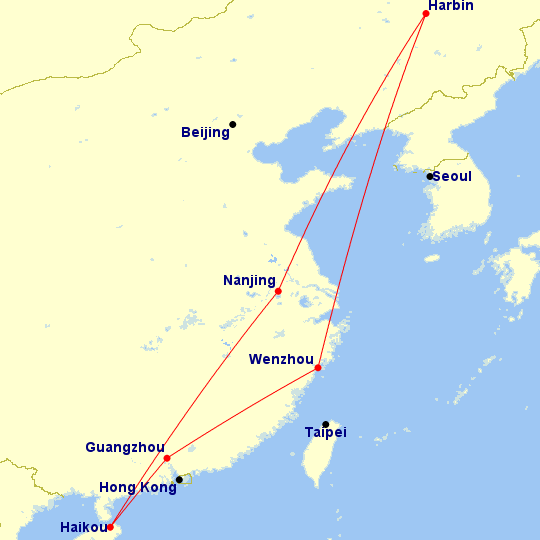 One aircraft operates from Guangzhou to Tianjin and back, also accumulating approximately 12 hours of block time. The routing includes a 2h20m layover in Tianjin on the outbound, and a 2h55m layover on the inbound.
9 Air Guangzhou-Tianjin-Chongqing route with selected reference cities in black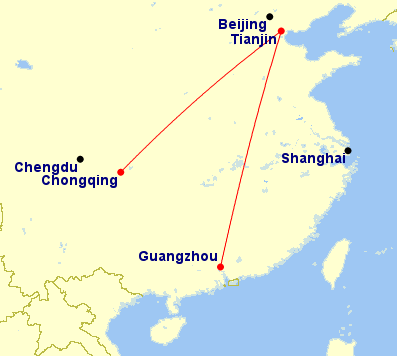 9 Air's final Guangzhou departure is to Ürümqi in the far northwest corner of the country. The aircraft continues on a different flight number even further west to Yining (on a different flight number), which is almost on the border with Kazakhstan.
Yining is a small domestic airport with most flights to/from Ürümqi, the capital of Xinjiang. Yining is China's 80th largest airport, approximately speaking.
9 Air Guangzhou-Ürümqi-Yining route with selected reference cities in black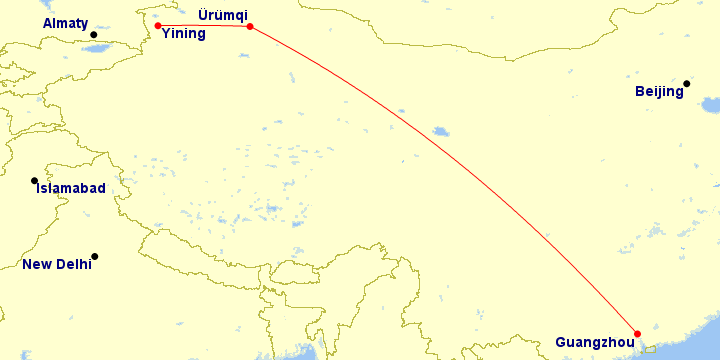 9 Air's fifth and final aircraft starts the day not in Guangzhou but in Guiyang. (9 Air does not serve Guiyang from Guangzhou.) The aircraft operates a return to Tianjin and then a return to Xiamen. Tianjin is linked with Guangzhou, enabling aircraft swaps. Xiamen is only served from Guiyang. Guiyang is in southern China. China Southern accounts for 25% of domestic seat capacity, the largest by far (second-largest is Air China with 10%). Guiyang is also the home of start-up Colorful Guizhou Airlines, which is following a self-described regional LCC model operating E190s.
9 Air Guiyang-Tianjin-Guiyang-Xiamen-Guiyang route with selected reference cities in black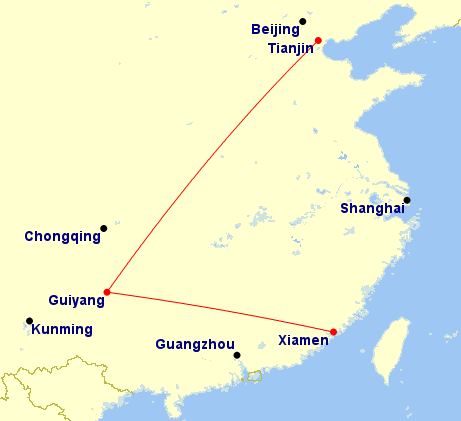 9 Air puts two aircraft into operation in Mar-2016, targets 2H2016 international expansion
In Oct-2015 9 Air had planned to take delivery of two further aircraft in 2015 and to end the year with a fleet of seven. However, it is only in Mar-2016 that 9 Air will operate seven aircraft. There are various schedule changes planned. Notably this includes the opening of Guiyang-Wuxi-Shenyang service (both Wuxi and Shenyang are new destinations).
9 Air also intends to open Guangzhou-Nanning-Nanjing service. Nanning is a new destination, yet parent owner Juneyao Airlines intends to open Nanning-Nanjing service from 27-Mar-2016 as part of its new base at Nanjing. With seven aircraft, 9 Air will serve 14 destinations.
9 Air has long flagged international expansion, raised again in various media interviews in Mar-2016, and expects to commence international services in 2H2016. 9 Air expects international flights to boost its utilisation rate further, since some of the services can be operated overnight when aircraft are otherwise parked in China. China does not allow domestic red-eye flights. From Guangzhou, Southeast Asia is a closer market but Northeast Asia is also an opportunity. 9 Air has curiously flagged the potential to fly to Africa via Southeast Asia with local pick-up rights, all on its 737s.
Outlook: 9 Air is growing faster than Spring. Targets 70 aircraft by 2020
Despite slot challenges at Guangzhou – which inevitably will be resolved eventually – 9 Air still has high expectations of getting past a difficult launch. 9 Air believes that it will need 70 aircraft by 2020, effectively giving it a fleet of 70 aircraft in five years. To reach 70 aircraft even by the end of 2020, 9 Air on average will need to take delivery of more than one aircraft a month for the rest of the decade.
In the short term, this looks exceedingly ambitious. In the long term, regulators – who control the import of aircraft – may not permit such high growth from a privately-owned airline.
In comparison to 9 Air wanting 70 aircraft in five years, Spring Airlines in its first 10 years was only allowed approximately 50 aircraft. There are early signs that for all the difficulties 9 Air is experiencing, the start-up environment might now be more conducive to such growth than it was a decade ago.
9 Air carried 632,000 passengers in 2015, which was almost a full year of operation although much of it in the start-up phase. Spring Airlines started flying in Jul-2005. In 2006, its first full year of operations, Spring carried 1.1m passengers. 9 Air's busiest month in 2015 (latest data available) was Oct-2015, with 79,900 passengers carried. Repeating this volume over 12 months – assuming no growth – equates to approximately 960,000 passengers. So adjusting for Spring's later start in the year, and factoring in 9 Air's growth to come, 9 Air is likely growing faster than Spring did in its launch phase.
This comparison is based on passenger numbers, which can be distorted by 9 Air's through flights. Further, 9 Air's shorter sectors – and possible yield weakness – mean that 9 Air is not necessarily having a more successful launch than Spring, when all factors are considered.
9 Air monthly passenger numbers: 2015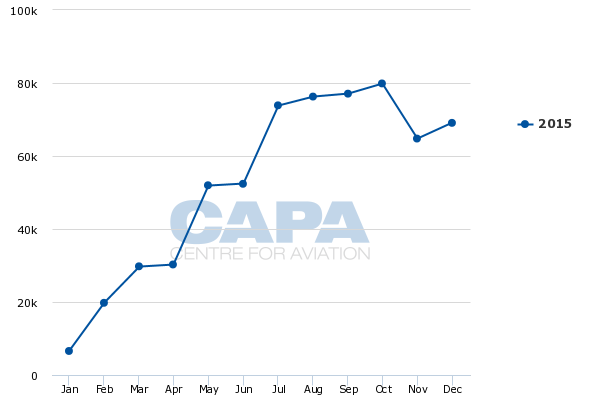 Other Chinese start-ups, albeit full service, are having more success. They may have as a shareholder an existing full service airline that is part of the establishment, and/or operating from a smaller hub. 9 Air is disadvantaged by being privately owned and tackling Guangzhou, a major hub.
LCC share at Guangzhou is higher than Beijing, but full service competition is more fragmented. China Southern has a de facto hub at Beijing Capital and, upon moving to Beijing's new airport in a few years, is expected to be able to launch overlapping long haul flights. In Shanghai, China Eastern has a stronger presence but it contends with two locally based airlines (Juneyao and Spring), and nearly every other airline that is wanting a slice. Shanghai also has relatively high LCC presence, thanks to Spring.
Beijing Capital, Guangzhou, Shanghai Hongqiao and Shanghai Pudong domestic competitive summary: 14-Mar-2016 to 20-Mar-2016
Selecting Guangzhou as a base came with the trade-off that great reward came with great risk.
9 Air wants less of the latter and more of the former. It is on the way to becoming a significant force, but meanwhile has to navigate the uncertainties of China's political quirks.