9 Air, first all-new Chinese low-cost airline since policy reforms, launches in Guangzhou
Analysis
Chinese start-up 9 Air/Jiu Yuan Airlines commenced scheduled service on 15-Jan-2015 in the domestic Chinese market. Perhaps fittingly, 9 Air will use the IATA code AQ, formerly with "Aloha Airlines", whose name is a Hawaiian salutation. 9 Air will be the first to greet a new Chinese environment: the airline is the first low-cost carrier to launch from scratch under China's policy reforms.
That distinguishing label comes with its burdens. 9 Air's launch was repeatedly delayed and a soft launch with charter-only service was on the short 387km Guangzhou-Zhanjiang route. Nonetheless, China Southern – also based in Guangzhou – cut prices on that service.
9 Air's launch on a single Guangzhou-Wenzhou-Harbin routing keeps it out of the thick of competition, but it will inevitably take a higher profile as it receives the first of 50 737s it directly ordered.
Regular commercial service commenced on 15-Jan-2015 as 9 Air started a single daily Guangzhou-Wenzhou-Harbin service. The service departs Guangzhou at 06:55, eventually arriving at Harbin at 13:00. After a long layover, the aircraft departs at 19:10 and returns to Guangzhou at 01:00 - making for poor utilisation of the aircraft. 9 Air has two 737s and plans initially to have a fleet of three.
Wenzhou and Harbin are not major destinations. The stop in Wenzhou en route to Harbin is mostly on the way. Harbin can be reached non-stop from Guangzhou so the stopover is not due to any technical limitations. Such through routes are not uncommon with Chinese airlines. 9 Air is selling all legs of the journey.
9 Air's Guangzhou-Wenzhou-Harbin routing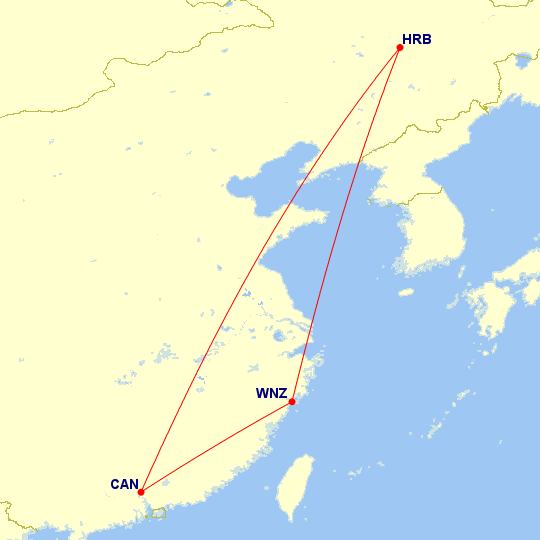 Guangzhou-Wenzhou is unsurprisingly dominated by Guangzhou-based China Southern, which had about a 50% share of seats prior to 9 Air's entry. 9 Air adds approximately 1,300 one-way seats to China Southern's 5,400. For the week of 12-Jan-2015, China Southern typically operates four daily flights, Shenzhen Airlines two daily, China Eastern two daily, Shanghai Airlines one daily and Hainan Airlines three weekly.
China Southern and Shenzhen both have southern China as a focus while China Eastern and its Shanghai Airlines unit have a focus in eastern China.
Prior to 9 Air's entry, Wenzhou was the 15th largest domestic destination from Guangzhou based on seats while Guangzhou was the largest domestic destination from Wenzhou. There is no direct high-speed rail competition. 9 Air's single daily flight is obviously at a scale disadvantage, but this is very early days for the carrier.
Guangzhou Baiyun Airport to Wenzhou Airport (seats per week, one way): 19-Sep-2011 to 28-Jun-2015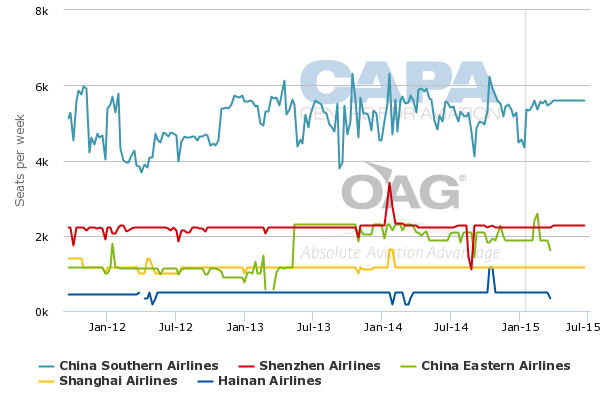 Wenzhou to Harbin is a small market, with service currently provided only by a daily flight from Sichuan Airlines. Sichuan Airlines, based in China's west, has a presence in China's northeast, including a base in Harbin. Harbin is Sichuan's fifth largest base in China.
Wenzhou Airport to Harbin Airport (seats per week, one way): 19-Sep-2011 to 28-Jun-2015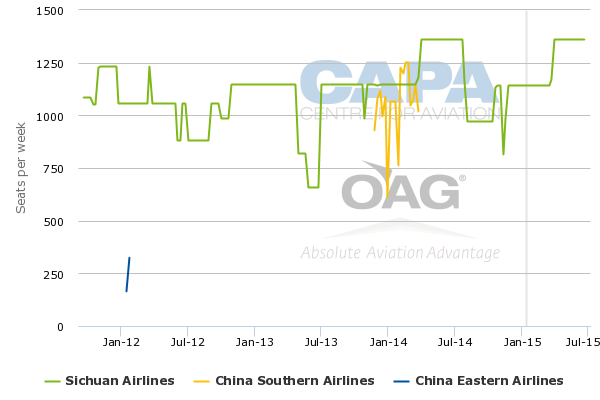 Harbin is the 27th largest destination from Guangzhou based on domestic seats while Guangzhou is the sixth largest destination from Harbin. Once again China Southern and Shenzhen Airlines are the major players, with China Southern offering three daily flights and Shenzhen two daily. Sichuan has three weekly flights and Hainan two weekly.
Guangzhou Baiyun Airport to Harbin Airport (seats per week, one way): 19-Sep-2011 to 28-Jun-2015
9 Air's small soft launch saw competition from China Southern
9 Air's launch has been slow. Its first two aircraft arrived in Guangzhou in Aug-2014 but formal launch did not occur until the 02-Dec-2014 commencement of charter flights. This technically fulfilled 9 Air's aim to launch services by the end of 2014. 9 Air offered a daily flight on the Guangzhou-Zhanjiang sector, short at 387km.
This was effectively a token launch but China Southern missed no opportunity to offer a competitive welcome. China Southern offered generously discounted tickets on the route from RMB380 (USD61) one-way to RMB200 (USD32) although China Southern denied the obvious that 9 Air's launch was the impetus.
China Southern serves Zhanjiang six times a week. China Southern still offers the RMB200 fare on very limited flights and dates.
9 Air offers three fare bundles
9 Air's pricing strategy follows the increasingly popular bundle approach. 9 Air's most basic bundle has the translated name "Conscious Selection" and offers only 7kg of hand luggage. Checked luggage and food, among other options, are extra. This is similar to Spring Airlines, China's largest LCC, which does not offer checked luggage on its lowest fare bundle. Spring did not initially charge for luggage, fearing a consumer backlash but is finding that it can charge as LCCs gain stronger acceptance in China. On sample days 9 Air's most basic option prices out to RMB589 (USD95) for Guangzhou-Wenzhou one-way.
The second, mid-tier, option can translate as "Smart affordable" or "Economical Selection" and includes as the main benefit 15kg of checked luggage (similar to Spring). This is priced at RMB684 (USD111) on sample days. The top option is "Distinguished selection" or "premium selection" and primarily includes 20kg of checked luggage as well as a chicken roll. This is RMB1009 (USD163) on sample days. Spring's third and highest fare bundle includes 25kg of checked luggage as well as food and seats with extra legroom. The highest fares offer flexibility to change the booking.
These prices compare to fares about RMB600-700 (USD97-113) for Guangzhou-Wenzhou on full service airlines, which include checked luggage.
9 Air's fares are not (yet) offered on popular Chinese OTA Ctrip, which does offer Spring Airlines fares – although Spring's are usually priced at a premium from its own website.
Two 737-800s comprise the launch fleet. 20 737-800s and 30 737 MAXs are on order
9 Air's launch fleet is comprised of two 737-800s, although 9 Air has spoken of having a fleet of three 737s during its start-up period. In May-2014 9 Air ordered 50 737s direct from Boeing, an unusually large order for a start-up. The CAAC has promised to try to limit its own role in aircraft acquisitions, and such a sizeable order from a then un-launched airline certainly made a statement that China's environment is changing. Full service start-ups have also ordered aircraft, but not to the extent 9 Air has. Not even Spring Airlines has placed a single order as large as 50 aircraft.
The two initial 737s are leased from Transportation Partners, the leasing arm of Indonesia's Lion Air Group. 9 Air's livery features a series of large coloured circles around the fuselage and a tail in varying colours. Its main logo is in orange and staff uniforms feature orange accents in addition to orange skirts for ladies. 9 Air's marketing material shows the airline only using its stylised "9" with the slogan (in Chinese and English) "Just fly with 9".
9 Air logo: 2014

9 Air is using nine colours in homage to its name, which itself pays tribute to the changing environment in China: although the airline is increasingly going by its English name "9 Air", the Chinese name Jiu Yuan has its origins in the carrier's offer of tickets for as low as nine (jiu) yuan or USD1.50. The CAAC previously regulated the range of airfares, which effectively prohibited rock-bottom prices like RMB9 (9 Air has apparently not yet offered any fares at that price however).
In making this change to its regulatory policy, the CAAC clearly recognised the importance to the sector of removing price floors - in contrast to the ill-judged decision recently taken by the Indonesian authorities to increase an already unhelpful price floor.
See: Indonesia's price floor for airlines is misguided, a bad precedent and will be counterproductive
Few full service airlines in the world use orange as a feature colour but two prominent LCCs do – easyJet and Jetstar. This playful and bright branding is a bold departure from the conservative – and typically dated – approaches of other airlines. This is due to a combination of legacy mindset at the airline but also government owners or stakeholders. The privately-owned HNA Group has unveiled contemporary brand refreshes at two of its mainland carriers, Lucky Air and West Air.
9 Air's 737-800s feature the maximum seating of 189. The aircraft have Boeing's Sky Interior and photos show slimline navy blue leather seats without headrests. Adverts, apparently for beverage companies, appear on overhead bins.
9 Air looks to international markets
9 Air has spoken of expanding beyond the domestic market to short-haul international markets and even Australia. This would go some way to explaining the airline's bullish aircraft order. The CAAC closely watches the "going out" of airlines, which are usually first permitted on regional Hong Kong/Macau/Taiwan services before genuine international flights and then longer services are permitted.
There are limited new destinations for 9 Air to open from Guangzhou but it can add frequency to popular routes. Markets like Japan, Korea and Thailand are far from saturated and will be able to receive more Chinese visitors as the middle class increases and visa restrictions decrease. It should be expected, unsurprisingly, that almost all passengers will be Chinese.
See related report: Japan relaxes Chinese visas to stimulate visitor & airline growth, following Southeast Asia success
China Southern holds 49% of slots at 9 Air's home base of Guangzhou - but a new runway is opening
9 Air's launch in Guangzhou means China's three largest cities (based on airport size) have a local LCC. 9 Air complements fellow LCCs Spring Airlines in Shanghai and China United Airlines in Beijing, although China United is still converting from being a full service carrier. China United is owned by China Eastern, which competes with Beijing-based Air China. Spring Airlines is well established now in Shanghai while 9 Air will take on China Southern in Guangzhou.
The largest airline in China and Asia, China Southern has its fortress in Guangzhou, where it accounts for 49% of movements. Guangzhou in 2015 is expected to open its third runway, facilitating further growth. Slot assignment in China is an opaque process but 9 Air should be expected to receive slots, although it will need to fight for them - and then for the route rights. China Southern will not want 9 Air to enter and contest its main trunk routes, having already had to compete more keenly than its peers with the extensive High Speed Rail network.
The challenge for authrorities is to support 9 Air, having allowed its establishment, without permitting rapid growth that would cause serious damage to China Southern. No doubt 9 Air, like other private airlines, will have to be content with growing slowly than it would like, at least on domestic routes.
See related report: China Southern 6th airline in history to carry over 100m passengers. Now for improved efficiency
There would however appear to be considerable upside when compared with other similar markets. LCCs account for about 3% of domestic seats at Guangzhou compared to 10-11% at Shanghai's airports (bases for Spring Airlines).
Potential for LCCs in China remains bright, but there are many policies and details to work through
This is still early days.Time will be needed for 9 Air to gain scale and see if it can be efficient on the numerous areas – labour, distribution costs – that full service airlines struggle with.
At the cutting edge of change, 9 Air will have to explore much new consumer behaviour territory. Charging for luggage and having maximum seating are positive low-cost credentials but are far from being a full resume. It will also be interesting to see if ancillary revenue in cost-conscious China can become popular, even if not quite at Ryanair or AirAsia levels. Red eye domestic flights are limited, for example, highlighting how little 9 Air can do to be efficient but there are also government controls.
Securing slots and then route approvals are major factors in its business development but are largely beyond 9 Air's control in a system which is less than transparent.
A small part of 9 Air's story is that it is, arguably, the only dual-brand strategy in China. 9 Air is owned by Shanghai-based Juneyao Airlines, which positions itself as a boutique full service airline built on a low cost base. There is so far no overlap between them, and even going forward there appear to be limited areas for overlap given their different bases. Likewise China Eastern's LCC China United is based in a different city from its parent's main base and their overlap is limited (China United does not fly the main Beijing-Shanghai route, for example). The sprawling HNA Group has a number of full service and low-cost airlines, but varying ownership levels make comparisons difficult. 9 Air is 79% owned by Juneyao.
The fundamentals of LCC appeal in China remain strong: it is mostly a short-haul point-to-point market with price conscious travellers, arguably more so than in other regions. Frills do not hold much value. Meanwhile existing incumbents are typically bloated full service airlines, which makes the comparison with an efficient low-cost carrier all the more stark.
9 Air is the child of a new revolution
The CAAC's support of LCCs arrived at the juncture of three developments:
(1) Growth was slowing and full service airlines desired to reduce their own growth rates so they could focus on efficiency;
(2) China's west was developing quickly and air services were needed to match and support economic activity. With this region developing after coastal China, incomes were naturally lower, making LCCs and low fares more suitable to growing new markets. (Despite the policy reforms targetting western China development in particular, most new airlines – including LCCs – are not appearing in western China.)
(3) The new government's urging of frugality and cutting back on displays of wealth (and corruption) - like premium class travel.
See related report: China: 'We urgently need to develop LCCs' – is this the moment for Asia's 'last' LCC market?
China favours slow, well-crafted plans over sudden and sweeping changes. There is much left to do, and 9 Air and its LCC peers will be an experiment. No doubt the future holds more bold moves and developments from 9 Air – as well as full service carrier responses to growing LCC developments.
Its launch ensured, 9 Air now turns to growth and sustainability.