Spring Airlines & Juneyao Airlines enjoy post-IPO success while 9 Air struggles as a new Chinese LCC
Analysis
For much of their existence, China's privately-owned Spring and Juneyao Airlines were in something of regulatory limbo, neither shunned nor blessed. But China in late 2013 actively began to promote LCC Spring as a model of efficiency and declared that China needed more LCCs and cost-efficient carriers; since then its short term prospects have been brighter. Spring and Juneyao were finally allowed to go public just as China's stock market boomed. Full service airlines have also benefitted from the interest in aviation, and China Eastern Airlines issued new shares.
Stock prices soaring on bullish growth prospects can disguise another reality of the Chinese aviation market: it can be heavily protectionist, as seen with 9 Air, China's first all-new LCC since policy changes. 9 Air launched in Jan-2015 after repeated delays but has been unable to secure slots at its home base of Guangzhou, despite assurances from the previous local government.
Of 9 Air's 14 flights, only four are to/from Guangzhou, making it difficult to build scale at a critical time when growth in fixed costs has a disproportionately large impact. 9 Air operates many thin routes as a result of the slot constraints. As it is expected to shortly receive two leased 737s and also has an order for 50 all-new 737s, it could become a victim of the intrusive roles of government.
Spring and Juneyao IPO: long delays but favourable conditions
Spring and Juneyao Airlines, and companies in other sectors, waited years for their Shanghai IPOs to be approved. So when Spring went public in Jan-2015 and Juneyao in May-2015, there was some justice they were going public as Chinese stocks boomed after waning interest in the property market. The Economist compiled Chinese stock market statistics showing that index CSI300 has doubled over the past year, average P-E ratio on Shenzhen's market is 64 and one board for startups is valued at 140 times last year's earnings. Many considered a bubble was forming: earnings were weighted higher than pre-tech bubble burst Nasdaq in 2000. The market has fallen 30% in value over a month as reality intruded. But airlines are so far relatively insulated.
Both companies and regulators had previously warned of risk and hype in the investment market. There is some insulation from daily gains and falls as they are restricted to a maximum of 10%. Juneyao hit the 10% maximum every day for three weeks while Spring's shares have multiplied four times. There has been considerable volatility but airlines have managed to largely avoid the downside – so far.
Spring has a market capitalisation of USD8 billion and Juneyao USD6 billion, making both more valuable – at current volatile times – than Malaysia-listed AirAsia's USD1 billion market capitalisation. China's full-service airlines can have valuations near that of US carriers, whose stock prices have done the best in a Jul-2015 IATA survey by region. Notably Asia-Pacific stocks have the lowest performance in IATA's survey, but separating Chinese airlines would show a very different result.
Airline share prices: 2007-2015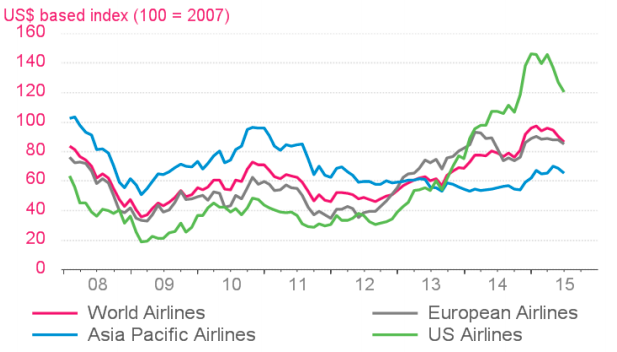 There is some reason for optimism in China's airline stocks, but many would say not on current trading volumes. Despite a wave of start-up airlines, barriers to entry remain high: truly independent all-new airlines are few; most are affiliated with an existing airline. There is no sign of strong deregulation from the CAAC, and state-owned carriers are relatively protected.
These are all companies perceived as important in Beijing and have little risk of serious downside. Regulatory growth controls cap growth and ensure spectacular over-capacity, as occurred in India, will not occur in China.
The short term is especially favourable with low fuel prices and Chinese airlines not hedging. Full service airlines have been able to ride the stock market wave and have rushed to issue new shares.
Comparison of Chinese airline stock performance: 2007-2015

Looking at performance over the past six months, the climb of Spring (orange line) and Juneyao (blue/purple) is evident.
Comparison of Chinese airline stocks: 1H2015

Both Spring and Juneyao appeal to China's romantic success model - as well as being solidly profitable
Spring and Juneyao have other characteristics that put them in vogue. As private airlines, they reflect the larger economic theme of private companies having a larger role in the economy, even if still dominated by full service airlines (as is the case in Chinese aviation with the state owned carriers). Spring is a LCC and Juneyao full service, but both are cost efficient and are in line with the government's efficiency and austerity initiatives. (Investors do not seem concerned about Spring and Juneyao's exposure to weak, early stage, affiliates, Spring Airlines Japan and 9 Air respectively.)
Finally, there is anecdotal evidence that retail investors – who, unlike in other markets, are the bulk of investors – are effectively buying into personal success stories. Spring could hardly present a better one: staff share hotel rooms on trips and eat instant noodles, a point PR-savvy Spring has made over the years and even shown photos at presentations of company hotel life. Juneyao's quiet nature stands out not only against well-marketed Spring. Juneyao offers the story of founders starting their business life by selling yogurt in their village.
Despite being in the limelight within China, the two recently-public carriers have yet to take their success overseas. Strong IPO debuts come as both Spring and Juneyao want not only to fly more internationally but have foreign airline relations for initial interline and codeshare partnerships. There is as always much work to do at home with demanding regulators and airports, but international attention does not have always have willing ears.
Spring Airlines is still larger than Juneyao, but the gap is narrowing
Spring's first flight was in Jul-2005 while Juneyao launched a bit over a year later in Sep-2006. Despite only a one year gap, Spring Airlines is 39% bigger than Juneyao on traffic volume, Spring having carried 11.4m passengers in 2014 and Juneyao 8.2m. Juneyao's growth in recent years has been slightly faster than Spring's, but Spring's early start and fast initial growth give some credence to the first mover advantage. But both are growing more solidly than spectacularly - a little conservatism being an attractive feature for investors.
Annual Traffic Comparison for Spring Airlines and Juneyao Airlines: 2008 to 2014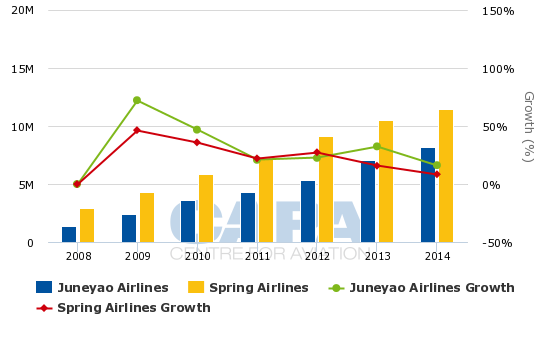 Spring's all-A320 fleet of 50 is only 14% larger than Juneyao's 44 A320 and A321 fleet. Spring aims for a higher aircraft utilisation (international flights help) and more dense configuration. Juneyao's larger A321s give some advantage, but these were only recently added.
Spring and Juneyao are small nationally but with sizeable presence in Shanghai
Overall, Juneyao and Spring are physically a small part of the Chinese domestic market, each accounting for less than 3% of passengers carried by Chinese airlines in 2014, according to CAAC statistics.
Their size impact can be larger in certain markets, such as their home bases of Shanghai. Shanghai Pudong has a slightly smaller domestic network (770,000 seats for the week of 25-May-2015) than Shanghai Hongqiao (890,000 domestic seats). At Pudong, Juneyao has a 11% share of available seats while Spring has 9%.
Shanghai Pudong domestic seat capacity by carrier: 25-May-2015 to 31-May-2015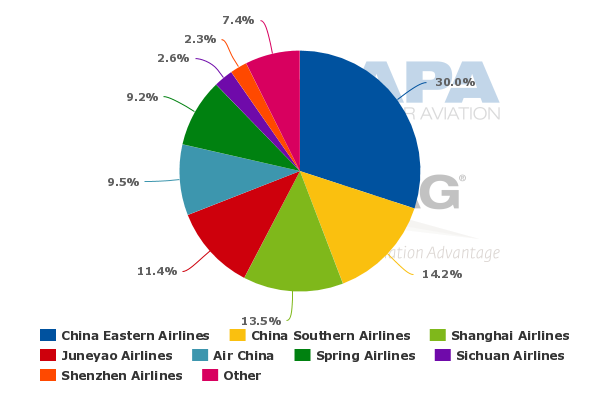 At Hongqiao Spring has the fourth largest presence with 10% and Juneyao 9%.
Shanghai Hongqiao domestic seat capacity by carrier: 25-May-2015 to 31-May-2015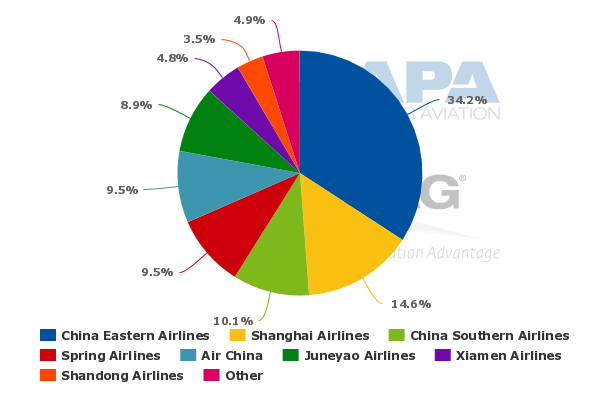 That all is in regards to influence based on size. Private carriers/LCCs – and Spring in particular – have had a hugely disproportionate impact on the government's thinking for future growth. As CAPA previously wrote:
In the past China neither welcomed nor explicitly prohibited privately owned carriers and LCCs, such as Hainan Airlines and Spring Airlines. But there was no specific script for them to follow. So when CAAC vice administrator Xia Xinghua proclaimed in Nov-2013 that "we urgently need to develop LCCs", it became clear that fundamental changes were on the way for low-cost carriers; and, in turn, for the overall aviation market in China.

Spring is largely the inspiration for Beijing's enthusiastic adoption of the LCC model, with something of a turning point occurring when the CAAC in 2013 issued a glowing report about the Shanghai-based carrier, the country's only fully-fledged LCC.

The report found Spring's net margin was 41% compared to an industry average of 12%; Spring had a load factor of 94% compared to an industry average of 76%; a selling expense of RMB0.08 per ASK versus an industry average of RMB0.41; a maintenance expense of RMB0.13 versus an industry average of RMB0.25; management cost per ASK of RMB0.11 versus the industry average RMB0.25; utilisation rate of 11.4 hours compared to China's average A320 utilisation rate of 9.2 hours; and 95 employees per aircraft compared to the industry average of 122.

In short, China's all-powerful regulator was proclaiming fledgling Spring as a model for efficiency on nearly every metric. Even competitor airlines have acknowledged – with a tinge of jealousy – Spring's efficiency and the impact of it on the CAAC's thinking.
See related report: China's aviation reforms match frugality with low-cost airline innovation as a new script unfolds
Slow growth meanwhile for China's first all-new LCC, 9 Air
Launching an all-new airline as an LCC or transitioning an existing airline to the low cost platform is one challenge. Survival is challenging enough. This is exhibited by Juneyao's 9 Air (Jiu Yuan), based in Guangzhou. 9 Air was the first all-new LCC to launch since policy changes, and its launch was repeatedly delayed and eventually had a soft launch with charter-only service on the short 387km Guangzhou-Zhanjiang route. Regular service commenced on 15-Jan-2015 with two 737-800s. Since then, only one additional aircraft has been put in service.
Two further 737s will shortly arrive at 9 Air, according to CAPA's Fleet Database. The aircraft had been in storage in the US since Dec-2014 and the cause of the delay is unknown: it could be 9 Air's decision or a regulatory one. Private Chinese carriers have in the past had aircraft imports held up by months. Both of 9 Air's additional aircraft are on lease from GECAS, one ex-SpiceJet and one ex-Jet Airways. 9 Air has an order for 50 737s, including 20 737-800s and 30 737 MAXs.
See related report: 9 Air, first all-new Chinese low-cost airline since policy reforms, launches in Guangzhou
9 Air is having exceptional difficulty securing slots. The previous Guangzhou government backed Juneyao and 9 Air, but under a new regime, that favouritism has apparently disappeared. Guangzhou Airport has completed another runway but has largely not been put in use since new slots for China Southern would inevitably mean allowing slots for 9 Air too.
Guangzhou Baiyun Airport monthly aircraft movements: 2012-2015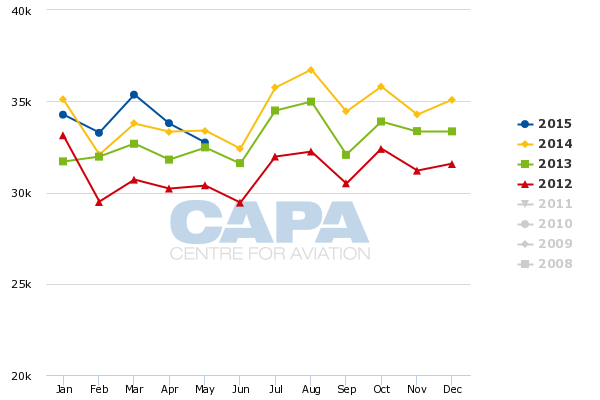 Guangzhou airport's movements are up only 1% in 5M2015. This is partially affected by a 1.9% decline in May-2015 when heavy rain forced cancellations. The additional runway at Shanghai Pudong has meanwhile facilitated growth. (This has been applied selectively: United Airlines, a competitor to Shanghai's China Eastern, has had repeatedly to delay a second Shanghai Pudong-San Francisco service due to difficulties securing slots.) Movements at Pudong are up 14.8% in 5M2015. Beijing Capital Airport, which has no new runways, has had 2.5% movement growth in 5M2015.
Shanghai Pudong Airport monthly aircraft movements: 2012-2015
9 Air in early Jul-2015 offers 14 daily flights, according to its website. But only four of these are flights to/from its home in Guangzhou as 9 Air operates tag flights such as Guangzhou-Wenzhou-Harbin and Guangzhou-Nanjing-Changchun-Manzhouli. Changchun is about as far north as cities in China go – the only further major city is Harbin, 9 Air's other route from Guangzhou. From Changchun the aircraft flies east to Manzhouli, on the border with Mongolia and Siberia.
Guangzhou-Nanjing is a strong city-pair, but 9 Air lacks scale such as multiple flights. The rest of its markets are thin, but they are far from home, allowing 9 Air to deploy its aircraft on some of the longest domestic routes possible, clocking up utilisation as best it can. Utilisation is not worthwhile if the routes are unprofitable, but it may be important for 9 Air to prove efficiency - the more its aircraft fly, the lower its unit cost.
The Manzhouli service departs Guangzhou shortly before 7AM and arrives back in Guangzhou at the unfriendly hour of 1AM. The Guangzhou-Wenzhou-Harbin service has similar arrival and departure times at Guangzhou.
9 Air route map: Jul-2015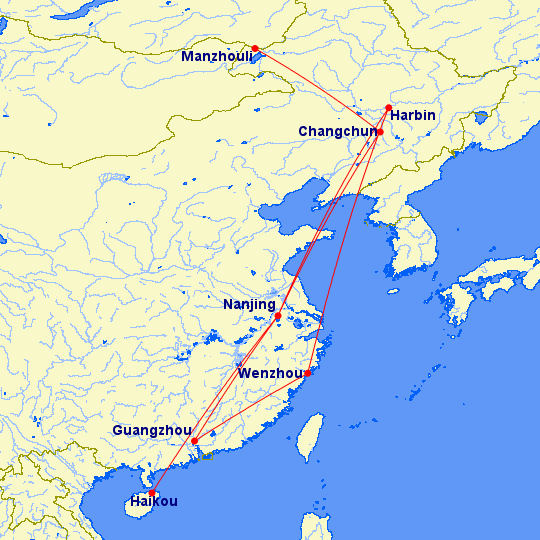 Unable to go further north than Harbin, 9 Air looked south, launching a flight to Harbin from Haikou on Hainan island in southern China. The service is via Nanjing and has lower aircraft utilisation than the Guangzhou routes. 9 Air may fly even further with an expressed intention to operate from Guangzhou to Urumqi in China's far northwest. Reports of a base at Huizhou – east of Guangzhou and north of Shenzhen – have not materialised.
The Haikou-Nanjing-Harbin aircraft overnights at Haikou, adding considerable base cost for a single aircraft at an airline with only two other aircraft. It is true much of the global LCC rulebook has not been applicable in China and it was expected LCC deregulation would take time. But 9 Air's experience is bringing an extreme example, even if the airline is barely six months old.
Despite economic uncertainty, airline growth opportunities remain high
There is much talk of the economic uncertainty and slowing growth in China. Aviation is arguably unique in China in that it will be largely isolated from any potential downturns that impact other sectors: Airports in first and second-tier cities have for some years seen throughput determined not by demand but infrastructure availability. This has restricted growth.
Much growth – or lack thereof – is also due to air traffic control. Only a fraction of airspace is made available to commercial flights. A slight increase can produce significant growth. Specific corridors have slowly been expanded or new corridors have been opened. It can be expected this very gradual – but not fast – opening will continue.
The major airlines, accounting for the majority of capacity, are still woefully inefficient. Restructurings are overdue but also unlikely to be effective. However, eventual cost base reductions will allow lower pricing, thereby stimulating further demand.
CAAC monthly domestic passenger numbers: 2012-2015
Despite talk of slowdowns, domestic passenger numbers in 4M2015 are up 11.2% – higher than total domestic growth of approximately 10-11% in 2011, 2012 and 2013. Some airlines would like the CAAC to put the brakes on, allowing time for them to become more efficient, establishing a more sustainable financial base and then have strategic growth. This would create an opportunity for LCCs and new entrants to pick up any slack from the major carriers. In short, despite extensive governmental intervention, the upshot is to create a favourable position for the main new LCCs, whichever course is followed.
Although growth percentages are not in the 20% range of past years, they are still much stronger than most other major markets. Off a now-substantial base, the net growth these percentages represent equate to significant increases in passenger volume – thousands of new passengers a day.
The domestic market is China's core. The story remains strong for its airlines, with bright potential in the short- and long-term. But, perhaps even more brightly, it is the rapid potential growth in international that captures attention.
See related report: China airline growth: 57% international surge while domestic holds up and Hong Kong/Macau fall