Air China's Melbourne-Shenzhen route application an example of China's network fragmentation
Analysis
China's CAAC generally only allocates one local airline to an international route, so once a route is flown a Chinese competitor cannot move in. This hub fragmentation risks efficiency. A difficult shake-out is likely in the future. For foreign airlines these developments make route planning more hazardous.
Chinese airlines continue to apply for long haul routes that disrupt the country's tidy plan of having one airline serve a local market. Some routes requested may fit strategically, but they also display an element of tit-for-tat retaliation or pre-empting a local competitor. China Southern took advantage of Shenzhen's home airlines Air China and Shenzhen Airlines, ignoring Shenzhen's long haul market, and opened a Shenzhen-Sydney service. Air China has now applied for Shenzhen-Melbourne service, which China Southern could have served next. Examples are growing weekly.
Xiamen Airlines, owned by China Southern, is applying for Shenzhen-Seattle service, its first in the United States. Sichuan Airlines is also planning a US debut with service to Los Angeles from Jinan and Hangzhou. Hangzhou is part of China Eastern's catchment area but the proliferation of high-speed trains between Hangzhou and China Eastern's Shanghai hub meant that China Eastern largely ignored Hangzhou, which Sichuan may now try to take advantage of. Air China has previously applied for Shanghai routes in a bid against China Eastern and Hainan Airlines. Chinese airlines are seemingly grasping whatever route authorities they can.
In Feb-2016 CAAC said that it had received an application from Air China to launch Shenzhen-Melbourne service in Oct-2016, with daily A330 flights. Applications are no confirmation that a route will be launched, but most eventuate in the operation of services. The application also indicates that the proposed route has successfully progressed through enough regulatory steps to be disclosed publicly; contentious applications, or those that might be rejected, are unlikely to be made public.
China Southern Shenzhen-Sydney (navy) and proposed Air China Shenzhen-Melbourne (red) routes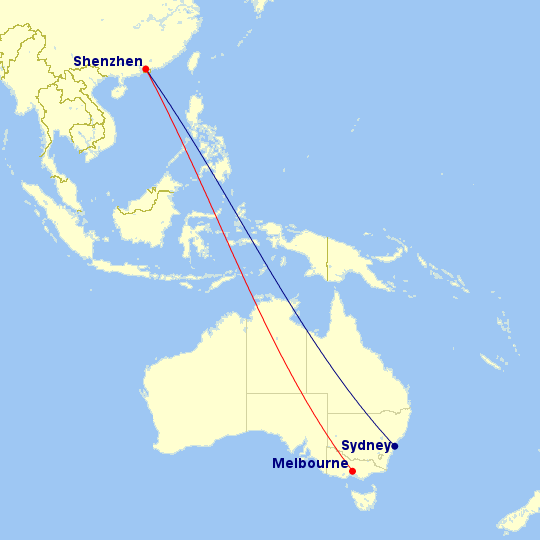 Air China's application appears to be in response to competitor China Southern flying to Sydney. China Southern launched three weekly A330 Shenzhen-Sydney flights in Jan-2016. This was China Southern's first Australian route from outside its Guangzhou hub. From Guangzhou China Southern serves Brisbane, Melbourne, Perth and Sydney. China Southern's Shenzhen-Sydney service was the first regular long haul route for Shenzhen.
The international underdevelopment at Shenzhen (both of the airport and of its local airline, Shenzhen Airlines) has been notable, so this is not an unlikely move, at least in a logical national network evolution.
As CAPA has previously stated:
It has long been held by the industry that Shenzhen's international growth has been stunted by Air China and Cathay Pacific. Air China has a majority stake in Shenzhen Airlines, and Cathay Pacific has a minority stake in Air China. International growth from Shenzhen Airlines at its base at Shenzhen, just over the border from Hong Kong, would be to the disadvantage of Cathay. Hong Kong airport serves the broader Pearl River Delta area, including Shenzhen. Shenzhen Airlines' small international network is despite the Shenzhen area having one of the highest economies in China.

China Southern is stepping in. China Southern initially launched short haul international services (which Spring Airlines wanted to do but could not receive approval) followed by a charter from Shenzhen to Mauritius (there were also ad hoc long haul flights to other destinations). In Oct-2015 China Southern applied to launch four weekly Shenzhen-Sydney flights from 01-Dec-2015 with A330s or 777s/787s (but not A380s). Hainan Airlines attempted the Shenzhen-Sydney market in 2011 and 2012 but could not make it work.

Shenzhen appears to be heading for a bigger clash between the objectives of the city and airport and that of its local airline. The airport has been eager for international services, saying in Apr-2015 it hoped 2H2015 would (overly ambitiously) its first regular long haul routes, including: Shenzhen-Frankfurt, Shenzhen-San Francisco, Shenzhen-Beijing-Portland and Shenzhen-Beijing-Berlin. None have eventuated. Shenzhen airport also moved to introduce 24 hour customs clearance, one of the few Chinese airports to do so.
See related report: China's secondary airlines plan long haul growth. 10 airlines to have widebody aircraft. Part 2
Shenzhen Airlines is China's fourth largest airline based on fleet size, but it does not operate widebody aircraft or fly to long haul destinations. This is despite airlines smaller than Shenzhen Airlines operating widebody aircraft and flying long haul (chart below). Beijing Capital, the 11th largest, is already flying long haul.
Ranking of the 10 largest Chinese airlines based on fleet size: 25-Feb-2016
Shenzhen is a sizeable future hub, despite its proximity to Hong Kong and Guangzhou
Shenzhen is China Southern's third largest hub and is part of the airline's Guangdong catchment area. The city has one of China's higher income areas and much of its international traffic "leaks" to Hong Kong. Shenzhen is logically attractive to China Southern.
Even if its Shenzhen-Sydney route may be ahead of its time, launching it now pre-empts another airline from doing so. Following the launch of Shenzhen-Sydney, it would be a logical extension for China Southern to consider operating Shenzhen-Melbourne. Melbourne and Sydney are the two Australian points most commonly served from China.
related report: China-Australia aviation: one million visitors & flights on 21 city-pairs from 12 Chinese cities
China Southern Airlines top 10 hubs/bases/stations/focus cities ranked on available seat capacity: 22-Feb-2016 to 28-Feb-2016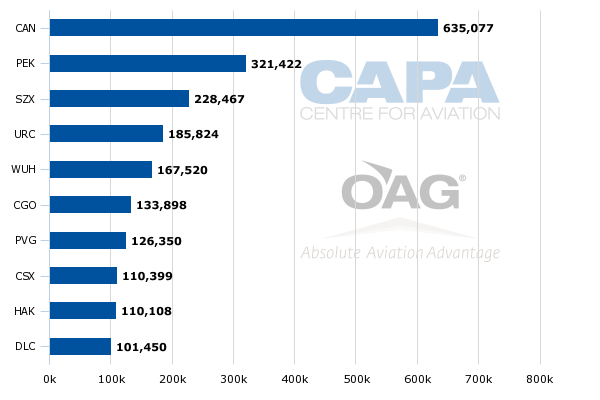 Air China is the largest of the three state-owned airlines in the long haul segment, but is the smallest of the three state-owned airlines operating in Australia. Air China's Beijing hub is too far north to facilitate many connections, unlike China Southern's Guangzhou hub in southern China, which is geographically convenient to connect between Australia/New Zealand and other points in China.
Australia to China (seats per week, one way): 19-Sep-2011 to 1-Aug-2016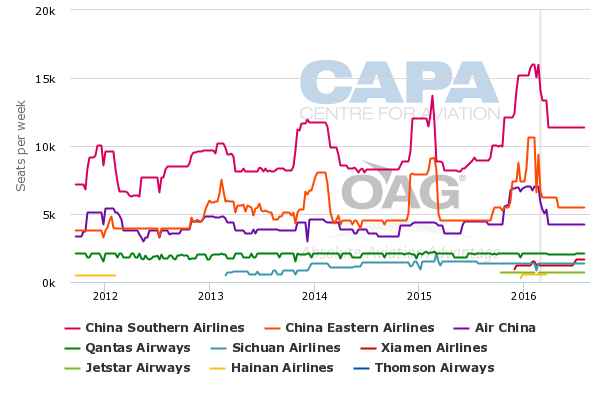 Air China's proposed Shenzhen-Melbourne service is not as random as it may seem. Air China is the fourth largest airline at Shenzhen, with approximately 9% of the market.
However, Air China owns Shenzhen Airlines, the largest airline at Shenzhen, holding 28% of the market there. Combined, Air China and Shenzhen Airlines account for 37% of seat capacity at Shenzhen.
Shenzhen Airport seat capacity share by airline: 22-Feb-2016 to 28-Feb-2016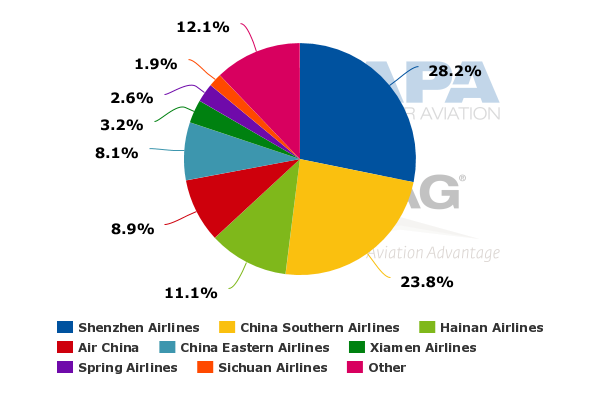 There is a strategic rationale for Air China to build up in southern China. The market has the right fundamentals, and with Shenzhen Airlines not in a position to start long haul flying immediately, Air China is a viable alternative.
Shenzhen does not have the premium traffic that Beijing does, but Air China is saturating opportunities from its Beijing hub, and Beijing is tightly slot-constrained. This has driven Air China's need for growth elsewhere. Yet Air China may have been content to let Shenzhen's long haul development stagnate longer. Ultimately, it is likely that Air China's hand was forced by China Southern's Shenzhen-Sydney service.
China Southern has also been growing short haul international services from Shenzhen. Spring Airlines has expressed a wish to grow internationally from Shenzhen. Air China and Shenzhen Airlines may need a more aggressive plan for Shenzhen Airlines. This would not be pleasing to Cathay Pacific, given the overlap in the Hong Kong and Shenzhen markets.
What is clear is that China Southern has a desire (and strategic rationale) to expand in Shenzhen, and Shenzhen is not entirely protecting Shenzhen Airlines from China Southern. It may be better for there to be a controlled growth from Air China and Shenzhen Airlines, rather than to let China Southern (and potentially others) grow unchecked.
Shenzhen could receive a third regular long haul route in 2016: Xiamen Airlines has applied to open Shenzhen-Seattle service in Sep-2016. This will be Shenzhen's first North American route – a long-sought objective for the airport – and the second North American route for Xiamen Airlines after Xiamen-Vancouver (due to launch in Jul-2016). Xiamen intends to open Fuzhou-New York service in 2017 after it receives its first 787-9 which, unlike its existing 787-8s, can serve Fuzhou-New York without payload restrictions. Fuzhou-New York is the largest underserved trans-Pacific route, but mostly has low-yielding economy passengers.
See related report: Xiamen Airlines' 787s could target Fuzhou-New York, the largest unserved trans-Pacific route
Xiamen Airlines is based in its namesake city of Xiamen in Fujian province, north of Shenzhen but south of Shanghai. Xiamen Airlines is the sixth largest airline in Shenzhen and has an approximately 3% seat capacity share. Shenzhen is the 13th largest hub for Xiamen Airlines. Its Shenzhen routes are to its other hubs as well as major destinations like Shanghai and Tianjin, but frequency is not more than twice daily and the schedule does not provide many options: for example, Xiamen's two daily Shanghai flights are within three hours of each other.
Besides, Shenzhen being in southern China does not make Shenzhen as ideal a hub for North America, given the need for backtracking before heading north. There will no doubt be some connections, however, and Xiamen could potentially partner with owner China Southern, which does not serve Seattle.
Rather than opening the Seattle route based on hub capabilities, it is likely that Xiamen Airlines has identified underserved point-to-point demand: linking the tech centre of Seattle with China's strong tech presence in Shenzhen. The question is whether Xiamen Airlines, with non-daily service and a brand not (yet) as prominent as those of other airlines, can capture this demand.
Seattle received mainland Chinese service from Hainan Airlines in 2007 (Seattle was Hainan's first North American point). In 2015 Hainan started serving Seattle from its nascent Shanghai long haul base. Hong Kong is linked to Seattle by Delta. Other Asian airlines serve Seattle and offer connections to Hong Kong and/or Shenzhen.
Seattle-Tacoma International Airport to NE/SE Asia (seats per week, one way): 19-Sep-2011 to 1-Aug-2016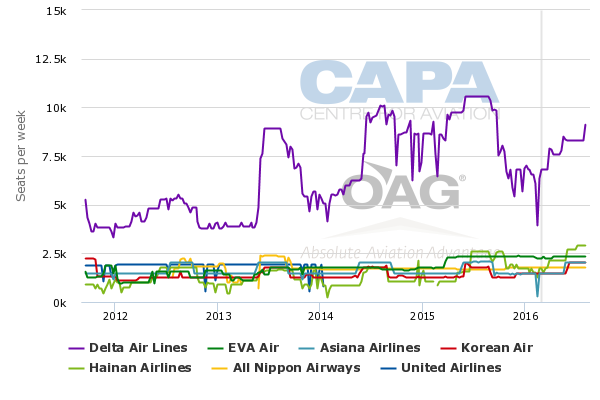 In Feb-2016 Sichuan Airlines made two requests for North American routes. Sichuan's first and so far – only – service is Chengdu-Shenyang-Vancouver service. This was the first North American service from a Chinese secondary city. Shenyang serves as a stop because the A330, which is Sichuan's only widebody, cannot sustainably fly Chengdu-North America nonstop. Sichuan's two approvals were between Chengdu and Los Angeles, the first via Jinan (three times a week from Jun-2016) and the second via Hangzhou (also three times a week from Jun-2016).
Jinan-Los Angeles is not a market of note (so passengers will likely be in transit) but Hangzhou-Los Angeles is. Sichuan may experience some domestic transfers at Hangzhou, but as with Xiamen in Shenzhen, destinations and frequencies are limited.
Hangzhou enjoys among China's highest incomes (by some measures, higher than Shanghai) but most of its long haul air traffic, and some short haul traffic, uses nearby Shanghai. Hangzhou is a 45-60 minute high speed train ride, with regular and frequent departures from Shanghai Hongqiao airport. Most international flights, and all long haul flights, are from Shanghai Pudong airport, approximately 45-60 minutes from Hongqiao.
Hangzhou is part of the eastern China catchment area held by China Eastern. China Eastern serves Los Angeles and other North American points from Shanghai while there is also service from China Eastern between Nanjing and Los Angeles. (Nanjing is further from Shanghai than Hangzhou is.)
Sichuan Airlines' ownership makes the situation yet more complex. Sichuan Airlines is effectively owned by all of the big three state-owned airlines. China Southern has a direct stake of 39%, and Shandong Airlines (in turn owned by Air China) has a 10% stake, while Shanghai Airlines (wholly owned by China Eastern) also has a 10% stake.
Despite indirect and small shareholdings, the big three are effectively able to jostle over Sichuan. Competing against them is the Sichuan government, which has a stake in Sichuan Airlines and wants to reap benefits. In this scenario, Sichuan Airlines is a competitor to China Eastern.
China Eastern Los Angeles services from Shanghai Pudong and Nanjing (red dots), proposed Sichuan Airlines Hangzhou-Los Angeles (green dot) and reference cities of Beijing, Chengdu and Guangzhou (black dots)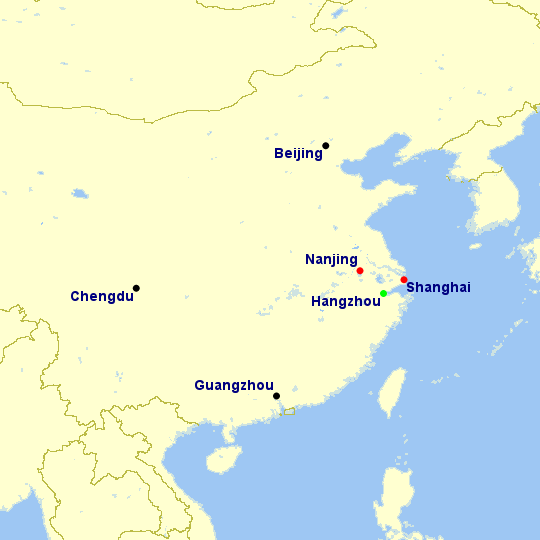 Given how close together Hangzhou and Shanghai are, and the availability of fast train links, China Eastern has not considered it as a priority to build up Hangzhou; it is the fourth largest airline there. (China Eastern is the largest at Nanjing.) Sichuan's proposed route takes advantage of this underserved market that has had to rely on Shanghai.
San José has been able to attract long haul airlines that also serve San Francisco, 49km away. Hangzhou and Shanghai are 166km apart, although the high speed train brings them closer than the distance may suggest.
Hangzhou Xiaoshan International Airport seat capacity share by airline: 22-Feb-2016 to 28-Feb-2016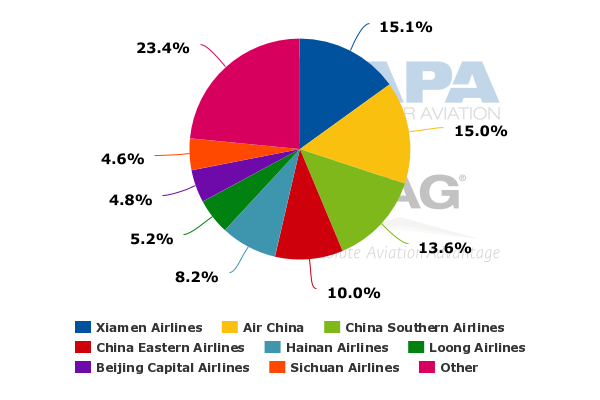 Hangzhou is a prosperous area in China, but it does not have the long haul demand or yields that San José does. Hangzhou is home to major Chinese companies (including Alibaba) and has a nascent film studio sector, possibly giving some links to Los Angeles. As with Xiamen Airlines, Sichuan Airlines will not automatically be able to capture the demand that may exist.
Besides limited frequency and brand recognition, Sichuan Airlines will have the additional challenge of competing with the daily (or more) frequencies between Shanghai and Los Angeles offered by four airlines: China Eastern, American, Delta and United.
Shanghai Pudong Airport to Los Angeles International Airport (seats per week, one way): 19-Sep-2011 to 1-Aug-2016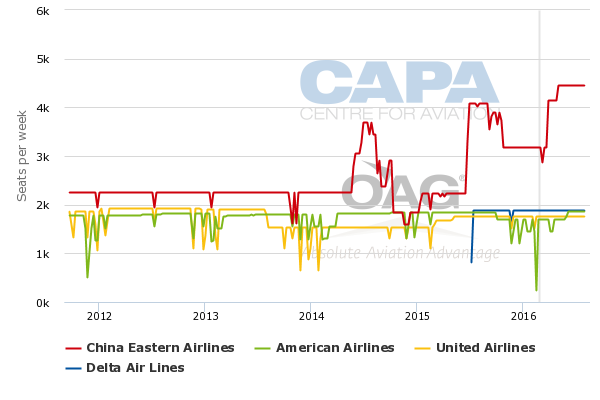 Another example of an airline proposing a route that has hints of hub encroachment is Air China's Shanghai-San Jose route request, made in late 2015. This route and other Air China long haul requests from Shanghai were the subject of a previous CAPA analysis report. As CAPA has previously observed regarding the situation on the Shanghai-San Jose route:
Earlier in 2015 Hainan commenced a new phase of long haul development by serving its Beijing destinations from a new long haul hub at Shanghai. Boston and Seattle were its initial destinations from Shanghai; Hainan already served them from Beijing (Seattle is its oldest trans-Pacific route). The dual hub strategy allows Hainan to access more prime markets and also reduce its emphasis on Beijing, where primary and secondary growth opportunities are dwindling since the hub is already so strong.

Air China likely saw Hainan continuing with this strategy. In North America, San Jose is Hainan's only market already served from Beijing that Hainan could open from Shanghai. Hainan's other North American points – Chicago and Toronto – already have a China Eastern presence.

With San Jose and Manchester, what is most likely is that Air China is pre-empting Hainan Airlines. Air China in Nov-2015 proposed long haul routes from Shanghai to destinations it does not serve from Beijing but which Hainan does serve from Beijing and could also have looked to serve from Shanghai.
See related report: Air China's long haul Shanghai expansion targets Hainan Airlines, leaves China Eastern uncomfortable
Hainan Airlines Beijing-San Jose (navy) and proposed Air China Shanghai-San Jose (red) routes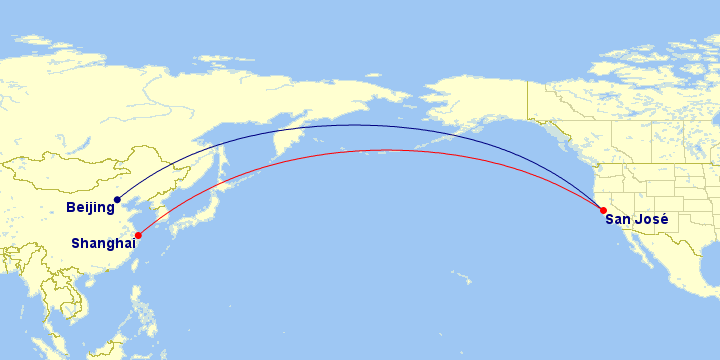 San Jose's only other Asian service is from All Nippon Airways.
San José Mineta International Airport to NE/SE Asia (seats per week, one way): 7-Jan-2013 to 1-Aug-2016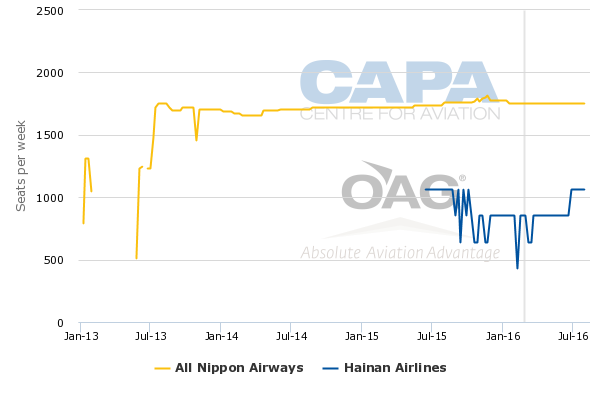 Hub competition and jostling for routes is likely more than China's authorities anticipated - and is making planning difficult for foreign airlines
Air China's Shanghai-San Jose route is particularly notable in this respect. While the route appears to be targeting Hainan Airlines, there is another layer of complexity as neither Air China nor Hainan is the main base airline in Shanghai – that title is held by China Eastern.
Long haul traffic out of China remains concentrated around Beijing, Guangzhou and Shanghai, and for the most part is flown by the city's home airline.
The dynamics of hub competition now occurring are the result of airlines wanting to break out of their bases and develop multiple hubs. In doing so they challenge competitors, which is a key objective. Airlines are seeking out routes from other bases because they fear that if they do not serve a route as soon as possible a competitor will, and the airline will be locked out of serving that market.
The result is that long haul expansion, especially from secondary markets, is probably occurring faster than commercially viable. The dip in fuel prices alleviates pain to the (mostly unhedged) airlines, but secondary routes remain challenging.
Hub competition in China is consequently becoming more complex. Recent developments are probably more than China's regulators anticipated, but they are also the result of the restrictions placed on the market. The accelerated long haul growth is a concern for the many foreign airlines that underestimated how much Chinese airlines would grow internationally in recent years.
With more long haul route proposals appearing by the week, Chinese airlines are still just warming up. One question is how much this expansion's effectiveness will be offset by the disadvantage of fragmented hubs for the Chinese airlnes. Hub competition and overlap appear still to be in their early stages, meaning a later shake-out – however that might be done – seems inevitable.