Air China's long haul Shanghai expansion targets Hainan Airlines, leaves China Eastern uncomfortable
Analysis
Before China was recognised widely as a unique growth opportunity, its aviation planners already knew China would quickly evolve to becoming the world's biggest market. To guide development, they turned to the world's existing largest market – the United States – and became enamoured with the hub concept, from Northwest's fortress in Detroit to American's sprawling operation at Dallas. The lesson that US airlines and airports imparted on Chinese delegations was that when given large geography, numerous competitions and dozens of major cities, airlines needed to focus on dominating a strong hub.
And so Air China had Beijing, China Eastern occupied Shanghai and China Southern based at Guangzhou. Domestic competition has since become more complex but long haul flying has generally stuck to hub principles. Until recently, that is. In 2015 Hainan Airlines launched Shanghai services to existing long haul points it already served from its main Beijing base. This was a challenge to Shanghai-based China Eastern, which has lagged long haul development (and experienced hub encroachment from Air China). Air China has been annoyed by Hainan occasionally securing blue chip destinations – Chicago, Toronto – thereby blocking Air China from serving those.
Air China in Nov-2015 proposed long haul routes from Shanghai to destinations it does not serve from Beijing but which Hainan does serve from Beijing and could also have looked to serve from Shanghai.
This creates an Air China-Hainan contest playing out in Shanghai with the relative absence of its local carrier, China Eastern. It perhaps suggests Air China and Hainan do not consider China Eastern a serious competitor. The additional long-haul routes from Air China and Hainan add to competition for China Eastern in Shanghai.
Historically Air China had a long haul hub in Shanghai, but it had been a quiet affair, operating less than daily service and often on its older A340s, recently retired. Now it is making Shanghai a priority.
Congestion at its home hub of Beijing can only be part of the story; local airlines are generally able to secure slots for long haul routes, especially new ones.
If Air China's three proposed routes for 2016 eventuate, it will have almost as many long haul destinations from Shanghai launched over two years as it added over past decades.
These developments raise questions about the hub ideology that has largely dominated long haul flying – not just in China, but elsewhere. American and Delta dare not operate long haul flights out of United's San Francisco hub; American is building up Los Angeles and Delta has established Seattle as a hub. Despite the EU-US open skies agreement allowing European carriers to offer US flights from other European hubs, Air France tried Los Angeles-London Heathrow but withdrew it. (British Airways' "Open Skies" achieved some success.)
Lufthansa's Frankfurt/Munich hub combination is arguably pooling traffic from similar catchment areas, negating the benefit of hub geography. Does the volume of the Chinese market, today and in the future, mean dual (or triple or quadruple) long haul hubs can be efficient and profitable? Air China may have a sizeable presence in Shanghai (creating loyalty and providing feed) but Hainan does not. Even if these new long-haul routes have hints of competitive retaliation, can they still work?
And so Shanghai becomes something of a test for Chinese long haul development, and perhaps even for liberalisation itself. Can China Eastern run a long haul hub with two peers in its backyard? Should more than one Chinese airline be allowed to serve a long haul route? American, Delta and United all fly between Los Angeles and Shanghai. On the Chinese side, only China Eastern does. Does introducing a second Chinese carrier strengthen the Chinese proposition but weaken China Eastern? (although this is one of the few examples of such big overlap). Will airlines continue to be allowed to carve out the Shanghai market?
As China Eastern looks to regain the initiative with long haul growth, it is adopting a strategic equity partner (Delta), joint ventures (Qantas, with more to come) and a new brand. And how much regulatory support does it have?
Air China proposes Shanghai service to Barcelona, Manchester and San Jose
Air China in Nov-2015 applied for three long haul routes. Although applications do not necessarily mean a service will follow, they generally do. The routes are:
There are a few notable points about these routes. Air China's main long haul base is in Beijing. It would be logical for Air China typically to serve from Shanghai destinations it already serves from Beijing and achieves a level of success. Yet Manchester and San Jose will be entirely new points for Air China. Air China already has a presence in Barcelona, but with a three weekly service tagged with Vienna. Non-stop from Shanghai four times a week is a bigger commitment.
Out of Shanghai, Air China has some long haul routes covering Europe and Australia. This makes San Jose Air China's first trans-Pacific route from North America. Air China is launching trans-Pacific service from Shanghai to a new and secondary point rather than one of the existing primary North American points it serves from Beijing but which has no Chinese carrier service from Shanghai (such as Washington D.C., among others – although these could not be reached with its A330s). Long haul growth is partially being facilitated by the recent large A330 order from China.
China Eastern's hold on the trans-Pacific market is lucrative. Air China tried to enter the Shanghai-North America market with a Nov-2013 application to launch a Shanghai-Toronto service. This occurred as China Eastern was evaluating Toronto, making the situation delicate. In the end, China Eastern, not Air China, opened the route. These are formal applications only; informally airlines sound out regulators about long haul growth.
With San Jose and Manchester, what is most likely is that Air China is pre-empting Hainan Airlines. Hainan, like Air China, is based in Beijing. Under China's one airline, one route policy, long haul routes are generally limited to having only one Chinese carrier operate. Hainan's later start, and private status (Air China is the country's flagship) meant most prime long haul routes were already flown by Air China and could not be accessed by Hainan. There were exceptions: Air China overlooked Chicago and Toronto, and Hainan was able to launch flights.
Hainan's long haul network has, by force, been mostly to secondary cities: Boston, Brussels, Prague, Seattle and so forth. But to its credit, Hainan has been able to make this work. Earlier in 2015 Hainan commenced a new phase of long haul development by serving its Beijing destinations from a new long haul hub at Shanghai. Boston and Seattle were its initial destinations from Shanghai; Hainan already served them from Beijing (Seattle is its oldest trans-Pacific route).
See related report: China Eastern, Delta and Hainan Airlines' new routes accelerate US-China aviation development
Chinese airlines generally have a single long haul base for prime routes. There are exceptions, notably Air China's presence in Shanghai. There are also the various secondary cities that see long haul service, often subsidised and not a core strategic part of an airline's network. Hainan's dual Beijing/Shanghai hub is notable, even if it is smaller than Air China's Beijing/Shanghai hub.
China Southern has tried to build up in Beijing (with proposed Beijing-Paris and Beijing-New York routes, already served by Air China) but this has been unsuccessful. Its sole long haul flight from Beijing is to Amsterdam, and China Southern in northern summer 2015 introduced the A380 on this sector.
See related report: Air France-KLM's Asian partnerships: JAL codeshare ends, China Southern A380 & Xiamen to Amsterdam
The dual hub strategy allows Hainan to access more prime markets and also reduce its emphasis on Beijing, where primary and secondary growth opportunities are dwindling since the hub is already so strong. Air China likely saw Hainan continuing with this strategy. In North America, San Jose is Hainan's only market already served from Beijing that Hainan could open from Shanghai. Hainan's other North American points – Chicago and Toronto – already have a China Eastern presence.
China Eastern flies to Toronto and has recently proposed Chicago for a 2016 launch, part of its North American growth that will probably see it triple seat capacity over three years (so far it has more than doubled, see graph below).
Hainan has proposed service from Tianjin to New York and Vancouver, but these cities already have China Eastern service from Shanghai. For North America, Hainan in Shanghai now needs to look at frequency increases or adding all new points.
See related report: Hainan Airlines plans a new Tianjin base to secure routes to New York and Vancouver
Shanghai Pudong Airport to North America (seats per week, one way): 19-Sep-2011 to 8-May-2016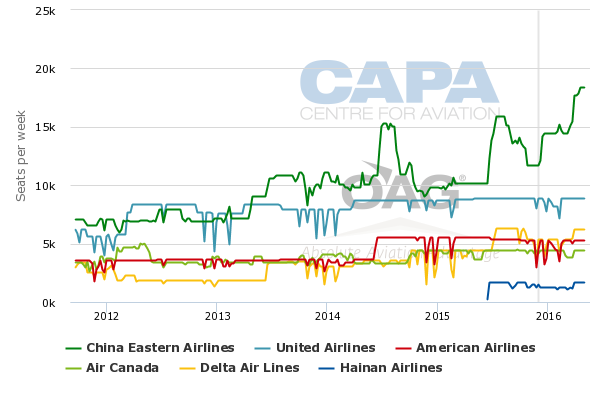 Air China's Shanghai-Manchester route sees similar dynamics. Although Hainan in late 2014 flagged Manchester as a potential route, Hainan moved quickly to apply (in one of the last phases) for Beijing-Manchester service following a government visit to the UK. Aviation was a focus, with the UK introducing improved visa policies to encourage Chinese visitor growth. The UK lags on Chinese visitors, to the detriment of British Airways. Air China's move on Manchester from Shanghai will prevent Hainan from launching the route.
In addition to Air China's Shanghai applications, Hainan Airlines has applied for a four times weekly A330/787 Shanghai-Brussels service to commence in Sep-2016. Hainan already serves Brussels from Beijing, giving some scale to the route and a growth option since Hainan is constrained in Beijing (whereas Air China is not.)
See related reports:
Hainan Airlines regular (non-charter) flights to North America and Europe (excluding Russia): 2015, 2016
| | | |
| --- | --- | --- |
| Hainan Airlines long haul destination | Initial Chinese departure city | Additional Chinese departure city |
| | - | - |
| | | Shanghai |
| | | - |
| New York* | | - |
| San Jose | | - |
| Seattle | | Shanghai |
| | | - |
| | | - |
| | - | - |
| Berlin | | - |
| | | - |
| | | - |
| | Xi'an | - |
| | | - |
| Rome | | Xi'an |
Beijing is Air China's 'international hub' and Shanghai its 'international gateway'
Air China officially refers to Beijing as its "international hub" and Shanghai as its "international gateway". Most of Air China's current Shanghai routes are historical. Paris was re-launched in 2012 and Munich was added in 2014.
If Air China's three new proposed routes eventuate, it will have almost as many long haul destinations from Shanghai launched over two years as those dating back to previous decades. Air China generally has a higher frequency on destinations from Beijing than Shanghai, or its emerging Chengdu hub.
Proposed typical Air China long haul Shanghai operation, and frequency of those destinations from other Air China hubs: northern summer 2016
| | | | | |
| --- | --- | --- | --- | --- |
| Destination | Date | Shanghai frequency | Beijing frequency | Chengdu frequency |
| Barcelona* | 2016 | 4x weekly | 4x weekly (tagged with Vienna) | - |
| | historical | Daily | 2x daily | 3x weekly |
| | 2016 | 4x weekly | - | - |
| | historical | 4x weekly | 4x weekly | - |
| Milan | historical | Daily | Daily | - |
| | 2014 | 4x weekly | Daily | - |
| | re-launched 2012 | 5x weekly | Daily | 4x weekly |
| San Jose* | 2016 | 5x weekly | - | - |
| | historical | 3x weekly | Daily | - |
In four of Air China's six long haul routes from Shanghai, China Eastern also serves the destination. These are Frankfurt, Melbourne, Paris CDG and Sydney. With the exception of Frankfurt, where Air China and China Eastern both operate a daily service, China Eastern has higher frequency with daily or more.
China Eastern does not operate to Air China's Milan and Munich routes from Shanghai. Air China does not operate to a number of China Eastern's other Shanghai long haul routes, including Auckland, Brisbane, Cairns, London and Rome.
China Eastern overlap on Air China's proposed long-haul Shanghai operation: northern summer 2016
| | | | | |
| --- | --- | --- | --- | --- |
| Air China Destination | Air China Launch Date | China Eastern Launch Date | Air China frequency | China Eastern Frequency |
| Barcelona* | 2016 | n/a | 4x weekly | n/a |
| | historical | 2006 | Daily | Daily |
| | 2016 | n/a | 4x weekly | n/a |
| | historical | historical | 4x weekly | 2x daily |
| Milan | historical | n/a | Daily | n/a |
| | 2014 | n/a | 4x weekly | n/a |
| | re-launched 2012 | historical | 5x weekly | 2x daily |
| San Jose* | 2016 | n/a | 5x weekly | n/a |
| | historical | historical | 3x weekly | 2x daily |
Air China's proposed European flights will give it another capacity growth spurt in Shanghai to Europe. China Eastern has had modest growth to Europe, unlike its fast North American development. (Although its North American network was smaller to begin with.)
Air China and China Eastern Shanghai Pudong Airport to Europe (seats per week, one way): 19-Sep-2011 to 8-May-2016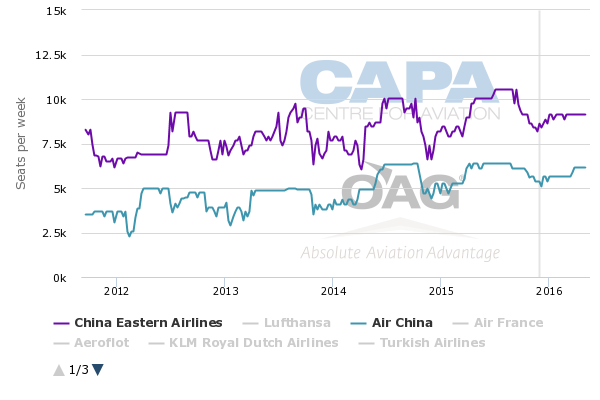 The big question is whether Air China will be allowed to fly alongside China Eastern to North America, just as Air China does to some European and Australian cities from Shanghai. China Eastern has been upset with Air China's encroachment in Shanghai even before the recent long haul route applications. It will certainly seek to limit competition – or at least unless it receives long haul flights out of Beijing.
China's airlines want more strategic freedom; but they may be muted in face of the anti-corruption campaign
Chinese airlines and their regulator (and other government influencers) have a complex relationship; the state is actively involved in managing airline strategy. The government pushes its airlines forward and introduces policies (and, at times, foreign competition) to prompt the Chinese carriers to grow and improve. These are not always welcomed by airlines. Conversely, the airlines push the regulator to relax policies.
The long haul dynamic in Shanghai shows airlines are not losing momentum in seeking greater control of their business.
That said, it is a precarious time to be bold. China's aviation industry has finally been put under the spotlight of the anti-corruption campaign. China Southern chairman Si Xianmin is under investigation for "serious" violations, the euphemism for corruption. No one in any sector is known to have been placed under investigation and subsequently vindicated; China Southern may need a new chairman. CAAC deputy head Zhou Laizhen and Guangzhou airport deputy GM Xu Xiangdong are the most recent to be swept up in the investigation. As bold as these (assumed permanent removals) are, all signs indicate this is still only the start for the aviation sector.
What will eventually emerge as the state of play in Chinese aviation is uncertain. More fairness and even competition is assumed. At least for aviation, that will generate not just more growth but more productive growth.
This will be a worry to the many foreign airlines that under-estimated how much Chinese airlines would grow internationally in recent years – and the Chinese carriers are still just warming up for a real expansion.