Scoot represents a radical change of pace for SIA but the new long-haul LCC is no pioneer
Analysis
New Singapore Airlines (SIA) long-haul low-cost subsidiary Scoot is doing everything it can to differentiate itself from its parent company but the carrier will likely end up looking a lot like Asia's other long-haul LCCs, and for good reason: the success of AirAsia X and Jetstar's long-haul unit provide ample components that are worth mimicking.
After considering an all-economy configuration, Scoot will follow both AirAsia X and Jetstar in offering a premium cabin upfront. While Scoot contemplated the purest of LCC models, it has decided to follow AirAsia X and Jetstar in offering a connection product. To facilitate potential codeshares Scoot will use Navitaire's New Skies reservation system, which by no coincidence counts AirAsia X and Jetstar as two of its biggest customers.
Scoot is also following AirAsia X in striving to implement a wireless in-flight entertainment (IFE) solution, although it is unclear if the technology will be available in time for Scoot's mid-2012 launch.
Since this article was published, SIA has announced the carrier will be branded as "Scoot" and its first destination will be Sydney. For additional analysis of Scoot's strategy, see these additional pieces: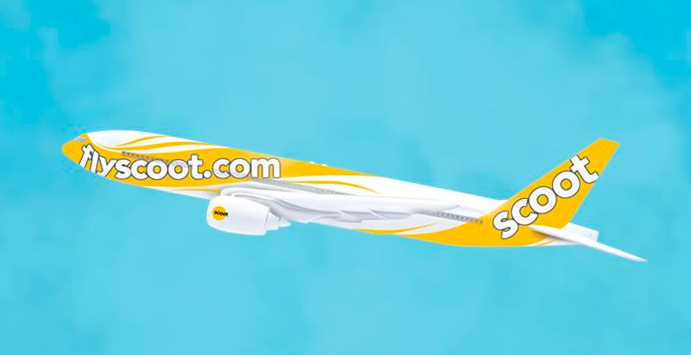 Scoot is duplicating several elements of Jetstar's close but separate relationship with its parent airline group, Qantas. Similar to Jetstar, Scoot will be independently run and managed. Matching at least the initial stated intentions of Jetstar's long-haul operation, Scoot aims to complement its legacy sister carrier, bringing in new business to its parent company rather than substitute existing business.
Scoot CEO Campbell Wilson promises that Scoot will not be used like SIA regional subsidiary SilkAir to take over any underperforming or leisure-focused routes from SIA. Time will tell if this holds true as Qantas, in first announcing in Dec-2005 the establishment of long-haul low-cost services under the Jetstar brand, similarly said the new operation would be complementary and "not in any way be at the expense of" Qantas' full-service mainline operation, although later some Qantas routes were handed to Jetstar.
Four routes within first year, including overlap with SIA
Mr Wilson told reporters at Scoot's 01-Nov-2011 brand launch event in Singapore that the carrier will serve at least four routes within its first year. He said Scoot is still in the process of finalising its initial network but confirmed Australia and China are high on its list. Mr Wilson says Scoot is open to secondary cities and alternative airports as well as primary hubs. AirAsia X has dabbled with secondary cities and alternative airports, like Tianjin and Hangzhou, but primarily because it was not given access to the associated primary cities, Beijing and Shanghai, respectively.
Scoot will likely operate alongside SIA on some routes while for others it will be the first SIA Group carrier. On the latter, SIA will clearly pursue opportunities for feed. Navitaire's New Skies platform will give Scoot the functionality to codeshare with SIA's in-house reservation platform, although it has not yet been decided if a formal codeshare will be implemented from the beginning. At the very least, Scoot will offer a transfer product which will allow its passengers to connect with SIA as well as other carriers using Changi Airport's world-class transit facilities.
Navitaire powers ability for connections
Like AirAsia X and Jetstar, Scoot will be a point-to-point rather than network carrier. But the additional revenues that come with facilitating transfers (through codeshares, interlines and/or simpler transfer products that still allow for through check-in) is simply too good to pass up, as AirAsia X and Jetstar have discovered. "Singapore is a wonderful air hub ... we'll certainly leverage that," Mr Wilson promises without elaborating on the details of what the tie-ups will look like.
Connections come with extra cost and complexity but also typically bring in higher paying passengers, especially if they come from corporate channels. Scoot will not exclude any distribution channel and focus exclusively on internet bookings like the purist of short-haul LCCs. Like AirAsia and Jetstar, Scoot will be open to using travel agents and the GDSs. "We will take business from everywhere we can get it," Mr Wilson says.
Large premium cabin, likely with only recliner seats
Corporate travel agents and SIA, which has one of the world's most renowned premium products, will be particularly important to fill up Scoot's relatively large premium cabin. Mr Wilson says Scoot will equip each of its B777-200s with 32 or 40 premium seats. This compares to only 12 to 18 premium seats currently in AirAsia X's fleet and is closer to the 38 premium seats offered on Jetstar's widebodies. The Jetstar model in this case is more relevant to Scoot as both carriers are subsidiaries of full-service airlines, giving them more potential premium business than a pure LCC group such as AirAsia.
With a relatively large premium cabin for an LCC, Scoot is clearly counting on business class connection passengers from SIA and SilkAir as well as premium seat sales on a point-by-point basis (AirAsia X relies entirely on the latter as all of AirAsia Group's narrowbody fleet is in all-economy configuration). Matching the Jetstar premium product is also important as Scoot will likely be competing head to head with Jetstar on such routes as Singapore-Beijing and Singapore-Melbourne while competition with AirAsia X will only be indirect as it does not have long-haul services from Singapore. But AirAsia X is increasingly building transfer traffic, making the hub location irrelevant as AirAsia X, Jetstar and Scoot have the same origin and end points via different hubs.
Premium cabin configurations of low-cost long-haul carriers: Nov-2011
Mr Wilson says Scoot's premium seats will be 21 inches wide, which is 1 inch wider than the premium seats offered by AirAsia X and Jetstar on their A330s. Mr Wilson told CAPA the premium cabin will be in a 2-4-2 configuration. AirAsia X has a 2-2-2 configuration while Jetstar has a 2-3-2 configuration in its premium cabins, although their A330 widebodies are narrower than Scoot's B777s.
While Scoot has not disclosed details of the premium seat, all seats will be furnished from Germany's Zim. Zim's only business class seat is a recliner-style seat, not a lie-flat seat or bed. AirAsia X's premium cabin features angled lie-flat seats while Jetstar's 38 premium seats are recliner-style. A long-haul LCC subsidiary is not likely to opt for lie-flat seats because it risks cannibalising the parent company's all-important premium and high-yield cabin. Not only does AirAsia X not have that concern, it aims to offer a superior alternative to the regional business class seats frequent on intra-Asia routes from carriers by the likes of SIA.
Mr Wilson said all of Scoot's aircraft will have the same configuration with a total of about 370 seats, but the carrier has not yet made a decision on whether to go with 32 or 40 premium seats. As both the economy and premium seats are being supplied by the same vendor, Zim, Scoot has the flexibility to wait before making a final decision on the exact seat count.
Mr Wilson confirmed the economy class will be in a 3-4-3 configuration, which is tighter than the 3-3-3 configuration used by SIA and other B777 operators but is used by some carriers including Emirates.
Economy class configurations of low-cost long-haul carriers: Nov-2011
Airline
Aircraft
Configuration
Number of seats
Pitch
Width
Aircraft length
AirAsia X
A330-300
3-3-3
365
32"
16.5"
63.69m
AirAsia X
A340-300
3-3-3
309
32"
16.5"
63.70m
Jetstar
A330-200
2-4-2
265
31"
18"
59.00m
Scoot
B777-200
3-4-3
~330-338

TBA,

<31" likely

TBA,

17" likely

63.73m
Scoot evaluating wireless IFE and may delay launch to accommodate new product
As CAPA reported two months ago, Scoot is looking to equip the entire cabin with wireless IFE systems. The carrier continues to evaluate proposals received from wireless IFE vendors.
See related article: SIA's new long-haul LCC to start with 400-seat B777s, plans 16-aircraft fleet within four years
As CAPA initially reported, Scoot's launch date is partially contingent on the IFE systems being delivered quickly. Wireless IFE technology is new and it is unclear if any of the limited pool of vendors can deliver by Apr-2012, when the first aircraft is scheduled to go into the maintenance hangar for retrofit. If a vendor agrees over the next couple of months to commit to supply kit starting sometime in 2Q2012, Scoot can launch with its preferred solution although may slightly delay the launch to accommodate the vendor.
However, if it becomes clear the product will not be ready for delivery in 2Q2012, Scoot will have to operate its initial fleet without wireless IFE. Under this increasingly likely scenario, it could opt for an interim solution until the preferred solution becomes available. Scoot prefers to launch with wireless IFE but cannot afford to delay its launch by more than a month or two. The wireless IFE solution is clearly preferred as it results in a lighter aircraft as traditional seatback screens and equipment boxes are not required. It would also allow Scoot to sell video content that can be accessed via passengers' own devices or iPads that could be rented for a fee.
Initial focus on Australian and Asian routes; Africa and Europe from 2014
Mr Wilson says the aim is to launch services "before the end of 1H2012". Scoot is now on track on have its operators' certificate by the end of 1Q2012.
Mr Wilson confirmed the carrier will have four B777-200s operating by end of 2012 and a fleet of 14 ex-SIA B777s (a mix of B777-200s and B777-200ERs) by mid-2016, as first reported by CAPA in Sep-2011. The B777-200ERs, which will start arriving in 2014, will allow Scoot to serve Africa and Europe, markets it is currently examining for its second phase. Initially Scoot will stick to Asia and Australia and routes of between four and 10 hours long, given the more limited range of the B777-200s. "We need to walk before we run," Mr Wilson said.
Product unbundling
Scoot is pursuing the same unbundling strategy as AirAsia X, Jetstar and most LCCs, offering no complimentary frills. Items such as food and check-in luggage (at least for economy class passengers) will be offered a la carte with passengers "paying only for that what matters to you". The unbundling strategy will allow Scoot to keep average economy fares 40% lower than legacy carriers, which in the Asia offering sees the addition for several frills including complimentary food, drinks, check-in luggage and IFE.
The IFE systems and seats are two of Scoot's significant pre-launch investments. Mr Wilson expects the carrier will spend SGD50 million (USD39 million) to SGD60 million (USD47 million) before its first flight. SIA Group has capitalised the new subsidiary with an initial tranche of SGD283 million (USD222 million).
A new culture – 'Scootitude'
While Scoot clearly benefits from SIA's huge cash coffers, Mr Wilson hopes to put in place a completely different culture. Mr Wilson went out of his way during the branding press conference to talk about Scoot's culture. And he came out in a bright yellow polo shirt – far different than the dark suits typically worn by SIA executives.
Mr Wilson repeatedly referred to the new carrier's culture as "Scootitude", which he hopes will stand for fun-spirited, open, honest, engaging and quirky. The idea is to be unique and not have a name with an Air, Airlines or Airways. "It's not your everyday airline name because this is not your ordinary airline," Mr Wilson says.
Mr Wilson says he strives to develop a "small family atmosphere". Scoot will not be based at the gigantic SIA headquarters facility but in a cramped area at Changi's Terminal 1, where Jetstar Asia also has its modest headquarters. Mr Wilson says the entire Scoot staff now works in a single room and has the same kind of desk. There are no separate offices for executives.
Once flights launch, the crews will use the same offices to get their pre-flight briefings, furthering the "family atmosphere". Mr Wilson expects "for the first few years at least" the staff will know all the crew on a first name basis. SIA, which now operates over 100 widebody aircraft, is now far too large to have a family atmosphere, with a culture that is "not relevant to us".
Scoot expects to hire 52 pilots, 240 to 250 flight attendants and 30 to 40 ground staff by the end of its first year of operations. Mr Wilson says recruitment will begin in early 2012 with the emphasis on hiring people with the "right attitude, spirit and personality".
Scoot CEO Campbell Wilson
Scoot!CEO!Campbell_Wilson!1.jpg" alt="" width="198" height="253" />
In terms of labour costs, Scoot will benchmark not against SIA but other long-haul LCCs. The emphasis will be on productivity with pay based primarily on hours worked.
Mr Wilson also emphasised that Scoot "is not beholden to use suppliers of SIA". It currently has a tender out to select a handling agent for its Changi base and a maintenance provider. While it will initially operate from Changi's Terminal 2, which is now used for all SilkAir flights and some SIA flights, Mr Wilson's preference is to use the budget terminal if it is expanded later to accommodate widebodies.
Scoot's initial administrative staff includes 11 executives and department heads that have been seconded from SIA. These 11 employees, which have been joined by a similar number of non-SIA employees, were brought in as Scoot needed airline experienced people in the initial start-up phase to help the carrier establish a safe, punctual and reliable airline. Mr Wilson says beyond these 11 there will not be any more secondments from SIA and the idea is for the 11 to move back to SIA and eventually replaced by new hires "with pure Scoot DNA".
Mr Wilson later clarified that the 11 employees seconded from SIA will have the option of staying at Scoot but will have to server their ties with SIA. Mr Wilson himself is one of these 11. He will not have to decide between returning to SIA or staying with Scoot anytime soon, but since he says he already has "Scoot DNA", it seems his decision is practically already made.
Outlook: Scoot may not be a pioneer but that doesn't mean it can't be profitable
While part of the same group of companies, Scoot will clearly not be another SIA. But whether it is successful at adopting the kind of culture evident at a pure independent LCC such as AirAsia remains to be seen. SIA is a conservative company with a conservative culture. It will be challenging to completely distance Scoot from those traits.
The fact SIA is so conservative caused a stir when the group decided earlier this year to launch a long-haul low-cost carrier. But the SIA Group has clearly studied the long-haul low-cost model from top to bottom and saw an opportunity. As Mr Wilson said, SIA still expects to pursue growth in its own market while Scoot will grow in a new market.
In executing the bold new strategy outlined by SIA, it comes as no surprise that Scoot has decided to adopt several elements of the long-haul business model pioneered by AirAsia X and Jetstar. SIA is a smart and studious company and taking the best of the best is what one would expect SIA to do. Not surprisingly AirAsia Group CEO Tony Fernandes quickly responded following the Scoot brand announcement by tweeting that Scoot is "copying" AirAsia X and SIA has "to play catch up". Mr Fernandes took another shot at SIA, saying the group "has no creativity" and is "trying to do too much".
Scoot will probably never be included in the LCC history books like the chapters Mr Ferndanes has written in establishing AirAsia and AirAsia X. But while being a pioneer can provide important first mover advantage, it also critical to join a trend before it's too late. With SIA's only very recent attempt to become more involved with Tiger, SIA joined the short-haul low-cost party too late. The long-haul low-cost trend, however, has just begun, making SIA's bet with Scoot risky but potentially more rewarding. Other carriers throughout Asia and the world will be closely monitoring Scoot's developments.
See related article: SIA's long-haul low-cost strategy to restore growth after a lost decade