Ryanair looks to Italy for growth, Alitalia to transform Air One into an LCC
Analysis
Europe's leading LCC, Ryanair, looks set to continue its expansion in Italy as LCC capacity share (a good indicator of market share) growth generally in Europe has tailed off during the last three years. Alitalia has meanwhile announced it is considering transforming Air One, the local rival it merged with in Dec-2008, into an LCC, in response to intense competition.
Europe-wide LCC share growth eases as migrants no longer look west
Major shifts in the competitive market are under way and LCCs feature heavily in the seismic changes. LCC capacity share within Europe generally grew progressively from Jul-01 to Jul-08, after which it was negatively affected by, for example, the slowdown in growth in Eastern Europe, which had begun with the accession of ten new members to the European Union in 2004, followed by a further two in 2007 and all to the eastern side of the continent (see Chart 1).
Mass migration westwards in search of work from these countries and trips home to visit relatives reduced when the recession set in and it became evident that living standards in the home country had become equivalent to those in the west.
Traditionally 'big business' regions for the LCCs such as Poland and the eastern Baltic - boosted by migrant workers - are no longer growing, and even potentially contracting. Slovakia's SkyEurope, currently in bankruptcy protection, is one airline to have been affected. With its fleet halved early in 2009 (though some new aircraft have since been added on lease agreements) its passenger traffic was down by over 37% in Jul-09.
Chart 1 LCC capacity share within Europe (%): Jul-01 to Jul-09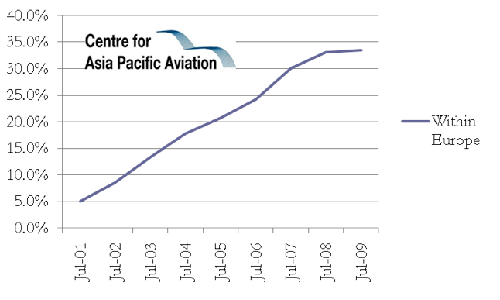 LCCs have over half Western European capacity
The subsequent skewing of LCC capacity in favour of Western European growth is clear from Chart 2 below. LCCs are now responsible for 52% of airline capacity in the region, compared to 34% for Europe as a whole. This rapid growth indicates there is still plenty of life left in Western Europe for the budget airlines, as flag carriers like British Airways, Air France-KLM and Lufthansa struggle to cope with the recession.
Within this sub-region, some countries are in favour with the budget airlines, while others are not.
France is notable for its high tax regime, which means that while easyJet, which has a more open mind about airport charges, and indeed about operating from primary airports, has been prepared to invest in major bases in France (eg Paris, Lyon), Ryanair has scaled down in interest in the country other than at its Marseille MR2 base (a dedicated 'low cost terminal') and Paris Beauvais. There is still no French airline that could realistically describe itself as an LCC.
Spain has been in favour with LCCs. Both Ryanair and easyJet have major bases at Madrid's Barajas Airport; Ryanair with 30 routes (13 of them domestic) and easyJet with 24, of which just three are domestic.
Ryanair in particular has been putting a great deal of effort into Spain, opening new bases at Girona, Valencia and Alicante apart from Madrid. Germany's Air Berlin serves 22 cities in Spain and has a comprehensive hub (which actually acts as a hub, with 'spokes') at Palma de Mallorca. Iberia subsidiary Clickair, and Vueling are in the process of merging into a giant LCC based at Barcelona and five other cities, (with more certainty than the parent's efforts to marry British Airways).
However, the recession has had a profound effect on Spain, a country that grew too quickly and put all its eggs in the twin baskets of tourism and construction. For the six months ended 30-Jun-09, international arrivals into Spain fell 11.4% to 23.6 million visitors. The domestic services also have to contend with the ever-improving and state funded Spanish high-speed rail services, state support for rail being something that has caused Ryanair to fume previously, in France.
Germany is still dominated by Lufthansa and its subsidiaries – despite its foreign ambitions and a slump in its fortunes in 2009 - with constant talk of mergers between competing airlines but little action. As with France and Spain there is highly effective competition from rail services within the country and even internationally. LCC penetration, apart from Air Berlin, which has been coping with difficulties of its own, is comparatively low.
Scandinavia has been the scene of a notable upsurge in the fortunes of LCCs, especially that of Norwegian Air Shuttle, which improved its EBITDAR by over 500% in the three months to 30-Jun-09 and which has a further 20 aircraft on order. But that is mainly at the expense of pan-national flag carrier SAS, which could be a candidate for separation into separate entities, and all airlines operating in Scandinavia have to cope with a small and thinly spread population.
Chart 2 LCC capacity share within Western Europe (%): Jul-01 to Jul-09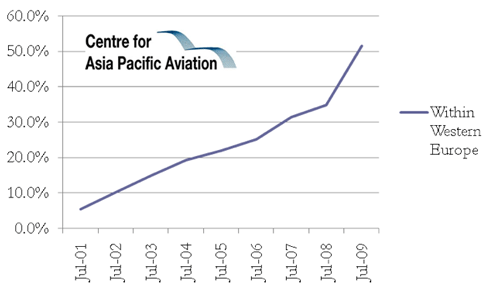 LCCs survey the potential in Italy
Ryanair would like to access new markets in east and southeast Europe and Near Asia where there is plenty of low hanging fruit, but regulatory issues often render that difficult.
While LCC capacity share to and from Italy has been rising steadily over the course of the decade (to 42.5% - see Chart 3), domestic capacity share has shot up almost exponentially since 2007, in line with the long slow demise of Alitalia (see Chart 4). LCC capacity share in Italy has risen from 6% to 42.5% between Jul-01 and Jul-09, and where the 'new Alitalia', a remnant of a bygone era, lost EUR293 million in 1H2009.
The re-launch of the Italian airline under the guidance of Air France-KLM does not appear to have affected that trend much, either. The beleaguered Italian carrier is considering transforming Air One, the local rival it merged with in Dec-2008, into an LCC, although Alitalia Chairman, Roberto Colaninno, stated it is an option "that has to be considered carefully."
Chart 3 LCC capacity share to/from Italy (%): Jul-01 to Jul-09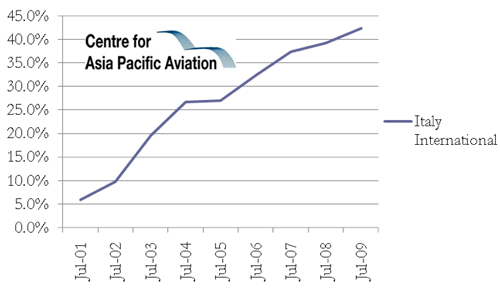 LCC domestic capacity share in Italy has risen from 15% to 32.5% in just two years. This despite the suspension of the Bergamo-based Myair's operating licence in Jul-2009, owing to its 'financial situation'. Myair had 64 aircraft on order at the time and connected a dozen Italian cities in addition to its international services.
Chart 4 LCC capacity share domestic Italy (%): Jul-01 to Jul-09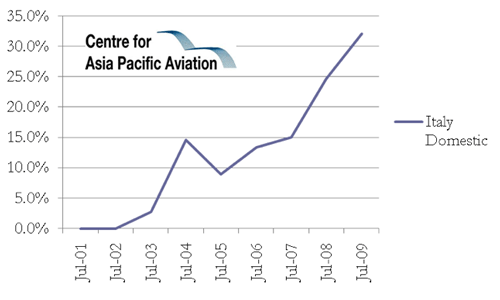 On the domestic front Ryanair (12.1% capacity share) is not far behind the two leading LCCs, Air One and Sardinia-based Meridiana, and there is scope for further expansion in both markets, especially the domestic one. Alitalia and Air One holding a combined 40.9% capacity share.
Chart 5 Italy domestic carrier capacity share (%)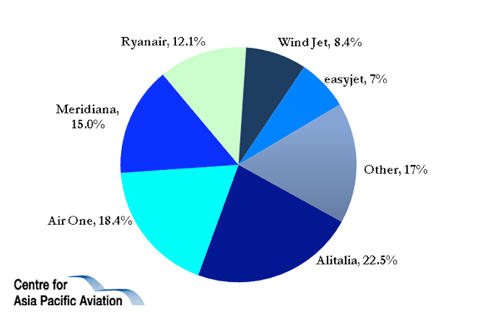 International carrier capacity to/from Italy is much more fragmented. Again, Ryanair is notable for its presence to date, with 18.5% of international capacity, more than that of Alitalia (10.7%) and three times that of Lufthansa (6.5%), which set up its Lufthansa Italia subsidiary at Milan to make a major statement about its own intentions for Italy.
Chart 6 Italy international carrier capacity share (%)
Ryanair sees Italy overtaking UK as a dominant market
In fact, Ryanair has been quoted (Feb-2009) as stating that Italy is likely to overtake the UK in the medium term as one of its biggest markets, with the airline taking excess capacity from the likes of Alitalia. Michael Cawley, Ryanair's deputy chief executive, indicated he expects Italy to represent 17% of total business on a traffic basis in fiscal year 2009-2010. Average capacity share presently (Aug-09) is 15.3%
At present, the UK represents 35% of Ryanair's total business, with Germany at around 12%, Ireland at 12%, Italy at 11% and Spain at 8-9%. But Cawley believes the weak Pound (GBP), combined with potentially lower demand from London airports, will ultimately turn the UK market into the budget carrier's third-most-important region, with growth unlikely for the next year or two.
He stated "We'd be crazy to be expanding in London", and that the company was planning to open another five bases in Italy over the next three years, although the firm was considering regional areas in the UK for eight as-yet unallocated aircraft. Since then that UK regional expansion has been sidelined by what some observers regard as CEO Michael O'Leary's growing obsession with government-imposed airport taxes in Ireland and the UK, particularly the latter, where the Air Passenger Duty is to be increased by 10% in Nov-09.
On 06-Aug-09, Ryanair reasserted its plans to continue cutting capacity at "high cost, tourist tax airports" in the UK and Ireland and relocate capacity to EU countries and airports that offer no tourist taxes and lower airport costs. Capacity for the coming winter season at London Stansted, Glasgow Prestwick and Dublin airports was slashed by up to 40%.
Ryanair then went on to announce 43 new Spanish routes, which would bring 2.4 million passengers, create 2,400 new jobs and deliver a visitor spend of over EUR360 million to Spain. Presumably, taking the Spanish recession into account, Ryanair considers it offers more of an opportunity than a threat, and that, with tourists a dying breed in Spain it will be able to negotiate good deals with airport and tourism managers on the vague promise of bringing them back.
But it is still Italy that holds out the greatest promise, despite ongoing air traffic control issues and the spats the airline has had in the past with airports like Ancona and Lamezia Terme (both of which are back on the route map).
It was of little surprise when Ryanair launched in Mar-09 three new bases, at Alghero, Bologna and Cagliari, to a total of seven. Ryanair, which is sounding increasingly like a government employment department, claimed it would support 4,000 new jobs in Italy. On a wider platform, it claims to sustain 17,000 jobs throughout Italy and that it will carry 17 million passengers from and to the country in 2009. It based two aircraft at each of these three airports bringing Ryanair's total investment in Italy to 26 aircraft worth almost USD2 billion. Italy's commonality with Spain is a lack of the high airport and government imposed taxes found in the UK, Ireland and France.
Outlook: LCCs an Italian "shoe-in"
Ryanair certainly got off on the right foot in Italy with its SMS booking service when it was launched. The biggest users of the services were passengers from Italy (16%, which will please the airline no end – it likes passengers that use new technologies), followed by the UK (15%), Spain (12%) and Ireland (5%) while even those in Vatican City have "blessed" the service with sixteen Vatican City residents opting to receive their booking confirmation direct to their mobile phones.
But one looming problem for Ryanair's aspirations to grow Italian domestic traffic, and as it has already experienced in France, Spain, and now the UK, is Italy's own high-speed trains.
The new Alitalia is pledging to get passengers from the centre of Rome to downtown Milan in three hours and 20 minutes with dedicated gates, speedier boarding and even the blatantly non-LCC feature, chauffeur drive - a direct challenge to the Italian Railway's high-speed train, which will soon make the trip in three hours. One quarter of passengers on the Rome-Milan route make the round-trip journey on the same day, and for journeys of that type the train has dominated the market latterly in the UK, which is, like Italy, a long thin country well suited to rail journeys on the routes between major cities.
But the Italian flag carrier's ongoing financial and strategic turmoil will provide a source of encouragement to the invading LCC army. LCCs will soon command over 50% of Italy's domestic and international markets, a milestone that will be accelerated should Air One join the LCC camp. That will be a remarkable development for a market where LCCs had less than a 5% share at the start of this decade. Italy and LCCs appear to be a natural fit.