Russia's Pobeda may face low cost airline competition
Analysis
The head of Russia's competition authority, the Federal Antimonopoly Service (FAS), has called for more competition in the country's low cost airline segment. He has even suggested that Aeroflot launch another LCC to compete with its low cost subsidiary Pobeda.
Pobeda is the country's only LCC, with 7.2 million passengers in 2018 giving it a 5.2% traffic share. It has 100% of domestic LCC capacity and approximately 40% of international LCC capacity to/from Russia, against fragmented foreign low cost competition.
Pobeda has grown rapidly since its Dec-2014 launch and the relative underpenetration of air travel in Russia suggests that it will be able to continue to channel latent demand through its low fares.
However, Pobeda's load factor has peaked, and it slipped to an underlying operating loss in 1H2019.
More low cost competition would help to accelerate the growth in air travel's penetration levels in Russia and might even focus Pobeda on an even more efficient cost structure. Aeroflot's preference would be for others to launch competitor airlines.
Summary
Russia's competition authority calls for competing LCCs
The head of FAS Igor Artemyev quoted in Prime (27-Aug-2019), "The best way would be if other companies were strong enough and created their own LCCs in Russia, so that there would be competition".
Mr Artemyev suggested that Aeroflot could privatise Pobeda and establish another LCC, noting that private investors do not know how to launch LCCs on their own. Mr Artemyev floated the idea that the sale of a stake in Pobeda to investors could provide the resources for the development of a second LCC by Aeroflot Group.
In his view, five or six LCCs in Russia and a few more in "friendly" countries would be ideal. Mr Artemyev stressed the importance of developing an LCC system and had asked Russia's "Kazakh and Belarusian friends to consider the establishment of their own carriers of this class, which would compete with our LCCs".
Aeroflot CEO Vitaly Saveliev would prefer others to launch competing LCCs, rather than Aeroflot undertake the privatisation of Aeroflot Group's "key growth driver" Pobeda, according to Interfax (26-Aug-2019). Mr Saveliev said earlier attempts to launch an LCC had failed due to the absence of laws providing the necessary conditions for an LCC, "but now they do exist".
LCC share in Russia is growing, but very small
On domestic routes there were no LCCs until 2014, since when Aeroflot Group's subsidiary Pobeda has been the only low cost airline in the market (after the brief launch and exit of a predecessor Aeroflot subsidiary, Dobrolet, which was grounded by EU sanctions).
According to data from OAG and CAPA, LCCs have just 9.8% of domestic seats and 5.7% of international seats in Russia in the first nine months of 2019.
This domestic share is up from 7.6% in 2018, but the international figure is a drop from 6.6% in 2018 (although above 2017's 4.6%).
Both remain far below average European LCC penetration levels. Within Europe as a whole, LCCs have 41.8% of seats so far this year, compared with 41.2% in 2018.
Russia: LCC share of seats, 2010 to 2019*

Russia's Kazakh and Belarusian friends have no LCCs of their own and virtually no experience of competing with LCCs on international routes.
In Kazakhstan, LCCs have no domestic seats and only 5.3% of international seats in the first nine months of 2019. In Belarus, where there is no domestic market, LCCs have a trifling 0.2% of international seats.
As Russia's only indigenous low cost airline, Pobeda is single-handedly responsible for the LCC seat share in Russia's domestic market and for approximately 40% of international LCC seats to/from the country throughout the year.
In the week of 2-Sep-2019, out of a total of 1,520 routes operated to/from/within Russia, 136 involve low cost operators and Pobeda operates on 102.
Out of 740 domestic routes, 66 involve low cost operators and these are all operated by Pobeda. Out of 780 international routes, 70 involve low cost operators and Pobeda operates on 36 (data source: OAG).
Foreign LCCs serving Russia include airBaltic, flydubai, Pegasus, Air Arabia, JEJU air, Urumqi Air, Beijing Capital Airlines, Wizz Air and Eastar Jet. None of them has a very significant seat share. Wizz Air plans to increase its presence with the launch of flights to Moscow and St Petersburg from London Luton.
See related report: UK-Russia aviation: Wizz Air enters underserved market
Pobeda is growing rapidly
Pobeda has enjoyed strong traffic growth in the five years since its Dec-2014 launch.
In 2018 it flew 7.2 million passengers, a 57% increase year-on-year and 2.3 times the 3.1 million flown in 2015, its first full year of operation. Its 2018 load factor was 94.1%, virtually flat year-on-year (a fall of 0.1ppts).
In 1H2019 passenger numbers jumped by 44.7%, but load factor eased back by 0.9ppts, to 92.5%.
Pobeda: passenger numbers ('000) and load factor (%), 2015 to 2018 and 1H2018 and 1H2019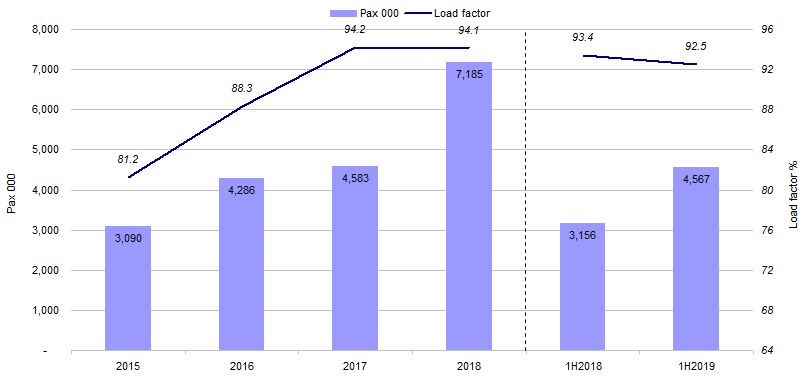 Pobeda is not consistently profitable
Pobeda reported a net profit of RUB1.8 million (USD28 million) in 2018, a fall from RUB2.8 billion in 2017, in spite of a 67% increase in revenue to RUB34.4 billion (USD550 million).
In 1H2019 it made a net profit of RUB1.5 billion, compared with a loss of RUB1.0 billion a year earlier.
However, this result was boosted by a non-cash gain from the revaluation of leases, and the underlying performance captured by its operating result fell to a loss of RUB0.2 billion in 1H2019 versus a profit of RUB56 million a year earlier. Revenue grew by 57%, to 21.5 billion, for the half year.
The low cost segment has strong growth potential in Russia
Underpenetration of air travel in Russia gives growth potential.
Aeroflot's 1H2019 results presentation quotes the data source Oxford Economics and its own estimates on the average number of air trips per capita in Russia versus selected other countries.
Russia remains underpenetrated by air travel, with only 0.69 trips per capita in 2018 compared with 3.73 in the UK, 2.50 in the US and 1.13 in Turkey (although Russia is ahead of China and Brazil's 0.46 trips per capita).
This underpenetration points to air travel's growth potential in Russia. For many trips where price sensitivity is an important demand factor, low cost airlines are better placed than FSCs to tap into this potential.
Recognising this potential, Aeroflot plans for Pobeda to grow its passenger numbers from seven million in 2018 to between 25 and 30 million in 2023 – an increase of between 3.5 and 4.2 times. The group regards the LCC as its key source of growth in the long term.
Curiously, however, Aeroflot CEO Vitaly Saveliev estimates there is 10% to 12% excess seat capacity in the market (Interfax, 26-Aug-2019).
Mr Saveliev noted: "Externally, everything looks calm and fine. If a report is required for officials, it will be said: passengers are increasing. And this is true. But no one is reporting on the fact that it is at the carriers' expense."
Given the underpenetration of air travel in Russia, My Saveliev's analysis that there is too much capacity in the market could be restated as evidence that there is too much high cost capacity, supporting the view that more low cost capacity is needed.
However, although Pobeda continues to grow rapidly, it has not yet established a consistent track record of sustainable profitability.
In spite of the Aeroflot subsidiary's unit cost being very competitive by comparison with European LCCs such as easyJet, and in a similar bracket to ultra LCCs such as Ryanair and Wizz Air, this suggests that it is perhaps not quite low enough for the market in which it operates.
More LCC competition would be positive for Russia
Additional competition could force Pobeda to become even more efficient, as could being at least partially freed from its ties to Aeroflot and the implication that its parent can fund any losses. It would also ensure that more low cost capacity enters the market more rapidly than even Pobeda's fast growth can supply.
Certainly, more low cost competition would be a positive for Russia and it is not surprising that its competition regulator is calling for it.
It would be an idiosyncratically Russian approach to direct the national airline, in which the state still has a majority shareholding, to set up LCCs to compete with its own low cost subsidiary (even if such competition might be good for it over time).