Qantas-Emirates alliance: the last piece of the puzzle falls in place across the Tasman
Analysis
The final piece of the Qantas-Emirates alliance has fallen into place with the New Zealand minister of transport Gerry Brownlee giving his belated approval for the two carriers to extend their union across the Tasman by authorising a master coordination agreement. This will to all intents and purposes turn the Tasman market between Australia and New Zealand into a duopoly between the Qantas-Emirates Group and Air New Zealand-Virgin Australia partnership.
The Australian Competition and Consumer Commission (ACCC) had already granted Qantas and Emirates conditional approval for the trans-Tasman leg when it gave the final green light for the pair's broader global alliance in Mar-2013. Mr Brownlee, who under New Zealand law has the authority to rule on arrangements between two airlines where this involves price or capacity fixing of international air services, had originally been expected to make his decision by the end of Mar-2013.
Brownlee moves in step with the ACCC
In the end Mr Brownlee has moved in lock-step with the Australian regulator, following the ACCC requirement that Qantas and Emirates maintain their pre-alliance aggregate capacity on the four key trans-Tasman routes where their existing networks overlap. Those routes are Sydney-Auckland, Melbourne-Auckland, Brisbane-Auckland and Sydney-Christchurch which together accounted for about 65% of total capacity on the trans-Tasman in the year to 30-Jun-2012. He has also approved the alliance for five years, in sync with the ACCC.
On these routes, the ACCC is concerned that Qantas and Emirates would have the ability and incentive to reduce or limit growth in capacity in order to raise air fares. The upshot is that the alliance is not required to increase capacity on the route, but the condition is subject to a review to consider whether increases in the minimum required capacity are warranted.
Qantas and Emirates launched their alliance on 31-Mar-2013, which saw Qantas moving its transit hub from Singapore to Dubai. Under the alliance the two carriers are permitted to share passenger and freight revenues, codeshare and otherwise act as one airline.
See related report: Qantas-Emirates alliance receives full (draft) approval from Australia's competition authority
Qantas-Emirates alliance will bring consumer and economic benefits – Brownlee
Mr Brownlee said the alliance would bring benefits to passengers, exporters and tourism by, "strengthening connections with Emirates' international network, including 30 points in Europe, as well as the growing Middle East region and Africa." In fact travellers already had access to the entire Emirates network through the airline's three times daily services from Australia to Auckland and daily to Christchurch.
However, the alliance will now allow Emirates to offer Queenstown and Wellington as tourism destinations on codeshare flights with Qantas. Neither airport is able to cater for the Boeing 777s and A380s that Emirates operates to Australia and on to New Zealand, but Qantas Group serves them with narrowbody equipment. In addition, travellers will be able to earn and redeem frequent flyer points on both airlines as well as access their respective airport lounges.
Mr Brownlee said he was confident that more sustainable competition and cost savings as a result of the alliance, along with the capacity commitments, should keep fare increases in check. Trans-Tasman competition would be maintained by existing carriers on the route and the threat of new entry if services or fares increased, he said.
A total of seven airlines operate on the Tasman including Air New Zealand/Virgin Australia, Qantas/Jetstar and under fifth freedom rights, Emirates, LAN Airlines and China Airlines.
Air NZ/Virgin Australia offer a combined 33,000 one-way seats in the week of 13-May-2013, giving them a 46% share of the market during the low season month. Qantas/Jetstar and Emirates will collectively offer about 35,000 one-way seats with a 49% share. For most of the year, however, Air NZ/Virgin Australia will have an advantage over Qantas/Emirates. In Aug-2013 Air NZ/Virgin Australia will have a combined market leading share of 51.7%.
Australia to New Zealand (seats per week, one way): 19-Sep-2011 to 3-Nov-2013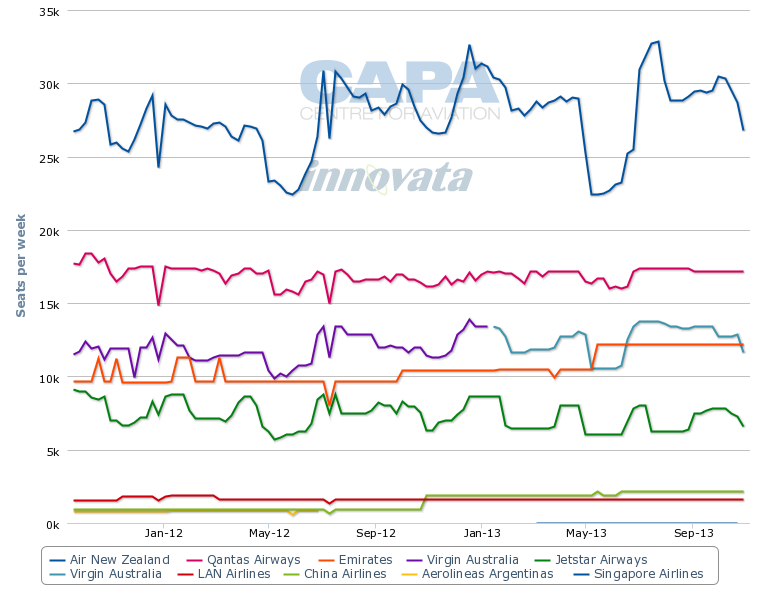 Qantas and Emirates will move to better match aircraft size to their joint passenger demand by consolidating some flights with similar schedule times. On some afternoon frequencies the pair operate schedules within 25 minutes of each other including Brisbane-Auckland, Sydney-Auckland and Melbourne-Auckland. It is likely that those services will be operated by Emirates' widebodies, thereby exploiting economies of scale of larger aircraft and reducing unit costs.
Air NZ/Virgin Australia trans-Tasman appears all but guaranteed to be renewed
Air NZ and Virgin Australia's longer-standing trans-Tasman alliance is almost certain to be renewed to ensure a counterbalance to Qantas and Emirates is maintained.
The New Zealand Ministry of Transport advised Mr Brownlee that the resulting consolidation of operators on the Tasman could be "managed or mitigated by continued competition from Air NZ and Virgin Australia in addition to the threat of entry by competitors if fares rise".
Air NZ and Virgin Australia have applied to have their alliance on the Tasman renewed for a further five years. The original three year authorisation for the alliance expires on 31-Dec-2013. This time, however, they have requested that the requirement for the carriers to maintain a base level of capacity on the trans-Tasman as a whole, and growth seasonal capacity on some routes, should be dropped as conditions for the renewed authorisation.
The airlines argue they have demonstrated that the alliance has not harmed consumers and had elicited a competitive response from other airlines.
See related report: Virgin Australia and Air New Zealand apply for renewal of trans-Tasman alliance, without conditions
Price and capacity fixing agreement must be approved by the Minister of Transport
Unlike the decision in Australia, which is made by the competition regulator, the trans-Tasman component of the alliance is subject to approval from New Zealand Minister of Transport Gerry Brownlee, rather than New Zealand's equivalent, the NZ Commerce Commission. As with the Emirates/Qantas alliance, Mr Brownlee will make his decision on advice from the Ministry of Transport under section 88 of the Civil Aviation Act 1990.
The Minister has the authority to rule on arrangements between two airlines where the arrangement involves the fixing of tariffs or capacity of international air services, as is the case in the Qantas/Emirates alliance. The nearly seven week delay in reaching a decision was put down to the Ministry of Transport taking longer than expected to present its recommendations to Mr Brownlee.
The alliance application met stronger opposition in New Zealand than in Australia, particularly from airports concerned about the loss of competition on the route, when about 95% of capacity was provided by the two airline groupings, creating a duopoly on all routes other than to and from Auckland.
Trans-Tasman partnerships demonstrate the developing new alliance order
The trans-Tasman provides a snapshot of the emerging new order under which airlines will increasingly find partners that best suit a specific need or strategy, rather than the more broad brush approach offered by the global marketing alliances.
Virgin Australia turned to Air NZ as its first partner, allowing both carriers to turn the loss making Tasman into profit through a metal neutral alliance. Virgin Australia subsequently has established a global long-haul network through alliances with Delta, Etihad and Singapore Airlines. In addition all but Delta hold equity positions in Virgin Australia of between 9.5% and 19.99% to cement their relationships.
Similarly, the ground-breaking Qantas-Emirates union has provided Qantas with a virtual network, particularly to Europe, which is much broader than it could offer with its own metal and is expected to return its heavily loss making long-haul network back to profit in FY2015.
See related report: Qantas and Emirates to codeshare in first alliance shakeup of the season; next: Qatar into oneworld
Equally importantly the alliance has allowed Qantas to refocus its efforts on competing more effectively in the Asian market, which is economically more important to Australia.
See related reports:
The loss of Emirates as the only independent competitor of any scale further dilutes a market that used to be one of the world's most competitive. In doing so, however, the move may result in more sustainable competition where the main protagonists are able to turn a profit on a route that has traditionally been a sea of red for Australian and New Zealand carriers.