Qantas-Emirates alliance receives full (draft) approval from Australia's competition authority
Analysis
As expected, Australia's Competition and Consumer Commission has given its draft approval to the Qantas-Emirates application for a wide-ranging partnership. Final approval is now expected in Mar-2013. There was negligible opposition to the proposal from Qantas' competitors or from other parties.
The competition body considered that "the alliance is likely to result in material (although not substantial) public benefits". The rather lukewarm endorsement neglects the likely downside if Qantas were not to have secured a partnership with one of its most powerful international competitors.
Only one very modest scope restriction was placed on the carriers: they must maintain current levels of capacity on the Australia-New Zealand routes they jointly serve. And, instead of granting the ambitious 10 year authority requested, the ACCC allowed a 5 year exemption.
In Sep-2012, the airlines announced a long-anticipated partnership proposal. This was the first of a world-shaking series of announcements over following weeks, in which the three Gulf airlines, Emirates, Etihad and Qatar Airways drove a massive wedge in the resistance of the their major legacy airline opponents. It also effectively put an end to the longstanding Qantas-British Airways joint services agreement.
Once finally approved, all Qantas group airlines, including Jetstar, will be permitted to share passenger and freight revenues, codeshare and otherwise act almost as one airline.
See related story: Qantas and Emirates to codeshare in first alliance shakeup of the season; next: Qatar into one world.
ACCC believes there are (muted) consumer and public benefits
According to its Draft Determination, the ACCC said it considered that "the alliance has the potential to result in public benefits in the form of:
cost savings and other efficiencies;
stimulation of tourism and trade; and
enhanced crisis management response.
Taking all of these together, the ACCC concluded that the alliance was "likely to result in material (although not substantial) public benefits."
The ACCC's New Zealand route conditions are gentle
The only area where the ACCC considered some restraint necessary was across the Tasman between Australia and New Zealand, where the two hold a powerful position
The alliance will be authorised to operate on the highly competitive route, on condition that Qantas and Emirates maintain their collective capacity at FY2012 levels on four key routes where their existing networks overlap.
Those routes are Sydney-Auckland, Melbourne-Auckland, Brisbane-Auckland and Sydney-Christchurch which accounted for around 65% of total seat capacity on the trans-Tasman in the year to 30-June-2012.
ACCC is concerned the alliance will increase the ability and incentive for Qantas and Emirates to unilaterally reduce or limit growth and capacity on those city pairs absent the capacity condition.
Given the capacity share the overlapping routes represent, the ACCC concludes that the alliance is likely to result in material public detriment if no minimum capacity requirements are put in place.
Moreover, the ACCC considers that competitors, including the Air New Zealand-Virgin Australia grouping, along with fifth freedom carriers LAN and China Airlines do not provide sufficient competitive constraints to restrain Qantas and Emirates from reducing capacity.
In addition, in view of the Qantas' and Emirates' assertions of overcapacity on those routes and in the absence of information to the contrary, the ACCC is willing to delay the introduction of the requirement to grow capacity. Qantas pointed to its load factors of around 75% on the routes and Emirates operating services with load factors of around 67% to illustrate the overcapacity situation.
The upshot is that the alliance will not have to add any capacity for an "initial period".
Qantas and Emirates offered in their application, to make it a requirement of gaining approval to operate the alliance on the Tasman that they maintain their FY2012 total combined capacity on the Tasman as a whole for the duration of any authorisation period. However, they would be able to alter capacity on specific city pair routes. The airlines claimed that this could lead to Qantas opening new trans-Tasman routes such as Adelaide, with the benefit of increasing competition with Air New Zealand and Virgin Australia.
However, the ACCC has elected not to extract a commitment from Qantas to open any new routes.
In addition, the alliance partners claim Emirates has limited options to add additional flights to New Zealand, given that such services would only come about on the back of increased frequencies between Dubai and Australia. Emirate's wide body aircraft could also not be deployed to any New Zealand airport other than Auckland and Christchurch, including Wellington International Airport.
New entrants on the Tasman would also add significant capacity that would absorb any growth in passenger demand, Qantas and Emirates believed, they said.
The Qantas-Emirates Coordination Agreement has sweeping coverage
The alliance has many of the features of a metal neutral relationship, but the parties stopped short of specifically requesting that.
Under the so-called Coordination Agreement, the alliance involves coordination of pricing and capacity for passengers and freight on all routes the carriers operate.
There will be revenue sharing on all "trunk routes", which at first embrace:
(1) for Qantas: Australia to any destination via Dubai (for example, Sydney-Dubai-London Heathrow), and Australia to Dubai (including via any intermediary point); and
(2) for Emirates: Dubai to any point in Australia (including via any intermediary point) and Dubai to any destination via Australia (for example, Dubai-Sydney-Auckland).
On routes where bilateral agreements allow it, the pair will enter into "freestyle codeshare" arrangements, under which the virtual nature of codesharing is exemplified. With each partner having the right to sell seats on the other's flights, the airline actually operating the flight pays a commission to the marketing/selling partner for any seats (or cargo space) that partner sells.
The ACCC authorisation covers almost every imaginable coordination activity
Specifically, the Agreement will allow coordination across almost every imaginable feature of their respective passenger and freight operations, including:
"planning, scheduling, operating and capacity;
sales, marketing, advertising, promotion, distribution strategies, reservation priority and pricing (including fares, rebates, incentives and discounts), for passengers, freight customers and agents;
connectivity and integration of certain routes;
codeshare and interline arrangements
control of inventories and yield management functions;
frequent flyer programmes;
all passenger-related aspects to provide a superior, consistent level of service to customers including ground services and lounge access;
harmonising service and product standards in order to provide a seamless product to passengers;
harmonising IT systems;
joint airport facilities;
potentially establishing joint offices for sales activities;
potentially other aspects of operations including ground handling, catering, joint procurement and flight operations;
where appropriate and mutually agreed, making joint submissions to authorities on operational matters; and
services and activities that are required to facilitate any of the matters referred to above."
Qantas off the hook for a long-haul international strategy
Although not a silver bullet, Qantas can now breathe a huge sigh of relief that its international noise is more under control and get on with reorganising to address the growing threat posed by Virgin Australia across its range of activities at home and abroad.
Competing with Emirates and a host of other sixth freedom operators was becoming financially intolerable for Qantas, which reported an AUD450 million loss on its long haul international operations in the financial year to 30-Jun-2102.
Qantas' international market share has declined as liberalisation spread. Today it operates considerably less international seats than its three biggest sixth freedom competitors alone.
Qantas has 16.3% of the international seats operated to Australia for the week beginning 17-Dec-2012, according to Innovata data, while Emirates (10.2%), SIA (8.5%) and Cathay Pacific (6.9%) together account for 25.6% of seats.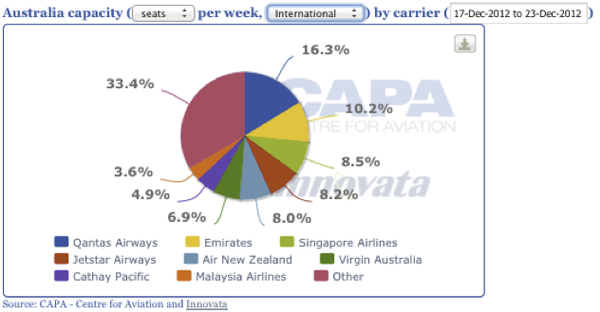 Australia's Minister for Infrastructure and Transport succinctly put it, "the solid commercial position provided by the alliance also provides the opportunity for Qantas to invest in additional aircraft capacity and international services, especially to meet the growth in Asia but also its broader international network".
The post agreement pre-tax upside for Qantas is expected to be in the realm of AUD100 million per annum. However, shortly after the application was made, CEO Alan Joyce stated that the result would also be for some AUD300 million in savings on longhaul services as a result of the deal.
The economics of long haul international operations for end of the line legacy carriers have been deteriorating for years, a process more recently accelerated by the rise and rise of the Gulf airlines.
As Emirates said in supporting the application to the ACCC, "the international aviation industry has never been as rapidly changing, vigorously competitive or volatile as it is now, and the need for legacy end-of-line carriers to innovate and embrace new business opportunities to ensure their survival is pressing".
Virgin Australia's concerns relatively muted, but fears Qantas entrenches its power domestically and in corporate deals
Qantas' growing competitor at home took a fairly relaxed approach to the partnership proposal, given Virgin's own huge steps to grow through partnerships – with Etihad, Singapore Airlines, Delta and Air New Zealand.
But it was concerned that the alliance would "make it more difficult for competitors to challenge Qantas' existing position, not only for international travel, but within domestic Australian travel and in relation to Australian corporate/government travel".
Now Emirates and Qantas can implement the full agreement in Apr-2013
Assuming the draft is finalised in Mar-2013, which accords with the ACCC's timetable, the new operation can enter into force in full on schedule the following month.
So one piece of a remarkable new world aviation system will be bolted down. As we come to the end of 2012, we can look back on a few short weeks when the evolution of the world's aviation system took a giant leap forwards towards rationalising what is however still an archaically regulated industry.