Virgin Australia and Air New Zealand apply for renewal of trans-Tasman alliance, without conditions
Analysis
Virgin Australia and Air New Zealand have applied to the ACCC for a five year renewal of their trans-Tasman alliance which expires on 31-Dec-2013. The renewal would replace the current arrangement that was approved for three years in Dec-2010.
This time around, however, the world has changed. Virgin Australia and Air NZ have requested that the carriers' need to maintain a base level of capacity on the trans-Tasman as a whole, and grow seasonal capacity on some routes, should be dropped as conditions from the renewed authorisation. The airlines claim they have demonstrated that their alliance is not harmful to consumers and has resulted in competitive responses from other airlines.
Furthermore, Virgin Australia and Air NZ say the capacity conditions may in fact be harmful to consumers by preventing the carriers from efficiently reacting to changes in market conditions.
The possibility of Qantas and Emirates extending their global alliance to the Tasman emphasises the need to renew the Virgin Australia-Air NZ alliance, according to the carriers.
Virgin Australia and Air NZ effectively merged their trans-Tasman operations under the alliance
Following ACCC approval, Virgin Australia and Air NZ commenced their alliance on 07-Jan-2011, allowing the carriers to cooperate on all trans-Tasman routes and to create a second integrated Australasian network in competition with the Qantas/Jetstar Group as well as Emirates.
The alliance covers three areas of cooperation:
- A broad free-sale codeshare arrangement covering all Tasman sectors and domestic sectors forming part of a connecting Tasman journey;
- A revenue allocation agreement supported by a joint trans-Tasman network planning and revenue management team; and
- A reciprocal frequent flyer and lounge access agreement.
The carriers have harmonised and integrated their products to provide a seamless service between the two brands.
The metal neutral structure ensures the commercial interests of both airlines are aligned to maximise passenger numbers and alliance revenue.
Air NZ has also built a 19.99% stake in Virgin Australia providing it with an interest in the number two airline in Australia and, through this, access to the opportunities in the growing Australian domestic market.
See related article: Air New Zealand acquires 'substantial' stake in Virgin Blue; step towards fuller alliance
For Virgin Australia the alliance is key to its "Game Change Program" providing access to the trans-Tasman corporate market through Air NZ. Without the alliance Virgin Australia could not compete with Qantas on the Tasman in terms of product and frequency.
For Air NZ the alliance provides access to onward connections in Australia via the Virgin Australia network and supporting sales and marketing functions.
The alliance has delivered 576 online connection options, increasing to 628 from May-2013 when Virgin Australia adds Bundaberg and Moranbah to its Australian domestic network. This is well in excess of the 420 online connection options anticipated in the initial application authorising the alliance.
Virgin Australia and Air NZ say the alliance has delivered substantial public benefits
The carriers claim that the alliance has already delivered on the core rationale and resulted in substantial public benefits. "Reauthorisation will result in further and deeper benefits as the alliance matures", the airlines say in their application for renewal to the ACCC.
Virgin Australia's cut over to a single SabreSonic reservation platform in Feb-2013 also clears the way for the potential expansion of interline cooperation beyond the Tasman and target dual-destination traffic and tourism into Australia and New Zealand from their respective global networks.
Costs savings are still to be fully realised under the alliance
The airlines say that the alliance has allowed them to make more efficient use of their fleets to create a more efficient network and schedule offering by maximising the advantage of each carrier's home hubs, without increasing fixed costs.
But Virgin Australia and Air NZ argue that many of the potential cost savings achievable under the alliance are yet to be realised, including further improvements in fleet planning, operational changes and negotiating more efficient contractual arrangements with suppliers.
Extending the Boeing 777 spare engine pooling agreement between the two carriers could also be extended to other engine types as an example of achieving further operational savings.
Corporate customers are attracted to Virgin Australia and Air NZ's joint network and benefits
Virgin Australia and Air NZ say they have experienced significant growth in corporate revenue as a result of their alliance, which has given Virgin Australia greater access to the corporate market than it would otherwise have had.
The greater scope of customer benefits available under the alliance, it says, has allowed the carriers to "retain significant corporate contracts and attract new corporate contracts which might previously have been signed with Qantas".
But restrictive capacity conditions limited the ability to quickly respond to market changes
The ACCC approved the alliance subject to capacity conditions, broadly requiring Virgin Australia and Air NZ to maintain a base level of capacity on the trans-Tasman as a whole and grow seasonal capacity on specific routes; Wellington-Brisbane/Melbourne/Sydney, Auckland-Brisbane, Queenstown-Sydney, and Dunedin-Brisbane, in line with the greater of economic growth or increased demand.
At the time the ACCC was concerned that on at least some of these routes the alliance would be likely to unilaterally raise fares. It ultimately accepted the carriers' proposed capacity conditions to address those concerns.
The carriers believe that after about 18 months of operation the alliance has demonstrated "compelling public benefits" and elicited a strong competitive response, including new entry and expansion by competitors, even on routes subject to capacity conditions.
China Airlines has commenced services on Auckland-Brisbane helping to substantially increase capacity on the route. Jetstar increased capacity by nearly 17% in the first year of the alliance while also commencing Queenstown-Sydney and boosting flights from other Australian points to Queenstown when it added a ninth A320 to its New Zealand-based fleet in Nov-2012.
"The competitive response to the alliance and the experience of the alliance's implementation to date demonstrate that there is no on-going requirement for the conditions. As such, the Applicants submit that the Alliance should be reauthorised without any capacity conditions," the carriers say in their application.
Capacity restrictions distort the market
In support of their argument, Virgin Australia and Air NZ say that the capacity conditions have a distorting effect on the market and have reduced their ability to quickly respond to demand changes that were outside of their control.
The airlines cite the material fall in demand for travel to and from Christchurch following the Feb-2011 earthquake as an example, where it took six months to gain a variation to the capacity conditions from the ACCC and the New Zealand Ministry of Transport.
Australian tourism numbers to Christchurch fell by more than 85,000 or 40% from the year ended Jun-2010 to the year endedJun-2012, according to Statistics New Zealand data.
In another example, a higher level than expected of flight cancellations in mid 2011 on Brisbane-Wellington and Sydney-Wellington services required additional capacity to be added at short notice to ensure the minimum capacity conditions were met on those routes, despite a lack of demand for the seats.
The Tasman is well served by a range of airline models
A total of seven carriers currently operate on the Tasman including high frequency offerings from Air NZ, Virgin Australia and Qantas, LCC Jetstar and full service fifth freedom carriers Emirates, LAN Airlines and China Airlines.
Australia to New Zealand (seats per week, one way): 19-Sep-2011 to 22-Sep-2013
Middle-Eastern and Asian carriers have shown increased interest in commencing services to Australia and New Zealand as well as the Tasman, where a very liberal access regime applies.
Emirates in particular has built a significant presence on the Tasman, operating about 12,200 one-way seats per week using a mix of Boeing 777-300ER and A380 aircraft. Emirates operates daily between Auckland and Sydney, Melbourne and Brisbane. The airline also operates daily between Sydney and Christchurch. These routes also account for the bulk of capacity on the Tasman.
China Airlines launched Taipei-Brisbane-Auckland service in 2011 and added Taipei-Sydney-Auckland in Oct-2012. China Airlines operates about 2,200 one-way seats per week on its Tasman services using A330-300 aircraft. The airline operates across the Tasman three times weekly from Brisbane and four times weekly from Sydney.
Auckland to Sydney, Melbourne and Brisbane are the three biggest trans-Tasman routes.
Trans-Tasman routes ranked by seats: 1-Apr-2013 to 7-Apr-2013
Air New Zealand dominates the Auckland-Sydney route, leveraging its strong position in the business market, offering about 7,000 one-way seats per week compared to Virgin Australia's 1,250 seats.
Similarly Air NZ offers about 4,500 one-way seats per week on Auckland-Melbourne against Virgin Australia's 1,250 weekly offering.
Auckland to Sydney (seats per week, one way): 19-Sep-2011 to 22-Sep-2013
The airlines argue that significantly reduced wingtip flying across the shared Tasman network has allowed Virgin Australia and Air NZ to redeploy duplicated capacity at different times of the day, providing passengers with a greater choice of flight timings.
Wingtip flying from pre-alliance year to year one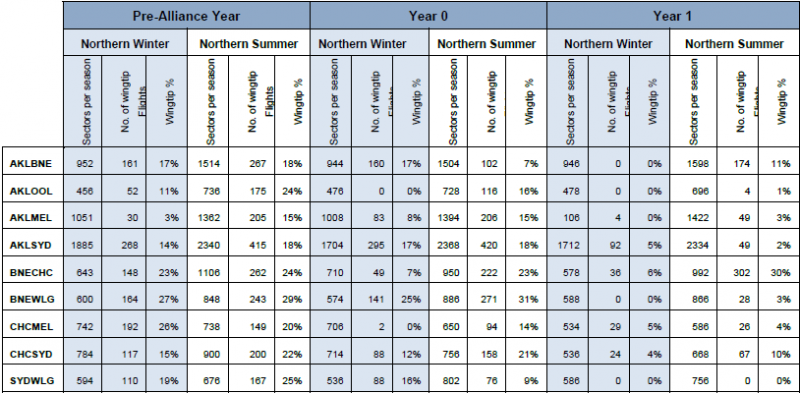 As a result of the partnership, passengers can also earn and burn frequent flyer points across the entire Virgin Australia and Air NZ networks.
Trans-Tasman capacity has increased significantly since the start of the alliance
Virgin Australia and Air NZ say in their application that capacity on the Tasman has increased significantly since the start of the alliance, with Jetstar and Emirates both expanding their operations.
In the year to 31-Oct-2012 Emirates increased capacity by 13.3%, Jetstar by 5.2%, LAN Airlines by 4.2% and Qantas by 2.1%, according to the Virgin Australia and Air NZ filing.
Summary of trans-Tasman capacity before and during the alliance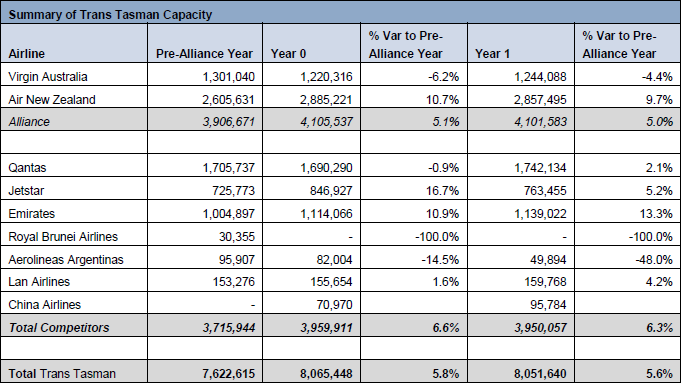 Virgin Australia and Air NZ say capacity increases and cost reductions have resulted in a decrease in their combined average base fares while the proportion of lead-in and sales fares sold has increased.
Over-capacity has been a long term feature of the price-sensitive Tasman market
The high density Tasman route has suffered from "excess capacity" over the years, resulting in extensive losses for Air NZ, Virgin Australia and Qantas. For Virgin Australia and Air NZ at least, the alliance has returned the route to profit following the introduction of Air NZ's "seats to suit" commoditised pricing structure.
Leisure traffic accounted for 73% of passengers in the year ended 30-Jun-2012 and business travellers 12%, according to figures provided to Virgin Australia and Air NZ by Australia's Department of Immigration and Citizenship.
The price sensitive nature of leisure travellers on the Tasman intensifies fare competition and also encourages airlines to attract higher yielding travellers, creating competition in both market segments, the two airlines say.
The alliance has, however, resulted in higher load factors and lower overall average cost per seat sold.
Trans-Tasman passengers (seats and load factors): Jan-1991 to Oct-2012
Qantas-Emirates await final regulatory approval to extend their alliance to the Tasman
Qantas and Emirates are still awaiting a decision from New Zealand Minister of Transport Gerry Brownlee whether to allow their global alliance to be extended to the Tasman. A decision had been expected by the end of Mar-2013, but has so far not been forthcoming.
The ACCC has already granted interim approval to add the Tasman component to their broader alliance which took effect on 01-Apr-2013.
Unlike the decision in Australia, which is made by the competition regulator, the minister, rather than New Zealand's equivalent, the New Zealand Commerce Commission, has the authority under the Civil Aviation Act 1990 to rule on arrangements between two airlines where the arrangement involves the fixing of tariffs or capacity of international air services, as is the case in the Qantas/Emirates alliance.
In approving an arrangement the minister must consider the effects of the arrangement on international comity between New Zealand and other states in relation to international aviation agreements.
He must also ensure that an arrangement does not disadvantage consumers or prevents competitors from entering the market.
The Qantas-Emirates alliance has met with stiffer resistance in New Zealand than was the case in Australia, particularly from airports concerned; they believe that the union will turn the competitive trans-Tasman route into an effective duopoly. The combination of Air New Zealand/Virgin Australia and Qantas/Jetstar/Emirates would provide about a 95% share of all capacity on the route - and all of the seats on routes other than to and from Auckland.
See related article: Qantas and Emirates trans-Tasman alliance in the hands of New Zealand's Transport Minister
Virgin Australia and Air NZ say a combined Qantas/Emirates means "there is an even greater need to reauthorise" their alliance to ensure competition and service and price pressure is maintained.
The ACCC is likely to grant their wish, but it is equally likely that some form of capacity conditions will be included to safeguard consumers.
Under the recent ACCC authorisation, Qantas and Emirates are required to maintain FY2012 capacity levels on four key trans-Tasman routes where their existing networks overlap. Those routes are Sydney-Auckland, Melbourne-Auckland, Brisbane-Auckland and Sydney-Christchurch which together accounted for about 65% of total seat capacity on the trans-Tasman in the year to 30-June-2012. (The NZ Transport Minister may however vary this, making for a complicated short term.)
Virgin Australia and Air NZ may be able to convince the ACCC to bring conditions of their alliance into line by dropping the requirement to grow capacity on routes where they currently enjoy a competitive advantage. Certainly the world has changed considerably in the past three years; and there is every indication that the inherent volatility of the market will continue for some time to come. Imposing long term conditions in these circumstances may not be the best way to achieve the goals sought by the regulator - as the two proponents argue, the original conditions if anything have actually inhibited the process of market responsiveness.