Brazilian airline Azul works to gain capital through an IPO; investors will need long term vision
Analysis
During the past few years the Brazilian airline Azul has acquired and merged with TRIP to grow its stature in Brazil's domestic market, and attempted to access the public markets at least two times. After securing equity investments from HNA Group and United, the airline is once again attempting to raise funds through an initial public offering.

Azul's decision to access the public markets once again falls against a backdrop of still tenuous economic conditions in Brazil. The airline has been adjusting its operations as Brazil's economy has weakened – through lower capacity growth, transferring aircraft to partner airlines and returning jets to lessors. However, Azul still has a healthy order book on hand for aircraft replacement and future expansion.

Although Azul's long haul flights to Fort Lauderdale and Orlando that were launched in late 2014 drew much fanfare, its international expansion continues to be measured, with expansion during 2017 pegged for South America, and most notably through the establishment of a new operation in Uruguay.
Azul has charted a solid path for growth since its launch in 2008
After its 2008 debut, Azul quickly gained prominence in the Brazilian market, offering a emerging middle class access to routes largely unserved by the country's larger airlines, and at a reasonable price. Its acquisition of, and merger with, TRIP in 2012 solidified Azul's position as the third largest domestic Brazilian airline, and the airline held a 17% domestic market share in 2016. The acquisition of TRIP essentially accelerated Azul's growth by four years.

See related reports:
After the TRIP acquisition Azul set its sights on long haul expansion, hoping to replicate the low cost, long haul model in Latin America.
In late 2014 it launched service from its headquarters and largest base at Campinas Viracopos to Fort Lauderdale and Orlando International. Plans for service to New York were eventually shelved as Brazil sank deep into a economic recession; however, Azul opted to introduce service from Recife to Orlando in late 2016.

In 2016 Azul introduced flights from Campinas to Lisbon as part of tie up with its codeshare partner TAP – the largest airline operating between Brazil and Europe. The launch follows the successful campaign of a consortium led by Azul founder and chairman David Neeleman to purchase a majority stake in TAP from the Portuguese government in 2015. Azul and TAP codeshare on various flights from each airline's respective hubs in Campinas and Lisbon.
Azul takes necessary steps to combat continued weakness in Brazil
Azul obviously has not been immune from the collapse in demand spurred by Brazil's two year long recession. After growing its ASKs by 18.6% in 2015, Azul cut its growth in 2016 by 2.4%. The airline calculates that domestic traffic within Brazil fell 5.7% in 2016, after jumping nearly 16% in 2011 when Brazil was enjoying a strong economy and a growing middle class eager to spend discretionary income on air travel.
Azul annual ASK growth: 2009 to 2016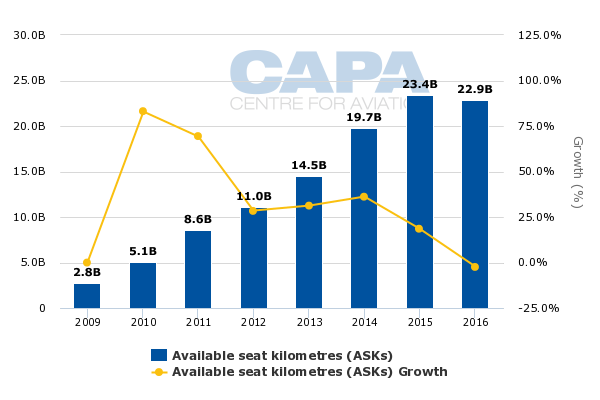 According to regulatory filings, Azul lost USD38.7 million in 2016 on USD2 billion in revenue. It has posted losses on an annual basis since 2014. The company's operating margin in 2016 was 5.1%.
Azul's financial results: 2014 to 2016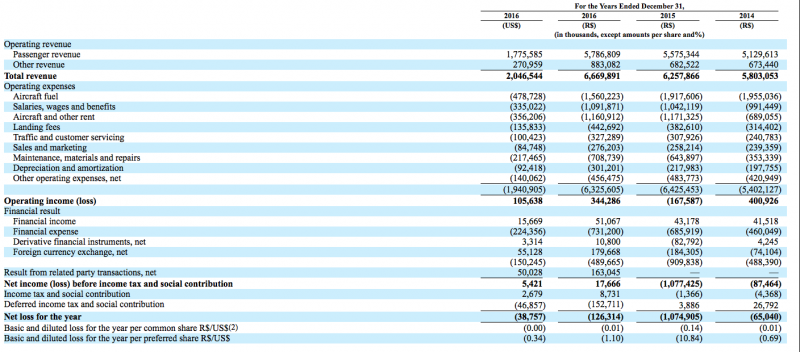 Azul's net loss for 2016 is not surprising, given the collapse in domestic pricing that accompanied waning demand. In addition to making capacity cuts to weather the down cycle, in 2016 Azul opted to sublease 15 aircraft to TAP and redeliver two aircraft to a lessor, and those were also subsequently leased to TAP.
Azul also plans to transfer two Airbus A350 widebody aircraft to HNA Group of China, which is now Azul's largest shareholder after investing USD450 million in the airline during 2016. United is also a small investor in Azul, and the two airlines also operate under a codesharing agreement; but the future of that relationship is questionable given United's recent decision to forge a deeper relationship with the South American airline group Avianca Holdings.
See related report: Avianca Holdings: United Airlines partnership and Synergy infusion raise more questions than answers

Although the depreciation of the BRL against the USD slowed to 4.4% in 2016 after soaring to 42% in 2015, Azul still faces challenges from currency fluctuations. The airline has said that as of YE2016 it owned 39 aircraft in its fleet of 139 shells, and 100 were debt financed or held under financial leases. Of the financed aircraft, 82.6% were denominated in the USD.

Similarly to other Latin American airlines, Azul is working to balance current economic weakness with untapped air travel growth both in Brazil and Latin America. As Azul works to craft a strategy to endure the economic weakness still rampant in Brazil, its positioning in the country will be strong once a full blown recovery begins.
As of YE2016, relative to its two major domestic competitors, 24% and 15% of its domestic network overlapped with GOL and LATAM Airlines Brazil, respectively, and on 70% of its routes Azul was the sole operator.
Azul route map as of YE2016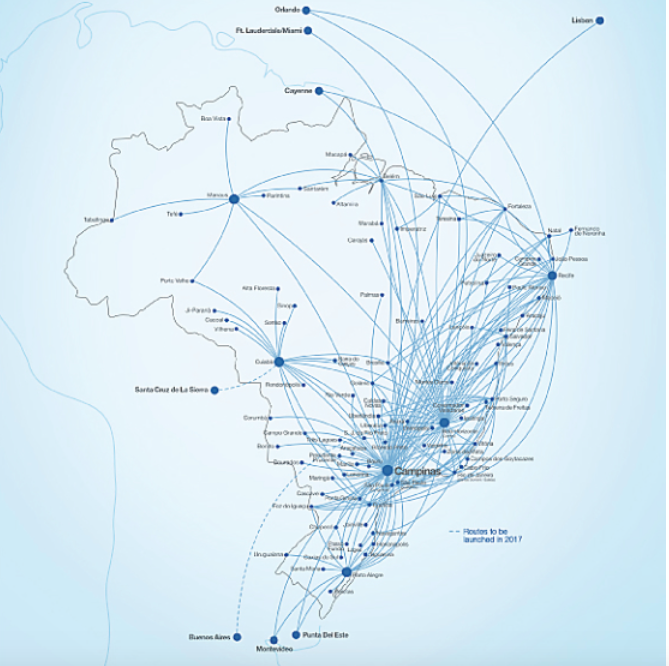 Azul's network diversification entails a new entity in Uruguay
Azul has not offered specific capacity guidance for 2017, but CAPA's fleet database indicates that the company has nine deliveries scheduled for the year.
Azul projected delivery dates for aircraft purchased from OEMs and leased from lessors as of 19-Feb-2017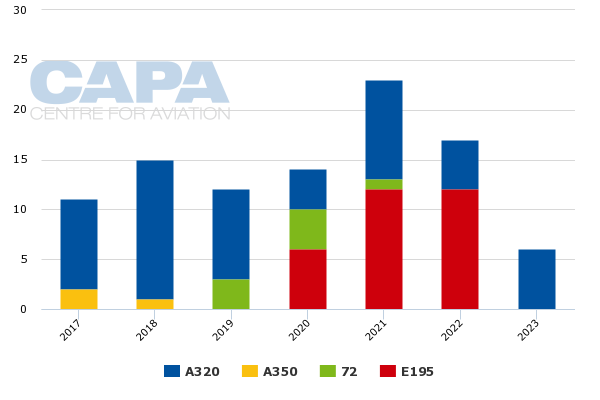 The airline calculates it should add 58 Airbus A320neos from 2017 to 2023, and 33 next generation Embraer E-Jets beginning in 2020. Some of those aircraft are pegged for replacement of Azul's existing operating fleet, and others are growth vehicles for the airline.

Azul's long haul ambitions appear to be taking a back seat during the short term, but the airline is expanding its international footprint within South America in 2017. Azul offers flights from Porto Alegre and Montevideo and Punta del Este in Uruguay and between Belem and Cayenne, French Guiana.

During Mar-2017 Azul aims to launch flights from Belo Horizonte to Buenos Aires, Argentina and from Cuiabá to Santa Cruz, Bolivia. Both of those markets are logical expansion points for Azul. Argentina has adopted a more liberalised mindset since a new government was elected in late 2015, and Bolivia's economic growth for 2017 is projected at 4%.

Azul is also setting up a new operation in Uruguay for service to Argentina. As previously reported by CAPA, Uruguay lost its national airline Pluna in 2012, and no strong replacement for the carrier has emerged.
Azul Uruguay plans to launch flights to Argentina in 2H2017. Service to Argentina was a major strategy of Pluna's business strategy, which was ultimately flawed due to the protectionist stance adopted by Argentina's previous government to shield state run Aerolineas Argentinas.
But the new administration has welcomed foreign competition, which is an opportunity Azul aims to capitalise on. The new operation in Uruguay also allows Azul to diversify its operations away from the still weak Brazilian domestic market. Nevertheless, Azul remains largely a Brazilian domestic airline, with 84% of its ASKs deployed on domestic routes.

Azul international vs domestic capacity (% of ASKs): 20-Feb-2017 to 26-Feb-2017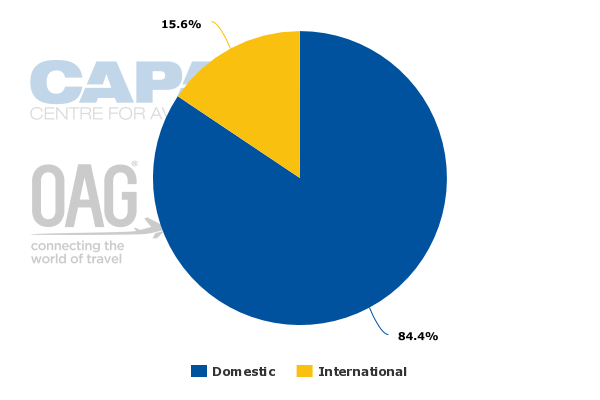 Potential investors need to take a long term view of Azul given Brazil's economy
It is not clear if Azul will be successful in its current attempt to access public markets. Brazil's economy is projected to grow by just 0.4% in 2017, and no airline is declaring that a recovery in domestic air travel demand is under way. Azul plans to use proceeds from its proposed IPO to pay off BRL333 million (USD107.2 million) in debt, and for general corporate purposes. At YE2016 Azul had USD168.5 million in cash and USD1.2 billion in loans and financing.

But Brazil remains a growth market over the long term, with some estimates showing 131 million domestic passengers by 2021, compared with 89 million in 2016 (down from 96 million in 2015). Azul has positioned itself well to capitalise on the growth, but given the current uncertainty in Brazil's operating environment, investors need to look toward the airline as a long term venture, rather than to expect that they will make short term gains.
Azul has to make the case for its long term strategy for would be investors
Azul was arguably a market disruptor when it debuted in 2008, and over the course of nine years the airline has built up a strong brand and operation within the country. During the past couple of years Azul has taken steps to mitigate the effects of weakening demand by adjusting its aircraft order book and fleet, forging partnerships to broaden its network reach and securing equity investments.

The airline is now looking to raise additional funds through the public markets, and it is up to would be investors to determine whether they have the wherewithal to see Azul through the still challenging operating environment in Brazil to realise potential long term gains.