Brazil: LATAM and Gol tout capacity discipline. Azul looks outward and Avianca Brazil grows share
Analysis
As Latin America begins a slow climb from economic weakness that has plagued the region during the past two years, airlines operating within, to, and from the area's largest market Brazil are hoping conditions in the country's domestic market stabilise during 2017, after the country's recession has shattered demand in Latin America's largest market.

Brazil's two largest airlines Gol and LATAM Airlines Brazil remain cautious about the country's domestic environment, at the end of 2016 concluding that excess capacity remained on domestic routes, despite their own capacity reductions within Brazil's domestic network. Additionally, neither airline seemed particularly bullish that pricing in the Brazilian market had started to stabilise.

The country's third and fourth largest airlines, Azul and Avianca Brazil, each have fairly robust aircraft order books, which triggers questions about each company's growth strategy for the short and medium term. Azul is expanding its international footprint in South America, including possibly examining the establishment of a larger footprint in Uruguay. Avianca Brazil's major shareholder is turning its attention to other Latin American markets, and the airline's strategy going forward remains somewhat unclear.
LATAM loses Brazilian domestic market share while Avianca Brazil grows to expand share
Brazil's economy could climb out of two years of economic retraction in 2017 with flat economic growth, which should help Latin America's overall recovery. During Brazil's two year long recession, demand on the country's domestic air routes has vaporised.

Both of the country's largest domestic airlines Gol and LATAM Airlines Brazil have logged significant capacity reductions within the country during the past two years. For the 11M ending in Nov-2016, data from Brazil's ANAC show that LATAM's capacity fell 12% and Gol's supply dropped 5% year-on-year. Azul's capacity has also fallen during 2016 and for the Jan-Nov period the airline posted a 5% decline in domestic supply, while Avianca Brazil grew its capacity by 14% year-on-year. Overall, Brazil's domestic ASKs fell 5% year-on-year from Jan-2016 to Nov-2016, and RPKs fell by a similar level.

LATAM Airlines Brazil has undergone a drop in its domestic market share in 2016, and for the 11M ending in November its share dropped to 35%, from 36.9% the year prior.
For 2017 LATAM Airlines Brazil is slowing its capacity decreases in the Brazilian domestic market to a range of flat growth to a drop of 2%. The slowing of its capacity declines is likely driven in part by LATAM's desire to keep its market share intact without ceding more of the market to its competitors.
Gol and Azul's respective domestic market shares remained steady year-on-year for the 11M ending Nov-2016, while Avianca Brazil grew its domestic market share from 9.4% to 11.4%.
Domestic market share among Brazil's four largest airlines: Jan-2016 to Nov-2016 vs Jan-2015 to Nov-2015
Brazil's two largest airlines are not finding distinct upward trends in domestic pricing
Gol has not offered specific capacity guidance for 2017 but its fleet is reducing by five aircraft, and it is likely the airline will keep is domestic capacity in check, given that near the end of 2016 company executives said that seat kilometres in Brazil were growing ahead of GDP.
Brazil's GDP is expected to contract by approximately 3.8% in 2016, and growth projections for 2017 have ranged from 0.4% to 1.5%. Data from CAPA and OAG for the week of 16-Jan-2016 show that Brazil's domestic ASKs have fallen approximately 2.3% year-on-year.
Brazil weekly domestic ASKs: 2014 through mid 2017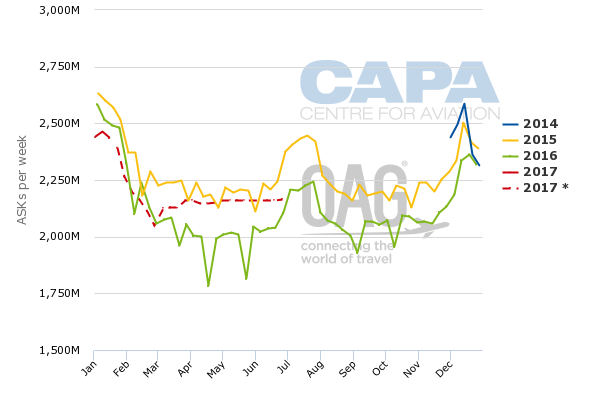 See related report: LATAM and Gol: Excess capacity could threaten arrival of crucial recovery in Brazil domestic market

Neither Gol nor LATAM Airlines Brazil has declared any definitive signs of recovery to have emerged in the country's domestic market. At the end of 2016 LATAM noted that declines in demand were decelerating, but a pick up had yet to materialise. The company also declared it was tough to discern any concrete improvement of pricing trends within Brazil.
Azul deploys new A320neos on domestic routes. Its narrowbody order book remains robust
Privately held Azul and Avianca Brazil have not disclosed their capacity projections for 2017, but each airline has a steady stream of deliveries planned for the year.

CAPA's fleet database shows Azul is scheduled to take delivery of 10 Airbus A330neos and two Airbus A350s in 2017.
Azul projected delivery dates for aircraft purchased from OEMs and leased from lessors as of 20-Jan-2017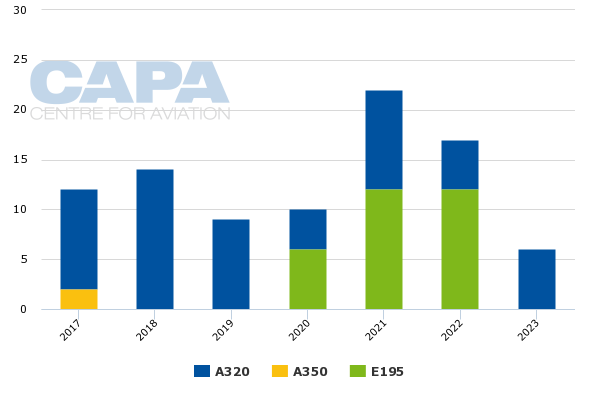 Azul has 58 Airbus A320neo family aircraft on order, alongside the two A350s and 30 Embraer E195-E2 jets.
Azul fleet summary as of 20-Jan-2017
The airline has five A320neos in its fleet and some of the aircraft are deployed onto domestic routes, including São Paulo Guarulhos and Campinas to Recife, Fortaleza to Recife and Belo Horizonte to Belem.

Azul is continuing to bolster its domestic network in 2017 with a push from Recife to Jericoacoara and Mossoró. On a system wide basis, Azul is the largest airline operating from Recife, holding a 33% seat share.
Recife Guararapes International Airport capacity by airline (% of seats): 16-Jan-2017 to 22-Jan-2017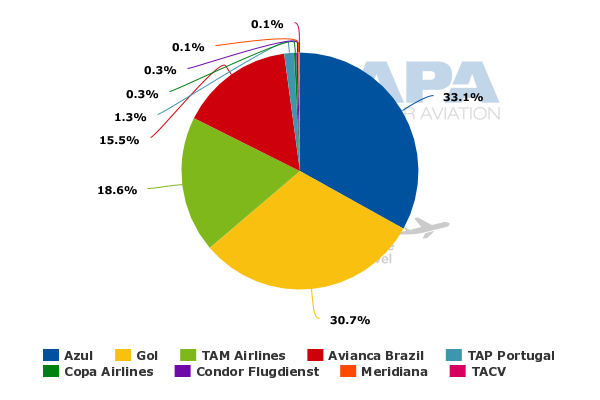 Recife is the airline's third largest base measured by destinations served.
Azul global top 10 hubs/bases/stations by destinations served: 16-Jan-2017 to 22-Jan-2017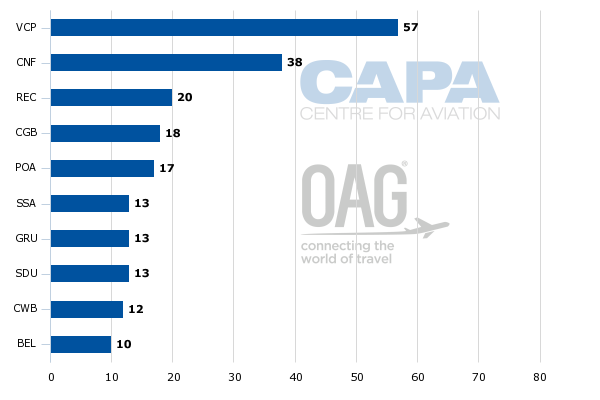 Azul could be examining a larger footprint in Uruguay to serve regional routes
Azul posted a 16% jump in international ASKs year-on-year for the 11M ending Nov-2016 and its international traffic grew 21%. During the past couple of years Azul has launched long haul flights to Fort Lauderdale, Orlando and Lisbon (home to TAP, which is majority owned by a consortium headed by Azul Chairman David Neeleman).

The airline's new international service within South America includes flights from Belem and Fortaleza to Cayenne, Porto Alegre to Montevideo and Campinas and Porto Alegre to Punta del Este.

During Feb-2017 Azul plans to launch new service from Belo Horizonte to Buenos Aires, a route that its rival Gol is also entering at the same time. Azul has also expressed an interest in launching flights to Santa Cruz, Bolivia, which is a logical choice given Bolivia's economic outlook. The country's projected GDP growth for 2016 and 2017 is 4%.

Several reports have surfaced recently about Azul's interest in expanding its footprint in Uruguay, a country that has been without a national airline since the demise of Pluna in 2012. Uruguayan airlines BQB was acquired by Amazonas in 2015 and relaunched as Amazonas Uruguay, but CAPA's fleet database shows the airline has virtually no scale, operating a single Bombardier CRJ200 on service from Montevideo to Buenos Aires and Asunción, and Punta del Este to Buenos Aires.

One of the flaws of Pluna's business model was relying heavily on service to Argentina – a challenge under the country's previous government, which adopted protectionist stances to protect the state run Aerolineas Argentinas. But the new administration that took office in late 2015 has adopted a more liberalised stance, encouraging competition on international routes.

See related report: Argentina aviation Part 1: Avianca, Copa & LATAM promote international traffic at secondary cities

Azul has reportedly met with Uruguayan officials about possibly undertaking domestic operations in Uruguay and building a base at the country's main airport, Montevideo. The company obviously foresees an opportunity now that Argentina has adopted a more liberalised mindset regarding air services. Azul's Embraer 195 jets could be well suited to serving some of the short haul intra South American routes from Montevideo.
However, no formal plans have emerged regarding Azul's aspirations for Uruguay, and at times government negotiations regarding new air service in Latin America can drag on for extended periods of time.
Avianca Brazil's ultimate strategy seems murky as its parent Synergy focuses on other markets
Avianca Brazil has not opted for rapid international expansion, reflected in its lone, once weekly route from Fortaleza to Bogotá. The airline has kept expanding its domestic supply during Brazil's recession in 2016, likely trading off yields to build loads – to continue building its domestic market share.
Avianca Brazil monthly - Domestic available seat kilometres (ASKs): 2008 2016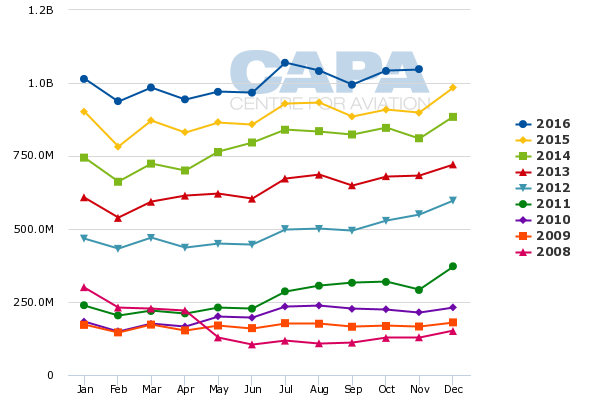 After Avianca has got rid of its Fokker 100 fleet the airline's fleet age is now approximately four years old, and the 78 aircraft it has on order are presumably for growth.
Avianca Brazil fleet summary as of 20-Jan-2017
The airline may look to rid itself of smaller gauge A318s and A319s to focus on larger gauge aircraft, and CAPA's fleet database shows the airline has seven of the A318s listed as inactive.
Avianca Brazil's delivery schedule shows the airline has no narrowbody deliveries planned for 2018 or 2019, but is due to take delivery of A350s starting this year, in 2017. Most of the larger Latin American airlines groups, including LATAM Airlines Group and Avianca Holdings, have readjusted their order books, pushing back deliveries to free up cash commitments until the region's fortunes improve.
Avianca Brazil projected delivery dates for aircraft purchased from OEMs and leased from lessors as of 20-Jan-2017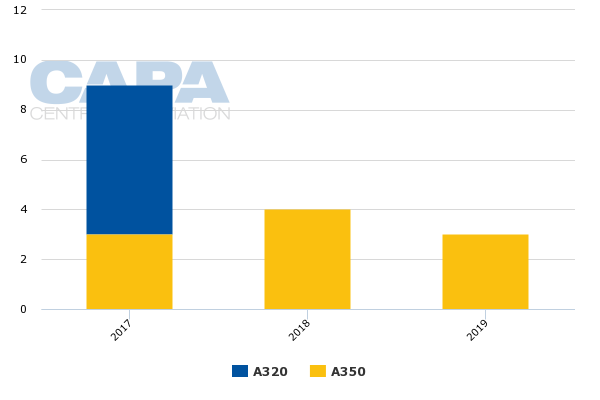 It is not clear how Avianca Brazil intends to use its A350 widebodies. The airline's owner Synergy group has been focused on establishing an airline in Argentina operating ATR turboprops, and it plans to acquire a 49% stake in the Mexican regional airline Aeromar.
Furthermore, Avianca Holdings, of which Synergy is the majority shareholder, is seeking a strategic investor partner, with Delta, United and Copa Airlines reportedly interested in the company. It is not clear whether Synergy would cede its control of the company, which may deter would be suitors for Avianca Holdings.

See related reports:
Avianca Brazil and Avianca codeshare together but have no other formal ties, even though Synergy is the major shareholder of each entity. As Synergy turns its attention to other Latin American markets and possibly relinquishes its stake in Avianca Holdings, Avianca Brazil's future direction remains murky.
Brazil's airlines should prepare for a long recovery period in the country's domestic market
Achieving stability appears to be the main objective for Brazil's two largest airlines in 2017 while its third largest airline, Azul, could be crafting a strategy to broaden its footprint in Latin America, which – despite the recent economic weakness – holds much air traffic potential.

Brazil's long term air traffic potential could support four large airlines, and Avianca Brazil continues its work to ensure it holds a strong spot in the country's domestic market once traffic rebounds. But in the short term, it too may need to consider expanding outside Brazil's domestic market in order not to rely so heavily on a region whose recovery could take years to complete.