No bottom in sight for Air New Zealand (except their ads)
Air New Zealand's yields continued to crumble last month. According to The Centre's calculations, Group yields fell 4.9% last month (following a 1.1% increase in May-2009). And short-haul yields took a hammering following Jetstar's entry in the domestic market. Air New Zealand's domestic yields fell 10.5% last month, following a 4.5% fall in May-2009. Long-haul yields were flat in Jun-2009, following a 7.2% increase in May (they were growing as much as 21% in Feb-2009).
The only bottom in sight for Air New Zealand can be found at the end of their latest ad campaign, 'Air New Zealand staff have nothing to hide".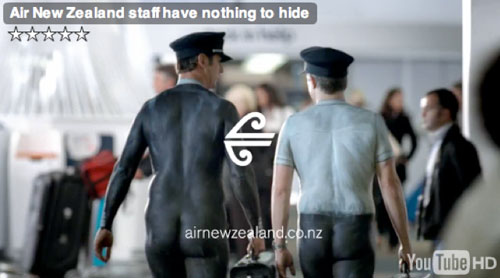 Air New Zealand's group yields, excluding exchange rate effects, were down 9.1% last month, marking a further serious deterioration for the national airline.
Air New Zealand Group yields including and excluding exchange rate effects (% change year-on-year): Jul-08 to Jun-09
Long-haul yields, excluding exchange, have come down sharply from growth levels above 20% at the start of 2009 (meanwhile, the NZ dollar has gained 13.8% against the US dollar since the start of 2009, but depreciated 1.5% against the Australian dollar).
Air New Zealand short- vs long-haul yields (excluding exchange) (% change year-on-year): Jul-08 to Jun-09
Shakeout looming
Short-haul markets are of key concern for the airline. Unlike Air New Zealand (which retains a dominant position, particularly in the high yielding domestic regional markets), its domestic and Tasman rivals, Pacific Blue and Jetstar, would be exposed to the full force of yield declines on key trunk routes. The probability is therefore that their average yields will substantially lag Air New Zealand's.
The current situation is sustainable, particularly the domestic New Zealand context, where a shakeout could be looming.
Qantas last month reported its international group yields collapsed by 24.6% in May-2009 (excluding exchange rate influences), while domestic yields fell 8.7%.
Air NZ's load factors improve, as capacity is reduced
A point in Air New Zealand's favour is that while yields are falling, load factors are rising, as it takes a proactive approach to cutting capacity. The problem is that a sustained loss of market share reduces Air New Zealand's ability to influence pricing in the future.
In Jun-2009, Air New Zealand carried 1.1m passengers, down 5.5% on the same month last year. Load factors increased across the airline as proactive capacity management continued to reduce costs on the back of lower passenger numbers. The airline's capacity was reduced by 12.3% compared with the same month last year and the Group's passenger load factor increased by 2.0 ppts.
Short haul passenger numbers were down 4.0% compared to June last year. The Domestic airline's load factor increased by 2.6 ppts and the Tasman / Pacific load factor increased by 3.8 ppts, as capacity was reduced.
There is not much comfort to be had either in the long haul segment. Passenger numbers decreased by 14.0% and capacity was reduced by 14.7% on the same month last year, holding long haul load factors almost steady - but with substantially lower yields.
There was one - hopefully temporary - negative. Air New Zealand stated the swine flu scare "continued to soften demand out of Japan, with passenger numbers on Asia / Japan / UK routes down 25% on last June. Capacity was reduced by combining flights from Osaka and Tokyo into a single flight. Overall the load factor on Asia / Japan / UK routes increased slightly".
Outlook: Competition to intensify
Majority government-owned Air New Zealand still has a decent balance sheet and has no aircraft deliveries due in the 2010 financial year. The first Boeing 777-300ER is scheduled for delivery in Nov-2010. By then, the competitive landscape in New Zealand could be very different.
Jetstar's aggressive push on the Tasman and in domestic New Zealand will not go away. Meanwhile, Pacific Blue is fighting to maintain a presence domestically, currently looking the most fragile of the three domestic jet operators (although parent Virgin Blue does have a growing fleet of Embraer regional jets that could be used to access more regional points in New Zealand). All of this will continue the downward pressure on yields.
For Air New Zealand, one piece of respite might be gained if Pacific Blue were to retire hurt. But if rumours of a cashed-up Middle East airline buyer for Virgin Blue prove correct, the competition will only intensify.