NewLeaf: the Canadian ULCC readies for launch as a "virtual" airline, and WestJet is ready to pounce
Analysis
Canadian ULCC NewLeaf Travel plans to make its debut in Jul-2016 after clearing up some uncertainty over correct licensing requirements. NewLeaf is a travel reseller, with its partner Flair Airlines operating aircraft on the new routes. NewLeaf's different approach has unsurprisingly drawn scrutiny, with questions arising over the viability of a "virtual" airline.

NewLeaf stresses that its strategy is more capital-efficient, and delivers better returns to shareholders by bringing the ULCC concept to market more quickly than other entities attempting to establish a ULCC presence in Canada. Jetlines, which is attempting to launch as a clean-sheet entity, is seeking an exemption from Canada's restrictive rules governing foreign ownership of airlines – in order to attract non-Canadian investors with experience in establishing ultra-low cost airlines.

During the past three years the Canadian ULCC start-ups attempting to establish themselves have been lumped with failed carriers including Jetsgo, Zoom and Skyservice. Obviously it is too soon to tell if NewLeaf and Jetlines will succumb to the same fate, but there is no question that there are opportunities to stimulate traffic in Canada. However, Canada's second largest airline WestJet is already making moves into NewLeaf's markets, and will use its significant market power to compete fiercely against the start-up ULCC.
NewLeaf works to educate passengers about the no-frills model prior to launch
NewLeaf originally intended to introduce flights in early 2016, but questions surfaced whether it was necessary for NewLeaf – as a reseller – to hold its own licence. In late 2015 Canadian regulators launched a review to determine whether resellers would need a separate licence. They concluded that as long as those companies do not operate aircraft – they charter an entire aircraft's capacity for resale to the public and the air carrier holds appropriate licensing – a separate licence is not necessary.

During the time when NewLeaf suspended ticket sales the company was significantly active on social media, urging Canadian travellers to sign a petition to accelerate the licensing review. On Twitter NewLeaf declared that since it had halted sales, "travel prices are back to flying high".

See related report: Canada's ULCCs need a clear path to launch if they are to establish market place credibility

Now that the airline has set a 25-Jul-2016 launch date, NewLeaf is using social media to educate its passengers about how to book and travel with the airline. The company is being proactive prior to launch, attempting to ensure that passenger expectations match the no-frills product the company is delivering.
Perhaps NewLeaf is attempting to avoid the backlash that US ULCCs Spirit and Frontier have received during the last few years. In 2014 Spirit launched a customer education campaign, but the airline still garners the highest number of consumer complaints logged by the US DoT. The latest data available for Apr-2016 show that Spirit's complaints per 100,000 enplanements were 6.81, and the airline was ranked last place in consumer complaints among the 12 airlines tracked by the agency.

See related report: Spirit Airlines makes some progress in operations, but still lags its peers in key metrics

NewLeaf recently announced that former Spirit Airlines CEO Ben Baldanza had been named Chairman of its board. Since abruptly departing Spirit in early 2016 Mr Baldanza has also joined the board of the Icelandic low cost airline Wow Air.

Given that Mr Baldanza was instrumental in ushering in the ULCC movement in the US he offers a certain level of credibility to NewLeaf – even as he departed Spirit amid rapid capacity growth and falling unit revenues. Prior to those dynamics setting in Spirit was one of the most profitable US airlines, and Mr Baldanza can no doubt offer some insight from his lessons learned at Spirit – both positive and negative – during his tenure.
NewLeaf's virtual approach reflects a certain practicality in being first to market
In the past the term virtual airline has triggered negative connotations, and there is no doubt that NewLeaf's approach has a certain number of detractors. But its strategy is also low-risk: using existing equipment and operating licences to be a first mover in the Canadian ULCC space and determine if the concept is viable in Canada's aviation market.

Earlier this year at the CAPA Americas Summit NewLeaf CEO Jim Young explained that there was available capacity in the Canadian market – due to falling demand for the transport of workers to mining sites in the country's Northern provinces. As a result, NewLeaf opted to partner with Flair, which operates six Boeing 737-400 Classic aircraft.

NewLeaf's strategy allows it to offer better returns to shareholders by delivering an ultra-low cost product to the market more quickly than taking a year or two years to develop a new airline from a clean sheet of paper, said Mr Young.

See related report: CAPA Americas Summit: Canada holds much promise, but the status quo persists

Taking a less intense capital approach to establishing a ULCC could prove to be a shrewd strategy for NewLeaf. Its would-be competitor, Jetlines has been working to raise capital and recently petitioned the Canadian government for an exemption from the current 25% foreign ownership restriction on Canadian airlines.
Through the exemption Jetlines seeks a 49% foreign voting interest in order to "facilitate investment into Jetlines by international investors that specialize in investing in and supporting start-up Ultra Low Cost Carriers (ULCC) throughout the world", the company stated.

In early 2016 Jetlines forged a merger agreement with Jet Metal, and will eventually start trading on the Toronto Stock Exchange as Canada Jetlines – once all the requisite approvals are obtained. At one point Jetlines was seeking to engage in an initial public offering in late 2015, and launch six months afterwards. Obviously its launch date has moved to the right.

As Jetlines continues work to secure investors with a launch date that is a continually moving target, for the moment NewLeaf's strategy seems slightly more practical.
Canada's duopoly presents the greatest challenge and opportunity for new entrants
At launch NewLeaf plans to introduce numerous routes between Halifax, Moncton, Hamilton, Winnipeg, Regina, Saskatoon, Edmonton, Kelowna, Kamloops, Fort St. John, Abbotsford and Victoria (see background info). It is serving each route less than daily, with most frequencies ranging from two to three per week.

NewLeaf is competing with WestJet on flights from Edmonton to Victoria and Abbotsford to Edmonton. Schedules from CAPA and OAG show that WestJet served Kamloops-Edmonton until early 2016.

Beginning in late Jul-2016 WestJet also plans to add flights on two of NewLeaf's routes – Edmonton to Toronto Hamilton (four times weekly) and Winnipeg to Kelowna (three times weekly). Those flights are a direct response to NewLeaf's market entry, and not unexpected. WestJet will no doubt compete vigorously with NewLeaf, and match the new entrant's fares for as long as it takes for WestJet to prevail.

Canada's longstanding airline duopoly between Air Canada and WestJet presents both the greatest challenge and greatest opportunity for ULCCs. Those two airlines control 85% of domestic seats in Canada, and Mr Young has stated that there is a market of disenfranchised customers in the country who have been priced out of air travel.
Canada domestic capacity by airline (% of seats): 27-Jun-2016 to 3-Jul-2016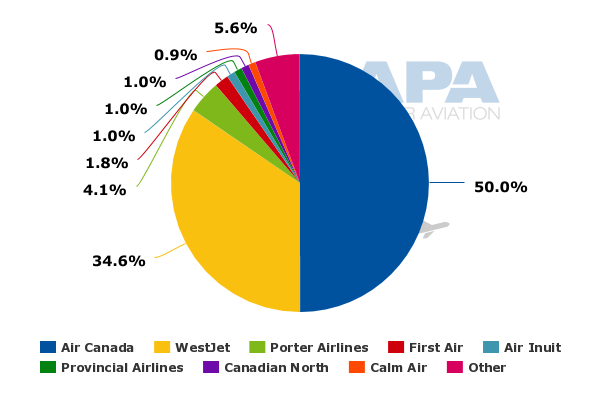 Mr Young has also highlighted that WestJet and Air Canada operate hub and spoke networks, and customers living in secondary cities have to travel through Vancouver, Toronto or Winnipeg to get to any other place in Canada.
Data from CAPA and OAG show that Toronto, Calgary and Vancouver represent roughly 60% of Canada's domestic seats (for the week of 27-Jul-2016 to 3-Jul-2016).
Top ten Canadian airports measured by domestic departures (number of seats): 27-Jul-2016 to 3-Jul-2016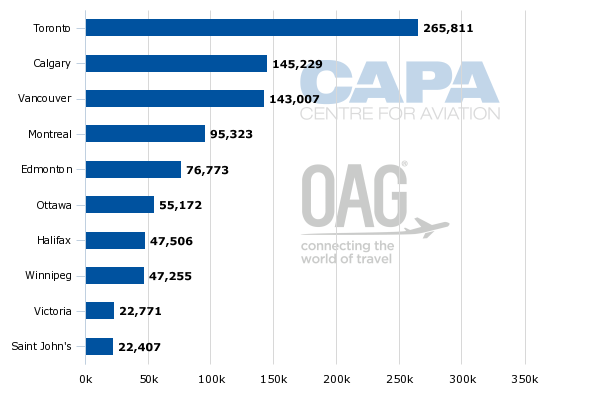 But WestJet's moves in some of NewLeaf's markets also reflect the scale that it – and Air Canada – can leverage against much smaller, less capitalised rivals. That scenario creates formidable challenges for new entrants, but the obstacles are not insurmountable.
The ULCC concept is becoming more understood, and in the current environment Canadian consumers may be more accepting of a different business model.
NewLeaf deserves an opportunity to offer Canadians an alternative WestJet and Air Canada
Some level of scepticism of Canadian new entrants is understandable, given the list of airlines that have come and gone in the market. Admittedly, there have been fits and starts by the new crop of ULCCs aiming to execute the no-frills model in the country.

But NewLeaf deserves a chance to launch and determine if Canadian consumers are ready to embrace the ULCC model. Canadians deserve more options for air travel, even if the country's two largest airline think otherwise.
Background information
NewLeaf's schedule for its Jul-2016 debut, as of Jun-2016