Canada's ULCCs need a clear path to launch if they are to establish market place credibility
Analysis
The beginning of 2016 held much promise for aspiring ULCCs in Canada as NewLeaf Travel unveiled its routes for a Feb-2016 debut. But the company postponed its launch while Canadian regulators review certain licensing procedures. The ULCC movement in Canada began with much fanfare in late 2013, but then quietened down until a third new entrant – Enerjet– outlined its plans to adopt the model in Canada, in mid-2015.

After NewLeaf delayed its debut, the first company to emerge as a ULCC contender in Canada, Jetlines, firmed a deal to engage in a second reverse takeover with a company listed on the Toronto Stock Exchange. The proposed transaction is designed to raise the necessary funds for launch. Jetlines' first attempt at a similar transaction resulted in litigation that was later settled out of court.

All the fits and starts among the pool of upstart Canadian ULCCs are creating some scepticism about their tenure in the country's duopolistic airline industry, and they will need customer confidence. In parallel, the current Canadian economic environment may not prove to be the most fertile ground for new entrant airlines.
NewLeaf's leaves are clipped as the government scrutinises licensing requirements

In mid-2015 NewLeaf emerged, headed by former Jetlines executive Jim Young. Its plan was to partner with Kelowna-based charter company Flair Airlines, which was to provide Boeing 737-400 Classic aircraft and crews for NewLeaf's ULCC operations. At that time, it seemed that NewLeaf was adopting a business model similar to the US-based Allegiant Airlines, by which it aimed to offer both air travel and vacation packages.

See related report: The pool of aspiring ULCCs in Canada grows. Is there room for three ultra discount airlines?

In Jan-2016 NewLeaf unveiled routes that it planned to start operating in Feb-2016. None of the planned routes had more than two weekly frequencies, which would have resulted in a small footprint in the Canadian market place. Its introductory fares ranged from CAD89 (USD66) to CAD149 (USD111) based on length of haul. (see: background information)

See related report: Canada's airlines Part 3: startup ULCC NewLeaf buds in the early spring, with a modest beginning

By working with the established operator Flair, in theory NewLeaf was aiming to be the first ULCC to the market.
According to the news outlet The Globe and Mail, Mr Young stated that the Canadian Transportation Agency had confirmed that the company was in compliance with licensing regulations. But once the review commenced he cited ambiguity around whether NewLeaf needs to amend the relationship with Flair or have its own licence.
For clarification, Canadian regulators stated they launched a review in late 2015 as to whether companies that bulk purchase seats on aircraft, and resell those seats to the public without operating the aircraft would be required to hold a licence. The CTA stated that during its review of the bulk purchase business model those companies would not be required to to seek a license as long as they do not operate aircraft, they charter an entire aircraft's capacity for resale to the public and the air carrier holds appropriate licensing.

It is an unfortunate setback, and NewLeaf immediately said that it was refunding passengers that had already booked flights. It has an ongoing social media campaign on Twitter, urging Canadian travellers to sign a petition to accelerate the licensing review. On the site NewLeaf declared that since it had halted sales, "travel prices are back to flying high".

That may be the case in some markets, but Canada's second largest airline and original low cost carrier WestJet posted a 4.2% drop in yields year-on-year for 4Q2015, and it is projecting a 7% to 10% drop in unit revenues for 1Q2016. Most of the weakness in early 2016 is driven by Alberta's depressed economy, which is dependent on the energy sector. But the weakness in oil and gas markets does ripple through Canada's overall economy, which is forecast to grow just 1.6% in 2016.
GDP Growth of Canada (Percent change): 2010 to 2020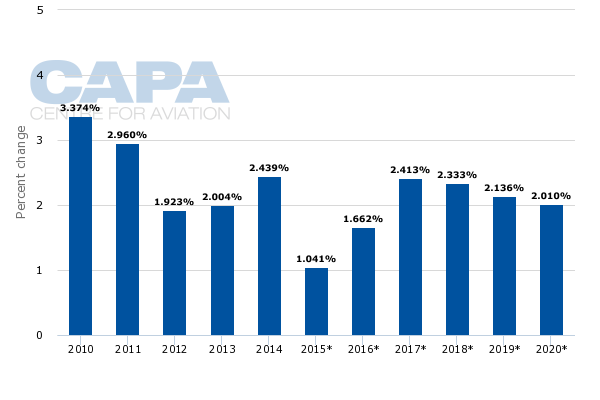 See related report: WestJet pushes ahead with its widebody evolution as its stock valuation has fallen by half
As NewLeaf hiccups, Jetlines takes a step to secure start-up funding
After NewLeaf was grounded in early 2016, Jetlines stated that it had reached a letter of intent with Jet Metal, which is listed on the TSX Venture exchange, to forge a reverse takeover in order to help Jetlines raise start-up funds.

Jetlines has previously attempted a reverse takeover with Inovent Capital, but those plans fell through and resulted in Invovent suing Jetlines over a loan it had made to the airline. Eventually the litigation was settled out of court, with Jetlines agreeing to pay Inovent CAD105,000 (USD78,330).

At the time that it announced the letter of intent with Jet Metal – a uranium exploring company – Jetlines offered an update about its funding strategy. The company said that it received funding interest from multiple sources, but challenges emerged in the public markets during 2015. "As the major stock indexes fell, so did the listed share value of airlines stocks," Jetlines concluded. As a result, Jetlines was advised that it would get caught in that undervaluation if it went public in 2015. With the onset of 2016, Jetlines stated that it was garnering renewed investment interest from several financial organisations.

At one point Jetlines was seeking an IPO in Sep-2015, and aimed to launch six months after. Obviously that launch period will be pushed back as it works to secure the necessary funding to establish itself as a ULCC airline. The company has estimated that it needs full funding of CAD50 million (USD37 million).

Enerjet's plans seem the most uncertain. At one point it had lined up Octagon Capital to raise funding, but it has remained the quietest among the three potential Canadian ULCCs.
Economic uncertainty, and competitors flexing their muscles, await Canadian ULCCs
Canada Jetlines has estimated that 10 million Canadians could have the ability to travel with access to lower fares, and NewLeaf has concluded that 70% of the country's inhabitants do not travel by air as a result of high fares. But as those airlines work to launch they are facing general macroeconomic uncertainty, and heightened awareness by large North American airlines about the potential threats of ULCCs.

A travel survey of Canadian residents released by Statistics Canada in Feb-2016 shows that in 3Q2015 the number of domestic trips grew 4.1% year-on-year, and total expenditures increased 6% to CAD17.3 billion.

Yet prospects for the Canadian economy are mixed at the beginning of 2016. The country's unemployment rate for Jan-2016 was 7.2%, and is projected to remain around the 7% range for the full year. Canada's consumer confidence remains relatively positive, but household consumption expenditure fell to 1.9% in 2015, from 2.4% the year prior.
Unemployment rate of Canada (Percent of total labour force): 2010 to 2020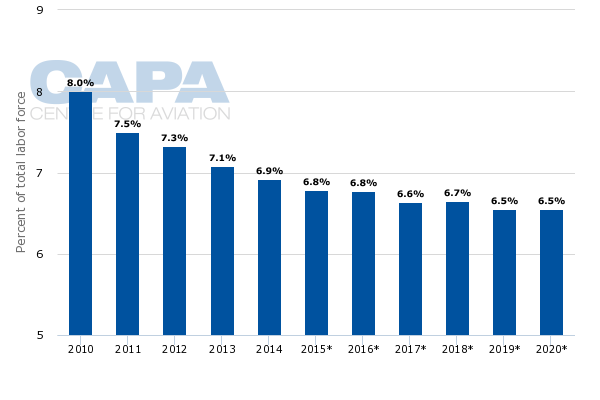 North American airlines, particularly large US network airlines, have also started to plan how to compete strategically with ULCCs. Their weapon of choice seems to be fare families, in which the lowest tier is a bare-bones product priced at similar levels to those charged by ULCCs. Delta has already established its fare classes and American and United plan to develop similar offerings. WestJet debuted its own set of fare families in 2014, and one of those three offerings directly targets cost conscious leisure travellers.

None of these conditions is insurmountable for start-up ULCCs in Canada, but these are formidable challenges that each airline faces. NewLeaf seems to be avoiding direct competition with Canada's two largest airlines Air Canada and WestJet. Toronto Hamilton plays a key role in the networks of both NewLeaf and Jetlines; however, Air Canada plans to launch twice daily service to Montreal in May-2016, perhaps flexing its muscle as the prospective ULCCs contemplate their launch phase. (see: background information below)
Canada's ULCCs need to take to the skies or risk losing credibility
The macroeconomic uncertainty that new Canadian ULCCs face mirrors some scepticism over when – or if – those airlines will inject true ultra-low cost competition into Canada's domestic market, which has reached a level where the country's two major airlines are enjoying a comfortable duopoly.

Both NewLeaf and Jetlines have encountered some initial setbacks, which is understandable. But in order for consumers and competitors to view these upstarts as credible, they both need to take flight in the not too distant future.
Background information
NewLeaf Travel's proposed route structure as of Jan-2016
| | |
| --- | --- |
| Hamilton | Saskatoon, Halifax, Kelowna, Winnipeg, Regina |
| Abbotsford | Regina, Winnipeg, Saskatoon |
| Regina | Abbotsford, Hamilton, Kelowna |
| Kelowna | Winnipeg, Regina, Saskatoon, Hamilton |
Jetlines proposed route map as of early 2015