The pool of aspiring ULCCs in Canada grows. Is there room for three ultra discount airlines?
Analysis
During the past year the pool of upstart ULCCs in Canada has grown to three contenders vying to adopt the business models practiced by Allegiant and Spirit to the Canadian market place. Accompanying the growing number of new entrants are executive shake-ups and lawsuits that are adding some intrigue to the line-up of airlines hoping to create a new era of passenger stimulation in the country.

One theme that seems to be emerging among Jetlines, NewLeaf and Enerjet (Jet Naked) is a push from Toronto Hamilton Airport, which seems like fertile ground for the ULCC concept. The addition of one or more airlines would be a huge win for the airport as it works to reach its target of serving one million passengers annually.

It is unlikely that all three airlines will ultimately commence operations, or that the Canadian market can sustain three ULCCs. But each company remains bullish about pent up demand, and their respective strategies for tapping customers they believe cannot afford air travel.
Jetlines balances its quest for funding with a lawsuit from its previous partner
Jetlines was the first company to declare its plans to launch a ULCC in the Canadian market place. The company surfaced in late 2013, and a couple of targeted launch dates came and went. It planned a reverse takeover with Inovent Capital to form a new corporation to list on the Toronto Stock Exchange, but those plans changed.

During the recent CAPA Americas Aviation Summit, Jetlines CEO Jim Scott stated that the company is seeking a lead investor for its estimated full funding of CAD50 million. Jetlines is targeting an IPO in Sep-2015, and would launch operations six months after garnering its funding.

During Feb-2015 Jetlines released its proposed route map, which shows Vancouver, Hamilton and Winnipeg as bases. At that time Inovent in an interview with news outlet The Globe and Mail criticised Jetlines for both walking away from their merger and the release of the route map months ahead of a service launch.
Jetlines proposed route map as of early 2015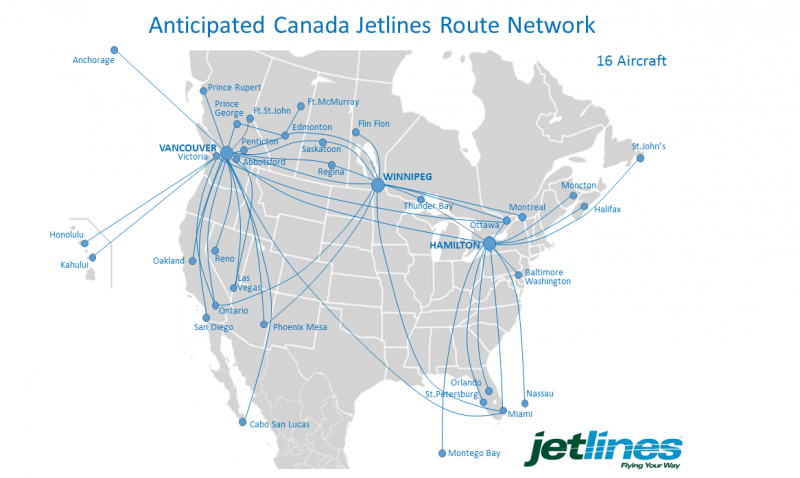 Inovent is also suing Jetlines over a CAD120,000 loan to Jetlines that is covered under a general services agreement (GSA). Inovent explained the loan was advanced to Jetlines in Jul-2014 to fund its business. Inovent also contends that Jetlines committed a number of material breaches under the Sep-2014 "Amalgamation Agreement", and those breaches have triggered a default on the loan.
Jetlines executive heads to NewLeaf to forge an Allegiant-like business model
One of Jetlines' top executives Jim Young has left the company to become president of NewLeaf Travel. The company is partnering with Kelowna-based charter company Flair Airlines, which will provide Boeing 737-400 aircraft and crews.

NewLeaf appears to be modelling itself on Allegiant, and plans not only to offer air travel, but also vacation packages. It recently unveiled plans to establish its headquarters in Winnipeg, but also aims to establish bases in Kelowna and Hamilton.
Company chief commercial officer Bob Jones told The Hamilton Spectator that the airline should unveil its domestic route network by the end of Jun-2015. He has told several media outlets that NewLeaf should launch flights by the end of summer 2015.
Jet Naked keeps quiet about its aspirations as former executives sue the company
Enerjet, which is a charter company that is attempting to forge a new ULCC with a working name of Jet Naked, has been the least vocal about a potential start date. Jet Naked is the creation of WestJet co-founder Tim Morgan. It has also been involved in litigation during the past year. The Globe and Mail reported that three former executives are suing the company for severance and other funds owed to them.

Mr Morgan declined to disclose much detail about Jet Naked's business plan to The Hamilton Spectator, other than indicating its business model would operate across the country. In late 2014, The Financial Post reported that the company had lined up three Boeing 737s and retained Octagon Capital to raise USD30 million to USD50 million in financing.

See related reports:
Service from Hamilton is a common thread among the upstart ULCCs
Jet Naked has also reportedly had discussions with Hamilton Airport, which has seen airlines come and go throughout the years. WestJet in May-2015 introduced seasonal service from Hamilton to Moncton, Edmonton and Halifax, joining its existing service to Calgary. Air Canada has had to delay new rouge service from Hamilton to Calgary due to aircraft constraints created by an Airbus A320 accident in Halifax in Mar-2015. The rouge service debut has been pushed back to May-2016.

The interest by the three fledging ULCCs is obviously welcome news for Hamilton, which presently only has scheduled passenger service operated by WestJet.

WestJet had a base in Hamilton in the early 2000s, but has since opted to centre the bulk of its Toronto operations at Pearson International as its strategy has expanded to target a higher number of business travellers.

Hamilton Airport CEO Frank Scremin is obviously pleased with the interest from the three would-be ULCCs. He believes the airport is well positioned for ULCC operations, explaining to The Hamilton Spectator that the airport allows for quick aircraft turns and the terminal is easy for passengers to use.

Hamilton is roughly 50km from Pearson, so it makes an ideal candidate for airlines adopting a secondary airport strategy. Service by one or two additional airlines would also help the airport meet its one million passenger target that was established in 1996, with an original date to meet that goal of 2010. The Hamilton Spectator stated that roughly 330,000 passengers travelled through the airport in 2014.
Is Canada large enough to support three new ULCCs?
Presently (15-Jun-2015 to 21-Jun-2015), Air Canada and WestJet represent 92% of Canada's domestic ASMs. The airlines have had a long-standing comfortable duopoly in the Canadian market place, so it seems ripe for the ULCC concept. Although Jetlines and NewLeaf also aim to operate international service, on the surface there seems to be room for an ultra discounter in the domestic market.
Canada domestic capacity by airline (% of ASMs): 15-Jun-2015 to 21-Jun-2015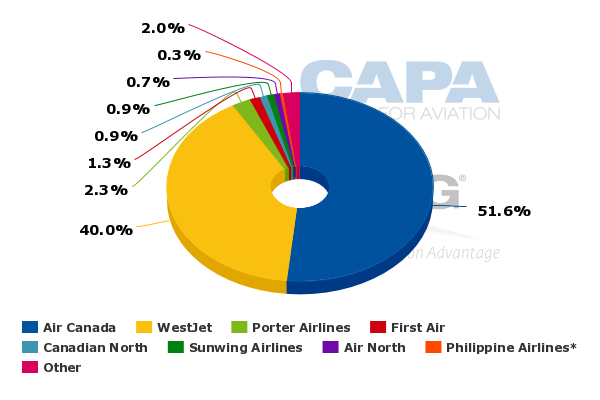 It is highly unlikely however that there would be sufficient demand to support three ULCCs that could theoretically (although highly improbably) launch within months of one another. The market size for a potential ULCC is also difficult to estimate. Mr Scott of Jetlines has estimated that there are at least 10 million potential customers within Canada that could be able to travel by air given lower fares. NewLeaf told The Hamilton Spectator that "70% of people don't fly because of high prices".
Air Canada and WestJet will use their scale to compete fiercely against the new upstarts
The new ULCC upstarts are also adopting Spirit's mantra that the large US airlines are not concerned with the cost conscious passenger segment Spirit caters to. Mr Jones told the Hamilton news outlet that NewLeaf's aim was to get customers out of their cars and buses, and those are the passengers that are not flying on Air Canada or WestJet.

Spirit's theory that it is largely being left alone by the US majors is starting to ring hollow. American has flatly stated that it views Spirit as a competitor and keeps a close watch on the airline. Delta has created a new fare class designed to appeal to the passenger segment Spirit targets.

It is a safe assumption that Air Canada and WestJet will not a turn a blind eye to the upstart ULCCs. Their recent moves at Hamilton show that they have no intention of backing down from new competition. Additionally, the whole concept and creation of Air Canada's low-cost subsidiary rouge was to offer a lower cost option to capture a greater share of leisure passengers.

Leisure passengers still comprise the bulk of WestJet's passenger base. So it is not likely to cede potential customers to upstart airlines. Airline executives have stated that its product unbundling was driven by a need to be more competitive. Both Air Canada and WestJet will use their relative heft to compete fiercely against the new airlines trying to make a name for themselves in the Canadian market.

Canada's economy is also fragile, contracting about 0.6% in 1Q2015. The country's consumer confidence also seems tenuous as its unemployment rate has hovered at about 6.8% for roughly three months, according to Bloomberg. Its unemployment rate is projected to remain above 6.5% until 2018. Consumer sentiment is particularly important for the targeted passenger segments of the new ULCCs.
Unemployment rate of Canada (percent of total labour force): 2010 to 2020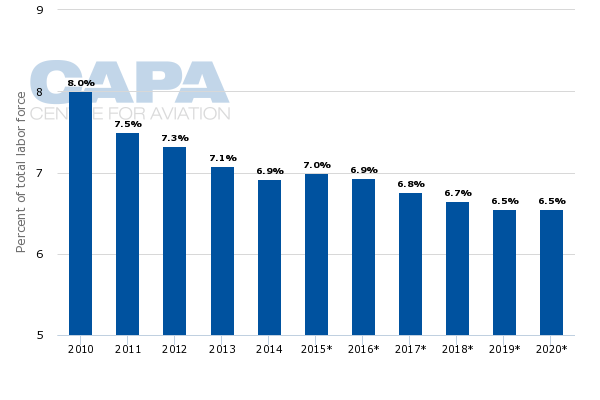 There is probably room for at least one startup, but they'll face stiff competition
The three airlines hopeful of executing the ULCC model in Canada still remain unknown, as does the probability of their ultimate success. 2014/15 has certainly marked a colourful period in the efforts to launch, and it is still unclear which company will be first to inaugurate operations. NewLeaf seems the best positioned since its strategy is to partner with an existing airline, which will cut down on some of the requisite regulatory approvals.

Forging a new airline at any period in time is a big gamble, even if the conditions seem ripe for such a venture. In their favour is the fact that both major incumbents have focussed increasingly on the middle ground, with unit costs to match. But that doesn't mean Air Canada and Westjet can't respond with low fares. Canada's two largest airlines will not ignore new competition, and can create formidable challenges to the long-term viability of each new airline - even before they start up.