ULCCs Canada Jetlines & Jet Naked struggle to build adequate warchests in a competitive marketplace
Analysis
Two upstart ULCCs aiming to execute the model within Canada – Canada Jetlines and Jet Naked – have gone somewhat quiet since making a splash earlier in 2014 with their plans to interject a new level of competition within the Canadian market place.

Many airlines with similar plans have come and gone, leaving Air Canada and WestJet in a comfortable duopoly, that on paper, seems ripe for breaking.

But many of the market dynamics that have driven other Canadian start-ups out of business still exist, and the country's tenuous economy could make it difficult for the new airlines to attract investors for what is still a risky business venture.
| | |
| --- | --- |
| | CAPA's first America Aviation Summit will he held at the Hilton Lake Las Vegas Resort & Spa on 27/28 April 2015. To experience CAPA's unique aviation conference format and to meet the movers and shakers in the Americas and worldwide with 20+ airline CEOs, click here: CAPA Americas Aviation Summit |
Airfares within Canada have remained stable
Canada Jetlines was the first company to declare its intent to adopt the ULCC business model within Canada. It has concluded that Air Canada and WestJet through various changes in their business strategies during the last few years have made a "dive to the middle", confusing customers about their various product offerings.

See related report: Canada Jetlines sees an opportunity from other airlines diving to the middle

Canada Jetlines plans to use a stimulative model to create low enough fares that will lure customers from their automobiles to aircraft. Data from Statistics Canada show that from 2Q2012 to 2Q2013 that average domestic airfare dropped 0.4% from CAD192 to CAD191. Ottawa had the largest decrease of 8.7% and Winnipeg had the largest increase of 5.2%.
Change in average Canadian domestic airfare: 2Q2012 vs 2Q2013

The trend of essentially flat average airfare growth could continue as Air Canada and WestJet work to execute their respective strategies of enlarging their passenger bases. For the first nine months of 2014 Air Canada's yields fell 1.1%, reflecting its strategy of trying to capture more economy passengers while WestJet's yields grew 2.6%.
WestJet's shorter stage lengths of its new regional subsidiary Encore have helped lift its yields. The airline's average stage length for the 9M ending Sep-2014 fell 5%, while Air Canada's stage length increased 2.3%.
Canada's ULCC new entrants forge partnerships to raise necessary capital
Jet Naked is headed by WestJet co-founder Tim Morgan, and earlier this year retained Octagon Capital to raise CAD30 million (USD26 million) to CAD50 million (USD44 million) to support its start-up.

In Sep-2014 Jetlines announced a reverse takeover in which Inovent Capital and Jetlines will form a new corporation to list on the Toronto Stock Exchange to raise CAD10 million. Canadian news outlet the Globe and Mail has previously reported that the company needs another CAD40 million in order to launch operations.
It is not clear how far along each airline is in obtaining the necessary financing for launch. But WestJet CEO Gregg Saretsky in a recent investor presentation observed that it did not appear the airlines have yet been successful in gaining their required investments.
Canada's economic outlook and consumer confidence is tenuous at best
Even as Canada seems ripe for ULCC penetration, the concept could be a tough sell for investors. Its population of roughly 35 million compared with the US population of 316 million means there are fewer stimulation opportunities within the country.
Canada's population: CY2009 to CY2019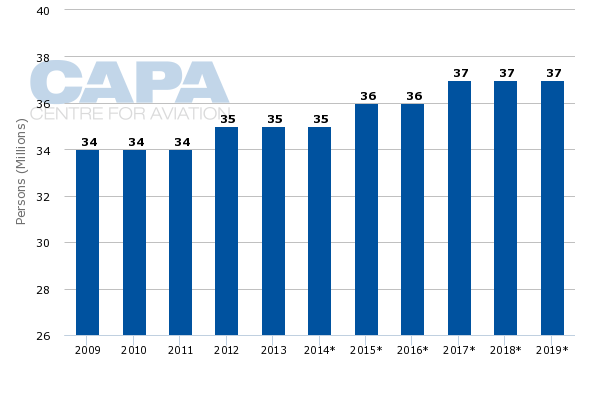 Also, the country's economy remains uncertainly balanced. GDP growth is projected at roughly 2% through 2019 and unemployment is forecast to hover around roughly 7% during the same time period, less than ideal conditions for stimulating consumer spending.
Canada's GDP growth: CY2009 to CY2019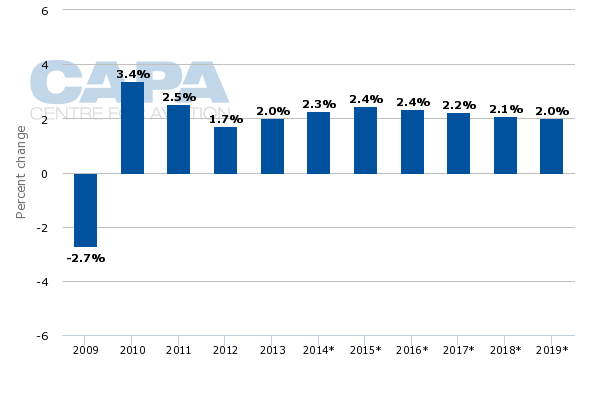 Canada's unemployment rate: CY2009 to CY2019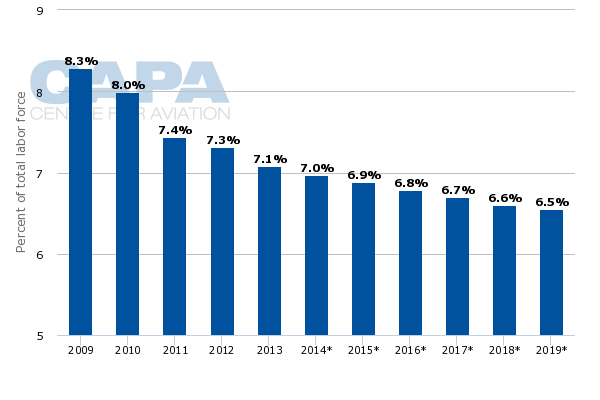 Consumer confidence in Canada also appears to be tenuous as Business Week in Oct-2014 reported consumer sentiment was waning due to the sluggish economic outlook.
Falling oil prices are a negative for Canada's important oil industry, a major economic force in the country. In its report the news outlet noted that confidence in British Colombia is somewhat higher, which could be a positive sign for Jetlines as it plans a base of operations in Vancouver.

But overall given the Canada's economic prospects, the ability to stimulate traffic could be difficult as consumers may opt to pull back on discretionary spending until a higher level of confidence is restored.
There is potential for the new ULCCs to misfire in some smaller markets
Both Canada Jetlines and Jet Naked plant to operate a single fleet type of narrowbody jets. Jet Naked has previously stated that it has lined up three Boeing 737s, and Jetlines is reportedly is launching with Airbus narrowbodies.

See related report: Jet Naked. Another ULCC for Canada – how will Air Canada and WestJet respond?

Jetlines has cited several potential markets from Vancouver including the smaller markets of Prince George, Fort McMurray and Fort St John. Both Air Canada and WestJet serve those markets from Vancouver; WestJet through its regional subsidiary Encore that operates Bombardier Q400 turboprops. Air Canada serves Prince George and Fort St John with turboprops and Fort McMurray with regional jets.

One of the general themes of a ULCC business model is operating with high load factors. Even with the stimulative effects of ultra low fares with no frills, it could be tough to achieve high load factors in some of the smaller markets. The level of stimulation still necessary is also questionable as WestJet recently stated that its lower fares are driving growth in demand of 30% to 60% in some of Encore's markets.

See related report: WestJet Airlines faces capacity pressure as it still continues to record solid financial results
Air Canada and WestJet are fortifying their arsenals ahead of the ULCC invasion
Canada's aviation market has reached somewhat of a steady state as both its large airlines are on reasonably stable ground. Both Air Canada and WestJet are attempting to keep an eye on costs while executing their strategies to ensure they are appealing to all passenger segments.

Since Canada Jetlines and Jet Naked unveiled their plans to introduce the ULCC model in Canada, WestJet has repeatedly stated it remains Canada's low fare airline. Recently Mr Saretsky explained that WestJet's product unbundling was driven in part by "anticipating a need to be more competitive".

WestJet introduced its fare bundles in 2013, with the lowest tier, "Econo" as a bare bones offering designed to target the most cost conscious traveller that does not want to pay extra for extra legroom, priority boarding, advanced seat selection, expedited security screening at airports or change fees. In Oct-2014 WestJet introduced a first bag fee for its Econo customers. The tiered fares are designed to appeal to a range of travellers from bare bones economy leisure to corporate passengers.

Air Canada through the establishment of its new low cost airline rouge and the operation of higher density Boeing 777s has also expanded its economy class offerings, something it can now afford to do as its cost base is trending lower. It has a stated goal of a 15% reduction of unit costs excluding fuel in the medium term from a CY2012 baseline. The airline's unit cost excluding fuel fell 3.5% during the first nine months of 2014.

Both Air Canada and WestJet are also preparing to add not insignificant amounts of domestic capacity in CY2015. Each airline estimates its domestic supply will grow 4% to 5% year-on-year in CY2015. The softened consumer confidence coupled with the addition of ample supply by Canada's two largest airlines could create a challenging scenario for a new upstart to enter the market place next year.
See related report: Air Canada's declining yields could continue as it prepares for a capacity push in CY2015
Solid funding will be key for any new airline to achieve staying power in Canada
Even if conditions seem favourable to launch an airline, there is never a totally ideal scenario to create and launch a new airline venture. Ample funding is key to riding the initial bumps, and it does not appear that the new Canadian upstarts are attempting or able to attract enough start-up capital initially to offer the types of fares necessary to stimulate demand in such a flimsy environment.

With Air Canada's business transformation showing favourable returns, now Canada has two relatively stable airlines with the scale to defend their respective positions in the market. Each airline cannot only match fares for a reasonable period of time, but also through their own respective networks and partnerships, are able to offer the added benefit of connectivity as they will inevitably lower their prices to drive out the new entrants.

Both Canada Jetlines and Jet Naked are no doubt aware of the formidable challenges that await. But the obstacles are not insurmountable and and a true ULCC in Canada could drive change in the domestic aviation industry. But their staying power depends on significant funding, something that needs to materalise quickly if the new airlines aim to fully reach their ambitions.