CAPA Americas Summit: Canada holds much promise, but the status quo persists (VIDEO)
Analysis
A recent review of Canada's transport policy that recommends lifting foreign ownership caps in the country's airlines to 49% could benefit aspiring ULCCs and the dominant incumbent airlines alike. The country's airlines have limited access to capital, and a change in ownership regulations could allow those entities to enlarge and diversify their capital base.

The ULCC start-up NewLeaf Travel obviously supports a change in the foreign ownership rules of Canadian airlines, but in the meantime the company has opted to capitalise on existing capacity in Canada in order to become a first mover into the ultra-low cost space. NewLeaf believes that there is a large number of disenfranchised passengers in Canada who no longer travel by air due to higher prices and difficulty in travelling from secondary markets.

The policy review also offers recommendations to privatise some of Canada's airports, which is no doubt welcomed by the country's airlines. But the reality is that Canada's aviation landscape will remain status quo for the foreseeable future as the government and other stakeholders evaluate the suggestions offered in the report.
CAPA Americas Aviation Summit 2016


For an earlier review of the Canadian discussion on airport privatisation, please see: Airport Privatisation in Canada: Transport Policy Review
Review of Canadian transport highlights the lack of a ULCC
A policy document reviewing the Canada Transportation Act was released in early 2016, suggesting a framework to structure the country's transportation modes for the future. One of the conclusions included in the report was Canada's status as the only major air market without an ultra-low cost airline.

During recent years three different companies have attempted to rectify the lack of a true ultra-low cost airline in Canada. NewLeaf was the first to market, but its launch was postponed while Canadian regulators reviewed licensing procedures to determine whether the company needed to have its own transport licence. NewLeaf is partnered with Flair Airlines, which provides aircraft and crews for NewLeaf's operations.

See related report: Canada's ULCCs need a clear path to launch if they are to establish market place credibility
Start-up ULCCs adopt divergent strategies to usher in the model in Canada
NewLeaf has now been categorised as a reseller and can move forward with its launch. Speaking at the recent CAPA Americas Aviation Summit NewLeaf president and CEO Jim Young discussed the options adopted by the three ULCC new entrants in Canada, and the logic behind NewLeaf's decision to use existing capacity in the Canadian market rather than starting an airline from scratch.

Mr Young explained that one option is a clean-sheet design, which is the approach adopted by Canada Jetlines (Mr Young is a former executive with the company). Jetlines has estimated that CAD50 million (USD39 million) of start-up capital would be required for its launch. Mr Young remarked that approach is "well and good" if you have access to capital and a war chest to get started. Jetlines' strategy was to access public markets, and the company had previously attempted to engage in a reverse takeover of Inovent Capital.
In early 2016, Jetlines forged a merger agreement with Jet Metal, and will eventually start trading on the Toronto Stock Exchange as Canada Jetlines, once all the requisite approvals are obtained. At one point Jetlines was seeking to engage in an initial public offering in late 2015, and launch six months afterwards. Obviously its launch date has moved to the right.

A second way to adopt the ULCC business model, said Mr Young, is to convert an existing airline into a ULCC, which is the method used by Enerjet. The challenge in attempting to transition to a new business model, said Mr Young, is an established history with existing investors, and trying to convince them that past mistakes will not be repeated.
NewLeaf concludes its strategy offers better return for shareholders
NewLeaf is opting for a different and more capital-efficient approach, said Mr Young.

Canada is an economy heavily based on resources, Mr Young explained. Using private airstrips, a small number of certificated airlines transport workers to mining sites in the country's northern provinces, on a weekly or biweekly basis. That business thrived for about 10 years as oil prices remained high, but now that energy prices have fallen there is less demand to transport workers, and there is available capacity in the market, said Mr Young. NewLeaf's partner Flair Airlines is based in Kelowna, and operates a fleet of six Boeing 737-400 Classic aircraft.

Mr Young explained that NewLeaf felt it could offer better returns to shareholders by delivering an ultra-low cost product to the market more quickly than taking a year or two years to develop a new airline from a clean sheet of paper.
NewLeaf aims to cater to the disenfranchised traveller
It is tough to make comparisons between the potential ULCC market in Canada, whose population is approximately 37 million, and that of the US, which has a population of 319 million. But Mr Young said that a number of Canadians have been priced out of air travel. He also believes that there is a pronounced opportunity in the domestic market due to the falling CAD against the USD. As of 21-Apr-2016 the exchange rate was CAD1.27 to USD1.00.

He also noted that Air Canada and WestJet both operate hub and spoke networks, and customers living in secondary markets have to travel through Vancouver, Toronto or Winnipeg to "get anywhere else in Canada". Data from CAPA and OAG show for the week of 18-Apr-2016 to 24-Apr-2016 that Canada's three largest airports by domestic departures are Toronto (Air Canada's and WestJet's largest hubs by seats), Calgary (WestJet's second largest hub) and Vancouver; the country's departures are highly concentrated at those three locations.
Canada top 10 domestic departures by city: 18-Apr-2016 to 24-Apr-2016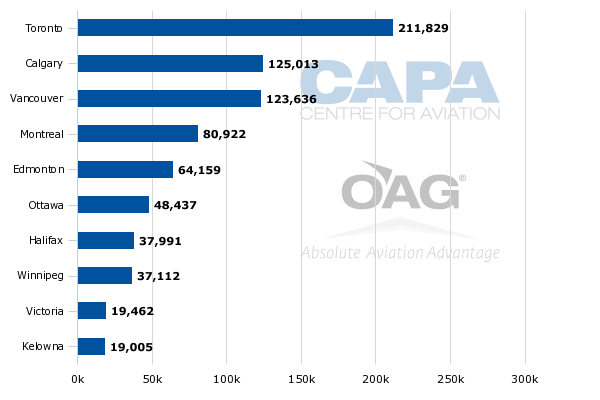 From a corporate perspective the market in Canada is well served, said Mr Young, noting that there are up to 15 daily flights between Toronto and Winnipeg. But to travel to a leisure destination like Kelowna customers can pay up to two-and-a-half times more per mile, whereas a similar trip in the US would cost half or a quarter of the amount, said Mr Young. NewLeaf is focused on the disenfranchised customer who has opted to stop travelling by air due to the cost, he said.

One of the challenges that NewLeaf faces is Canada's historically higher operating costs. Mr Young stated that the greatest barrier to sub-CAD100 prices in Canada is the airport improvement fee (AIF), which can range from CAD15 to over CAD30.

Part of the transport policy review included suggestions that larger Canadian airports become privatised and smaller federally owned airports should be divested to local governments. CAPA has published an extensive report analysing the airport recommendations.

See related report: Airport Privatisation in Canada: Transport Policy Review

Mr Young characterised the airport recommendations as a game changer. In some instances, he said, the Canadian government uses airports like ATMs. "What we really need is a spark plug for growth, if we can find those baby steps immediately towards a longer term goal I think you're going to see a transformation there, and an ability for us to be more competitive", he stated.
Canadian airlines could benefit from more diversified sources of capital
One of the recommendations of Canada's transport policy review was raising foreign ownership limits in the country's airlines to 49%, from the current level of 25%. Speaking to the CAPA audience, the InterVISTAS chief economist and chief strategy officer, Mike Tretheway, stated that the Canadian equity market is not very kind to airlines.

Mr Tretheway stated that he suspects both Air Canada and WestJet to be undervalued. But at the same time the two companies are "pretty formidable, interesting airlines", and he questioned what greater access to equity could mean for Canada's two dominant airlines.

The increase in foreign ownership would allow smarter capital into a capital constrained market "that does not have an edge in airline investments", Mr Young said. Obviously access to foreign capital would be highly beneficial for Canadian start-up airlines, especially those entities seeking to adopt the ULCC model.

There was also a recommendation from the policy review for 100% foreign ownership of cargo airlines. Speaking at the Summit, the FedEx Express VP and General Counsel, Rush O'Keefe, stated that FedEx has to contract with a Canadian airline – Morningstar Express – to move cargo on intra-Canada flights. If FedEx owned Morningstar it would still be required to comply with Canadian labour law, he explained. However, there are "huge efficiencies to be gained by FedEx being able to own it, and control and operate it", Mr O'Keefe stated.
Canada could be poised for big changes – but for now the status quo persists
The Canadian aviation market has much potential, but for the time being the status quo will continue, which means that the current tax and ownership regimes will remain in place. The recent transport policy review offers some small steps forward in foreign ownership and airport privatisation, but it falls short on liberalisation. (CAPA will publish a separate analysis on the recommendations for open skies and capacity for intercontinental flights). Furthermore, it could take years for those recommendations to become formalised, even if those suggestions curry favour with the current Canadian government and future administrations.

In the short term, NewLeaf aims to inject a small fraction of ULCC competition into the market. Although its presence is small, its movements will be watched by the country's larger airlines and would-be ULCC rivals that are solidifying their strategies.