Spirit Airlines makes some progress in operations, but still lags its peers in key metrics
Analysis
Operational improvement is a top priority for Spirit Airlines' new CEO, who has held the position for just six months. Data from the US government show that Spirit is making progress in some areas of operations, but still lags behind other US airlines. As the busy summer season kicks into full force, Spirit's commitment to improving operations could be put to the test.

As Spirit's rivals hone their product segmentation strategies to match Spirit's low fares, operational improvement takes on a whole new level of importance for the ultra-low cost airline and its particular business model. Spirit's ULCC rival Frontier is outperforming Spirit in some operational metrics.

Spirit is in undergoing other changes, including a change in its fleet mix to smaller-gauge Airbus narrowbodies. The company has intimated that it would examine smaller markets in the future to decrease competition with larger airlines. Many of the new routes that Spirit has introduced in 2016 feature Southwest and Delta as competitors and it appears that Spirit now has the largest network overlap with Southwest, rather than with American Airlines.
Both Spirit and Frontier make operational progress, but still significantly lag behind their US peers
Spirit's operational performance has been lagging for quite some time. Between Jan-2015 and Oct-2015 its on-time arrival rate was 68%, according to data from the US DoT. Its on-time departure rate was 71%. In Oct-2015 Spirit had the worst on-time arrival rate among airlines tracked by the agency: 78%.

The company has been taking steps to shore up its operational performance, including making adjustments to staffing and operation systems and reducing aircraft utilisation in peak periods.

The latest data from the DoT show that Spirit's on-time performance for the 12 months ending Apr-2016 was 67.7%. For the month of Apr-2016 the airline's on-time performance was 73.8%, versus an average of the 12 airlines tracked by the agency of 84.5%. Spirit's ULCC rival Frontier posted an on-time arrival rate of 78.5% for the 12 months ending Apr-2016, and an 85.5% arrival rate for Apr-2016. Frontier outperformed Spirit in on-time performance by a wide margin from Feb-2016 to Apr-2016.
On time performance for Spirit and Frontier Feb-2016, Mar-2016 and Apr-2016
| | | | |
| --- | --- | --- | --- |
| Airline | On time performance Feb-2016 | On time performance Mar-2016 | On time performance Apr-2016 |
| Spirit | 63.2% | 64.6% | 73.8% |
| Frontier | 87.3% | 77.6% | 85.8% |
Spirit cancelled 1.71% of its flights in Apr-2016, compared with 0.39% for Frontier. In the mishandled baggage category, Spirit's 2.11 reports per 1,000 passengers for Apr-2016 was a better result than Frontier's ratio of 2.54. Both airlines recorded an improvement from the year prior. Spirit's ratio in Apr-2015 was 2.57, when Frontier recorded 3.37 mishandled bags per 1000 passengers. The average for the 12 reporting airlines was 2.31.

Spirit and Frontier have together posted the largest number of consumer complaints tracked by the DoT in the past, and the month of Apr-2016 was no exception. Frontier and Sprit were ranked eleventh and twelfth, respectively, in that specific category of complaints. Frontier recorded 2.76 complaints per 100,000 enplanements and Spirit's ratio was 6.81, compared with an average of 1.31. However, Frontier's performance improved from 8.67 the year prior and Spirit also posted an improvement from the 7.34 that it had recorded a year earlier.

Each US ULCC is making progress in its respective operations but they still lag behind the average of their peers, many of whom are adopting product segmentation strategies to permanently match the prices of ULCCs. That shift in strategy by American, Delta and United means that Frontier and Spirit will need to improve their operations markedly in order to compete effectively with their rivals.

Shortly after being named Spirit's new CEO in early 2016, Robert Fornaro stated that as the larger airlines "come to match us [in price] I think what they are going to see is a corresponding improvement in our operation".

See related report: Spirit's new CEO hints at nuanced changes rather than an overhaul. Operations are a key focus
Spirit increases competitive overlap with Southwest and Delta in 1H2016
Another shift that Spirit has outlined in its operations is the potential focus on smaller markets with a stage length below 1,000 miles – where competition could be less intense.

The airline is planning to add 20 new markets in 2016. Most of the routes rolled out in Apr-2016 have an air distance of less than 1,000nm, but there is ample competition on those pairings; largely from Southwest and Delta.
Competition and stage length of Spirit's new routes rolled out in 1H2016
Spirit has calculated that its network overlap with Southwest was 59% as of Mar-2016, which likely increased after the route roll-outs Spirit conducted in Apr-2016.
In the past Spirit's highest overlap was with American. But given Southwest's push from Dallas Love Field after the lifting of the Wright Amendment, and Spirit's entry into some of Southwest's other short haul markets, Spirit's competitive presence in Southwest's markets has grown.

Both Spirit and Southwest have highlighted opportunities in shorter haul US markets, which means their competitive overlap could continue to grow. Spirit has not made any new route announcements since Mr Fornaro assumed the CEO role; but the company management has concluded that opportunities exist in shorter haul markets.

Although Southwest is not the low cost leader it once was, the LCC engenders an overwhelmingly positive sentiment among its customers. Its "transfarency" campaign, which pledges a message of no nickel-and-diming, runs counter to Spirit's still negative image among customers. Southwest's policy of not charging for checked bags could rise to be a formidable competitive force against Spirit.
Spirit continues work to adjust its fleet; increases its percentage of owned aircraft
Spirit has been making fleet changes that entail retaining some of its smaller-gauge Airbus narrowbodies. It has opted to keep some smaller A319s in its fleet: purchasing three aircraft off lease, extending the lease of one A319 and engaging in negotiations to extend leases on seven to 10 additional aircraft. Spirit has also reached an agreement with Airbus to convert 10 A321neos scheduled for delivery in 2019 to A320neos.
Spirit Airlines fleet summary as of 21-Jun-2016
The shifts in Spirit's fleet composition not only reflect its desire to serve a larger number of smaller markets, but also improve the airline's finances. Spirit has previously concluded that its ownership of aircraft adds approximately USD1 million per shell to its bottom line, and the company has been incrementally moving in the direction of putting more assets on its balance sheet.

In Mar-2016 approximately 28.4% of Spirit's fleet was owned; now the percentage of owned aircraft has grown to 34.5%
Spirit Airlines owned vs leased for aircraft as of 21-Jun-2016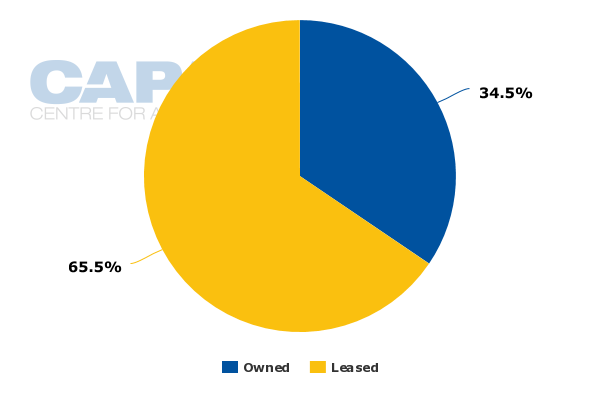 See related report: Spirit Airlines fleet changes reflect a potential shift to smaller markets, still growing at 15% to 20%
It could be some time before Spirit starts a positive unit revenue trajectory
Similarly to most US airlines, Spirit has faced a weaker pricing environment for the better part of a year. At the end of 1Q2016 Spirit executives cited a lot of noise in the US domestic pricing environment that was attributable to more than just lower fares offered by ULCCs. The airline is hoping to improve its visibility with a new pricing system it has adopted. The new technology allows Spirit to gain a better sense of how its competitors are selling fares in its markets, which should help the airline to become more tactical in its pricing.

Spirit's unit revenue declines have been deeper than those of most US airlines; its total unit revenue dropped 13.8% year-on-year in 1Q2016, which was a sequential improvement from the 16% decline that the company recorded in 4Q2015. Some US airlines believe that they can return to a flat to positive unit revenue trajectory in late 2016, but it could be difficult for Spirit to make similar predictions given its steeper unit revenue declines.
Subtle changes are under way at Spirit
Spirit appears to be slowly undertaking subtle changes under new executive leadership. With just six months at the helm, Mr Fornaro is likely just starting to formulate his plan of action to improve operations and structure a network that relies less on competing directly with larger airlines that are actively responding to the competitive dynamics ushered in by ULCCs.
New details over how Mr Fornaro intends to steer Spirit's ULCC strategy should emerge in the coming months.