Spirit Airlines fleet changes reflect a potential shift to smaller markets, still growing at 15-20%
Analysis
The US ULCC Spirit Airlines is making adjustments to its fleet, moving to seize on opportunities created by owning aircraft versus renting, and retaining some smaller gauge Airbus A319s by purchasing those aircraft as their leases are up for renewal. The airline is also in discussions with Airbus about possibly switching some later delivery A321s to smaller gauge A320s. To a degree this is in reversal of a trend sweeping much of the US market, where most airlines are seeking to add seats to existing aircraft and are placing orders for larger gauge jets.

Spirit's fleet changes and evaluations appear to be meeting two objectives. Firstly, enlarging its base of owned aircraft should allow the airline to maintain its superior cost advantage, and secondly, creating some flexibility with aircraft size allows Spirit to add smaller, less competitive markets to its network.
In early 2016 Spirit's new CEO alluded to some small market opportunities, and indications are that the company is working to adjust its fleet in order to diversify its network composition.
Spirit starts fleet adjustments under the leadership of a new CEO
During 2015 Spirit did not escape the pricing pressure that began to permeate the US market. Lower fuel costs resulted in some capacity creep and pricing dilution. Overall lower prices and Spirit's larger presence in the Dallas market, where Southwest's capacity push from Dallas Love Field pressured prices for most of the year, have pushed the airline's unit revenue lower by double digits. Spirit's stock price compressed more than that of any other US airline in 2015.

See related report: Spirit Airlines maintains its long standing business thesis as new competitive dynamics unfold

In early 2016 the former AirTran CEO and Spirit board member Robert Fornaro took the helm of the company, replacing Ben Baldanza. Mr Fornaro has taken great care to stress that no major changes are planned for Spirit's ULCC business model, but has observed that there could be a wider opportunity in routes below 1,000 miles (1,609km). Other priorities for Mr Fornaro include improving operations and creating a more positive perception about Spirit among the airline's customers. Across the Atlantic, ULCC Ryanair CEO Michael O'Leary has also recently undergone a similar recasting of his airline; in that case, part of the reason was to cater more for the valuable business travel market.

See related report: Spirit's new CEO hints at nuanced changes rather than an overhaul. Operations are a key focus

Indications are that Spirit is working to adjust its fleet in order to create some flexibility for adding routes with a shorter stage length. Company CFO Ted Christie recently explained to investors some of the changes the airline aims to make to its fleet, including increasing the number of owned aircraft.
Spirit evaluates keeping smaller Airbus A319s longer
Spirit has concluded that expanding the number of aircraft it owns will allow it to maintain its competitive unit costs, which (excluding fuel and special items) fell 6.5% to USD5.50 cents for 2015.
At present Spirit is heavily skewed toward renting aircraft while the vast majority of its competitors own most of their fleets. "So our unit costs are naturally penalised against our competitors in that regard," said Mr Christie. CAPA's fleet database shows nearly 72% of Spirit's Airbus A320 family fleet is leased, as of 24-Mar-2016.
Spirit Airlines owned vs leased for aircraft as of 24-Mar-2016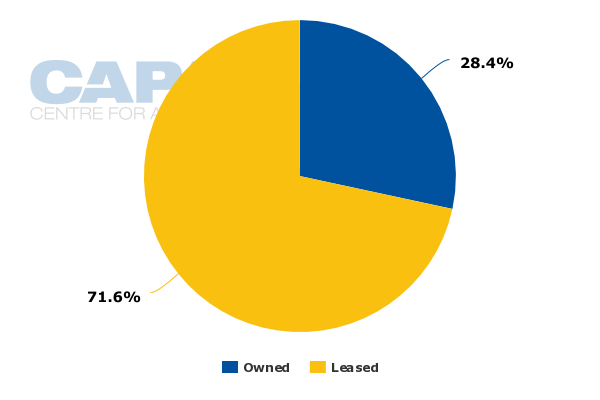 Concluding that the pure economics of owning aircraft are accretive to Spirit's bottom line at approximately USD1 million per shell, Mr Christie stated that the company has been incrementally moving in the direction of putting more assets on its balance sheet.

During the last six months Spirit has been evaluating its fleet flexibility as some A319s become eligible for lease renewals, said Mr Christie. Recently the airline purchased two A319s off lease and is evaluating options to extend or purchase an additional seven to nine existing A319s, which should help the airline remain flexible at that lower gauge point, said Mr Christie. Currently Spirit operates 29 A319s, configured with 145 seats.
Spirit Airlines Fleet Summary as of 24-Mar-2016
Spirit concludes that transitioning from predominantly leased to a larger number of owned aircraft should also help the company to maintain stable leverage ratios, which stood at 1.35x in 2015.
Spirit adjusted net debt to EBITDAR: 2011 to 2015
| | |
| --- | --- |
| 2011 | 1.71x |
| 2012 | 1.81x |
| 2013 | 1.36x |
| 2014 | 1.32x |
| 2015 | 1.35x |
Additionally, Spirit is also holding discussions with Airbus to convert later A321 deliveries to A320s, Mr Christie stated.
Spirit sticks to its message: opportunities lie in smaller markets
For years Spirit has maintained that there are more than 500 markets where, at its current cost structure, it could earn a mid-teens or higher operating margin. But the composition of those markets could be adjusted; more towards mid-sized markets rather than to the larger – and in some cases, hub-to-hub – markets that Spirit has entered during the last few years.

That is one of the changes Mr Fornaro has alluded to, and he recently reiterated the opportunities available in more medium sized markets. He cited the general trend of larger airlines, operating larger aircraft on longer routes in order to manage costs.

Given those dynamics, the market place below 1000 miles is becoming less and less competitive, said Mr Fornaro. Spirit's moves to hold on to its A319s allow it to compete in that space.

Spirit has not made any route announcements since Mr Fornaro assumed the CEO position in early 2016, but GDS displays show that the airline plans to remove flights from the Chicago O'Hare (a hub for American and Untied) to Philadelphia (a hub for American) market in late Apr-2016.
Both American and United operate on the route, and Frontier has also operated in the market. For the week of 21-Mar-2016 Spirit's seat share is approximately 8% between Chicago O'Hare and Philadelphia. One market does not dictate a trend, but Spirit's decision to cut the route could be a sign that the airline is planning to pare down some competitive overlap with larger airlines.

Although Southwest now says that it is at capacity at Dallas Love Field, prices in the overall Dallas market remain depressed. In the past, Dallas/Fort Worth has been in Spirit's top five bases measured by ASMs, but for the week of 21-Mar-2016 to 27-Mar-2016 the airport has dropped to sixth in the ranking.
Spirit Airlines global top 10 hubs/bases/stations by ASMs: 21-Mar-2016 to 27-Mar-2016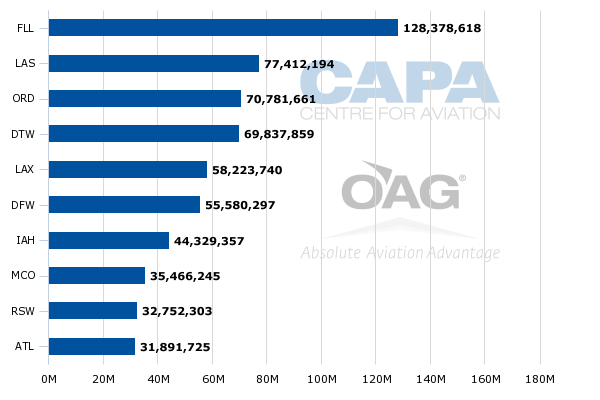 Mr Fornaro said that although he was not surprised at how the competitive dynamics in Dallas had unfolded, when the competitive landscape initially changed Spirit's revenue management was not set up to deal with the market variations. He explained that Spirit was selling more close-in tickets, and now the airline had adapted to the new competitive reality in the market. Spirit is posting good margins and load factors in Dallas, he stated.
Spirit navigates a dynamic ULCC space in the North American market
Although Spirit's new CEO has only been on the job for a little more than two months, changes to the airline's fleet and network composition are already under way. The overall message is that many growth opportunities remain for the original US ULCC, and Spirit's growth profile appears to remain healthy during the next few years, with projected annual capacity growth of 15% to 20%.

The ULCC space is one of the most interesting in North America as upstarts in Canada attempt to usher in the model, while Spirit and Frontier become entrenched as the largest ULCCs in the US.
Spirit has undergone some recent upheaval but it remains focused on sustaining its cost advantage, identifying growth opportunities that maximise its margins.