More record profits for Aeromexico in 2Q2011 as Mexican market recovers
Analysis
For the second consecutive quarter Aeromexico has recorded its highest level of profitability in at least 15 years. Mexico's largest airline group has now made about USD300 million in net profits since the collapse of archrival Mexicana in Aug-2010, reversing several years of unprofitability. Group Aeromexico is now aiming to further improve its profitability and market share, particularly in the international market where it still has a relatively small presence.
Group Aeromexico on 27-Jul-2011 reported a 2Q2011 net profit of MXP534 million (USD46 million), compared to a loss of MXP51 million in 2Q2010. The group has now turned an even MXP1 billion in net profits in 1H2011, compared to a loss of MXP280 million in 1H2010. The unusually profitable first six months of 2011 – the first half of the year is typically the weaker half in Mexico – follows an even more profitable last six months of 2010, when Grupo Aeromexico posted a net profit of MXP2.4 billion.
In 2Q2011, group revenues surged by 43% to MXP8.639 billion, driven by a 46% increase in passenger revenues and a 92% increase in cargo revenues. Domestic passenger revenues were up 47% to MXP4.543 billion while international passenger revenues were up 45% to MXP3.124 billion.
Total operating costs were up only 36% to MXP6.880 billion despite a 61% increase in fuel costs. As a result Aeromexico Group turned an EBITDAR of MXP1.759 billion and an operating profit of MXP898 million for 2Q2011, representing increases of 77% and 454% respectively compared to the same period last year. The group also ended 2Q2011 with a healthy operating margin of 10.4%, compared to only 2.7% in 2Q2010.
Grupo Aeromexico 2Q2011 highlights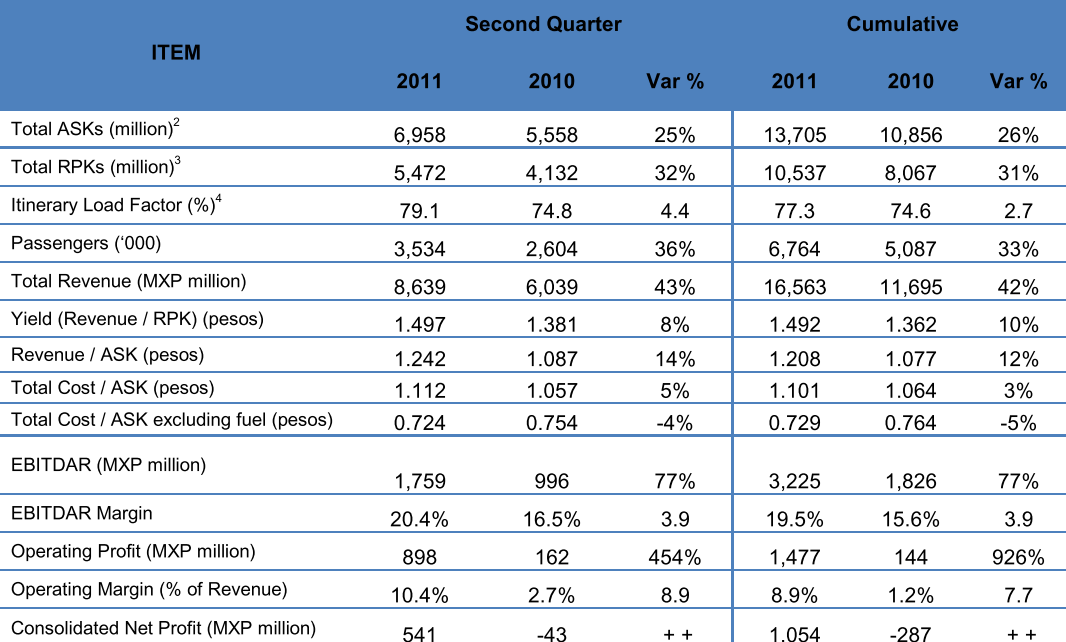 The group says the revenue, net profit, EBITDAR and operating profit figures were all the highest that have been recorded for the second quarter in 15 years. In 1996, Aeromexico was bailed out by government holding company Cintra and renationalised. In 2007 Cintra finally sold Aeromexico and regional carrier Aerolitoral (which subsequently rebranded as Aeromexico Connect) to Banamex, which took the airline public again in Apr-2011.
Under Banamex, Grupo Aeromexico struggled to make money as a result of poor market conditions – which were particularly bad in 2009 due to a sluggish local economy and H1N1 – as well as intense competition with Mexicana and rapidly expanding low-cost carriers, which resulted in overcapacity. But in 2010 the group's outlook improved dramatically as economic conditions improved and as Grupo Mexicana collapsed.
Efficiency gains achieved as unit costs decrease and fleet utilisation increases
Aeromexico also has become a significantly more efficient carrier over the last year in part by significantly increasing utilisation of its aircraft. Excluding fuel, unit costs decreased by 4% in 2Q2011 due to the group's increased focus on "expense rationalisation and operating efficiency".
In 2009 Aeromexico cut capacity, resulting in a lower average utilisation rates for most of its fleet. But capacity has increased significantly since Mexicana's collapse in Aug-2010. Most of the capacity gains have been achieved by increasing utilisation although Aeromexico also has started to expand its overall fleet. Average aircraft utilisation was 11.4 hours in 2Q2011, compared to 10.3 in 2Q2010.
Aeromexico ended 2Q2011 with a group fleet of 100 aircraft, compared to 93 aircraft at the end of 2Q2010. Three of the additional seven aircraft were added during 2Q2011. The group says it took delivery of six aircraft in 2Q2011 but three aircraft were also returned at as their leases expired.
Grupo Aeromexico's fleet, 2Q2011 vs 2Q2010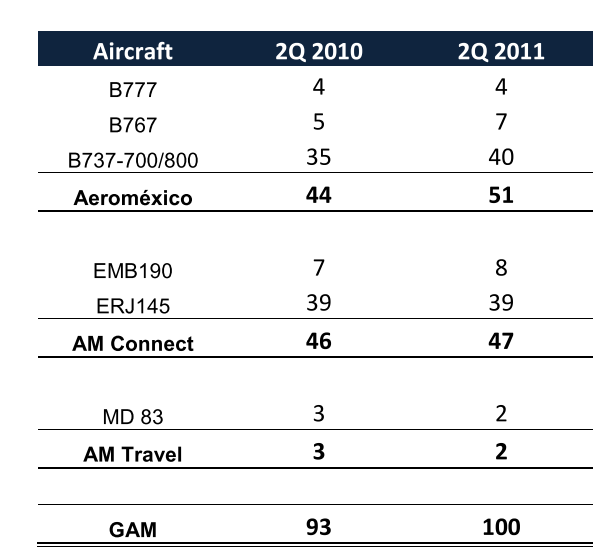 The 25% increase in capacity (ASKs) compared to 2Q2010 also has resulted in a more efficient utilisation of manpower. Wages and salaries increased 9% in 2Q2011 but with capacity up 25%, operating efficiency gains were realised and unit costs were reduced by 13%.
Mexicana's exit also has led to a significant improvement in yields and load factors. The Mexican market had been suffering for years from over-capacity and the lowest load factors among all major markets in the Americas. In 2Q2011, Aeromexico achieved an average load factor of 79.1%, a 4.4ppt increase over 2Q2010.
Passenger yields were also up 8% compared to 2Q2010. As a result, 80% of the revenue increase achieved in 2Q2011 was created by higher volumes and 20% by higher fares. Total RPKs were up 32% in 2Q2011 and total passenger count was up 36% to 3.5 million, easily outstripping the 25% increase in ASKs. Aeromexico's domestic passenger traffic was up 30% in 2Q2011 to 2.6 million passengers while international traffic was up 55% to 900,000.
Aeromexico also has seen its market share increase dramatically. Based on newly released 1H2011 statistics from Mexico's DGAC, Group Aeromexico now has a 41% share of the domestic market. This includes a 20% for Aeromexico mainline and a 21% for Aeromexico Connect, which operates a fleet of E-190s and ERJ-145s on domestic and some international routes. Prior to Mexicana's collapse, Group Aeromexico had about a 32% share of the domestic market.
Domestic market share in Mexico by carrier, 1H2011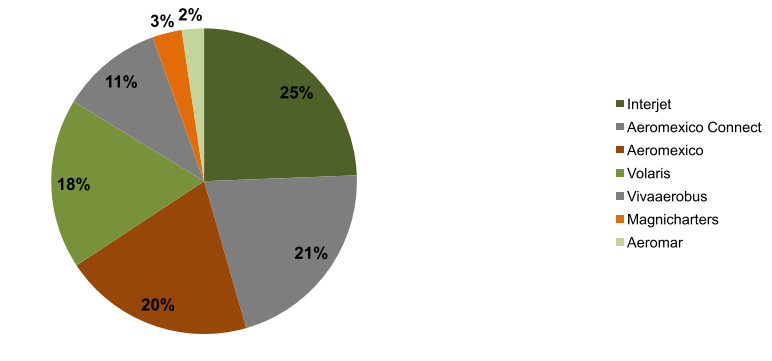 Mexico's three low-cost carriers now account for about 54% of Mexico's domestic market. Based on 1H2011 DGAC data, Interjet has a 25% share of the market, followed by Volaris with an 18% share and VivaAerobus with an 11% share. A year ago these three carriers combined only had a 36% share of the market.
Jun-2011 represented the first month since Mexicana's collapse in which total domestic traffic grew year-over-year. This represents a significant achievement as Groupo Mexicana (includes Mexicana mainline, low-cost unit Click and regional unit Link) had a 28% share of the total market. For 2Q2011, total domestic traffic in Mexico was up by 1%.
Domestic monthly scheduled passenger traffic in Mexico, Jan-2010 to Jun-2011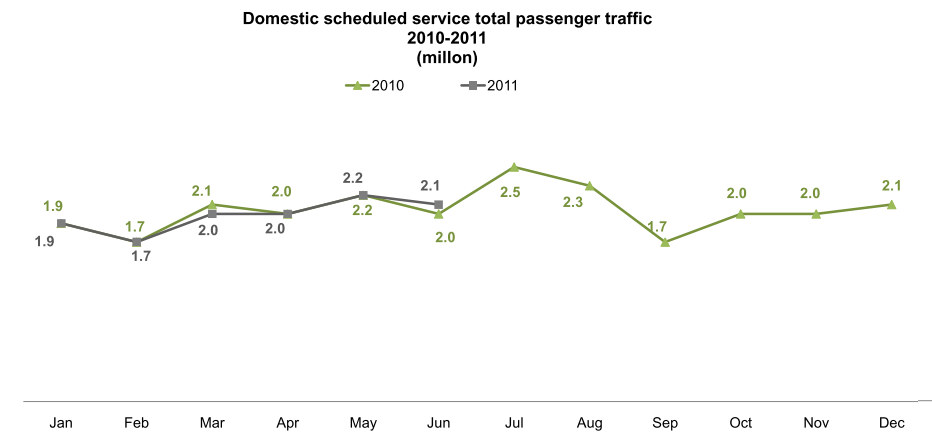 Total international passenger traffic in Mexico also grew by 2% in 2Q2011 (includes foreign and Mexican carriers). But unlike in the domestic market, in the international market Mexican carriers have still not completely filled the void left by Mexicana.
Among Mexican carriers, Mexicana accounted for about 64% of total international traffic. So far Mexican carriers have taken over about 60% of the international traffic previously carried by Mexicana while the remaining 40% has been taken over by foreign carriers. US carriers, which saw their traffic on Mexico routes increase by 11% in 1H2011 compared to 1H2010, have accounted for most of the gains by foreign carriers.
US carriers now account for 61% of total international passengers in Mexico, compared to only a 16% share by Mexican carriers, based on DGAC data for 1H2011. The 16% for Mexican carriers includes passengers carried to the US as well as all other international markets.
Market share by carrier nationality in Mexico's international market, 1H2011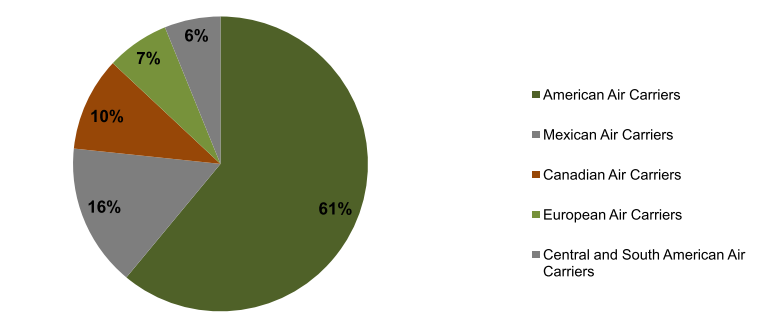 Among Mexican carriers, Group Aeromexico transports 77% of international passengers, including 69% at Aeromexico mainline and 8% at Aeromexico Connect. Volaris, which has been rapidly expanding its transborder operation this year, now accounts for a 22% share of the international market among Mexican carriers. VivaAerobus, which has a very limited operation to the US, accounts for 1%. Interjet currently only operates domestic services.
International market share in Mexico by carrier (Mexican carriers only), 1H2011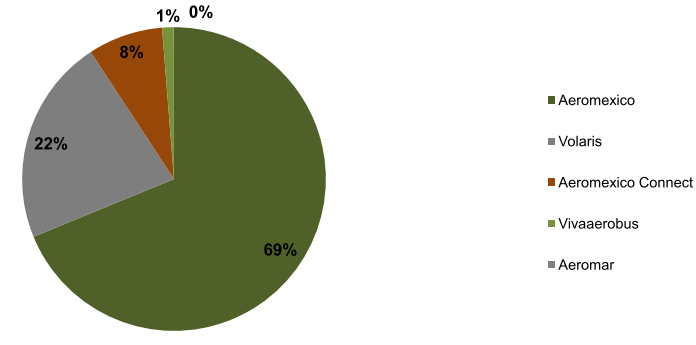 Aeromexico CEO Andres Conesa told CAPA last month that the carrier is working to gradually increase its share of the total international market. He pointed out that while Aeromexico now only has an 11% share of the total international market, this is up from 7% prior to Mexicana's collapse. He says on an ASK basis, more than half of Grupo Aeromexico's capacity is now international.
Aeromexico increasing capacity on transborder routes
Mr Conesa said Aeromexico has already increased capacity in the US market by about 50% over the last year. He says Aeromexico's US operation, which was cut in 2009 in response to poor market conditions, is now at historical levels in terms of capacity.
The group launched four more new US routes earlier this month - Monterrey-Brownsville, Cancun-Miami, Monterrey-Chicago and Guadalajara-San Francisco. Mr Conesa said Aeromexico is continuing to add flights to the US, particularly to destinations in California. According to DGAC data, the US market accounts for 77% of Mexico's international passengers or about 1.5 million passengers per month.
Grupo Mexicana also has been rapidly increasing its operation within Latin America. Service to Guatemala was launched earlier this month – the fourth new destination in Latin America and the Caribbean since last year. Service to Panama will begin in Sept-2011 and Mr Conesa says service to Caracas in Venezuela is expected to begin later this year.
New B737s to be delivered in 2012 and 1H2013
Mr Conesa said the 10 additional B737-700s Aeromexico has ordered using proceeds from its recent IPO will be used primarily to further increase capacity on international routes, in particular to the US and Canada. He said these aircraft are slated for delivery in 2012 and 1H2013.
In addition to the 10 aircraft that are covered under the new order, Aeromexico has committed to adding four B737s in 2H2011. Aeromexico currently operates 40 B737-700/800s, which are used on domestic trunk routes and medium-haul international services.
Grupo Aeromexico also has committed since its Apr-2011 IPO to acquire 10 more E190s. Mr Conesa said four of these aircraft will be delivered in 2H2011 with the other six currently slated to be delivered in 2012, 2013 and 2014. But he said Aeromexico is now talking to Embraer about accelerating the 2013 and 2014 deliveries to 2012. The additional E190s will be operated by Aeromexico Connect and primarily be used domestically although the carrier also uses its current fleet of eight E190s on some international routes to the US and Central America.
Aeromexico Connect also currently operates 39 ERJ145s. Mr Conesa said some of the additional E190s will be used to upgauge domestic routes that are now served with the smaller ERJ145s. But he said the group plans to keep all its ERJ145s and use them to test out new domestic markets. For example, the ERJ145 fleet will be used to launch new domestic services from Mexico City to Colima and Tepic, two smaller destinations not currently in the Grupo Aeromexico network.
On the widebody side, Aeromexico has added two B767s since Mexicana's collapse and is planning to add one more B767 in 2H2011, giving it a widebody fleet of eight B767s and four B777s. The additional B767 will be used as a spare to improve the reliability of Aeromexico's long-haul operation.
First B787s to be delivered in mid 2013
Capacity growth on long-haul routes is likely not to come until summer 2013, when the first of the five B787s Aeromexico has on order are now slated for delivery. Aeromexico is now slated to receive three B787s in 2013 and two more B787s in 2014.
Mr Conesa said the group is potentially interested in acquiring additional widebody aircraft in the medium term and is now evaluating its options. This could include more B787s, more B777s or a new type currently not in the carrier's fleet. The new widebodies would replace the group's 12 B767s in the second half of this decade as well as potentially support further growth of the carrier's relatively small long-haul network. Aeromexico's long-haul network now consists of only three European destinations (Madrid, Barcelona and Paris) two Asian destinations (Shanghai and Tokyo) and three destinations in southern South America (Buenos Aires, Sao Paulo and Santiago).
Aeromexico's Apr-2011 IPO raised MXN3.8 billion, most of which will be used to expand the group's fleet and network, thereby ensuring it maintains its leadership position in the Mexican market. While Aeromexico since the IPO has recorded the highest first half profits in at least 15 years, the price of its shares have fallen by about 12%. Aeromexico's shares, which are only traded on the Mexican stock exchange, are currently trading at MXN27.30, down from the IPO price of MXN31.