Mainland China and Taiwan: aeropolitics impacts airlines at all levels
Analysis
Politically necessitated cosmetic changes are cheaper but louder for airlines in 2018 than a few decades ago. Mainland China's wide push for companies to distance themselves from recognising Taiwanese independence impacted the aviation sector as airlines this year were instructed for their websites and other materials not to categorise "Taiwan" as a separate country, but rather to list Taiwanese destinations as being in "China".
This was a reminder of the early 1990s – before widespread internet usage and landmark PRC-Taiwan accords – when China prohibited airlines from serving both China and Taiwan.
Airlines then created "Asia" subsidiaries to circumvent the ban: British Airways flew to China, but British Asia Airways flew to Taiwan, while Qantas established Australia Asia Airlines. That avoided airlines making political statements about territorial claims.
These incidents are highly visible and come with PR implications. Yet there are China-Taiwan matters less visible but with far greater impacts for other airlines, markets, tourism and aircraft sales – which this report explores.
Summary
US airlines and JAL only partially change; there may be repercussions
Some airlines, including Air Canada and British Airways, immediately changed listings to say "Taipei, China". (Air Canada incidentally continues to display the Taiwanese independence flag icon on its website. Delta no longer shows a flag if Taiwan is selected as the home market.)
Other airlines – notably US operators, but also Japan Airlines – waited until the deadline to make changes. Regional Asian airlines are the largest operators of seats into mainland China (see graphs below) and non-Asian airlines have the highest ASKs into China, underscoring the revenue importance (although Asian airlines often have connecting passengers for China, meaning their ASK exposure understates revenue importance).
As for the tight timing, it is unclear whether there were technical impediments, or airlines were hoping for a diplomatic solution, or even if airlines intentionally waited and drew the process out (tipped off media) to convey how they were making the changes only under force. For some airlines this was a matter of their sovereignty, for other airlines it was about coyly sending a message to their Taiwanese customers
Yet the US airlines and JAL did not explicitly label Taipei as "China". US airlines have removed country listing and suffixes around greater China and now only list the airport. JAL labels cities by geography, such as "East Asia". (There is little chance of confusion: say, a passenger booking a CAN-PEK ticket trying to go from Canton, Ohio to Pekin, Illinois.)
China appears to be rejecting these changes as incomplete. Other airlines have asked about such a solution and were told no.
What is next is uncertain. Aviation has never failed in its creative responses – directly or passive-aggressively.
There have been incidents over the years where countries have had a substantial drop in Chinese visitors. This has occurred notably in
Japan
,
Korea
and
Vietnam
. But direct impacts to
China
-
US
flights are not in
China
's interest. In the
Japan
incident, Chinese airlines were disproportionately impacted since they were large, and
Japan
flying was exceptionally high-yielding. So there is a history of
China
disadvantaging its own airlines for a larger cause.
Japan
and others were impacted from a loss of tourism. This used to be a red flag indicator of bad policy, but the Trump administration's travel bans and other policies appear to indicate the government is not concerned about falling visitor numbers – so this potential punishment from
China
has limited effectiveness, even despite the massive spend (de facto
US
exports) that Chinese tourists deliver.
There are for example many mundane bureaucratic procedures, like changing flight times, that do not have a fixed action time from authorities and consequently might now take significantly longer than before. Chinese authorities could increase random checks and audits, which could impact on-time performance.
Operations could be impacted. Do
US
airlines get assigned the furthest gates at Chinese airports? Are flights given long taxi times and low takeoff priority? Is there retaliation through non-aviation measures?
The beauty of so many tactics is that the offending party knows it is being punished but the actions are mostly within the book, and are not matters that can justify obvious retaliation. Inevitably though it is the airlines (and their customers) who suffer.
Largest non-mainland Chinese airlines serving mainland China ranked on available seat capacity: week commencing 23-July-2018
Largest non-mainland Chinese airlines serving mainland China ranked on ASKs: week commencing 23-July-2018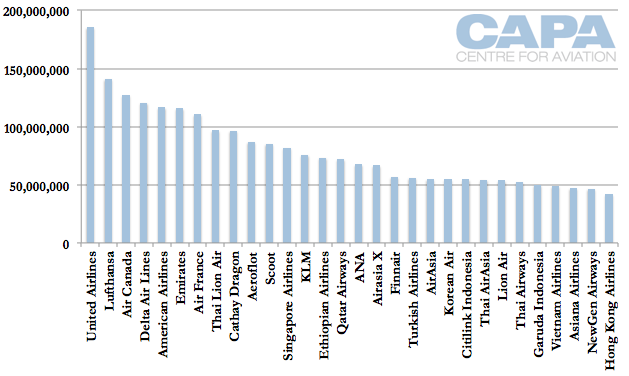 Airlines cautious about adding flights to Taiwan
The "Asia" subsidiaries created to serve Taiwan are long gone; airlines can fly to mainland China and Taiwan under the same name, brand, designator code and aircraft. But not all airlines feel comfortable doing so.
The proximity of Taiwan does, to an extent, make it inevitable that regional Asian airlines will serve China and Taiwan. There is often heavier pressure on non-Asian airlines not to fly to Taiwan or not to grow their presence there. This may be explicit, implied, or a pre-emptive action airlines take in order not to upset mainland Chinese authorities.
Airlines can have solid business route studies to support a Taiwanese flight. Taiwan may be one of an airline's largest unserved markets. Yet non-Asian airlines may often pass up the opportunity to grow their Taiwanese business.
Often the concern is that flying to Taiwan or adding flights will jeopardise what new traffic rights mainland China makes available. Most regional Asia markets have some form of air service liberalisation with China. The ASEAN bloc has open skies with China. A notable exception to liberalisation is South Korea (and Taiwan). Non-Asian markets tend to have tight and constrained air service agreements with China.
Taiwan has flights from only six non-Asian airlines
Only six non-Asian airlines serve Taiwan: Air Canada, Air France, Emirates, KLM, Turkish and United. Asian airlines are among the largest foreign airlines in mainland China based on availability seat capacity.
Some of the non-Asian airlines serving Taiwan are among the largest non-Asian airlines serving mainland China: Emirates is the second-largest non-Asian airline in Taiwan and the largest non-Asian airline in mainland China (yet 16th largest foreign airline in mainland China). Air Canada and United are also in the top five non-Asian airlines serving mainland China.
The third and fourth largest non-Asian airlines serving mainland China are Lufthansa and Aeroflot, and they do not serve Taiwan.
Seat capacity for non-Asian airlines serving both mainland China and Taiwan: week commencing 23-July-2018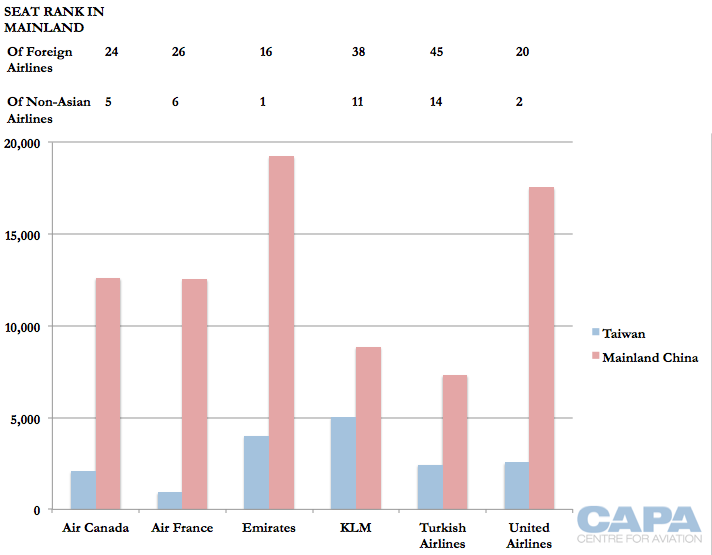 Of the six non-Asian airlines serving Taiwan, most have started in recent years: 2014 for Emirates, 2015 for Turkish, 2017 for Air Canada and 2018 for Air France. Delta exited Taiwan after a long history, whereas Hawaiian served Taiwan for less than two years.
In 2018 there is service from six non-Asian airlines, up from five in 2016 and three in 2012. In previous decades there was service from other airlines, including British Airways and Qantas.
Non-Asian passenger airlines serving Taiwan: 2008-2018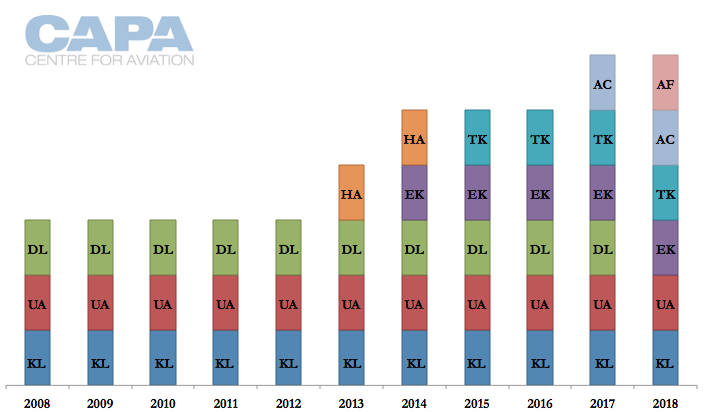 Mainland Chinese growth must overshadow Taiwanese flying
Taking airlines that serve both mainland China and Taiwan, they are often highly cautious about the timing of adding flights or capacity and about the publicity they promote.
There are even greter sensitivities if an airline adds Taiwanese flying around the time it has received new traffic rights or better slots in mainland China. There have been occurrences where an airline committed to Taiwanese expansion but waited to announce it until it secured better-timed slots.
Slots are the critical component for using allocated traffic rights, but slot allocation is highly subjective in China and can be influenced by events like an airline's Taiwanese flying. Airlines want to secure their needs in mainland China before pressing ahead with Taiwanese flying, even if the details for Taiwanese expansion have been finalised beforehand. For airlines there is benefit in announcing mainland China routes before Taiwanese routes as this seems to connote to officials which market is more important.
Korea may be hesitant to sign an open skies agreement with Taiwan
Pressure or fear of backlash from committing to Taiwan growth can extend beyond mere flights and impact traffic rights and liberalisation. Korea and Taiwan are generally in favour of expanding their air service agreement and even moving to open skies. However, Korea is concerned that signing open skies with Taiwan will hurt its Chinese relations, aeropolitical and other.
The Korea-Taiwan market significantly lags the Japan-Taiwan market. Japan and Korea are in similar proximity to Taiwan. There is a historical relationship between Japan and Taiwan, and Japan's economy is larger than Korea's. Japan has a larger population than Korea, but Korea has a disproportionately larger outbound market.
The Korea-Taiwan market is only a third the size of Japan-Taiwan. Japan and Taiwan signed an open skies agreement in 2011, and from 2012 there was a sharp increase in flights. This period coincided with the launch of LCCs, which Korea had already had for many years.
Korea/Japan-Taiwan annual available seat capacity: 2008-2018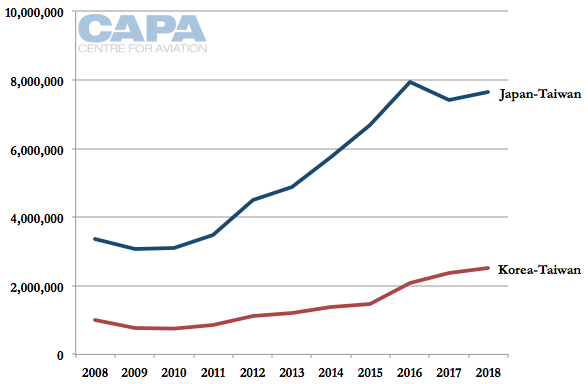 Korea believes Japan was better able to stand up to any backlash from China about Japan-Taiwan open skies. Korea feels it would not have as strong a position as Japan's if it signed open skies with Taiwan.
Ramifications are potentially larger for Korea than Japan. In 2011 when Japan and Taiwan signed open skies, Chinese airlines had a 60% share of the Japan-mainland China market based on available seats. It was clear Chinese airlines would dominate (they have a much lower cost base than Japanese airlines), so there were no strong concerns that Japanese airline growth in China would be impacted. In 2018, Chinese airlines account for 69% of Japan-China seats.
Korea-mainland China is different. Korean carriers have a longer history and more competitive cost base. Korean Air and Asiana are the second and third largest non-mainland Chinese airlines serving mainland China. (The largest is Cathay Pacific's regional unit Cathay Dragon, based in Hong Kong.) In 2018, Chinese airlines account for 45% of scheduled Korea-China seats.
Local China-Korea traffic is strong, and Korean carriers have been significant operators in 6th freedom traffic to/from China, especially in the China-North America market. The Korea-China bilateral has been constrained, with Korean operators using their traffic rights and wanting more. So there have been legitimate and serious concerns about impacts on the larger Korea-China market if Korea pursues air service liberalisation in the smaller Korea-Taiwan market.
Chinese airline share of China-Japan and China-Korea market based on available seat capacity: 2008-2018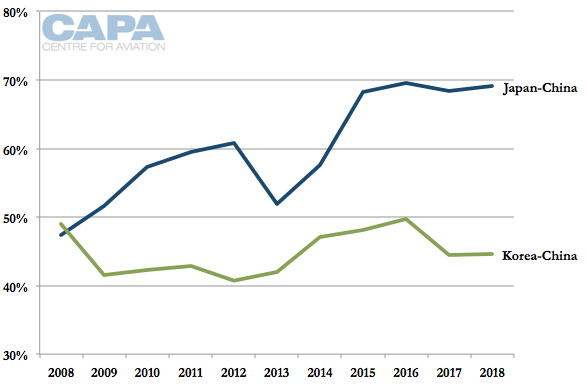 Appearances matter - and then incrementalism?
Before the website classification issue, Emirates was in the news about its uniform policy: for cabin crew to wear a pin of the country they are from. Taiwanese cabin crew were told to start wearing the mainland Chinese pin. In a separate matter, Emirates had tried to avoid any problems on any topic – not just flag pins – by not rostering Taiwanese crew to work greater China flights, despite language commonality.
It should be asked how much the CAAC is spearheading this policy, and across all of its bureaus or only some, or if it was following guidelines from higher up; in other sectors, companies that included Zara and Marriott had to change listings. Involvement from CAAC or another government branch may indicate where, and to what extent, retaliation might come.
Chinese and American aviation extends well beyond mere flights into technical partnerships, airline education and safety cooperation. The Taiwan classification matter was not going to unravel all of that. But the inevitable slippery slope questions arise - such as what comes next.