Luxair lucks out in 2012 with first net loss in 30 years. Its turnaround plans will be key
When reporting its first net loss in 30 years, Luxair observed that "Many traditional, independent, small size European airlines which do not operate long-haul services are facing financial disaster and are fighting for survival. The only airlines which operate an intra-European network and which are managing to do well are the low-cost airlines."
With this in mind, the Luxembourg-based operator of scheduled and charter passenger operations, cargo handling and aviation services is embarking on a crucial turnaround plan. It targets a breakeven result in 2015 by achieving annual profitability improvements of EUR25 million, or almost 6% of 2012 revenues. This looks an ambitious target given its 2012 operating loss margin of 4% of revenues.
Luxair's first loss in 30 years
In 2012, Luxair SA reported a net loss for the first time in 30 years, with a deficit of EUR10.5 million (compared with a profit of EUR3.6 million in 2011). The LuxairGroup net loss, which includes the group's share of the results of associated companies such as Cargolux, was EUR21.2 million (EUR1.4 million profit in 2011).
Revenues grew by 4.2% to EUR446.7 million, with total passenger numbers up 5.5% to almost 1.4 million.
The group also saw an increase in the number of meals served by its catering division and in the number of passengers handled in its services division, but freight tons handled by its cargo handling unit fell by 5.9%.
Luxair financial and operating result highlights: 2011 and 2012
| EUR million except where stated | 2011 | 2012 | Change |
| --- | --- | --- | --- |
| Turnover | 428.6 | 446.7 | 4.2% |
| Operating profit | -2.3 | -18.2 | -15.9 million |
| Operating margin % | -0.5 | -4.1 | -3.5 ppts |
| Net Result (Luxair SA) | 3.6 | -10.5 | -14.1 million |
| Net result (LuxairGroup consolidated) | 1.4 | -21.2 | -22.6 million |
| Passengers (total LuxairGroup) * | 1,302,771 | 1,374,810 | 5.5% |
| RPK* (million) | 1,521 | 1,660 | 9.1% |
| Seat Load Factor | 72.4% | 73.4% | 1.0 ppt |
| Number of meals served (catering) | 1,485,000 | 1,689,000 | 13.7% |
| Number of passengers assisted at Luxembourg airport | 1,795,255 | 1,919,880 | 6.9% |
| Freight handled (tons) | 677,913 | 638,068 | -5.9% |
| Personnel (on average) | 2,344 | 2,309 | -1.5% |
Luxair's revenues have been on an upward curve since 2009, when it reported an operating loss of EUR7.1 million, but, in spite of a profit recovery in 2010, the trajectory of profitability has been downwards over the past three years. Luxair SA's operating loss of EUR18.2 million in 2012 was the worst result in any year from 2009 to 2012.
At the end of 2012, the group's cash balance was EUR51.7 million, equivalent to 42 days of revenues. This is not the biggest of cushions, but its balance sheet also contains EUR166 million of unspecified "other investments" and holdings in associate companies (see below). It had financial debt of EUR67.7 million, giving net debt of EUR16 million, and equity of EUR341.7 million.
Its balance sheet looks capable of withstanding further losses if necessary, but the priority must be to stop the losses.
Luxair SA operating profit and net profit (EUR million, left hand axis) and turnover (EUR million, right hand axis): 2009 to 2012

Luxair's turnaround plan targets 2015 breakeven
Recognising the gravity of its situation with regard to its losses, particularly within the core scheduled airline business, the Group hired consultants in 2012 to conduct a strategic review of the airline. In Mar-2013, the consultant delivered recommendations linked to income, productivity and costs for all LuxairGroup businesses.
Specifically, the aim is to improve results by EUR 25 million p.a., resulting in a breakeven position by 2015. Management has begun negotiations with labour representatives in order to rework collective bargaining agreements.
Group passenger numbers up 5.5%; contrasting trends in scheduled and charter
The group parent company is Luxair SA, whose main operating units are scheduled passenger carrier Luxair Luxembourg Airlines, charter carrier and holiday company LuxairTours, cargo handler LuxairCargo and Luxair Services. Luxair SA is 39% owned by the Grand Duchy of Luxembourg, 35% by local financial institutions and 13% by Lufthansa.
The Group owns a 43% stake in cargo airline Cargolux, a 40% stake in fuel supplier Luxfuel and a 35% stake in travel agent Euro Moselles Loisirs.
Luxair Group structure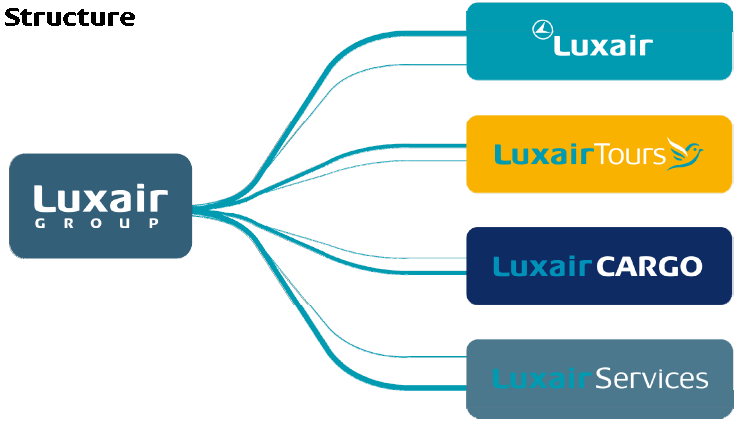 The group carried almost 1.4 million passengers in 2012, up 5.5%, with load factor up 1ppt to 73.4%. Passenger numbers have grown at a compound average rate of 5% p.a. since 2009, compared with 4% p.a. for the Association of European Airlines over the same period.
LuxairGroup passenger numbers and load factor: 2009 to 2012

The difference between the LuxairGroup and the AEA traffic data is that LuxairGroup carries a high proportion of charter passengers. In 2012, its scheduled passenger numbers fell by 0.5% to 804,198 (AEA members saw passenger growth of 1.5%), while its charter passenger numbers grew by 15.4% to reach 570,612 (bucking the wider European trend of falling charter passenger numbers).
There was a marked difference in load factor between the two sides of the business, with scheduled achieving 60.7% and charter 79.4%.
Luxair scheduled and LuxairTours passenger numbers and load factor: 2011 and 2012

The scheduled business, Luxair Luxembourg Airlines (formed in 1948) operates direct flights from Luxembourg to 18 destinations in Europe and offers a further 32 destinations through codeshare partners.
It regards its strengths as being a modern fleet, high frequency services to major destinations, an easily accessible airport and membership of Lufthansa's Miles & More FFP.
Luxair scheduled destinations 2013 (including codeshare)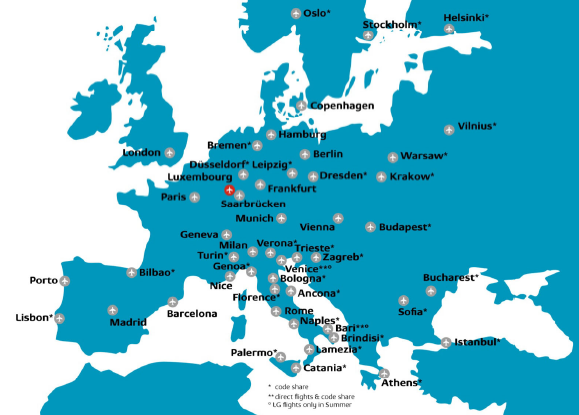 Luxair codeshare agreements at May-2013

Luxair Luxembourg Airlines recorded a loss approaching EUR20 million in 2012, the 10th loss in a row and around ERU4 million worse than that of 2011. It suffered from strong competition at Luxembourg Airport, including the arrival of LCCs, and higher oil prices. Increased competition was brought by Lufthansa on the Munich route, Darwin on the Geneva route, easyJet on London and OLT on Saarbruecken-Hamburg.
According to Innovata, Luxair currently has around 64% of seats at Luxembourg airport, which is still dominated by full service carriers, although LCC easyJet now has almost 5%. In 2013, the addition by easyJet of Milan and the arrival at Luxembourg of Vueling with the Barcelona route will further intensify competition.
Luxembourg Airport percentage of seats by airline: 3-Jun-2013 to 9-Jun-2013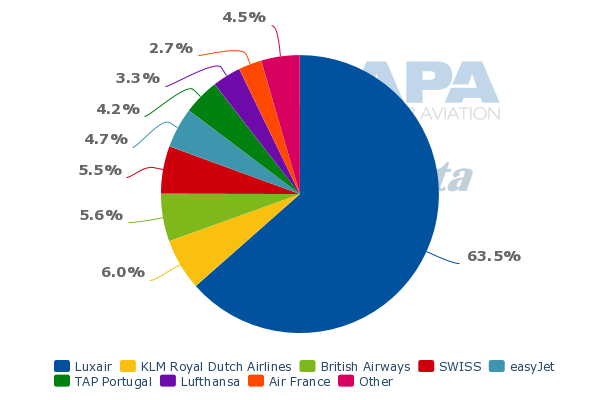 Luxair cut its seat capacity in 2012 by 3%, mainly due to lower frequencies on its Saarbrucken route and the cessation of routes to Prague, Dublin and Turin. The fall in passenger numbers was limited to 0.5%, although Luxair says that like-for-like traffic grew by 7%.
Load factor increased for the scheduled business by 2.5ppts to 60.7%, but remains significantly below the AEA average of 73.5% for international short/medium-haul routes.
Competitive pressure led to a fall in income per passenger of 4% in 2012. Not only is Luxair increasingly using low-priced ticket offers to stimulate demand, but it is also seeing a decreasing share of passengers paying for high yield business class or flexible economy class tickets. In 2012, 38% of tickets were either its Primo entry level fares or promotional fares (up from 32% in 2011), while the proportion of passengers travelling on business class or flexible economy fares fell to 16% from 20% in 2011.
Luxair percentage of passengers buying business class/flexible economy tickets and Primo/promotional fares

Growth at LuxairTours
LuxairTours is the group's tour operator, launched in 1968. In summer 2013, it has 40 destinations in 13 countries and uses 961 hotels. Its biggest destination market is Spain, followed by Tunisia. It offers a range of holidays, including summer sun, beach, European city breaks, cruises, high-quality packages and long-haul holidays (in partnership with Kuoni).
The business added 17% more seats in 2012, through the addition of one aircraft, and saw passenger growth of 15%. Load factor slipped by 1.4ppts to 79.4%. Given political and/or economic instability in markets such as North Africa and Greece, this was a creditable performance and growth in this business contrasts with the decline in the scheduled division. Demand was stimulated with special offers, which accounted for 13% of package holidays in 2012 (9% in 2011).
LuxairTours' passengers fall into three categories: 1) the classic package holiday passengers, which represent around two thirds of the total for this division and which increased by 4% in 2012, below management's expectations; 2) seat-only sales, which were up sharply in 2012 (+32%); and 3) ad hoc charter flight passengers, which grew by 45% in 2012, but were only a single digit percentage of the total.
LuxairTours destinations summer 2013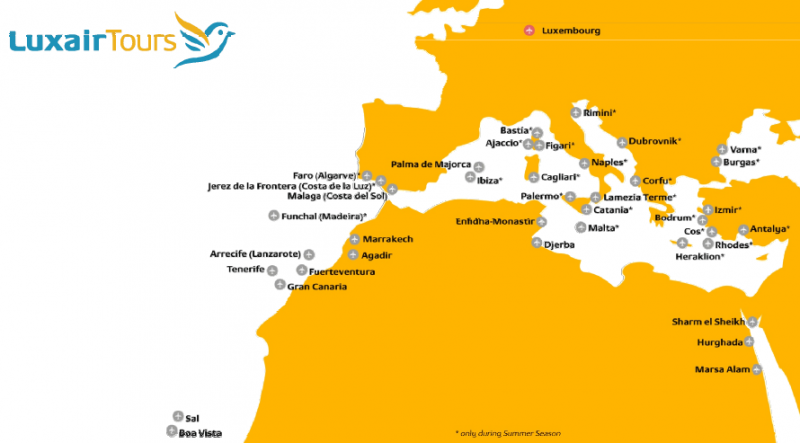 LuxairTours geographical split of customers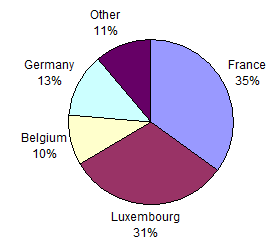 LuxairTours' focus in 2013 will be on improving its margins after the rapid volume growth of 2012. The company says that current booking levels suggest it is on track to meet its targets, although it is cautious about the political environment in North Africa and the potential for economic upheaval in Southern Europe. Summer 2013 sees the introduction of Figari in Corsica and the return of Croatia to LuxairTours' range of destinations.
Fleet investment continues
The group fleet at the end of May-2013 was stable on its end of 2012 numbers, consisting of 17 aircraft in total, including one wet-lease 737-800 from XL Airways Germany, and 12 of which are regional aircraft. In spite of group losses, fleet investment is continuing.
The company has two further Boeing 737-800s on order, due for delivery in early 2014 and early 2015. Three Bombardier Q400s were replaced with four Next Generation Q400s in 2012.
LuxairGroup fleet at 31-May-2013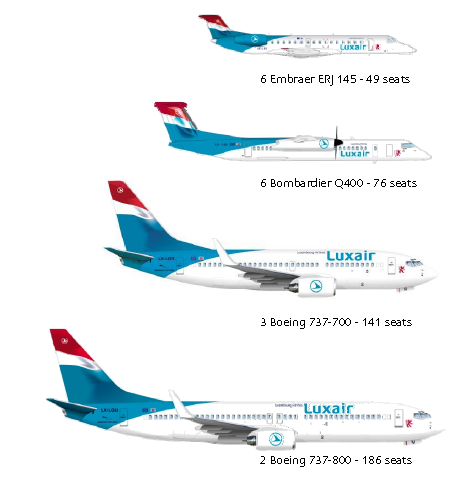 The Luxair fleet is relatively young.
Luxair fleet average age at 4-Jun-2013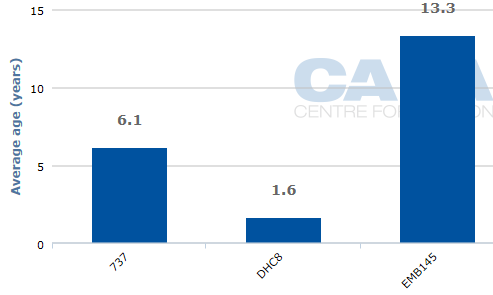 LuxairCargo volume is 30% below the 2007 peak
LuxairCargo is the group's air freight handling business, which recorded an operating loss in 2012. It handled 638,068 tons of freight, a fall of 5.9% versus 2011 and 13% lower than the volume handled in 2010. Volume handled for Cargolux, the main customer, was down by 4% in 2012. LuxairCargo's business is closely linked to trade between Asia and Europe and this has not recovered from the global financial crisis.
Volumes handled in 2012 by the company were the same as in 2003 and 30% below their 2007 peak. Luxembourg Airport has slipped from Europe's fifth ranked cargo airport in 2011 to between seventh and eighth. Revenues of LuxairCargo's cargo centre fell by 6% in 2012 to EUR71 million, 16% of the group total.
The company expects a further reduction in volumes handled in 2013, by 5%, although it says that volumes were up in the Jan-2013 to Feb-2013 period. In Apr-2013, it opened a new facility to handle pharmaceutical products, with a capacity of 78,000 tons to capitalise on a growing market for temperature controlled handling.
LuxairServices sees growth
LuxairServices handles transit passengers and provides airline catering at Luxembourg Airport, among other services. Total passenger numbers at Luxembourg were more than 1.9 million in 2012, up from 1.8 million in 2011. Although its scheduled airline division saw numbers fall in 2012, LuxairServices benefited from passenger growth at the airport, handling 7% more passengers and serving almost 14% more meals in 2012 relative to 2011. Its airline customers include Luxair and other carriers at the airport. The division also manages four shops, branded BUY bye Luxembourg.
LuxairGroup's associated companies include Cargolux, the freight airline based at Luxembourg Airport. Its volumes fell 2% in 2012 and it lost USD35 million after tax (USD18 million loss in 2011), with revenues down by 7.6%. Luxfuel manages a fuel depot and aircraft refuelling operations at the airport. Its volume fell by 8% in 2012. Euro Moselle Loisirs, in which Luxair took a 35% stake in Nov-2012 and which has turnover of EUR33 million, manages travel agents in northeast France and operates a travel service for schools.
The Group's turnaround programme will be key
The group does not provide sufficient data to allow a detailed comparison of revenues and costs with other European airline groups, including RASK and CASK analysis or labour productivity. However, we can make some simple observations about its financial development since 2010, the last year in which it made an operating profit.
Between 2010 and 2012, total passenger numbers grew by 10%, revenues by 9% and operating costs (defined as the difference between revenues and the operating result) grew by 14%.
The deteriorating profit performance is due to cost growth outpacing revenue growth. Luxair SA is 13% owned by Lufthansa and participates in its Miles & More frequent flyer programme.
However, the Luxembourg market is too small and of insufficient strategic value for Lufthansa to bail Luxair out if its cost reduction programme fails to restore profitability. The turnaround, particularly of the core scheduled passenger business, will be key to LuxairGroup's ongoing survival.