Lufthansa's 3Q2013 profit numbers all fall, but there is 'clear improvement': how to understand this
Lufthansa does not make it easy for the casual observer to understand its financial results. It has three different figures for what is generally called operating profit: 'EBIT', 'operating result' and 'normalised operating result', plus a fourth indicator, 'adjusted operating margin'. Here is how we paraphrase Lufthansa's 3Q2013 results communications.
"Underlying profitability is moving in the right direction, in spite of weak currency-affected yields. The SCORE restructuring programme is starting to have a positive effect, but is also bringing one-off costs. The transfer to Germanwings should lead to a profit in short-haul for the first time in five years and Austrian should report an operating profit for the first time since we bought it. Our 2013 operating profit should be EUR600 million to EUR700 million and SCORE should take us to our 2015 target operating profit of EUR2.3 billion. We should have a better view next year, when restructuring and product improvement costs reduce, but our recent aircraft order shows our confidence in the future. Trust us for now".
See related reports:
Reported operating result falls
The Lufthansa Group reported a 12% fall in its operating result for 3Q2013 (Jul-Sep) to EUR589 million. For the first nine months, the operating result fell 27% from EUR907 million to EUR661 million. The operating result is essentially the difference between operating costs and operating revenues and excludes items such as income from the write-back of provisions, disposals and associated companies and costs such as impairment charges.
Net profit was down 30% in 3Q and down 64% for the nine months. Revenues were almost flat year on year in 3Q (-0.1%) and in the nine months (-0.2%).
The adjusted operating margin, which includes income from the write back of provisions, fell by 1.1 ppts to 3.2% for the nine month period. EBIT (earnings before interest and tax) includes all income and expenses before interest and tax. Lufthansa's nine month EBIT fell by EUR972 million to EUR615 million.
Lufthansa Group financial highlights: 3Q2013 and first nine months 2013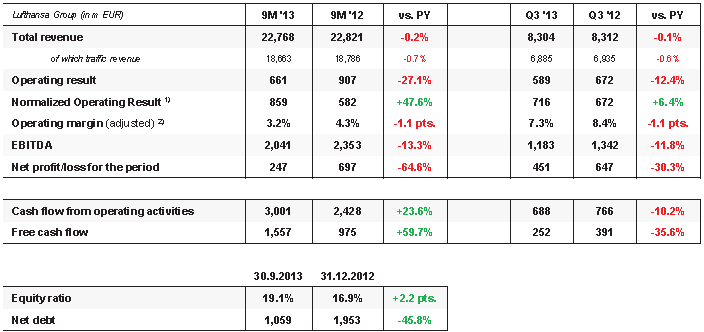 Normalised operating profit increases
Lufthansa's operating result is the most closely watched figure and is the focus for management targets. For the first nine months of 2013, this result was burdened by EUR198 million of one-off costs (project costs and restructuring costs), while last year's figures were flattered by a net positive of EUR325 million of one-off items.
Therefore, Lufthansa has also published a 'normalised' operating result of EUR859 million for the nine months. This does not form part of the officially reported accounts, prepared according to accounting standards, but is designed to give a better view of the underlying trend once one-off items are removed.
Normalised operating profit was actually EUR277 million higher (+48%) than the equivalent figure for last year. Most of this improvement came in 1H2013, with 3Q2013 seeing only a EUR44 million gain on last year. Lufthansa's presentation to analysts referred to a "clear improvement".
Lufthansa Group normalised operating results: 3Q2013 and first nine months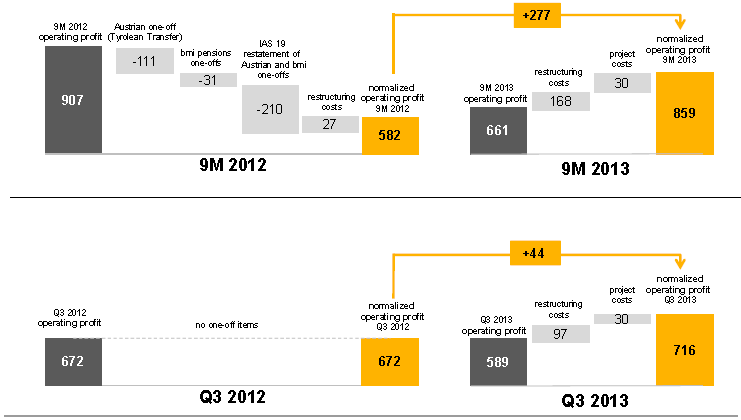 Balance sheet strength
Cash flow from operating activities improved by EUR573 million in the nine months compared with the same period a year earlier and free cash flow (i.e. after capital expenditure) improved by EUR582 million. Total group liquidity improved by EUR491 million to reach almost EUR5.4 billion. Compared with the end of FY2012, net debt fell by 46% to EUR1.1 billion and book equity increased by 16% to EUR5.6 billion. This again highlights Lufthansa's position as having the strongest balance sheet of Europe's Big Three flag carrier groups.
Traffic growth picks up in 3Q
The third quarter saw Lufthansa's strongest traffic growth of the year so far. The group's passenger numbers saw growth of 2.3% in 3Q2013, after being more or less flat year on year in 1H2013, bringing the nine month growth rate to 0.6%. Passenger load factor gained 0.7 ppts in 3Q (to 84.1%) and 1.0 ppts in the nine months (to 80.3%). In ASK terms, capacity was up 2.5% in 3Q and up 0.8% in the nine months.
The cargo business carried 2.0% fewer tonnes of freight and mail in the nine months, but volumes levelled out in 3Q (+0.1%). Cargo load factor fell by 1.7 ppts in 3Q and by 0.4 ppts in the nine months (to 68.4%).
Lufthansa Group summary traffic figures: 3Q2013 and first nine months


Underlying costs fall
Total revenues were broadly flat in 3Q and for the first nine months (-0.1% and -0.2% respectively), mainly reflecting the performance of the passenger segment. Reported operating costs, however, grew by 0.6% in 3Q and 0.8% in the nine month period. While cost growth was modest, it outpaced revenues and so lead to lower operating results.
However, costs in the first nine months of 2013 were burdened by EUR168 million of one-off restructuring costs and EUR30 million of one-off project costs. In the same period last year, reported costs were reduced by a series of one-off positive impacts and so the year on year comparison of costs appears worse than the underlying picture.
Adjusting for one-off positives in last year's figures and one-off negatives in this year's figures, underlying operating costs fell by 1.4%, a bigger fall then the drop in revenues. Cost performance was helped by a 2.9% fall in the fuel bill for the nine months. Non-fuel costs were reported up by 2.0%, but fell by 0.9% on an underlying basis.
Staff costs, up by 13.1% on a reported basis for the nine months, grew by 3.1% excluding one-offs. Employee numbers were broadly stable, -0.5%, but underlying staff costs were swollen by interest rate-related increases in additions to pension provisions. Agreements have been concluded with all employee groups apart from cockpit crew, with whom talks are ongoing.
Lufthansa Group year on year revenue and cost development: 3Q2013 and first nine months 2013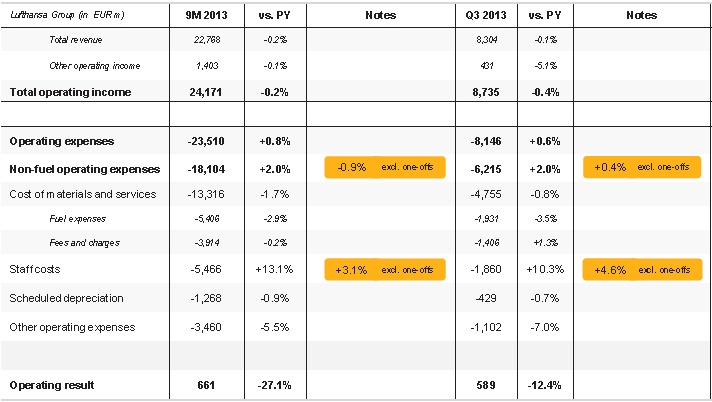 Major segments had better results on underlying basis
The passenger segment was the biggest contributor to the group result over the nine months. Its reported operating result fell by EUR118 million to EUR497 million, although Lufthansa says that the segment's underlying performance improved by around EUR200 million after stripping out one-offs.
Lufthansa's own passenger business improved by EUR189 million, after EUR30 million of project costs related to cabin upgrades and other product improvements. Lufthansa attributes the improvement to cutting unit costs while keeping capacity stable. SWISS' result improved by EUR9 million, but Austrian Airlines' fell by EUR191 million for the nine months. Nevertheless, stripping out one-off effects that flattered Austrian's 2012 results, the underlying result improved by EUR11 million this year.
Logistics (cargo) also reported a decline in its operating result for the nine months. MRO, the second biggest contributor to the group result, saw a EUR101 million improvement.
Making adjustments for one-off factors in the nine month figures for both 2013 and 2012, and adding back income from the write-back of provisions to operating results (to facilitate comparison with reporting conventions for other airline groups), all segments but logistics and catering saw a year on year improvement in margins. The passenger and MRO segments saw the biggest improvements.
Lufthansa Group revenue and operating result by segment: 9M2013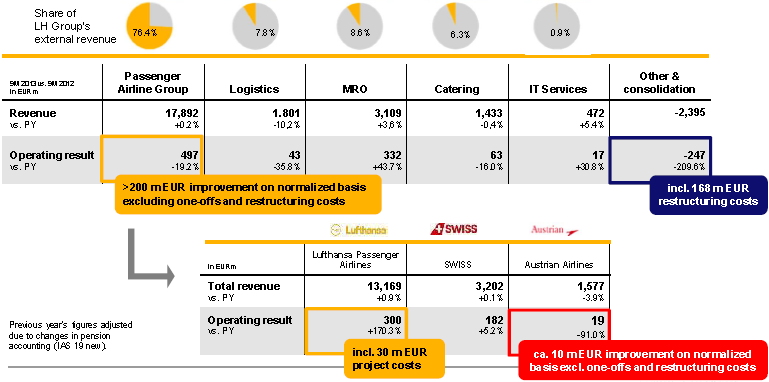 727" height="361" />
Lufthansa Group adjusted operating margins by segment: 9M2013 vs 9M2012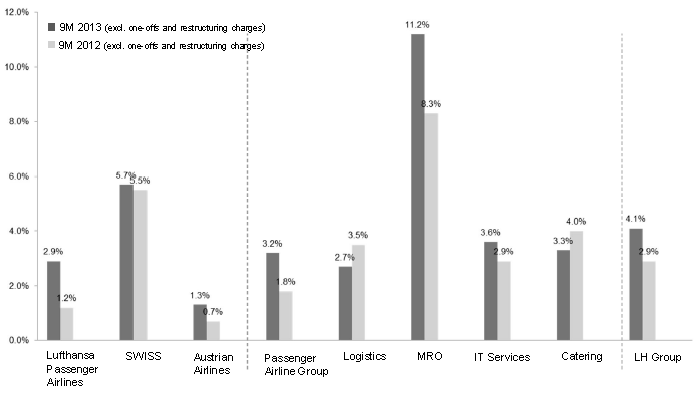 Segment outlook varies
Lufthansa's FY2013 outlook for operating results by division is mixed. For the Passenger segment, it expects revenues similar to last year and an increase in the operating result against the reported figure of EUR258 million. However, it does not expect an increase on last year's restated result of EUR556 million (after restatement to reflect pension accounting changes). It expects profit improvements "at a later date", after the SCORE cost reduction programme and product investments are complete. Within the Passenger segment, the Lufthansa business is expected to see a higher operating result than last year. SWISS' result is forecast to be on a par with 2012 (in EUR, but higher than last year in CHF). Austrian is expected to improve on last year's loss with a positive operating result "in the low double digit million Euro range".
For Logistics, it now expects operating profit to be less than 2012's EUR105 million, but "in the high double digit million Euro range". The MRO segment is now expected to report operating profit "considerably higher than last year" as SCORE project efficiencies start to have an impact. IT Services is still expected to improve on FY2012 results and Catering is still expected to be "roughly on a par with last year".
Yield weakness
The Passenger segment's 2.6% increase in capacity (ASKs) in 3Q2013 versus 3Q2012 was driven by growth of 5.5% in the Americas (which is mainly North America) and 3.4% in Asia-Pacific, both regions seeing an acceleration of growth from the first half year. In Europe, capacity cuts in 1H turned into ASK growth of 1.5% in 3Q, while capacity cuts continued in Middle East/Africa (-5.2%).
Load factor improved in all regions apart from Middle East/Africa in 3Q.
Group yield (passenger revenue per RPK) was down by 3.1% in 3Q, a bigger fall than the 2.5% drop in 2Q, although the 3Q result would have been up by 0.5% without adverse currency movements. Regionally, Asia-Pacific saw the weakest yield performance, reflecting ongoing competitive dynamics in that market and currency effects. Indeed, currency effects accounted for 7.1 ppts of the region's 9.8% fall in yield in 3Q.
Lufthansa says that forward bookings indicate that yields will remain below last year's levels due to currency effects.
Lufthansa Group year on year development of passenger capacity, traffic, load factor and yield by region: 3Q2013 and 9M2013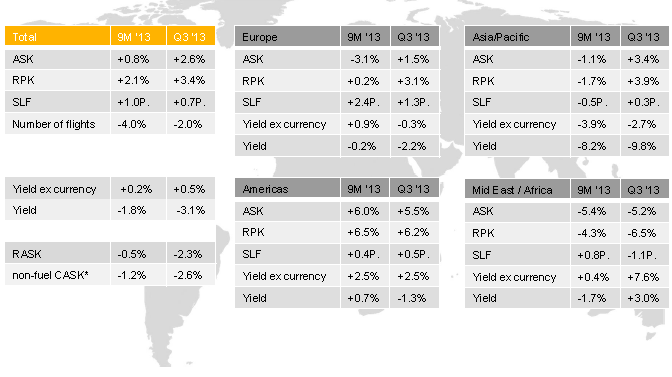 In the cargo business, weak demand led to a sharp decline in yields. Cargo revenues fell by 10%, with cargo capacity (ACTK) down by 1.8%.
FY2013 outlook is firmed up
For the Passenger Airline Group, Lufthansa plans to grow capacity (ASK) by 1.0% for FY2013, with short-haul capacity down 0.9% and long-haul up 2.0%. This is slightly higher growth than the 0.7% rate of overall growth expected at the time of its 1H results in Aug-2013. The difference mainly reflects a lesser cut in short-haul capacity. The total number of flights will fall and long-haul ASK growth mainly reflects more seats per aircraft due to the increase in the share of economy class seats.
The winter 2013/2014 schedule will still see an overall passenger capacity (ASK) increase of 1.1%, but rather than having uniform growth in both short-haul and long-haul, as indicated previously, Lufthansa now plans growth of 0.6% in long-haul and 2.2% in short-haul.
Lufthansa Passenger Airline Group capacity outlook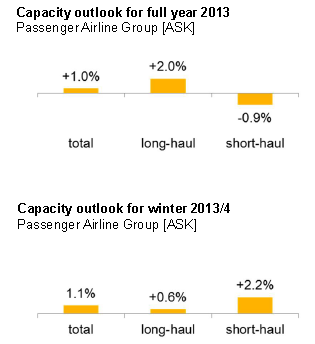 Lufthansa is seeing the first signs of a recovery in the cargo market after the summer break in September. It plans cargo capacity growth of 6% in 4Q, after a cut of 1.8% in the first nine months (-5.3% in Asia-Pacific).
Lufthansa now says that it expects FY2013 operating result to be between EUR600 million and EUR700 million. Its previous target had been to beat last year's reported figure of EUR524 million, a figure that has been restated to EUR839 million after changes in pension accounting.
While the new target appears more solid than the old guidance, analysts had been forecasting a result in excess of EUR900 million, according to a Bloomberg survey. The difference between Lufthansa's target and analyst forecasts was ascribed to "a mix of higher restructuring costs, weaker pricing in our cargo operations and currency headwinds," by CFO Simone Menne on a call with analysts. Lufthansa expects the normalised operating result for 2013, which excludes EUR300 million of one-off costs, to be between EUR900 million and EUR1 billion.
Lufthansa Group operating result: 2006 to 2012 and guidance for 2013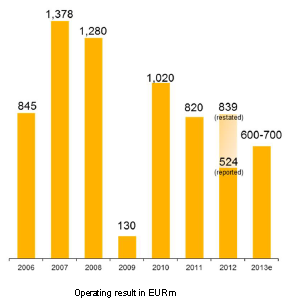 SCORE pipeline increased
Lufthansa also says that it is very confident of achieving its EUR740 million of SCORE-related profit improvements in 2013. Indeed, it has identified EUR950 million of SCORE-related benefits for 2013, giving it additional headroom to compensate 'headwinds' totalling around EUR700 to EUR800 million this year (these include EUR200 million of restructuring costs, EUR100 million of project costs and revenue headwinds such as currency effects).
Looking further ahead, Lufthansa has identified an additional EUR2 billion of profit improvement initiatives from its SCORE programme in 2014 and 2015. This SCORE project pipeline is around EUR270 million higher than indicated at the last update in Jun-2013. This EUR2 billion of incremental profitability, on top of the expected EUR600 million to EUR700 million of operating result in 2013, gives Lufthansa a little more scope to compensate for further headwinds in the next two years and to achieve its 2015 target operating result of EUR2.3 billion.
Lufthansa's SCORE pipeline at 30-Sep-2013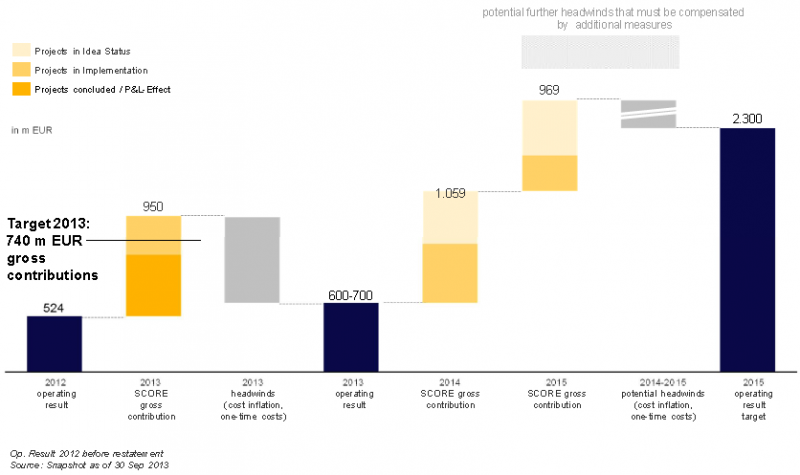 This will require a lower rate of annual headwinds than in 2013, but Lufthansa expects restructuring and project costs to reduce significantly. This would still leave uncertainties such as demand weakness, adverse currency movements, fuel price increases and geopolitical events.
The 2015 operating profit target still looks ambitious, but possibly achievable.
A difficult, but achievable, target is certainly a good way to focus minds on the challenge ahead. Lufthansa will be hoping that it does not lose momentum when its yet-to-be-appointed new CEO replaces Christoph Franz in May-2014.
See related reports: