LATAM's merger: despite tough conditions, a watershed moment in Latin American aviation
LATAM Airlines Group reached a milestone in early 2016 when it operated its first flights under the LATAM unified brand – almost six years after LAN and TAM declared their intention to merge, and four years after the merger closed.

The merger of LAN and TAM was one of the most significant developments in the history of Latin American aviation. Their combination creates a regional powerhouse, with the merged entity representing nearly 50% of system ASKs in South America.

But the region's fortunes have taken a sharp downturn since LAN and TAM embarked on their merger six years ago, which has led to questions over whether the original logic for the merger remains intact. Arguably, the combination creates a much stronger force to withstand the economic strife that has swept Latin America.
LATAM remains a dominant force in South America, controlling nearly half its capacity
LAN and TAM tabled their plans to merge in 2010, following the merger announcement of Avianca and TACA in 2009. The tie-up between LAN and TAM has created the largest airline group in Latin America, with operating entities in six South American countries.
LATAM's domestic market share in those markets is not below 20%, and is as high as 75% in Chile and 62% in Peru.
LATAM domestic market share in its operating countries as of May-2016
On a capacity basis LATAM represents 24% of the ASKs in upper South America for the week of 16-May-2016 to 22-May-2016, and 25% in lower South America, resulting in the entity controlling 49% of the ASKs deployed in those regions.
Both its market share and capacity concentrations reflected the scale created by combining LAN and TAM.
Upper South America capacity by airline (% of ASKs): 16-May-2016 to 22-May-2016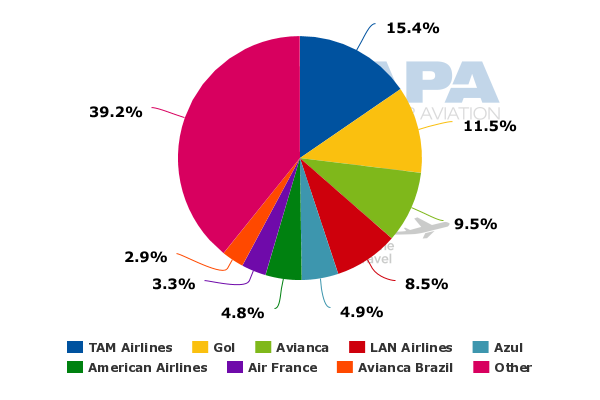 Lower South America capacity by airline (% of ASKs): 16-May-2016 to 22-May-2016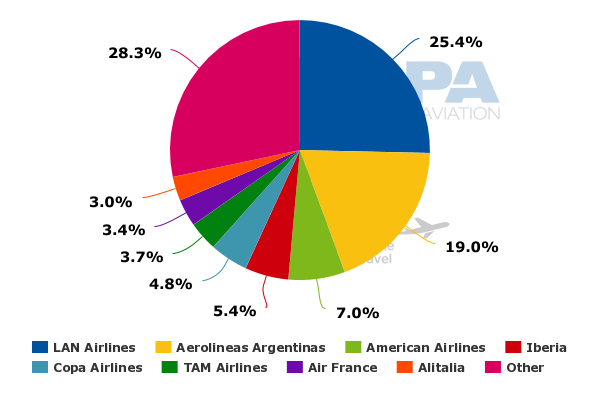 LATAM's scale allows for capacity deployment from weaker to stronger markets
One significant benefit that LAN and TAM gained from the merger was the creation of a powerful network, which prior to their combination had had very little overlap. LATAM has hubs in São Paulo, Lima, Bogotá, Santiago and Brasília, which allows for key coverage of intra-South America – an important market in Latin American aviation.
The company holds a 43% market share on international routes within South America. During 2016 LATAM is leveraging Lima's positioning as a north-south connecting point and introducing flights to Montevideo, Antofagasta, Salta, Rosario and Mendoza. New flights are also debuting from Lima to Washington, DC, and LATAM plans to launch long haul flights from São Paulo to Johannesburg, South Africa.
LATAM market share on international traffic flows within and to/from South America as of May-2016
LATAM's scale allows for the strategic redeployment of capacity from weaker to stronger markets. As an example, the company has enlarged its planned 2016 capacity reductions in Brazil's domestic market from 8% to 10%, to 10% to 12%, but growth targets of 3% to 5% in international markets and 6% to 8% in its Spanish-speaking countries remain intact.

Since 2012 when LAN and TAM closed their merger, their annual ASK growth has been below 5%. The company's capacity forecast for 2016 ranges from a 1% decrease to growth of 2%.
LATAM Airlines Group annual ASK growth: 2012 through Apr-2016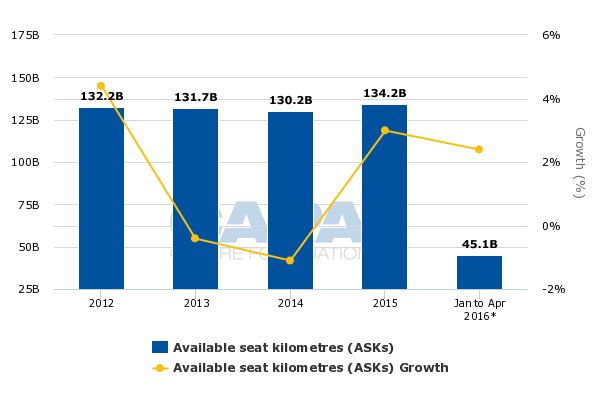 LATAM continues to adjust its business to Latin America's current economic climate
Back in 2010 when LAN and TAM announced their merger, Latin America's GDP growth was approximately 6%. Fast forward to 2016 and the region's economic forecast is a contraction of 0.5%.
Brazil is in the midst of a deep recession, and the recent impeachment of its president is doing little to engender much hope that the country can set itself on a course for recovery in the near future.

No airline operating in Latin America is immune from pressure created by the region's economic weakness. During 2015 LATAM's annual losses widened year-on-year to USD219 million, from USD110 million the year prior.

Similarly to other Latin American airlines, LATAM is working to withstand economic pressure by cutting capacity and making fleet adjustments. In early 2016 LATAM executives explained that one year ago its financial commitments for its fleet totalled USD7.7billion between 2016 and 2018. The company has now reduced that by USD2.9 billion, for a total of USD4.8 billion.
In May-2016, LATAM outlined additional plans to reduce its fleet assets by USD2 billion to USD3 billion over the next 18 months through aircraft sales, redeliveries and renegotiations of future deliveries.

CAPA's fleet database shows that LATAM has an operating fleet of 322 aircraft and an order book for 115 aircraft, as of 14-May-2016.
LATAM Airlines Group fleet summary as of 14-May-2016
LATAM is also working to keep a stable balance sheet during the challenging economic times facing Latin American airlines. It has a stated goal of keeping a liquidity balance of USD1.4 billion and USD1.5 billion. Its cash and equivalents balance at the end of 1Q2016 was USD1.3 billion.

At one point LATAM's adjusted net debt to EBITDAR was 6.5x, and at the end of 1Q2016 it had dropped to 5.9x. Back in 2013, LATAM had aimed to lower its ratio to 3.5x in four years, but the economic situation in Brazil could extend the deadline for reaching that target. Prior to the merger of LAN and TAM, LAN held a coveted investment-grade credit rating.
See related report: LATAM works to withstand tough conditions through capacity cuts and balance sheet fortification
The logic for LATAM's merger still stands, despite formidable headwinds in Latin America
Trying to complete a complex merger integration against the backdrop of an economic landscape that shows little sign of improvement begs the question whether LAN and TAM took the right step in forging their merger.

As separate entities, each airline would still be battling the tough economic climate. Although Brazil accounts for approximately 36% of LATAM's revenues by geographic area, the network diversity helps to dull the weakness created by Brazil's economic woes. Brazilian companies are also effectively cut off from credit markets, which means that TAM as a stand-alone entity would be in a much worse position today.
During 1H2016 LATAM was able to close on a USD325 million credit revolver, which would have been nearly impossible for TAM to achieve on its own. LATAM's Brazilian rival Gol is undertaking a debt restructuring, and it faces several constraints to accessing credit.

LAN and TAM obviously decided to merge in order to achieve the long term benefits of becoming the premiere airline entity in South America. Brazil, despite its current political and economic upheaval, remains the most important market in the region. LATAM estimates that Brazil trips per capita in 2014 were 0.56, compared with 2.68 in the mature US market. The data show a still significant upside for air travel growth in Brazil once the country's fortunes improve. On a stand-alone basis, LAN could not achieve its potential in South America without a significant foothold in Brazil.
LATAM will be well positioned as Latin America's powerhouse when conditions improve
The first flights that operated under the unified LATAM brand in May-2016 were a major milestone that deserves recognition. This was achieved in the difficult macroeconomic environment that the company faces while it works to roll out an airline brand representing a historic merger; one that proved to be a watershed moment in the Latin American aviation business.

Similarly to every other airline based in Latin America, LATAM faces extremely tough conditions for the foreseeable future. The company is taking the necessary steps to endure the short-term pain, towards benefiting from a sizeable competitive advantage once conditions improve. Mergers are never undertaken for the purpose of instantaneous rewards. LATAM, despite the clouds hanging over South America, remains poised to capitalise on its hard-won leading position.