JetBlue starts 2016 with expansion to Florida and the Caribbean. Cuba and Mexico beckon
Analysis
JetBlue is playing to its network strengths in early 2016, adding flights from the Northeast to Florida and leveraging its position in Fort Lauderdale to broaden its reach into the Caribbean. It is a formula that worked well for the airline in 2015. JetBlue outperformed the industry in passenger unit revenues, and remains confident of posting a similar performance in 2016.

The airline has been working over the last few years to balance out its passenger mix, courting more business travellers to smooth out the seasonality inherent in leisure and VFR (visiting friends and relatives) passenger segments. JetBlue's new route additions in late 2015, and early 2016, also show the importance that non-business travellers retain in its network.

JetBlue is eying new frontiers in Cuba and in Mexico due to recent changes in US air services agreements with those countries. They are two important markets for JetBlue as it works to broaden its international sphere and, with Cuba in particular, to solidify a leading position in the Caribbean.
JetBlue increases competition with Southwest as it bolsters service to its Florida stronghold
Flights from the US Northeast to Florida were core to JetBlue when it debuted nearly 16 years ago, and still remain among the airline's network cornerstones.
In Jan-2016 JetBlue added its eighth destination in Florida with new service from New York JFK to Daytona Beach. New flights from Albany to Fort Lauderdale and Orlando International preceded service to Daytona Beach in Dec-2015: Albany is a new market for JetBlue, and it is competing with Southwest Airlines on both new routes from New York's state capital.
JetBlue and Southwest's approximate seat share from Albany to Fort Lauderdale and Orlando: 11-Jan-2016 to 17-Jan-2016
The new service to Fort Lauderdale and Orlando from Albany is a logical progression for JetBlue, the routes offering a mix of O&D and connecting traffic. Fort Lauderdale and Orlando are among JetBlue's six focus cities, and are the airline's third and fourth largest bases, measured by seats, for the week of 11-Jan-2016 to 17-Jan-2016. JetBlue is the largest operator at both Florida airports measured by seats, with a 23% share at Fort Lauderdale and a 26% share at Orlando.
JetBlue Airways Global top 10 hubs/bases/stations by seats: 11-Jan-2016 to 17-Jan-2016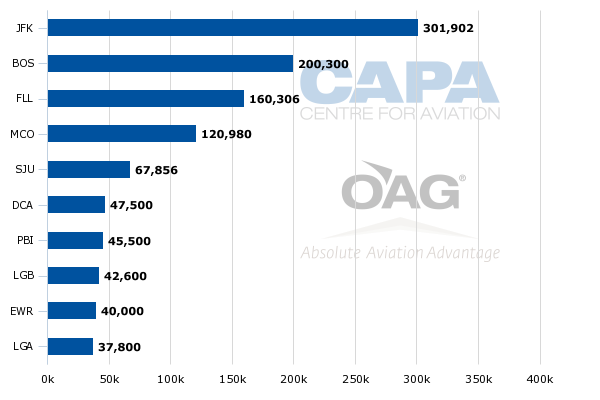 JetBlue is also intensifying competition with Southwest from Nashville in May-2016, with the launch of service to Fort Lauderdale and to Boston, its second largest base and focus city. Similarly to its Albany presence, JetBlue is breaking Southwest's monopoly on each of the routes.
It is a return to Nashville for JetBlue, which served the city from JFK between 2006 and 2008, and JetBlue is playing to its areas of strength with the new service. Boston has been a key growth market for JetBlue during the last few years, and the airline holds the largest seat share at the airport, at 28%.
JetBlue is 'connecting the dots' in its US-Caribbean network, and adding Quito to the mix
JetBlue's push into the Caribbean is continuing through new services introduced in late 2015 and early 2016. The Caribbean has been a key network pillar for more than decade, representing 49% of JetBlue's international seat deployment by region for the week of 11-Jan-2016 to 17-Jan-2016.
JetBlue is also the largest US hybrid-like/low cost airline operating into upper South America. It currently holds a 5% seat share, and the ULCC Spirit has a 2% share.
JetBlue Airways international capacity by region (% of seats): 11-Jan-2016 to 17-Jan-2016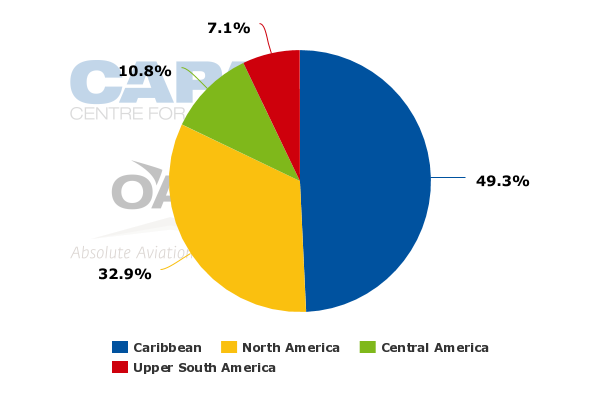 JetBlue is the second largest airline operating between the US and Caribbean for the same time period, holding a 23% share of the approximately 244,300 seats on offer.
Top five airlines operating between the US and Caribbean (% of seats): 11-Jan-2016 to 17-Jan-2016
New JetBlue routes debuting to the Caribbean in late 2015 and 2016 appear to be focused on filling out the connections from existing Caribbean markets to its US domestic network.
From late 2015 through early 2016 JetBlue is adding flights from Fort Lauderdale to Aguadilla, Providenciales, Barbados and Quito.
It has also introduced flights from JFK to Antigua, and is competing with Spirit on new service to Aguadilla; Tame on the new flights to Quito; and American on service between JFK and Antigua. JetBlue is the sole operator on the new flights to the islands of Providenciales and Barbados.
JetBlue's competitors on selected new routes to the Caribbean
Quito, Ecuador, is a completely new market for JetBlue. It joins the large three US network airlines American, Delta and United in operating to the country. (Ecuador is the gateway to the Galapagos Islands.)
American has the largest presence between the US and Ecuador, operating flights from its hub in Dallas to Quito, and from its hub in Miami to Quito and Guayaquil. Delta operates flights from its Atlanta hub to Quito, and United offers service between its hub at Houston Intercontinental and Quito.
JetBlue is infusing new competition into the market with the service from Fort Lauderdale, which is 39km from Miami. JetBlue is expected to be able to target the VFR market to Quito, and a healthy amount of tourist traffic. According to 2010 US census data, Miami/Fort Lauderdale has the second largest Ecuadorian population among the top metro areas of the country. Lan Ecuador also operates between Quito and Miami.
JetBlue already operates flights to Aguadilla from JFK and Orlando. It has a focus city in San Juan, and also serves the Puerto Rican city of Ponce from those two bases. It serves Providenciales from Boston and JFK, and both Antigua and Barbados from JFK.
With there being strong recognition of its brand in the Caribbean and the six focus cities, it makes sense for JetBlue to build up its presence from additional focus cities to the Caribbean. The cost of introducing new flights is also lower, given that JetBlue has an established infrastructure in its Caribbean markets.
Cuba and Mexico are the next steps in JetBlue's international evolution
JetBlue made a strategic step in its international network expansion in Oct-2015, with the introduction of service from Fort Lauderdale and Orlando to Mexico City Juarez International airport. Mexico is Latin America's second largest aviation market, and JetBlue is waiting to take advantage of a new US-Mexico air services agreement that lifts restrictions on the number of airlines operating between the two countries.
The agreement was signed by transport ministers of each country in late 2015, but still needs approval from the Mexican Senate.
JetBlue's new service to Mexico City joined existing flights to Cancún from its Boston, JFK and Orlando focus cities. The Cancún pattern mirrors JetBlue's strategy in Latin America and the Caribbean – building service from its domestic points of strength. It's probable that JetBlue will want to add more points from Mexico City, but access to the slot-constrained airport can be difficult. JetBlue has told the US DoT that its slot times at Mexico City Juarez are less than optimal, and were hard to obtain.
See related report: US attack on Gulf airlines may prove a tragic miscalculation by Delta & partners as Mexico rebels
Similarly to most US airlines, JetBlue also anticipates promising outcomes in Cuba. In late 2015 the US and Cuba took steps to resume direct flights between the countries. The Wall Street Journal reported that the agreement allows for 110 scheduled daily flights, including 20 to Havana, and 10 to each of Cuba's nine other international airports.
The paper stated that Americans still won't be allowed to travel as tourists. Instead travellers need to self-certify that they fall into 12 stipulated categories, which include business, journalism and academic research.
Even with these constraints, it is a significant step in opening up the Cuban travel market and JetBlue is eager to take up the opportunities. It already operates charter flights from JFK, Fort Lauderdale and Tampa to Havana. It obviously will want to manoeuvre the advantages of that service into scheduled flights to Havana, and at the least - Cuba's second largest market, Varadero. Scheduled service to Cuba would allow JetBlue to offer nearly blanket coverage to the Caribbean, and certainly there is huge existing demand from its South Florida base in Fort Lauderdale to Cuba.
JetBlue's international strategy is far from complete. New markets bring much promise
JetBlue's focus on the Caribbean paid off in 2015. The region was more stable than Latin America, and demand seemed to hold steady. That helped JetBlue outperform its US peers in passenger unit revenue performance. It posted a 1.6% cumulative gain through 3Q2015, before guiding down to a 2% to 3% decline in 4Q2015 (no US airlines have released full year 2015 results).
JetBlue believes that it will continue a passenger unit revenue outperformance in 2016, and its network moves indicate that it is playing to positions of strength, employing competition, but not overwhelming competition. With new markets opening up in Mexico and Cuba, indications are that JetBlue's international aspirations are far from complete.