jetBlue Airways makes strategic competitive moves as it contemplates longer-term route development
Analysis
jetBlue Airways has drawn attention during the last few weeks as it became the first US airline to operate commercial flights to Cuba in more than half a century, and from its growing consideration towards launching long haul flights to Europe. But behind those headline-grabbing events, jetBlue continues to grow from its points of strength in Fort Lauderdale, Boston and Orlando.

In early 2017 the airline plans to add strategic flights from those three focus cities, entering markets where ample competition already exists. However, as a major force in Fort Lauderdale, Boston and Orlando, jetBlue needs a presence in strategic markets from those airports. Its planned route additions are areas where jetBlue lacks service, and despite the vast competition, the airline needs to offer those route options to its customers.

A recent push by Delta Air Lines into jetBlue's Boston focus city has not appeared to spook jetBlue. On the contrary – jetBlue's ambitious growth from Boston continues unabated as it has declared a new daily peak-day departure target of 200.
jetBlue makes a logical move with new flights from Boston to Delta's Atlanta stronghold
jetBlue plans to return to Atlanta in in Mar-2017 with new service from its Boston focus city, followed by flights to its other large bases in Fort Lauderdale, New York JFK and Orlando later in the year.

Earlier in 2016 the airline contacted Atlanta Hartsfield about potentially returning to the airport after a short stint operating from Delta's largest hub in 2003. As previously reported by CAPA, jetBlue is a very different airline from 13 years ago, and the Atlanta market has also changed, with the entry of Southwest after its merger with AirTran and the launch of flights from US ULCCs Frontier and Spirit.

See related report: jetBlue may return to Atlanta Hartsfield-Jackson to stimulate competition in a changed market

One significant change that has occurred at jetBlue is its targeting of corporate travellers, which is why the airline's decision to inaugurate service between Boston and Atlanta is not surprising.

Boston is jetBlue's second largest base measured by seat deployment for the week of 3-Oct-2017 to 9-Oct-2017.
jetBlue Airways top 10 hubs/bases/stations by seats: 3-Oct-2016 to 9-Oct-2016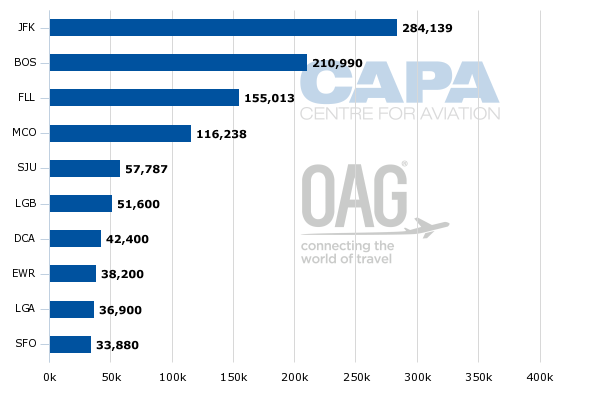 The airline is Boston's largest, holding a 25% seat share for the same period.
Boston Logan International Airport capacity by airline (% of seats): 3-Oct-2016 to 9-Oct-2016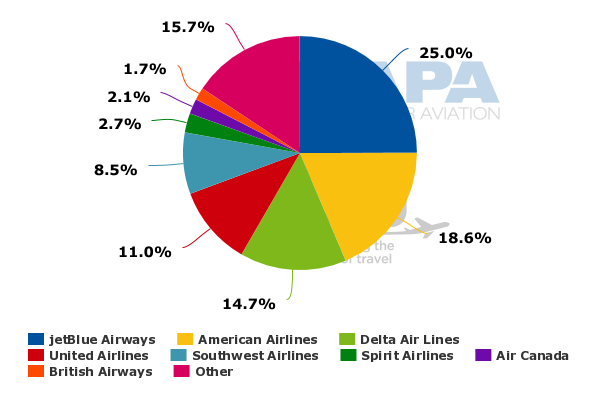 Moreover, Atlanta is the only market in the top ten domestic routes from Boston that jetBlue does not serve. Hartsfield is an important corporate market that is missing from jetBlue's network from Boston.
Boston Logan International Airport top ten domestic routes by seats: 3-Oct-2016 to 9-Oct-2016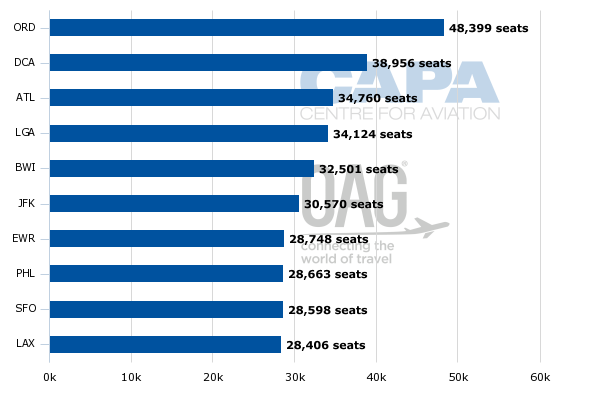 As at the week of 3-Oct-2016, jetBlue does not operate service between Boston and New York LaGuardia, but is adding service on the route beginning in late Oct-2016. LaGuardia is an important business shuttle market. jetBlue is offering six daily flights on weekdays, competing with American and Delta, which hold a 47% and 53% respective seat share on the pairing.
Boston Logan International Airport to New York LaGuardia Airport (seats per week, one way): 19-Sep-2011 to 13-Mar-2017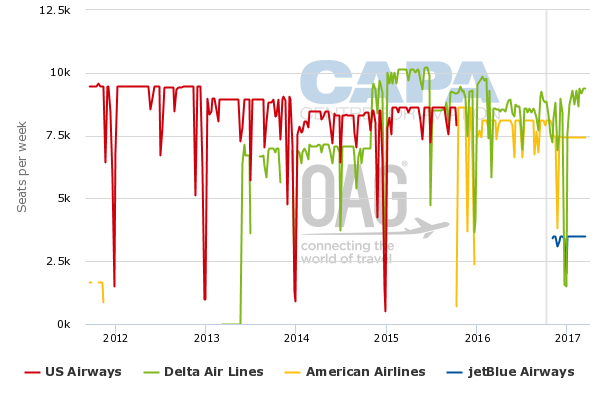 With the addition of LaGuardia and Atlanta, jetBlue will round out its offerings of key business markets from Boston. Its rivals in the Atlanta market in addition to Delta are Southwest Airlines and Spirit. Delta's seat share (week of 3-Oct-2016) on the pairing is 77%, followed by Southwest's share of 18% and Spirit's 6% share.
Delta shows some aggression in Boston, jetBlue seems unfazed by the encroachment
During the past couple of years Delta has undertaken a slow build-up in Boston, upping competition with jetBlue in its second largest focus city. Delta's latest route additions in Boston are the key corporate markets of San Francisco and Nashville. San Francisco is a market where jetBlue is deploying its Mint premium product, featuring flatbed seats and a section of private suites, which poses different competitive dynamics on the pairing.

See related report: Delta vs jetBlue: Delta's push from Boston as jetBlue mounts a Mint attack from that key base

As it has worked to build its presence in Boston, Delta has declared that it will reach 90 daily departures from the airport by mid-2017. Delta's encroachment has raised speculation about its level of aggression against jetBlue in Boston. jetBlue's response has been to raise its targets of peak-day daily departures from the airport to 200, from a previous goal of 150.

Delta's build-up in Boston is not as aggressive as in Seattle, which is a trans-Pacific gateway for Delta. Given Seattle's stature, Delta mounted a massive competitive attack against Alaska at its Seattle hub, essentially dismantling its partnership with Alaska in order to capture passengers to fuel its long haul service.

See related report: Alaska's and Delta's relationship unravels. Deciding when a partnership is over is a big call

Boston does not hold the same stature in Delta's network as Seattle; but nonetheless Delta is mounting a competitive incursion against jetBlue in Boston. jetBlue seems to be rising to the challenge.
jetBlue makes moves from its top bases into crowded, but necessary, markets
jetBlue is also adding two routes from its Fort Lauderdale focus city to Aruba and Chicago O'Hare in early 2017. Aruba is a logical expansion given jetBlue's network penetration into the Caribbean and Latin America from Fort Lauderdale. It will compete with Spirit on the route, which is the case on several routes from Fort Lauderdale (Spirit's headquarters) to the Caribbean.

Chicago O' Hare is hub for both American and United, and those airlines, along with Spirit, operate flights from Fort Lauderdale to the airport. Although Chicago is arguably a crowded market, if jetBlue aims to sustain its leadership position in Fort Lauderdale it needs to operate in larger markets against the large global network airlines.
Fort Lauderdale International to Chicago O'Hare International (seats per week, one way): 5-Oct-2015 and 3-Oct-2016)
| Airline | Week of 5-Oct-2015 seats | Week of 5-Oct-2015 percentage share | Week of 3-Oct-2016 seats | Week of 3-Oct-2016 percentage share |
| --- | --- | --- | --- | --- |
| American Airlines | 1,950 seats | 32.79% | 1,350 seats (-30.77%) | 25.5% |
| Spirit Airlines | 2,492 seats | 41.9% | 2,541 seats (1.97%) | 47.99% |
| United Airlines | 1,505 seats | 25.31% | 1,404 seats (-6.71%) | 26.52% |
| Total | 5,947 seats | 100% | 5,295 seats (-10.96%) | 100% |
Another crowded market jetBlue plans to enter is Orlando-Los Angeles, which is served by American, Delta, Frontier, United and Virgin America.
Los Angeles International to Orlando International (seats per week, one way): 5-Oct-2015 and 3-Oct-2016
| Airline | Week of 5-Oct-2015 seats | Week of 5-Oct-2015 percentage share | Week of 3-Oct-2016 seats | Week of 3-Oct-2016 percentage share |
| --- | --- | --- | --- | --- |
| American Airlines | 1,239 seats | 18.57% | 1,935 seats (56.17%) | 22.85% |
| Delta Air Lines | 3,185 seats | 47.74% | 3,654 seats (14.73%) | 43.16% |
| Frontier Airlines | N/A | N/A | 828 seats | 9.78% |
| United Airlines | 1,211 seats | 18.15% | 1,014 seats (-16.27%) | 11.98% |
| Virgin America | 1,036 seats | 15.53% | 1,036 seats (0%) | 12.24% |
| Total | 6,671 seats | 100% | 8,467 seats (26.92%) | 100% |
Los Angeles is an important transcontinental market for jetBlue for its Mint service from New York, and the airline is slowly spreading the Mint product to its Boston and Fort Lauderdale bases. The airline has yet to roll Mint out from Orlando – Los Angeles could be a candidate for Mint from jetBlue's fourth largest base.

Rounding out jetBlue's new batch of fights in early 2017 is new service to San Jose (CA) from Long Beach, its sixth largest base measured by seats. No airline operates on the pairing but Long Beach is in the Los Angeles catchment area, and San Jose is close to the Silicon Valley tech centre.
American, Delta and Southwest all operate flights from Los Angeles to San Jose, but given the difficulty of travelling to Los Angeles from Long Beach, jetBlue should generate enough demand on its new service to San Jose. The flights to San Jose will accompany jetBlue's service to the Bay Area's major airport – San Francisco. The airline also serves Oakland, which is the third airport serving the Bay area.
jetBlue does not back down from short-term competition as it contemplates its future
As it looks toward the bigger picture with potential long haul flights to Europe, jetBlue continues to flesh out its domestic and near international network from its key focus cities. Although Delta is becoming a larger threat in Boston, jetBlue has no intention of taking the increased competition lightly, and has responded by entering some of Delta's largest markets from Boston while fortifying its overall presence at the airport.

jetBlue is also entering other markets where competition is sure to be fierce. But armed with a strong brand and steady product proposition the airline has a good chance of being a formidable competitor against familiar rivals.

See related report: jetBlue Airways, armed with its premium product Mint, is poised to disrupt the trans-Atlantic market