jetBlue may return to Atlanta Hartsfield-Jackson Intl to stimulate competition in a changed market
Analysis
jetBlue Airways appears to be making a major network move in 2017, with a potential return to Delta-dominated Atlanta after a short-lived stint at the airport in 2003. Both jetBlue and the US industry have undergone significant change during that thirteen-year time period. jetBlue has widened its passenger base to encompass business passengers along with VFR (visiting friends and relatives) customers, and has successfully introduced a premium cabin within the LCC business model. Changes in the US domestic market include sweeping consolidation and the rise of ultra-low cost airlines, which have arguably created permanent disruption in airfare pricing.

Dynamics have also shifted in Atlanta during that time period. Although Delta remains the dominant airline, Southwest has acquired AirTran and put less emphasis on Atlanta as a hub. Ultra-low cost airlines have also made moves in Atlanta during the past couple of years. Those changes could create an opening for an airline that offers a different product proposition in the market.

jetBlue's return to Atlanta depends on the airport granting the airline's request for specific gates. A launch of flights would be mutually beneficial for both jetBlue and Atlanta. jetBlue gains access to one of the largest US domestic markets and Atlanta would broaden its number of airlines spanning three distinct business models – full service airlines, medium frills LCCs and ULCCs.
In 2016 jetBlue was a very different airline when it withdrew from Atlanta in 2003
In Jul-2016 reports surfaced that jetBlue had contacted Atlanta Hartsfield about launching service in 2017. Local news outlet the Atlanta Journal Constitution quoted a letter the airline sent to the airport highlighting that fares from Atlanta to New York during 2015 were 25% higher than prices from New York to Fort Lauderdale – a major market for jetBlue.

A much younger jetBlue – three years old – had a short-lived stint in Atlanta during 2003 with flights to the US west coast. At that time Delta and AirTran were the dominant airlines in Atlanta and fierce competitors. jetBlue's network footprint was much smaller and its targeted passenger segments were leisure travellers and VFR traffic.

Fast-forward to 2016 and jetBlue is the fifth largest US domestic airline, just behind the big four airlines – American, Southwest, Delta and United.
It has made a marked effort to court business travellers in order to better withstand the inherent seasonal troughs of the leisure and VFR segments.
US airline domestic market share: May-2015 to Apr-2015
jetBlue made a giant leap outside the box in 2014 with the debut of its lie-flat business product Mint to shore up revenues on New York transcon routes, and Mint has exceeded jetBlue's expectations. In Apr-2016 jetBlue executives stated that its routes between New York JFK and Los Angeles and San Francisco during the last 12 months had generated double-digit revenue each month.
jetBlue has added Mint flights from its Boston focus city and plans further expansion in 2017 and 2018. The Mint sub-fleet is growing from 11 at YE2015 to 26 by YE2017.

See related report: jetBlue's Mint a great example of innovation; next phase now tests it premium model more widely

The airline has also introduced fare families as the product segmentation phase sweeps the US market place. jetBlue estimates that it will achieve its annual USD200 million annual run rate from fare products in 2016, one year earlier than it originally forecast.
Dynamics have also shifted in Atlanta, creating a possible re-entry for jetBlue
Just as jetBlue has undertaken numerous business model changes, industry dynamics have changes in Atlanta. When Southwest announced its intent to acquire AirTran in 2010 the near instantaneous conclusion was that it would be a major disruptor for Delta at its Atlanta hub. But that expectation has failed to materialise.
In 2012 Delta remarked that it was experiencing some market share gain from Southwest in Atlanta. Southwest decided to de-hub Atlanta, and the airport is the airline's eighth largest airport measured by departures.
Southwest's top ten airports by departures as of late 2015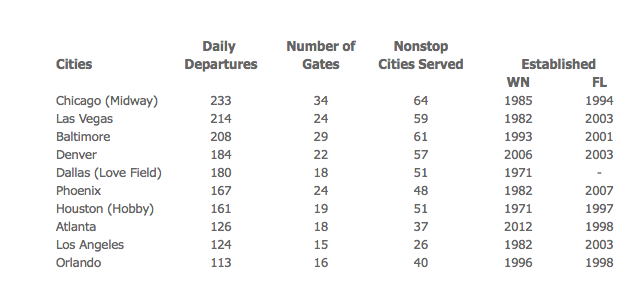 During the past two years ULCCs Spirit and Frontier have also added service from Atlanta, which has further changed the dynamics in the market. Although those airlines combined only hold 3.5% of Hartsfield's domestic seats, there is at least some ultra-low fare discounting in the market.
Atlanta Hartsfield-Jackson International Airport domestic capacity by airline (% of seats): 18-Jul-2016 to 24-Jul-2016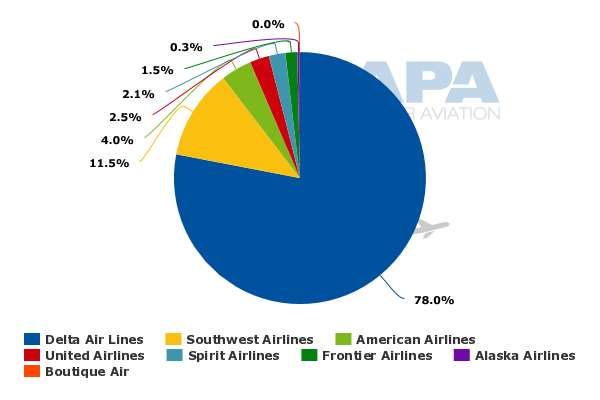 There are several reasons why jetBlue has concluded that there are opportunities in Atlanta. One of the more prominent is that Atlanta is a major hole in jetBlue's network, especially from its focus city of Boston – where it is working to capture a significant share of the region's corporate market. Another reason is that jetBlue now has more sophisticated pricing mechanisms for competing with Delta.
Both airlines now offer segmented products, and jetBlue can match Delta's basic fares while still boasting (for now) that it has one of the most generous economy seat pitches in the US domestic market.

Since Southwest eliminated AirTran's business class, some of the latter's corporate travellers had no choice other than Delta. But with jetBlue's extra legroom offering, lower price points, and high customer service rankings, some corporate travellers representing smaller businesses may be willing to jump to jetBlue. The reality is that Southwest may not engender the same level of brand loyalty in Atlanta as it does in its larger markets.
There could be an opportunity for jetBlue to inject mid-tier fares from Atlanta
jetBlue did not specify particular routes that it would add from Atlanta, but its fast-growing focus cities of Boston and Fort Lauderdale are its second and third largest routes/bases by origin, and likely candidates for service to Atlanta.
Given jetBlue's huge brand recognition in New York, that market is also a distinct possibility.
But there could also be opportunities for jetBlue in smaller markets. For example, Delta has a monopoly on flights to Syracuse, where jetBlue has an 11% seat share.
jetBlue Airways global top ten routes by origin: 18-Jul-2016 24-Jul-2016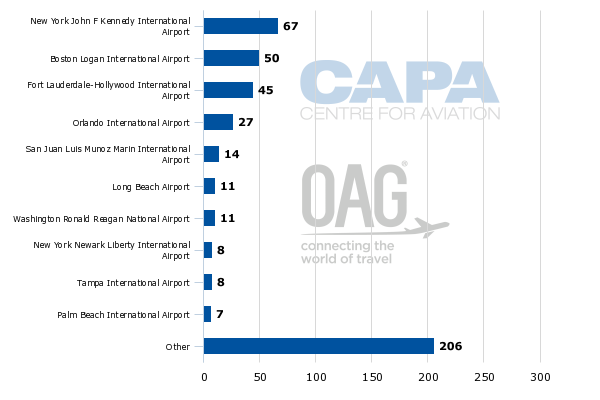 Data from the US DoT for 4Q2015 (the latest available) examining average fares on several routes show that in the larger markets jetBlue may be examining from Atlanta – New York and Boston – Delta has the largest market share and Southwest is listed as the airline with the lowest fares.
Frontier serves LaGuardia from Atlanta and Spirit serves Boston from the airport. But the DoT has calculated the lowest fare airline as the one that holds at least a 10% market share, except for markets where only one airline has a 10% or greater share. On those markets the lowest fare airline is identified even if its share is less than 10%.

Although the data lacks the ULCC influence, it does provide some insight into fares charged by Delta and Southwest in those markets. jetBlue could be able to inject fares between those offered by Delta and Southwest, with a better product proposition than the latter and ULCCs.
Average one-way fares in select markets from Atlanta: 4Q2015
Market
Average one-way fare

Average one-way fares from the market leader and

the average low cost fare

New York metro
USD216

Delta, 61% market share, average fare USD241

Southwest, 14% share, average fare USD151

Boston
USD222

Delta, 61% share, average fare USD257

Southwest, 21% share, average fare USD177
On routes to Fort Lauderdale Delta holds a 68% seat share for the week of 18-Jul-2016 to 24-Jul-2016 (according to data from CAPA and OAG). Southwest has a 19% share and Spirit has a 6% share. Between Atlanta and Miami, Delta has a 67% share, American holds a 26% share and Frontier has a 6% share.
DoT's data show that in 4Q2015 the average one-way fare was USD133 in the greater Miami metro area (which includes Fort Lauderdale). Delta was the market share leader with 63% and its average fare was USD144. Southwest was listed as the lowest-fare airline (see the explanation above) with a 12% share and average fare USD124.
But jetBlue is the market leader in Fort Lauderdale, holding a 25% seat share for the week of 18-Jul-2016 to 24-Jul-2016, so it has some brand leverage plus the ability to market connections to Latin America and the Caribbean from Fort Lauderdale.
Atlanta should attempt to accommodate jetBlue to foster new competition for incumbents
In its letter to Atlanta Hartsfield cited by the Atlanta Journal Constitution, jetBlue made it clear that common use gates in the airports D concourse are not satisfactory, which means that the airport may need to engage in some shifting to accommodate the airline. Hartsfield should make the effort.
Although the medium frills low cost airline Alaska serves Atlanta from Seattle and Portland, jetBlue provides an opportunity for more competition in other key east coast markets from the airport. There is little doubt that Atlanta will ignore jetBlue's overtures.
jetBlue deserves to initiate some fresh competition in Atlanta
jetBlue's potential return to Atlanta reflects a certain level of confidence by the airline that it now has enough scale and sophistication to compete effectively against the large US behemoths in their home markets. Its conclusion is a sound one; the gamble seems worth it, and then assessing its ability to compete in a market dominated by one large full service airline and Southwest; one which doesn't fall neatly into a distinct business model.
jetBlue deserves the chance to test its evolving model in Atlanta, and Atlanta could use the fresh dose of competition that jetBlue offers.